DAVE'S DIARY - 25/1/14 - PREVIEW OF EPISODE 9 - SERIES 21
DIERKS BENTLEY AND GRASCALS HEADLINE NU COUNTRY TV
Dierks Bentley and bluegrass band Grascals headline Nu Country TV Wednesday January 29 at 10 pm on Channel 31.

March tourist and former Mississippi boxing champ Paul Thorn also returns to the show repeated Monday at 5.30 am and 2.30 pm and Tuesday at 1 am.

Late Texan country king George Jones and protégé Sammy Kershaw appear in Behind Bars in the show hosted by Mid Pacific Bob Olson and filmed and edited by Laith Graham.

Canadian Tim Hus adds to the Jones tribute trilogy and expat Queenslander, 8 Ball Aitken, enjoying a national tour, also returns with another humorous video.

Nu Country TV has been added to the C 31 streaming list.
Just follow this link on your computer or mobile phone - http://www.c31.org.au/program/view/program/nu-country-tv
BLUEGRASS TRIBUTE TO AMERICAN PICKERS TV SHOW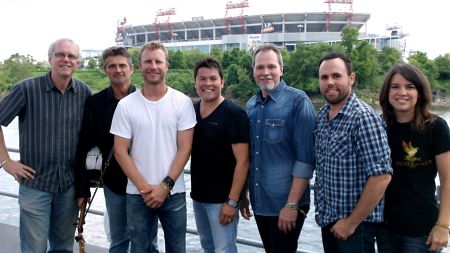 Arizona born singer-songwriter Dierks Bentley joined hotshot bluegrass band The Grascals in the video for the new theme song for the popular American Pickers TV show on The History TV channel.

It's on The Grascals eighth album When I Get My Pay released in 2013.

Bentley, 38, released his eighth album Riser on February 25 - almost two years after touring here with Australian country king Lee Kernaghan.

Dierks, father of three, has released two singles - Bourbon In Kentucky and I Hold On - from Riser.

The singer, real name Frederick Dierks Bentley, also launched bluegrass album Up On The Ridge before joining The Grascals for their American Pickers tribute.

Bentley recorded American Pickers after appearing in The Rise of Kahne (2009) - a biography of NASCAR driver, Kasey Kahne.

He also sang the theme song for Season 8 Episode 9 of popular Showtime TV series Weeds.

The Grascals, formed in 2004, released two albums on Rounder Records.

The first self-titled debut featured guest vocals from February tourist and singing actor Dolly Parton on Elvis Presley's Viva Las Vegas during a long stint as Dolly's opening act and road band.

Their 2006 album, Long List of Heartaches, featured Steve Wariner, George Jones, The Jordanaires, and Dierks.

Their third album, Keep on Walkin', came out July 15, 2008.

Since then they have released The Famous Lefty Flynn's, Country Classics with a Bluegrass Spin, Dance Till Your Stockings Are Hot and Ravelin', Life Finds a Way and 2013 album When I Get My Pay.

CLICK HERE for a Dierks Bentley interview in the Diary on April 26, 2009.
CLICK HERE for the Dierks Home CD review in the Diary on February 26, 2012
CLICK HERE to win Home on our Membership page.
Further info on The Grascals - http://grascals.com/
PAUL THORN HONKY TONK NEANDERTHAL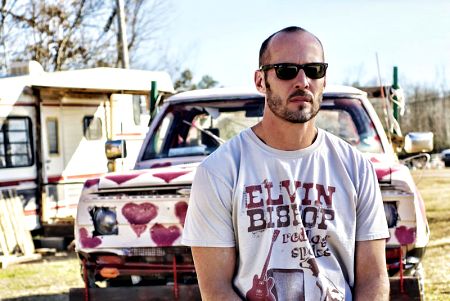 Former Mississippi boxing champion Paul Thorn returns with the video for Honky Tonk Neanderthal from the bonus disc that accompanied his 2010 album Pimps & Preachers.

The Pentecostal preacher's son parodies mainstream country singers in the humorous clip performed live.

Among his targets are Oklahoma superstar Toby Keith with whom he appears on the seventh CMC Rocks The Hunter festival in March.

Toby took Paul on board as an opening act early in Thorn's career and recorded his song Double Wide Paradise in 1998.

The singer also earned royalties from seven country covers by Sawyer Brown and others by Billy Ray Cyrus, Tanya Tucker, Ronnie Milsap, Jerry Jeff Walker, 4 Runner and many more.

Thorn, 48 and father of two, performed Northcote Social Club on Beer Can Hill and Hallam Hotel in 2013 and is expected to return in Victoria on this tour.

The singer has made a career of rolling with the punches but has a major regret about an historic boxing bout.

He scored his biggest hits when he lasted six rounds with the world middleweight champion boxer Roberto Duran in Atlantic City, New Jersey, in April 1988.

At 24 and ranked 29th the sparring singer had nowhere to hide - the fight was televised throughout America.

Thorn harvested hay from Duran's haymakers - he wrote his 1997 album title track Hammer And Nail about the bout.

But he regretted in our interview he never asked Duran for his autograph.

His 33 song 2005 CD/DVD So Far, So Good: The Best of the Paul Thorn Band Live is accompanied by documentary Fellow American - a film by John Kane that chronicles Thorn boxing career.

Thorn scored 60 facial stitches in his four year 89 bout career but he'll have his audience in stitches when he returns here to promote Pimps & Preachers and What The Hell Is Going On (2012.)

CLICK HERE for a Paul Thorn feature in The Diary on June 10, 2013
CLICK HERE for the Thorn Northcote concert review in The Diary on June 23, 2013
CLICK HERE for the Thorn Hallam concert review

GEORGE JONES BACK ON THE MOWER
The late legend George Jones thrived on self-deprecating humour during his six decades on the lost highway.

First there was his nickname No Show Jones, his song and accompanying merchandise at the peak of his career when a penchant for booze and dope caused him to miss plenty of gigs.

Then there was those sleepless nights when former singing spouse Tammy Wynette and former wife Shirley hid the keys to all their pick-ups and Caddies to pre vent him driving himself to drinking in the honky-tonks and kicker bars.

The first and most well-documented lawnmower incident was in the late sixties when Jones was living eight miles outside of Beaumont, Texas, with then wife Shirley Ann Corley.
Jones was born in Saratoga, Texas just west and north of Beaumont.

Bell & Shore eulogised the Possum in their song I'd Love A Mower Like The One George Rode To Town.

Jones, 81, when he died last spring, recorded and made a video for his own version in the historic Honky Tonk Song from his 1996 album I Lived To Tell It All.

Junior Brown played the sheriff and Grand Ole Opry nonagenarian Little Jimmy Dickens the bail bondsman who tried to free Jones from the jail where he held an impromptu concert in the aptly named Behind Bars in this week's show.

The incident was later memorialised as part of country music lore in numerous songs and videos.

In 1984 the video for Hank Williams Jr.'s All My Rowdy Friends Are Coming Over Tonight features Jones riding a lawnmower.

Vince Gill's 1993 hit One More Last Chance includes the line, "She might have took my car keys, but she forgot about my old John Deere."

The video ends with Vince passing George on a riding lawnmower and the video for John Rich's Country Done Come to Town also features Jones on a lawnmower.

Wynette woke up one night at 1 am to find George missing.

"I got into the car and drove to the nearest bar 10 miles away," Tammy recounted in 1979.

"When I pulled into the parking lot there sat our rider-mower right by the entrance.

"He'd driven that mower right down a main highway.

"He looked up and saw me and said, `Well, fellas, here she is now. My little wife, I told you she'd come after me.'"

CLICK HERE for a Jones feature in The Diary on February 25, 2006.

SAMMY KERSHAW HONOURS THE POSSUM
Thrice wed Louisiana Gubernatorial candidate Sammy Kershaw returns to the show with his 2013 George Jones tribute - The Route I Took.

Kershaw, long lauded as riding in the same roots country stage coach as Jones, includes copious footage of The Possum in the video.

The singer also had a penchant for multiple marriages - his journey included six years from 2001-2007 being one of singer Lorrie Morgan's six ex-husbands.

His Jones tribute is on his on 14th album that followed a trio disc All In The Same Boat with Joe Diffie and Aaron Tippin.

Kershaw, 55, and Morgan, now 54, had better luck as duet partners on two duet albums and solo artists earlier in their careers.

Lorrie's singing spouses included Keith Whitley, Jon Randall Stewart and George Jones bassist Ron Gaddis.
Kershaw and Morgan recorded a vocal duet album in 2001 entitled I Finally Found Someone - the title track being a cover of the Bryan Adams/Barbra Streisand duet.

This album's only Top 40 hit was the #39 He Drinks Tequila And She Talks Dirty in Spanish.

Tim McGraw also cut the Kershaw hit Better Than I Used To Be - once perceived as a cryptic comment on Tim's bitter parting with Curb.

But the song's history - it was the title track of fellow Louisiana singer Sammy Kershaw's 10th album released on August 31, 2010 - suggests it's a multi-purpose track.

Further info - www.sammykershaw.com
TIM HUS ALSO HONOURS THE POSSUM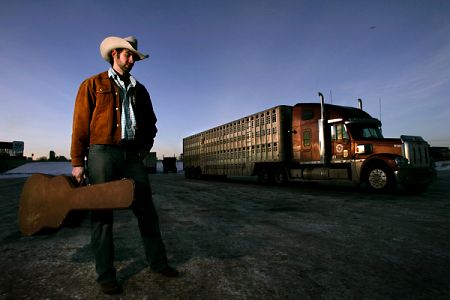 Canadian honky-tonker Tim Hus also pays tribute to George Jones and his other heroes in his video for The Church Of Country Music on this week's show.

It's on his sixth album Western Star - his third for Stony Plain Records, home of Corb Lund and the legendary Ian Tyson.

It was produced in Tennessee by Harry Stinson (Steve Earle, Corb Lund, Ian Tyson) who Tim has worked with previously.

Harry brought in special guests Kenny Vaughan (Marty Stuart's band), plus former members of Bill Monroe's Bluegrass Boys, Hank Snow's Rainbow Ranch Boys and George Jones' band.

Trucking troubadour Tim was born in British Columbia and now hangs his hat in Calgary in Alberta - same locale as expat Australian Gord Bamford and Tyson.

Hus and his Travelin' Band, which includes bull fiddler Riley Tubbs, Billy MacInnis on lead guitar and fiddle, and Pat Phillips on drums, have toured from coast to coast performing their true Canadian music.

His music is coined as Canadiana Cowboy Music and tells tales of the Historic West and those who formed it.

His songs traverse Canada from Halifax Blues to the Marietta Miner to the Madawaska River.

No backwater town is left un-travelled.

Tim has shared stages with Canadian legend Stompin' Tom Connors, Ian Tyson, Tim Harwill and Gary Fjellgaard and worked with Corb Lund on the song Hurtin' Albertan.

He has worked as a carpenter's helper, framer, warehouse hand, forklift driver, van driver, tree-planter, brewery worker, beer truck driver, fruit picker, fisherman, pine cone picker, saw-hand, cabinet maker, well driller, painter, courier, assembly line worker, salmon farmer, furniture mover, labourer, and a maintenance man.

Further info - www.timhus.ca
8 BALL AITKEN JOINS THE POSSUM - IN JAIL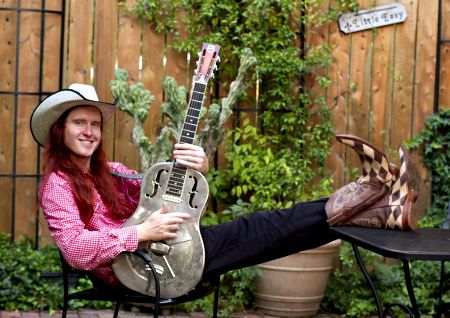 Expatriate North Queensland world traveler 8 Ball Aitken returns to Nu Country TV with his graphic video for I'm Going To Jail And She's Going to Mexico.

The tale about a Mexican senorita and bank robber with stocking mask is on Aitken's 12 track seventh album Southern Hemisphere.

Another expat Michael Flanders produced the album in Nashville and Hervey Bay.

Grafton raised singer-songwriter and former Nu Country TV host Troy Cassar-Daley guests on guitar on instrumental finale Old Hickory.

Aitken, second eldest of 12 children, uses videos to flesh out credible characters - especially being hoodwinked by a Mexican senorita seductress in a robbery in the new video shot with his band in notorious now defunct Boggo Road prison in Brisbane.

He returned home late last year for a national tour and played Tamworth country festival last week.

CLICK HERE for an 8 Ball Aitken feature in the Diary on April 15, 2012.
CLICK HERE for a review of Southern Hemisphere in The Diary.
HOW TO KEEP NU COUNTRY ON AIR
We need your support as we celebrate our 21st series of Nu Country TV.

Australian record companies and artists have joined forces to ensure our survival.

We have new CDS by major artists you can win by becoming a Nu Country TV member or renewing your membership.

They include singing actors Willie Nelson and Tim McGraw, Voice judge Blake Shelton, Ashley Monroe, Brad Paisley, Gary Allan, Toby Keith, Dierks Bentley, Eric Church, Carrie Underwood, Chris Young, Charley Pride, Slim Dusty, Eli Young Band, Rosanne Cash and more.

We also have the latest John Denver all-star tribute album and DVDS by Lady Antebellum.
CLICK HERE for our Membership Page for full details.