DAVE'S DIARY - 26 APRIL 2009 - DIERKS BENTLEY INTERVIEW
DIERKS BENTLEY FEELS THAT FIRE DOWN UNDER
"Country Roads, old theatre marquee signs/ parkin' lots and billboards flyin' by/ Spanish moss, little hick town squares/ wild roses on a river bank/ girl, its almost like you're there." - Every Mile A Memory - Steve Bogard-Brett Beavers-Dierks Bentley.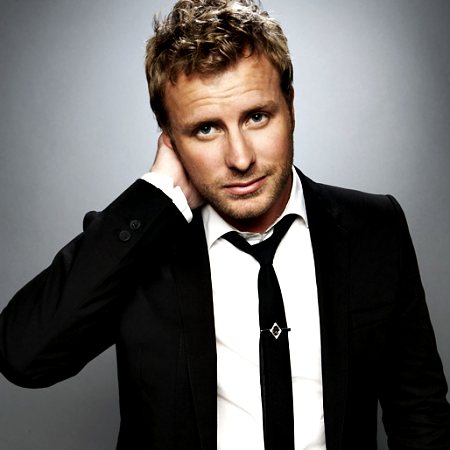 Dierks Bentley scored goals early in his career - a duet with George Jones on Murder On Music Row and hit Every Mile A Memory in acclaimed TV series The Wire.

"I also got lucky when my song Free & Easy was used in a driving commercial," Bentley, 33, told Nu Country TV on the eve of his Australian tour with superstar duo Brooks & Dunn.

"Every Mile A Memory was also used in TV on The Wire - it's a good show."

The Wire is set in Baltimore, Maryland, where it was produced and written by former police reporter David Simon.

It premiered on June 2, 2002 and ended on March 9, 2008, with 60 episodes airing over five seasons.

Equally importantly it was renowned for music by Tom Waits who wrote opening theme Way Down in the Hole for his 1987 album Frank's Wild Years.

Each season used a different recording of it performed by Blind Boys of Alabama, Waits, Neville Brothers, DoMaJe and Steve Earle.

Earle contributed Feel Alright and was also a member of the cast, playing the recovering drug addict Waylon.

But it's music - not TV - that is the careening career conduit for the chart topping singer-songwriter from Phoenix, Arizona.
SIDEWAYS
"Ain't no need to fight/ y'all take that redneck stuff outside/ that's what parking lots are for/ once you're out you ain't coming back/ the velvet rope ain't got no slack." - Sideways - Jim Beavers-Dierks Bentley.
Bentley's fifth disc Feel That Fire debuted at #3 on the all genre Billboard Top 200 chart this year and also topped country sales.

He scored his sixth No 1 hit with the title track and now soars the charts with rocking new single Sideways.

Bentley co-produced the disc with Brett Beavers - also writing partner on several of 10 original songs - and producer of his previous albums.

Bentley co-wrote 11 of 13 songs on his self-titled Capitol debut and 8 of the 11 on his third disc Modern Day Drifter.

The Beavers-Bentley collaboration is fruitful - Brett wrote nine songs that hit Top 15 for Dierks.

"We first started writing songs together in 2001," Bentley said. "We both love Waylon and Hank Williams Jr., but we wanted to give it our own spin and take it somewhere new. And so we hit it off. I like writing with him because it's easy. We're good friends, so it's always very natural. You can say what you want to say and not worry about hurting somebody else's feelings, so he's been extremely helpful in that regard. We just have a real good thing worked out and going for us."

Not bad for a singer who once cleaned golf balls for a living and still drives his 1994 Chevy pick-up truck with 200,000 miles on the clock.

"It's the same old truck I've always had," Bentley says of his steel steed that features in his songs.

"My dad and I bought that truck together and I never got rid of it."
Right now it's parked at the three story Nashville townhouse he shares with wife Cassidy, six-month-old daughter Evie and dogs Jake and George, named after duet partner Jones.

"I keep the dogs here to make sure those pesky squirrels don't come too close," says Bentley who slept on houseboats and friends' couches on arrival in Nashville as a teenager.
Dierks has known his wife since 8th grade in Phoenix but she didn't arrive in Music City until 2004.

By then he had enough heartbreak songs to fuel his music.
THE GEORGES - STRAIT AND JONES
"Here she comes, with a plan/ said she heard about a joint with a country band/ where they play, George Strait, that's all." - Here She Comes - Jim Beavers-Brett Beavers-Dierks Bentley
On arrival he followed mentors diverse as Georges - Jones and Strait - Merle Haggard and Waylon & Willie.

"When I came here to Nashville I didn't even have a guitar, just a dream," Bentley recalls.

"I was 19, playing the bars and clubs. These were the guys you learn from. They're your heroes and you want to name check them in songs. I worked my way up but I don't want to be stuck just carrying on the tradition. The tradition is part of my music but I want to be modern and progressive in a way. I might have a little rock influence in there."

Bentley may have rock dynamics but not his duet with George Jones on Murder On Music Row.

"It was definitely one of the highlights of my life to sing with George Jones," Bentley said.

"He's one of my heroes - one of the greats of all time. Just being in the studio to hang out means the world to me, to be counted as a friend I was honoured."

Bentley is equally enamoured with the other Texan born George - Strait.

"I have toured with George and also always wanted to have a George Strait cut," Bentley said.

"I have pitched him a number of my songs - trying to get him to cut them but so far no luck. I mainly write for myself. I don't have a publisher actively pushing for me. If I run into George I'll have a CD in my back pocket."
PATTY GRIFFIN
"All the noise and voices are screaming what they have to say/ and the headlines and sound bites are giving me demons to hate/ and the man on TV, he tells me it's ugly, but if you ask me/ it's a beautiful world." - Beautiful World - Jim Beavers-Brett Beavers-Dierks Bentley
But it was Maine born, latter day Austin diva Patty Griffin who was his duet partner on the ballad Beautiful World.

"I don't know what genre Patty's in, she covers so much ground she's iconic," Bentley says.

"I always wanted to get her on the record. It was honour to have her. Beautiful World was a very special song for me. She was on the road doing her thing and she had that window of time and was able to make it happen. I will be forever grateful she did."

Griffin, who made two Australian tours, is not the only recent tourist to collaborate with Bentley.

Photo by Ron Baker >
Bentley collaborated with Texan troubadour Rodney Crowell, who toured here in April, on Pray?
"We wrote that song at Rodney's house at the end of 2006," Bentley revealed.

"I had the idea for the song and took it to him. I was having a hard time with this girl that I had dated - we had been together for a while. Then all of a sudden it ends in a bad way. It makes you wish it didn't but that was real and it was happening. That way it makes you respect that time, hopefully you can still love that person and wish them happiness. It's sacred ground to share the same space as him - he's one of my favourite writers."

Bentley is best known for his uptempo country rockers in the style of expatriate Australasian superstar Keith Urban - one of the catalysts for his tour.

But he also embroidered his disc with Tex-Mex song I Can't Forget Her.

"Man, that's one of the outside songs, one of few songs I didn't write," says Bentley who penned 10 of the 12 songs.

"I loved the feel of that song, a totally different vibe," Bentley said.

"There's a little bit of Marty Robbins and little of The Edge - the guitar player for U2."
BLUEGRASS AND MCCOURYS

"Last call for alcohol still ringing in my head/ you must have ordered two more double shots from the shape that you're in." - Last Call - Ronnie McCoury.
But the singer's embryonic love is the bluegrass he played in his early days at venues such as famed Station Inn.

He lured Del McCoury Band to play on Don't Leave Me in Love on $8,000 indie debut album Danglin' Rope.

The McCoury family have since played on all Bentley albums.

Dierks also traded vocals with prolific Grammy winner Alison Krauss on Good Things Happen on his 2005 disc Modern Day Drifter.

Ronnie McCoury's song Last Call is the Feel That Fire finale.

"I fell in love with bluegrass when I got there in 1994," Bentley recalled,

"Country back then was a little too slick, too polished so I fell in love with bluegrass. I loved harmony singing and presentation."
But it will be his hard driving country rock that he'll showcase here.

"Now we have a chance to bring our full band it works fine for me, " Bentley says.

"With Brooks & Dunn we can do our full show."

But he won't be joining them at the front of the plane.

"With a 20-hour flight I looked into upgrading to business class.

But for $15,000 extra I think I'll hang out with the boys in the back of the plane and rough it out."

And, of course, he'll be seeking song sources down under.

"I'll bring my camera, pen and paper and looking forward to finding song inspiration," Bentley said.

"I like to pick up on some local landmarks, historical sights and local clubs, meet the folks. The roadies and local crews always know the best spots - an old pub with a bit of history to it. I talk to the bartender - get good tips on where to go. That's where I'll be."

Maybe a tour of Yarra and Hunter Valley wineries with touring vigneron Kix Brooks will be productive.

"I have been down to his winery and enjoy his reds but I also drink beer," Bentley joked.

"So we might and taste the local wines."
AFRICAN CHILDREN'S CHOIR
Bentley's international travels also inspired an April recording session with the African Children's Choir.

Bentley took them into the studio while they were in Nashville to perform at the Nashville4Africa benefit concert.

"I think it was the first time they'd ever been in a studio like Ocean Way," Dierks said.

"We did a song that I've been holding onto for awhile, waiting for the right time to record it. I'm not really working on my next album yet but I'm thinking about it, and I had to get these kids in the studio while they were here."

He praised the choir, who recorded harmonies and background vocals with him on the song - the title is secret.

Dierks says he is usually out of town when asked to perform at benefits, so he was thrilled to be able to do Nashville4Africa, which was organised by Big & Rich's 'Big' Kenny Alphin.

"I feel that anything we can for kids is great. This project isn't just helping build a school; it's helping these kids who are trying to survive. It's a beacon of hope going across their country."
Bentley revealed he went to Africa for eleven days in 2006.

The trip was an eye-opening experience.

"It is beyond poverty in some of those villages," he says. "It's beyond anything you can possibly imagine. So when you hear about a cause like this, where you can go and sing and help out these kids, it's great. Big Kenny has a big heart and I'm grateful for these guys who are here to do good deeds."

The choir, made up of kids aged seven to eleven, performed with Dierks on the benefit show.

They sang Beautiful World - the tune he did at the Nobel Peace Prize concert in Norway last December.

"I think this song reflects the spirit here in this room tonight," the singer said at the concert.

Bentley performs with Brooks & Dunn and Adam Harvey at Rod Laver Arena on Monday May 4
to promote Feel That Fire (Capitol-EMI.)

Bookings - Ticketek - 132849

CLICK HERE for Tonkgirl's Gig Guide for all national tour details.
CLICK HERE for a previous interview with Bentley in the Diary on September 17, 2005.