DAVE'S DIARY - 17 SEPTEMBER 2005 - DIERKS BENTLEY INTERVIEW
BENTLEY - FROM GOLF TO GOLD
"These old boots still got a lot of ground they ain't covered yet/ there's at least another million miles under these old bus treads/ so if you think I'm gonna settle down I've got news for you/ I still got a lot of leavin' left to do." - Lot Of Leavin' Left To Do - Deric Ruttan-Brett Beavers-Dierks Bentley.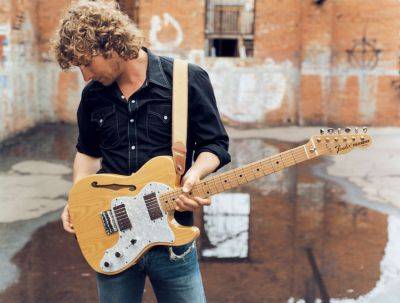 When Dierks Bentley left Phoenix, Arizona, for Nashville at 18 he didn't step straight onto the Grand Ole Opry stage.

He vividly recalls menial tasks to keep the wolves from his door.

Like cleaning golf balls.

"Yeah, I was cleaning golf balls at one stage," the latter day Grand Ole Opry member told Nu Country TV in a call before a concert in Lansing, Michigan.

"I built the driving range first with a bunch of people and the guy I was working for ended up buying it. I put the golf balls into a machine that cleaned them. The whole time I was writing songs - it all worked out in the end."

So well that Bentley, now 29, has made Top 5 of the CMA Horizon Award in October and landed a brace of hits along the way.

Bentley also worked as a tape operator in the library of cable TV channel TNN by day and played the Lower Broadway honky tonks and downtown bluegrass bars at night.

He eventually got a residency at the Springwater bar and did time at the Market Street Brewery, playing for free draft beer to a paying gig.

And, like many peers, he was signed first as a songwriter.

He then released a self-financed indie CD Don't Leave Me in Love to sell at gigs.
Bentley co-wrote 11 of 13 songs on his self-titled Capitol debut and 8 of the 11 on his third disc Modern Day Drifter (Capitol.)

But, now with 300 nights a year on the Lost Highway, he lives up to title of his latest release.

And although he cites outlaws Hank Williams Jr, David Allan Coe and late Waylon Jennings as influences his music is also embroidered with bluegrass.
DEL MCOURY AND ALISON KRAUSS
Bentley spent many nights in bluegrass venues and soaked up the music of the hottest pickers in the genre on his Music City arrival.

Del McCoury and sons Ronnie & Rob played and sang on Train Travellin' - finale of his self titled Capitol debut disc - and return on Del song Good Man Like Me from his new disc.

They also played on Don't Leave Me in Love - produced by Carl Jackson who created the Louvin Bros tribute disc, Livin' Lovin' Leavin.

And Alison Krauss also sings on Good Things Happen - penned by Jamie Hartford, son of the late legend John.
"When I arrived in Nashville I would go to the Station Inn every Tuesday and see the best bluegrass pickers," Bentley explained.
"That bar has just been very instrumental. If it wasn't for the Station Inn, I would not have fallen in love with bluegrass music. I rediscovered the joy of playing music just for the sake of playing music. I love the harmony singing and the instrumentation and the overall generosity that people have in their genre. They love to pick and sing."

But it wasn't the only bar that drew him to writers like Hartford.

"I would then go to another nearby bar Wednesdays for two or three years to see Jamie," Dierks revealed.

"I heard him do the song 50 times. I heard harmony vocals on it and called Alison in. Didn't go through managers, just called her up myself and she came over and did it. I had heard the Deryl Dodd version before I cut it. I have been in town for 11 years. It's funny how things come around."

Bentley also wrote My Last Name with prolific tunesmith Harley Allen - son of late bluegrass legend Red.

"I fell in love with bluegrass when I got there in 1994," Bentley recalled.

"Country back then was a little too slick, too polished. But with bluegrass I loved the harmony singing - the presentation."

So much that he and Allen duetted on I Don't Believe You've Met My Baby on Livin', Lovin', Leavin'.
HEARTBREAK
"I swear my truck's got a haunted radio/ cause I hear you in every song." - Wish It Would Break - Brett Beavers-Dierks Bentley.
Bentley harvested hell from the heartbreak of his many lunges at love.

And he has the scars on his knuckles - not just his heart - to prove his art imitates life.

Dierks punched out his car radio when a song reminded him of a departed lover, both painful and expensive.

"I lived that song to a T," Bentley revealed of the source of Wish It Would Break .
"I had 14 stitches in my knuckle. I have not only emotional, but a physical attachment to the song. I went through a relationship that supplied me with a lot of songs. It was one in particular. I'd asked a girl to marry me. I got more of the two-word response not the three-word response I was looking for. Thank God. It was two years ago at the time when I really started writing the record."
The Arizona refugee expanded generously on his song sources.

"Everything I record comes from relationships I have been in," Bentley explained.

"The girl in What Was I Thinking was quite a bit younger. Another relationship was sadder for Wish It Would Break and Distant Shore. By the time I got over her I was writing fun songs like How Am I Doing - you get both sides of relationships. Same with Gotta Get There Some Day. I have had my heart broken enough for a couple more records."

So how many of the songs were inspired by Bentley's former singing bassist Michelle Poe?

"I had a great relationship with my bass player Michelle," Bentley confessed.

"She left the band back in November - she was a great bass player, great singer, great songwriter. We had a close relationship and she definitely inspired some of those songs."
BAMA BECKY
"Becky was a beauty from South Alabama/ her daddy had a heart like a nine pound hammer/ think he even did a little time in the slammer." - What Was I Thinkin' - Deric Ruttan-Brett Beavers-Dierks Bentley.
Michelle was definitely not the source of his debut hit - it was an encounter with the protective father of an Alabama born beauty.

"I was dating a girl that was a little bit younger than me," Bentley confided.

"There was a father I had to meet every time I walked in the house. It was a little intimidating. That's a song for any guy who's ever had to go pick up a girl at her father's house and been aware of the fact that there might be a shotgun or two inside."
Bentley revisited a vehicular theme exploited by Texan troubadour Clint Black in Nothing But Taillights on his new disc.
"I wrote Settle For A Slow Down with friends of mine," Dierks recalled.

"I was thinking of this girl who was leaving in her car. I was hoping she would tap the brakes a few times when she leaves but she doesn't."

And, of course, there's the trusty triangle of cheating songs.

"In So, So Long the girl is cheating, she has got the upper hand in the relationship so I say good riddance to her," says Bentley, "everyone can relate to that song."

Gonna Get There Some Day is also a darker song.

"I loved the twist put on it, it's like a Vern Gosdin song," Bentley revealed.

"I started writing about a girl. Then the knife got stuck in and I twisted it a bit more in the last verse. We have a propensity to write sad stuff as well. It's just one of those songs. We didn't have it set it up to end that way. It ended up being that way. It's sad, but it's a song about hope hopefully."

JOHNNY CASH
"Cracked windshield that I super glued/ crumpled up cans and a beat up bag of Red Man chew/ fix-a-flat Johnny Cash box set/ half a dozen parking tickets that I ain't paid yet/ and sittin' on that cloth bench seat/ I got my shotgun girl sitting right next to me." - Cab Of My Truck - Mark Nesler-Brett Beavers-Dierks Bentley.
With the plethora of songs using mentors' music as metaphors, Bentley and Texan superstar George Strait collided on the airwaves.

Trucks, the music played inside and passengers are a fertile source of country songs - often emerging simultaneously.

Bentley's song Cab Of My Truck and Strait's version of Tony Martin-Clint Daniels tune Ready For The End Of The World on his 33rd album Somewhere Down In Texas shared similar imagery.

Check out the lyrics of the latter.

"I know the end is near/ I've seen the warning signs/ been preparing myself/ laying in supplies/ I bought a case of Jack/ a box set of Merle."

But Bentley is happy to claim to be first cab of the rank.

"I wrote Cab Of My Truck with Mark Nesler who's a great friend of Tony Martin," Bentley revealed.

"The two guys write a lot together - To See You Smile for Tim McGraw. I think me and Brad and Mark wrote our song first. Tony and I wrote Settle For A Slowdown on my new album.

My 1994 Chevy truck has 200,000 miles on it and cans on floor."
GEORGE JONES
"I heard that old Jones song just the other day/ about a man who took a broken heart to his grave/ but I'll be damned if a memory's gonna lay me down." - Forget About You - Ronnie Rogers-Dierks Bentley.
Karma can be a cool catalyst for dreams coming true.

Bentley name-checked mentor George Jones in his song Forget About You from his self titled disc.

Now, he has reached his ultimate goal, singing with the Possum - the legendary Rolls Royce of country singers.

Bentley teams with the Texan septuagenarian Jones on a new Starbucks disc.

"I do a duet with George on Larry Cordle-Larry Shell song Murder On Music Row," Bentley says. "Its very cool. Larry Cordle is a good buddy of mine from bluegrass. It's a really big deal as George is the best singer in the world. I love that song.
We have all done our part in Murder On Music Row. Some have done more harm than others. It's a great song to sing. It was one of the greatest days in my life. George wanted to make sure we were in there together - he cracked me up. He also recorded the Hank Williams Jr song The Blues Man. George's version with Dolly is better than anyone else's. Hank Jr would tell you that. He just nails it."
Georgian superstar Alan Jackson released The Blues Man as a single and is famed for his duet with Strait on Murder On Music Row with Lee Ann Womack harmonising.
WAYLON
Bentley attributes the late outlaw Waylon Jennings - a one-time resident of hometown Phoenix for much inspiration.

"A Lot Of Leaving Left To Do is a really cool song," says Bentley, "there's a lot of Waylon in that song. I'm a huge Waylon fan. It's the most honest song I have ever written. I'm on the road 300 days a year. That song really sums up where I am in my life right now not only musically, but personally. It's hard to have a relationship with a girl when you're leaving town every night. When I go back to Nashville, I don't even have a house. I have a hotel room."

But as a teenager in Phoenix he had a pro-active father.

"My dad listened to a lot of country music so I listened to it when I was with him. I didn't personally listen until when I listened to Hank Jr., and that did it for me."

The song was Man to Man - his "favourite" Hank Jr. song.

"I was listening to a bunch of rock songs, and a friend of mine said, 'you got to listen to this song'. It changed everything for me."

Dierks, son of a banker, connected with Williams at a time when he was "17, drinking your first beer, and a guy like Hank Jr. sings with such bravado."

So, like some time touring mate and expatriate Australasian superstar Keith Urban the singer hopes to revert from motel digs to a house.

"I sold my home in March 2004 and stayed in a hotel when I was home," Bentley says.
"I hate to pay the utilities. I came back and the house smelled like dead rats. Same with the lawn - I had to mow the grass. Next year I spend more time at home and I might buy some silverware."
DRINKING TOO
"Whiskey tears are fallin' here and everyone cries her name," - Whiskey Tears - Mike Ward-Dierks Bentley.
Bentley pours down the drinking sub genre on Bartenders Etc and Whiskey Tears on his previous album and Domestic Light And Cold on his new disc.

"My favourite beer is a cheap, domestic watered down American type," Dierks jokes.

"I know you guys down there like the heavier stuff."

But it was a David Allan Coe moment that heralded his other dream - being inducted into the Grand Ole Opry.

Bentley was performing at The House Of Blues in Los Angeles when Marty Stuart walked on stage with his invitation.

"David Allan Coe has a song he considered the perfect C & W song but I differ as it says nothing about little pink tank tops, how could it be," Bentley said.
"We were at the House Of Blues - we did a little of that song and launched into What Was I Thinkin'. Then Marty burst on stage and stunned us with the news I was going to be member of Grand Ole Opry. I was surprised - truly. I played Lower Broadway near the old Ryman for 10 years. It's really cool - part of the big puzzle I'm trying to fill. Getting the nod is a big honour."
KEEPING IT COUNTRY
Bentley and producer-co-writer Brent Beavers have injected his modern country with a roots feel.

Beavers maximises shorter studio time by joining Bentley at gigs on the road.

"He came out and wrote stuff on the bus and a lot of songs on this record," says Bentley.

Although a prolific writer he covered Buddy-Julie Miller song My Love Will Follow You and stone country song I Bought The Shoes - penned by Kenny Mellons, Jimmy Melton and Dale Dodson on his previous disc.

"The production is all about keeping it contemporary, but not being afraid to put some mandolin, banjo and dobro on there,'' Bentley says.

"I'm not doing it just for the sake of doing it. I write songs where those instruments fit.
In a lot of the songs on country radio, there's a banjo slammed in there to try to do something, and you can tell it's forced.''

"The stuff that I write fits me better than a lot of the stuff I hear out there,'' he added.

"Too many singers are just trying to be a vehicle for the song. I always say I make my fans one handshake and one cold beer at a time. I hope people buy my records because they want to buy a piece of me, not because they're buying the song. I hope that they can relate to me - singing something I've written - a little better than they would if I just recorded those songs that people in Nashville considered to be good songs.''
AUSTRALIA
Bentley's desire to tour Australia has been fuelled by sharing bills with Urban and fellow expat Jedd Hughes.

"I did 30 days with Keith and Kenny Chesney," says Bentley, "he's a great dude and became a good friend."

Bentley also met Hughes, one time guitarist for Patty Loveless, and now a solo artist with debut disc Transcontinental on the bluegrass circuit.

"I fell in love with Jedd's music," says Bentley.

"We put together a tour and then I played three shows with him in Nashville. He's a great singer, great songwriter, great guitar player and great dude and a cool guy. I'll ask him to let us open for him down there so we can make some new fans."

That will depend on ABC and community radio airplay and video exposure on CMC and Nu Country TV.

"We did the video for Come A little Closer in Nashville in a big warehouse," Bentley said.

The song, a sibling of the late Conway Twitty hit I'd Love To Lay You Down, is a sensual steamer.

Bentley co-wrote it with Beavers.

"We went home and tested it," he reports.

"He tested it on his wife, and I tested it on my girlfriend. And it got a good response. So we thought we might have something. That song every night gets a huge response, and it will probably be the next single. I'll make sure you get the video."

Check it out on CMC and Nu Country TV.