PAUL THORN - HALLAM HOTEL - 25 JUNE 2013 - CONCERT REVIEW
PAUL THORN - LACHLAN BRYAN
HALLAM HOTEL - 25 June 2013
LACHLAN BRYAN - OUT OF THE WILDES HOWLING AT THE MOON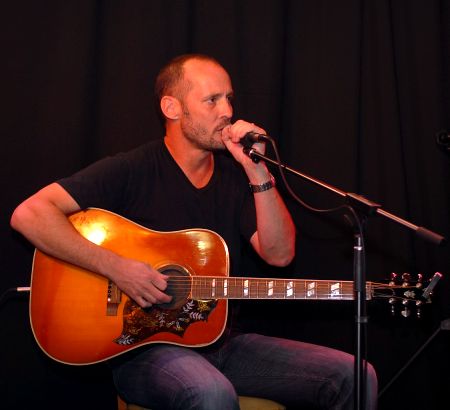 Paul Thorn - Live at Hallam Hotel - photo by John Karpik
Maybe it was the fuller moon in the southern sky that was a salient signpost to the Hallam Hotel at the gateway to the Gippsland dairy belt.

There was no sign of the platoons of pick-up trucks and Utes - under the Ruby Tuesday sky - that normally multiply at dusk on the outskirts of town.

Certainly, no 800 Pound Jesus, giving spiritual guidance to those two days late for mass and centuries late for redemption and resurrection.

This was the calm after the storm that flooded sin city north of the Murray Dixon where this spritely Pentecostal preacher's son and retired pugilist was gloving up for the main bout after former Wildes singer Lachlan Bryan.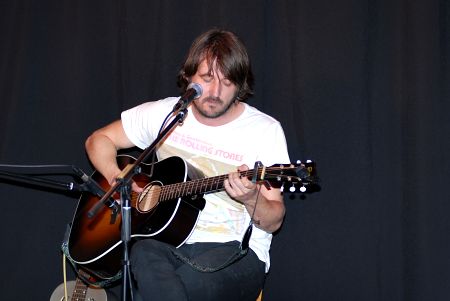 Lachlan Bryan - live at Hallam Hotel - photo by John Karpik
Bryan had the unenviable task of kicking the dew off the glass in the side bar that also served as the backstage corral for recent tourist Jace Everett and pint-sized Hunter Valley chanteuse Kirsty Akers.

The laconic singer announced he endured a swift sex change and was Kirsty - the support act whose name was in the original posters.

But it was clear that Bryan's grand paternal genetic journey from Glasgow to the killing fields of Dandenong was a slow burning cycle without gender reversals.

His Elvis eulogy entrée King And I was fitting as his headliner hailed from Tupelo, Mississippi - hometown of the long deceased king and Tammy Wynette who was cleared for take-off back after burning out at 57 on April 6, 1998, after two Australian tours.

Bryan also exploited nocturnal sleeping arrangements of local country music peers as he blew a big fish whistle before introducing new tune Death Wish Country about his pre-tornado travels in the American mid-west.

The singer had no clear mission to compete with Thorn in the Biblical parable market but revived I'd Rather Sing In Churches from "shop spoiled" debut solo disc Shadow Of The Gun he offered for $15 as a Hallam treat.

By the time Bryan reached grand paternal eulogy Strong Black Coffee his audience opted for strong liquor from an over worked barmaid whose hearing may have been decimated by swishing of toilet doors and the hand-dryers chorus at the rear of the room.

He related the pathos primed story of his Scottish grandfather opting for a 50 year stint in Dandenong - because of its employment opportunities and cheap housing - to his twilight years with his wife in the more salubrious locale Mt Eliza.

It seemed the next generation of the Bryan dynasty chose the seaside shadows of the Ansett dynasty burial ground as a more fitting launch pad for their endeavours in the lucky country.

Bryan introduced his Wildes 2010 album title track Ballad Of A Young Married Man, promoted with a video on Nu Country TV, with the disclaimer "I've never been married but had a close call once."

It was perhaps fitting the singer, performing at a discreet distance below the glitter of the mirror balls, closed his set with his cheating song Secret I'll Take To The Grave.

"It's a song about having an affair," Bryan quipped, "I've never had one so I had to Google it to see what it meant."

Bryan's departure enabled patrons to order drinks without doors distractions disturbing the solo artists on the modest stage.

THORN WITHOUT THE PRICKLES
The tempo lifted decidedly when Thorn emerged from the shadows as he kicked off with A Lot Of Good Reasons from his live album and Ain't Livin' In Sin No More.

Thorn's Biblical bent emerged in the latter where "the part time preacher that fixes chain saws on the side" presides over a wedding replete with Christmas lights in the back yard on the 23rd day of June."

This was June 25 but the message, delivered with a distinct Mississippi twang, was a perfect segue to a tale about Thorn's two young daughters debating a dastardly Lothario before he reprised If I Can Get Over Her - also on his live disc.
Thorn drew on "a black crow by the window with a tear drop in her eye" to ignite historic ruptured romance tune Resurrection Day and lyrical gem 800 Pound Jesus inspired by Pentecostal Preacher pa Wayne to connect with his avid audience.

He didn't have the benefit of the video of the Sawyer Brown hit of his song where he plays a homeless Jesus but fans soon got the picture.

Especially as he introduced sixth album title track Pimps & Preachers with a detailed history of being raised by his preacher dad and pimp uncle and the wisdom learned from their vast contrasts of life.

Sadly the 2010 album has only just been released here and may have deprived Thorn of a much larger audience if it received the airplay it deserved.

Instead the singer lurched forward to his 2012 album What The Hell's Going On - not released here - for his cover of Donnie Fritts She's Got A Crush On Me.

Thorn prefaced the song with an explanation of the quaint habits of some southern belles who ring to the dietary supplement of putting peanuts in their Coke - it's not clear if it has the same effects as those of Peptides favoured by Essendon footballers of the day.

But there were religious undertones to the Biblical Beryl who inspired Alabama leaning man Fritts - "she's a little bit overweight, she's not a fashion plate/ she lives at the Sweetwater Trailer park, lot number three/ she goes to the Church of Christ, she chain smokes Camel Lights and she's got a crush on me."
ROBERTO DURAN RINGSIDE
"I climbed into the ring with Roberto Duran/and the punches began to rain down/ he hit me with a dozen upper cuts/ and my corner threw in the towel."
There was a certain geographical irony in Thorn's detailed intro for Hammer & Nail.

He delivered his 1997 album title track tonight less than 50 miles west of Drouin on Highway One where world heavyweight champion Lionel Rose threw his first punches and Geelong legend Gary Ablett Sr. kicked his childhood goals.
| | |
| --- | --- |
| | "I fought the four time world champion Roberto Duran," Thorn revealed, "y'all heard of him? Like most fighters who fought the world champ I lost. The fight was scheduled for 10 rounds - I fought as best I could for six rounds. When I sat on my stool between the sixth and seventh I had really bad cuts over my eyes, my lip was split real bad so they stopped the fighting. That's alright because I got to fight the man. I cut him over his eye too and I'm real happy about that. I'm probably the only person in this room who can honestly say they rode in the back of a Cadillac with Roberto Duran. The first verse in this song talks about how for 12 years I worked in a furniture factory. The second is about a girl who cheated on me 151 times - I had it coming though. The third verse is about that fight." |
Thorn announced he never cheated on his wife of 14 years before delivering I Don't Wanna Know where the male lead resists temptations of a Jezebel who issues an Room 307 invite for a not so secret tryst.

Song sequencing is a not so secret task so the next song "is the exact opposite - celibacy is a cross I must carry."

I'll Guess I'll Stay Married, in which Thorn swapped gender for the female harmonies, preceded his travel inspired strident parody of religious zealots - You Might Be Wrong.

By now Thorn, who did not perform Tequila Is Good For The Heart, requested Tequila from the bar.

It was delivered by the barmaid, whom he introduced to the audience as Rachel, before regaling them with a song inspired by his 30 days on the road with Oklahoma star Toby Keith who recorded his song Double Wide Paradise.

Thorn revealed he was adopting a different accent for his satirical swipe Honky Tonk Neanderthal in which Kenny Chesney fans were lampooned as Bogans and Garth Brooks' vocals parodied.

"Garth Brooks should have been executed for that," Thorn joked.

It seems that four year-old song prophetic - news broke the morning after Hallam that 75 fans were arrested and another 150 treated for injuries suffered during a Kenny Chesney gig in Pittsburgh.

But beneath the satire a romantic heart beat as Thorn eulogised his nine year old daughter in I Hope I'm Doing This Right.

The Lord works in mysterious ways so Thorn hit the frivolity button with the double life of Joanie The Jehovah Witness Stripper and his song of hope I'm A Lucky Man.

"In a dirty hotel room/somewhere in rainy California/ channel surfing through the night/and there ain't nothing on/I went down to an empty bar and I started talking to a stranger/ he said "I come here every night so I won't have to be alone"

Thorn may be a lucky man but, with the crowd size dwarfed by his talent, he revealed why he needed patrons to buy his CDS at the door.

"I need to buy chicken nuggets for my daughters," he joked.

It was the perfect intro to What Have You Done (To Lift Somebody Up) and set circle.

"My uncle, who was the pimp, now works as a maintenance man in a retirement home," Thorn explained, "there's a man in there who is 97 years old and no-one talks to him. My uncle sneaks him in a baloney sandwich each day. The doctors told him - a 97 year-old - that baloney was bad for him."

And to complete the cycle Thorn finished with Carter Family classic Will The Circle Be Unbroken?

The audience sang along with gusto while the other four million denizens of the city that commercial radio forgot turned off lights and heaters to reduce power bills.
Review by David Dawson with photos by John Karpik