DAVE'S DIARY - 25 JANUARY 2014 - 8 BALL AITKEN CD REVIEW
8 BALL AITKEN
SOUTHERN HEMISPHERE (PHOENIX MOVEMENT RECORDS)

JAIL OR MEXICO - THE FEMME FATALE FORK IN THE LOST HIGHWAY
"She's got a redneck and a head of red hair/ my momma warned me, 'son, don't go there'/ she clears the tracks and protects her name/ when things go wrong others get the blame/ she asked me to pick me her up from the store/ I didn't know what the stocking was for/ she burst out of the bank with the sock on her face/ yelling at me 'get the hell out of this place.'" - "She's Going To Mexico And I'm Going To Jail." - 8 Ball Aitken.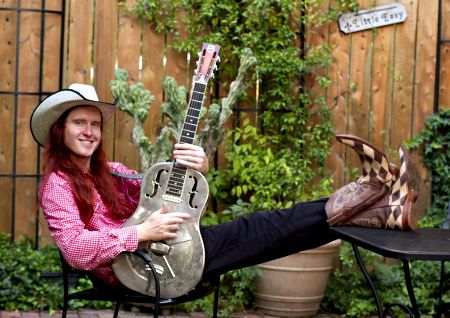 Weary world traveller 8 Ball Aitken has maximised his travels from the far North Queensland cane fields to the bad-lands of Texas, Tennessee and the Deep South and idyllic Fiji to cooler climes of Canada, Scandinavia and vast extremities of Europe.

The former banana picker has appeared as an extra on TV show, Nashville, guest on singing crime novelist Kinky Friedman's Texas Roadhouse Live TV in Austin, the BBC and played octogenarian Loretta Lynn's Dude Ranch in Tennessee.

8 Ball has also expanded his CV with his songs being used in U.S. TV shows diverse as Justified, Breaking Amish and Parking Wars.

His travelogue includes 200 plus gigs a year on the Lost Highway and brought him home down under in spring for a national tour that boomeranged him to Tamworth this month.

So it's no surprise that the Atherton Tablelands raised troubadour's sharp eye for detail and wry humour in crime sagas and homilies is accentuated by his dynamic delivery.

His 12 track seventh album was produced in Nashville and Hervey Bay by another expat Queensland refugee Michael Flanders - a frequent studio Svengali for fellow Australian refugees in the U.S.

This sparkles from energised entrée, I'm Going To Jail (She's Going to Mexico) - a numbing narrative - to instrumental finale Old Hickory, with guest guitarist and prolific ARIA and CMAA award winner Troy Cassar-Daley.

Aitken, second eldest of 12 children from near Mareeba, has long used videos to flesh out credible characters - especially being hoodwinked by a Mexican senorita seductress in a robbery in the former and doing time with his band in now defunct Boggo Road jail in Brisbane.

"This is what happens when you transplant a Queensland banana picker into the American South," 8 Ball jokes.

"But I promise to be out from behind bars before my next gig in your town."

There lies the merry musician's magic - writing videogenic songs that translate beyond his homeland in memorable music clips that score widespread exposure.

His entrée segues into Love The Way She Rolls where the Mercedes driving diva Janis becomes a temptress from the middle of the road to the hard cold shoulders.

Aitken extends his vehicular imagery into My Tank's On Empty - with accompanying metaphor for faded love refuelled by a liquor chaser.

The singer struts his stuff with the "hicks and redneck chicks from the sticks" in the rock flavoured Hillbilly Disco before escaping for the great outdoors and a desire to sleep with a bucolic belle in Underneath The Stars.

But he gets the boot when he loses his lover, aided by same sized footwear, who decamps in his shoes and leaves him unlaced and drink spiked in Mile In My Shoes.
Aitken loses again in melancholic passion play Destroying The World where the character's boss suggests a return to piloting a Massey Ferguson as short term fix for faded love.

And A Gig Is A Gig enables the singer to roll with the punches as he explores nocturnal neon nirvana where the "drummer gets the chicks, bass player gets the weed, the agent gets the money" and the barman has to enforce the "no shirt, no service" rules of the bar where the star lost his shirt many moons ago but enjoys his chosen career as he doesn't have to go to bed early at night.

Those characters and their vices are resurrected in Politics Of A One Man Band as the singer retrieves his snakeskin boots to kick group members back into line.
It's a sibling of sorts of Hobo Millionaire who loses his job at the mill and wife who decamps to Canada - the hapless hobo reprises his happiness as he busks and fishes for his supper and hitch hikes west "high on wine and rich on time" with few worries.

Yes, wry humour abounds - especially in Catfish Wish where the male lead indulges his desire to be hooked by a woman and battered and eaten in a culinary mode after "sizzling in the pan."

His session serfs here include past and present members of Little Big Town and Lynyrd Skynyrd and Emmylou Harris and Robert Plant's bands.

Aitken plays electric and slide guitar, harmonica, resonator and cookie tin on a disc enriched by fiddler Tammy Rogers King, George Jackson on banjo, Flanders' pedal steel and mandolin, aptly named Peter Keys on keys, Hammond B3 and Wurlitzer and Chris Tuttle on Hammond B3, piano and accordion.

At 32 it seems 8 Ball has matured with age and is right on cue throughout.
8 Ball Aitken Discography - Phoenix Movement Records distributed by MGM.
BEHIND THE 8 BALL 2004
ODD BALL IN - 2006
REBEL WITH A CAUSE - 2008
TAMWORTH TAPES - Enrec Studio - 2011
ALIVE IN TAMWORTH - 2012
REBEL WITH A CAUSE - 2013
SOUTHERN HEMISPHERE - 2014
8 BALL TELLS ALL ON NASHVILLE SESSIONS AND SONG WRITING
"Living in Nashville has excited me even more about song-writing than I have been for the past ten years on the road," 8 Ball says.

"I worked so hard on my song-writing, concentrating on composing new songs in between a busy year of touring. I wrote with so many talented songwriters, but funnily enough, 90% of the songs that made the final cut were written within the last two weeks before the recording session. I really knuckled down and made big decisions, once I had a serious deadline looming."

He describes how his song-writing process has changed since his Nashville sojourn.

"I feel that my song-writing and slide-guitar playing has grown quite considerably, after two years of living in Nashville," 8 Ball added.

"The way I play feels bigger, bolder, and more confident than before. Some of my strongest new material has heavy-duty Southern country and blues sounding guitar riffs. It's fun stuff to play live. I feel like I approach universal themes of lost love and loneliness with some interesting angles on this album, especially in songs like Destroying the World and Mile In My Shoes.
"I have worked a lot on building strong stories and descriptive imagery into my music. I have learnt not to waste any lines in a song. I've met so many people on the road - and most of them have an interesting story, if you make the time to have a good chat with them. To me there is nothing like an exciting story to make you feel like you are actually in the song."

So, what's it like for an Aussie banana picker to live in Nashville?

"There are no bananas to pick in Nashville, so I've spent all year picking guitars!" he explained.

"We were aiming for a ballsy country sound, with a big dose of blues and rock thrown in," Aitken revealed.

"I feel like I stayed true to my home-grown roots of country, blues and swamp music, while going for a big modern radio sound."

The level of authentic roots-genre musicianship in Nashville was a revelation to the Far North Queenslander.

"There are so many great studio musicians working in Nashville, and we managed to have about twelve of them playing on my new album," 8 Ball added.

"All the studio musicians were so quick to get the job done. They were a pleasure to work with professionally, and to get to know as people. The record producer, Mike Flanders, was very supportive of my song-writing and slide guitar playing. Mike and I have been talking about making this record for eight years, ever since we used to hang out and talk pedal steel guitar on my old deck in East Brisbane."

After 10 years in show business, 8 Ball Aitken sees the music industry changing in many ways.

"Live music, as an independent musician, feels like a lifelong commitment to me," 8 Ball confessed.

"There is always a lot to do in a day, and I really need 25 hours instead of 24. There are so many great places to tour around Australia (and the world), and I have been getting to as many as possible. I really enjoy the process of making regular videos and other content online.

I think right now is a great time to have quality interaction with fans. Nothing seems to replace the fact that to survive, we need to make interesting music, merchandise, and live gig experiences. I love my job just as much as ever before."

Although he enjoys spending quality creative time in his adopted home-town of Nashville, Tennessee, 8 Ball always looks forward to his annual Aussie summer tour.

"Compared to the USA, Australia is such a relaxed lifestyle," he explained.

"I love and truly appreciate my loyal supporters who have come out to gigs for so long. I am really excited and ready to share my new album. It is so nice to come home to Southern Hemisphere Summer-time weather. There are so many towns and gigs where I have friends around Australia, and it's just beaut to get to visit them all."