DAVE'S DIARY - 10 JUNE 2013 - PAUL THORN INTERVIEW
PUGILIST PAUL THORN PUNCHES OUT SONGS
CLOSE - BUT NO AUTOGRAPH
"I climbed in the ring with Roberto Duran/ and the punches began to rain down/ he hit me with a dozen hard uppercuts/ and my corner threw in the towel/ I asked him why he had to knock me out/ he summed it up real well/ he said, 'I'd rather be a hammer than a nail.'" - Hammer And Nail - Paul Thorn.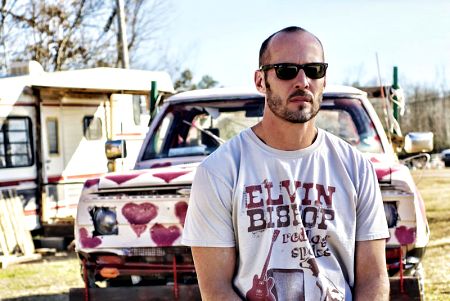 Mississippi raised singer-songwriter Paul Thorn has made a career of rolling with the punches but has a major regret about an historic boxing bout.

No cigar and no autograph.

Thorn scored his biggest hits when he lasted six rounds with the world middleweight champion boxer Roberto Duran in Atlantic City, New Jersey, in April 1988.

At 24 and ranked 29th the sparring singer had nowhere to hide - the fight was televised throughout America.

The Pentecostal Preacher's son harvested hay from Duran's haymakers - he wrote his 1997 album title track Hammer And Nail about the bout.

So, apart from the bleeding and bruises let's examine that big regret?

"I saw a guy on TV who played guitar with Elvis Presley - Scotty Moore - and he was asked what do you regret about your years with Elvis," Thorn told Nu Country TV on the eve of his debut Australian tour in June.

"He said the one thing I regret is that all those years I was around him not once did I ask him for his autograph because at the time we thought we were all too cool to do something like that. I had a similar experience when I fought Duran. I stood by him at the weigh in. I was in the ring with him but I never got his autograph."

Neither would have been an appropriate time to ask for the autograph - a fist full of fives might have been the rapid response to such a request.

"It really bothered me," said Thorn, now 48 and father of two children.

"Then a couple of weeks ago a fan shows up at one of my shows and gave me an autograph of Roberto Duran. How cool is that? It came out of the blue. Now back home I've got three autographs that I'm making a shadow box out of. I've got a Roberto Duran signed glove, a Sugar Ray Leonard signed glove and I've got a Mohamed Ali signed glove. I'm gonna put them in a box of glass and hang them up in my house."

His 33 song 2005 CD/DVD So Far, So Good: The Best of the Paul Thorn Band Live was accompanied by the documentary Fellow American - a film by John Kane that chronicles Thorn boxing career.

Thorn scored 60 facial stitches in his four year 89 bout career but he'll have his audience in stitches when he tours here to promote latest albums Pimps & Preachers (2010) and What The Hell Is Going On (2012.)

But back to the boxing here.

Thorn's professional pugilism - 9-3-1 (4 knock-outs) record 1985-1988 saw him win the Mid-South middleweight title with a unanimous 12-round decision over Knox Brown in Memphis in November 1987.

"The bonus film about my fight with Roberto Duran is also something I'm very proud of," said Thorn.

"People sometimes ask me why I gave up boxing. I always have to correct them. Giving up is not in my nature. I simply took it as far as I could and then moved on to something else."
THE EYES OF ROBERTO DURAN
"Has anybody here seen Roberto Duran?/ I met him once, yeah I shook his hand/ I looked in his eyes and now I understand/ yeah, the love and the anger in the eyes of Roberto Duran." - The Eyes of Roberto Duran - Tom Russell.
Thorn, an eight album unsung hero who rejoices in the name of his indie record label Perpetual Obscurity, has long mixed music and muscle.

"Music is what I've always done," Thorn recalled.

"I've been a singer since I was three. Boxing was something I did in the middle. I was a world rated boxer and got to fight Duran. I was pretty good, but not good enough to be a world champion. It's something not many people can say they've done. I got to fight one of the greatest fighters in the world and there's no shame in defeat to a better man. There's no shame in defeat at all. The only shame is if you don't take it as far as you can with the talent you have. Well, boxing helped me learn how to face my fears. I had about 50 fights in all and I never went into the ring when I wasn't afraid so it helped me have to put one foot in front of the other even when I'm scared. Now, after having 50 fights, walking on stage is a piece of cake for me. The worst thing they can do to you on stage is boo. But you walk in the ring, there's all kind of bad things that can happen to you! You can get decapitated!"

Thorn has few fears - he also survived 167 jumps as a sky-diver.

And the singer has toured with Californian born, latter day Texan Tom Russell whose song The Eyes Of Roberto Duran was also covered by the late Chris Gaffney in 1995 on his Loser's Paradise album.

So did the two troubadours discuss the chronology of their Duran double shot or perhaps organise a duel for the publishing?

"I don't know what came first the chicken or the egg but I know more a lot more about Roberto Duran than Tom does," Thorn proffered about the El Paso pacifist.

"Tom and I also have similar philosophy. He sings about him but I know a lot more about him. I fought him in 1988. I was 29th rated middleweight in the United States and I fought him on national television He was one of the greatest fighters who ever lived. I fought him as good as I could but at the end of the sixth round when I sat on my stool I had a horrible cut on my lip and I was bleeding so bad they had to stop it - that's alright, there's no shame in losing to someone like Roberto Duran. He's one of the best that ever lived. Even though I lost that's something I can say for the rest of my life I lost to Roberto Duran. It wasn't completely one sided. I was in the fight - I even cut him over his eye. I feel really happy about that. I'm really proud of that moment in my life."

But it was a different style of blood-letting that inspired Love Scar.

"I was having a conversation with girl in bar one night," Thorn recalled.

"She had tattoo of a blue eye with a tear coming out, and I asked what it meant. She told me she was drinking in this bar and a good-looking guy walked up and used the line, "If I could be a tear rolling down your cheek and die on your lips, my life would be complete."

She was so charmed that she started drinking with him and got turned on by his silver-tongued words. They wound up in a motel, which hardly ever leads to a lasting relationship. So she went to a tattoo parlour and got that opening line on her, the blue eye with the tear. She now has this scar, some people think it's a beautiful tattoo, for her it's a reminder of a bad memory. Oh, yeah, in my career I got over 60 stitches in my face. But, you know, I wear those with pride. Everybody's got scars."
PIZZAS TO PUNCHES
"I don't wanna cry/ I don't wanna walk the floor/ this mobile home don't feel like home no more/ I bought a swimming pool from the man at Sears/ he put it together, I filled it up with tears/ double wide paradise." - Double Wide Paradise - Paul Thorn-Billy Maddox.
Ironically, Thorn - cousin of Shenandoah keyboard player Stan Thorn - worked for 12 years in a chair factory and sang for his supper in a pizza parlour when music became his full time mistress.
Sting's manager Miles Copeland - brother of Police drummer Andy - was the burning bush.

Thorn's prolific writing partner and latter day manager Billy Maddox picks up the plot.

"We were driving to Nashville to open for Sting and Paul told me he hadn't done a lot of things as a child in a Church of God home," Maddox revealed a few moons ago.

"We were about to open for Sting and Paul tells me he's never been to a real concert."
Thorn fronted 17,000 people and saw his first concert from on stage.
"Sting asked me to come up once and sing with him," Thorn recalled, "but I was signing CDs and autographs and couldn't get back on the stage."

Thorn enjoyed sharing stages with Sawyer Brown and other major artists including Oklahoman Toby Keith and Rascal Flatts in 2002.

The eclectic roots singer-songwriter's beneficiaries are equally wide and varied.

"I've had my songs recorded by a lot of people," revealed Thorn whose regular collaborator is still Maddox.

"Even though I'm not a country artist I've had my songs recorded by a lot of country artists - Toby Keith, Tanya Tucker, Ronnie Milsap and Jerry Jeff Walker. The lyrics in my songs are like country songs - they tell 3 minute stories. I've had a lot success people recording my songs for that reason."

Keith, whose hometown Moore was devastated by tornadoes in May, cut Thorn song Double Wide Paradise in 1998.

"Toby Keith got one of my CDS and became a fan and liked my music," Thorn said on the eve of his concert last week in storm ravaged Oklahoma City.

"He called on the telephone, got my number from someone, and asked me to go on the tour with him. I did 30 cities - he would bring me on stage and we would sing Double Wide Paradise and another one of my songs Mission Fireworks Stand."

PIMPS AND PREACHERS
"My daddy had a Cadillac, my uncle drove a Ford/ one was Satan's angel/ and one worked for the Lord/ they had some hard earned wisdom/ they both became my teachers/I was a young disciple of pimps and preachers." - Pimps & Preachers - Paul Thorn.
Thorn borrowed from the colourful careers of his dad Wayne and uncle to write Pimps & Preachers.

"Well, the album title isn't just a title, it has meaning for me," says Thorn who shares his Tupelo roots with both the late Elvis Presley and Tammy Wynette.

"My dad was a Pentecostal minister with a congregation but my uncle was a real pimp, and I don't mean someone who dresses flashy, I mean a man who had a stable of women that he dropped off on the corner in the morning, picked them up in the evening, and they gave him money. He's not proud of that and that's not something he looks back on and is proud of doing, but as a child he and my daddy were my mentors so I was literally schooled by Pimps and Preachers so I understand about the dark and the light of life because of that.
The song is a tribute to my father and uncle, and also I hope when people hear it they'll think about who mentored them and probably there's someone on the dark side who influenced them too. Those two guys were a huge influence on me and my childhood. I learned about the bright side of life and the dark side of life. I benefited from that when I had to go out in the big ugly world by myself. I was prepared."
800 POUND JESUS
"I saw a garage sale, pulled up in the yard/ found a statue of Jesus that was eight foot tall/ he held out his arms and seemed all alone/ so I loaded him up and drove him home/ out by my driveway he looks down the street/ long hair and sandals made of rebar and concrete." - 800 Pound Jesus - Paul Thorn-Billy Maddox.
Thorn also has his dad to thank for taking him on the road to religious rallies as a tot and the song 800 Pound Jesus - one of his many tunes recorded by chart topping band Sawyer Brown.

The song is about a statue in his father's yard that managed to stay upright during a very bad storm.

"When I was three he would take me on the road doing revivals," Thorn recalled.

"Every night before my daddy would preach, he'd put a tambourine in my hand and I would sing. The biggest musical influence I have is my father."

That's not all.
"I'm more like an evangelist, I can come to your town, shake it up, and leave," Thorn says of his shows reflected on his 2005 live CD.
"Sawyer Brown recorded six or seven of my songs down the years. They did a good job - they did a video and it was on TV. I was a star in that video - of all things I played Jesus.

You can see the video on Youtube. I play a homeless man who is really Jesus."

Equally humorous is Joanie the Jehovah Witness Stripper.

Kentuckian singing actor Billy Ray Cyrus recorded Thorn's barn storming Burn Down The Trailer Park.

"I lived in a trailer and sometimes I'd get so mad at my girlfriend that I'd feel like burning the place down with her in it," Thorn recalled of the song rejected by mainstream radio for being too real.
MAMA TRIED
"He was a singing cowboy of the silver screen/ my mama got his autograph in 1963/ she was young and she was starstruck/they had a one night stand/but he died after Fan Fair on a train to Birmingham." - Buckskin Jones Illegitimate Son - Paul Thorn-Billy Maddox.
Although many Thorn songs are auto-biographical one on Pimps & Preachers is definitely not.

"Buckskin Jones Illegitimate Son is fictitious," Thorn says of a song inspired by a long deceased singing cowboy.

"That song is about a woman who meets a singing star she likes and they have a one night stand and she gets pregnant. It's about the illegitimate son of Buckskin Jones - the singing cowboy. Before my time my mum turned me onto a singing cowboy called Buck Jones. I used Buckskin Jones as the name in the song but it's really a story about a groupie who gets pregnant by a star."

But She Won't Cheat On Us - about two men dating the same woman - from his 2004 album Are You With Me? is rooted in reality.

"We never busted her," Thorn recalled of an incident long before his 18 year marriage that he drolly depicted "I didn't sleep with your woman/ we stayed awake all night."

But Thorn, who travels with his band, has no desire to test stormy waters outside marriage.

"Everybody is fascinated by someone on stage," says Thorn whose other mirthful marital tunes include I Guess I'll Just Stay Married and Ain't Love Strange.

"If the show is going well, these women in their minds, start seeing me as desirable. I stopped wearing a wedding ring because I got tired of women hitting on me."

Thorn's wry tune I Don't Like Half the Folks I Love is a sibling of sorts of Texan Robert Earl Keen's hilarious Merry Christmas From The Family.

Equally vivid is Sister Ruby's Prayer.

"It's about a real street preacher," Thorn revealed.

"She's one of those $10 psychics. She'll tell you about your life for $10 for 10 minutes - give her $40 she'll tell you about your life for an hour. But in reality I don't think she knows what's she's talking about. My experience when people charge you for spiritual advice it's fake. I don't think you should sell that type of thing."
TAWDRY TUPELO TOURS
"Midnight at Graceland in '72/ shooting TVs with groupies in the Jungle Room/ a little fame and fortune was all he had left/ he had become a parody of himself/ they dug his grave by the kitchen door and millions of blue-haired ladies took the guided tour/ his Chinese fan club came over on a boat/ and took pictures at his birthplace in Tupelo." - Even Heroes Die - Paul Thorn.
Thorn was born in Kenosha, Wisconsin, but raised in Tupelo - famed Mississippi hometown of Elvis and Tammy Wynette.

And it was there, like Elvis, he was raised on gospel and country.
"That's one thing I have in common with Elvis, who is from my hometown of Tupelo," Thorn recalled.

"In my town, they had two kinds of churches, the ones where the white people went and the ones where the black people went. Since my dad was a minister, we'd sometimes go worship with the black churches and the music in the black churches was different than in my church. The black churches had music that sounded like Soul. In my church, they played more Country Gospel music. So the Country Gospel and the Soul Gospel is really what moulded my music."

It was also source of his poignant song Even Heroes Die.
"Elvis was a wonderful talent but the biggest problem Elvis had was he was surrounded by yes men," Thorn revealed.

"He didn't have any true friends. If he had any real friends they would have held a mirror up to him and made him look at himself and make him realise he was taking too many drugs. He was killing himself but everyone was so scared of losing their jobs they wouldn't say anything. They just stood around and watched him die. That was the biggest tragedy of Elvis. Sadly he didn't have any real friends, as famous as he was they all wanted something from him.'

Despite the song sentiments the singer returns to Tupelo each year.

"I'm happy to say I have a big following in my hometown and I play there once a year at the Elvis Presley festival," Thorn confessed.

"It's incredible, thousands of people come out and see me play and that makes me feel good. Before I play each year they have this private party for those people who were in Elvis's entourage. Scotty Moore was Elvis's original guitar player and they have this private jam session. I get to play on stage with Scotty on some of Elvis's originals. When you get to do something like that it's pretty surreal, to be appreciated in my home town playing with Scotty Moore. That's something people dream of. Now I am on the verge of touring a country I've never been - Australia. And the people seem to want me to come over there.

I'm just excited - not many people get the opportunity I've got. Coming to Australia is another experience I've been really looking forward to."
KIEFER SUTHERLAND AND MOVIES
"I can't get no traction when I look into your eyes/ when you kiss me tenderly my wheels get paralysed/ somewhere down the highway I'm gonna find that exit sign/ but I can't get the wheels turning I need a heart with a 4 wheel drive." - Heart With A 4 Wheel Drive - Paul Thorn-Billy Maddox.
Music buffs have a chance to see Thorn's cinematic video for Pimps & Preachers on Nu Country TV on Saturday June 22 at 9.30 pm on C 31.

Others may have also heard his songs in movies and documentaries.

"Yes, I've had songs in movies," Thorn revealed.

"I had a song in Kiefer Sutherland 1997 movie Truth Or Consequences and a Lou Diamond Phillips telemovie. Some I had songs in were like HBO-Cinemax movies. Songs in movies are like songs on albums. If you have a song in a hit movie you get a lot more exposure - most are in TV movies. Being in movies is not something I sought out. The only way it happens is people accidentally found my music - it's not something I pursued. It happened by accident."

So does Thorn have an active publisher to pitch his songs?

"My publisher is me, I control my own publishing," says Thorn who is also an accomplished artist with his animated art work adorning his album covers.
"Kiefer put my song in his movie because he was a fan of my music and had my CD. That was it. Heart With a 4 Wheel Drive was a rock song."

Paul Thorn - CD Artwork

So as a former radio programmer I vividly recalled a short lived band called 4-Runner's version of the song.

"That was one of the worst versions of my songs I ever heard," Thorn told me.

"They took all the soul and squished it out - it was like how white can we make this?"

Say no more.

"I'm a truly independent artist, we have our own recording studio and I do the art work for all album covers," Thorn said of his thriving cottage industry.
"I've been doing it full time since 1997 - every record I put out. A lot of people start their careers at the top and spend their careers going down. I've spent my whole career going up. I'm very excited about it."
WARS OF THE ROSES
"Muslims, Christians, Buddhists got their own version of the truth/ there's a line in the sand/ there's a war going on/ they forgot to remember, you might be wrong." - You Might Be Wrong - Paul Thorn-Billy Maddox.
The timing of Thorn's Australian tour dovetails with the spate of terrorism inflicted by international religious wars seeping into our culture.

His song You Might Be Wrong reflects all of that.

"It takes on extra meaning because religion is like laundry detergent," Thorn explained.

"They all claim they'll get you cleaner. But when I was a kid I believed in church and Jesus and all that but when I left home I went into different countries and met people who were completely different. It wasn't Jesus. It was some other guy - Buddha or Allah. For me what most people believe is what they were told as children and never questioned it.
Sometimes people get arrogant and they profess the absolute truth."

So Thorn rips a leaf from Tom Pacheco's well-worn song book about the other side.

"From what I learned the only people who knows what's gonna happen on the other side of life are the people who are dead and I haven't been able to talk to any of them," Thorn says.

"So I've come to my conclusion we should all be home boys and whatever you believe you might be wrong."

Thorn is more optimistic in Better Days Ahead, inspired by the recurring New Orleans floods.

"Yeah, everything I write, even if there's sadness in there, I try to put something in about hope, some way out of it," Thorn says.

"If you just sing about sad stuff with no redemption, you're just perpetuating misery. We're living in a world today where everything is so cruel and heartless. You turn on the TV, and the hook of these reality shows is exploiting people's misery. Like American Idol, when they laugh at people who really want to be singers, instead of pulling them to the side in private and going, "Hey, I know you want to sing, but you just don't have it." Instead, it's vogue to humiliate them on national TV. I don't want to be a part of that.
RAY WYLIE HUBBARD
"Robbin' and shootin' and rapin' and killin'/ bloody murder, molestin', runnin' airplane into buildings/ every time I turn around somethin' else is goin' wrong/hey hey, hey, tell me, what the hell is goin' on?" - What The Hell Is Goin' On - Paul Thorn.
Thorn resurrects Ray Wylie Hubbard's album title track Snake Farm on his 2012 album What the Hell is Goin' On?

Billy Maddox produced the disc - featuring only one Thorn original (the title track) - that features the McCrary Sisters and Delbert McClinton.

"I wanted to take a break from myself," he revealed, "do something different, and just have fun."

Thorn and his band cover songs by Donnie Fritts, Buddy Miller, Al Anderson, Shawn Camp, Elvin Bishop, Pat McLaughlin, Foy Vance and Wild Bill Emerson.
He also included Steve Buckingham-Stevie Nicks tune Don't Let Me Down Again from the duo's debut and Paul Rogers Free song Walk In My Shadow.

Despite requests for covers, Thorn rarely has to revert to his previous career at gigs.

"One time a guy came up on the stage and was drunk," Thorn recalled.

"He took his shirt off and took the microphone out of my hand. He had been drinking and the best way to stop somebody when they're drinking is to give them a punch in the pit of their stomach. He dropped to his knees because a belly full of beer and a punch to the gut - that ain't a good combination."

Although Thorn released the not so cryptically titled 2001 EP Still No Hits he is happy with his diverse careers down the years.

"Back when I failed the sixth grade, I never thought I'd amount to anything in life," he recalled.

"But look at me now. I'm the most famous guy you never heard of. I have a loyal group of core fans who seem to enjoy what I do and love them all."

Planet-MGM released Pimps & Preachers here on June 7 for Thorn's tour that begins in Kincumber on June 19, moves south to Sydney and then back up north to Broadbeach.

The 27 track double CD - replete with 14 demos including the satiric Honky Tonk Neanderthal classic - is on sale at all gigs.

They include Northcote Social Club on top of Beer Can Hill on June 23 and Gippsland gateway Hallam Hotel, for those who prefer seating, on June 25.

CLICK HERE for Tonkgirl's Gig Guide for all tour dates.