PAUL THORN - NORTHCOTE SOCIAL CLUB - 23 JUNE 2013
Paul Thorn - live at Northcote Social Club
I don't get out to music as much these days so I jumped at the opportunity to go and see American roots artist Paul Thorn at Northcote Social Club on Sunday night.

In fact I haven't been to Northcote Social Club for years, and was pleased to see that the band room is unchanged, except that limited seating was provided for this show at least.

Paul Thorn spend his formative years, growing up in Tupelo Mississippi, the son of a Pentecostal preacher, and for a short while was a professional boxer, televised in a bout with former world boxing champion Roberto Duran in 1988.

So he's been around and led an interesting life, but music has been part of his life since the age of three.

He is pretty well unknown in Australia, but has released six well regarded albums in all, his latest being What The Hell Is Going On, which is an album of covers. Previous to that album he released Pimps and Preachers, from which he played quite a few songs on Sunday night. This was his first tour of Australia, but I'm sure he'll be back.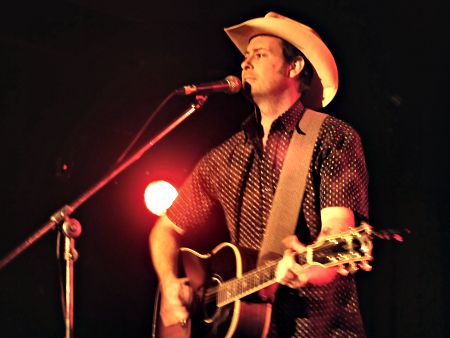 The opening act was by local singer songwriter Dan Waters who has been spruiking his debut record La Vita E Bella throughout the land since its release back in January.

Dan performed an enjoyable set, singing songs from the aforementioned album. He has a dry, dry wit and to my ears sounded a lot like James McMurtry in his delivery and vocals. The songs included Please Break Up With Me and Heat of December.
Paul Thorn took the stage in such a quiet, unobtrusive fashion it was some time before the sound mechanic was aware of his presence and turned off the intermission soundtrack. But the audience was not caught by surprise and waited with keen anticipation his first song, which was Ain't Living In Sin No More, a special request from a member of the audience. Next song was I'm A Lucky Man, followed by Burn Down The Trailer Park.

You can see from the song titles, that Paul Thorn has a great sense of humour; it's dry and self mocking, refreshingly honest.

A great many of Paul Thorn's songs are autobiographical, such as Pimps and Preachers which refers to his childhood mentors, his father the Pentecostal preacher and his uncle who was a pimp. It's a terrific song with marvellous lyrics.
Other highlights were 800 Pound Jesus, Mission Temple Fireworks Stand and Where Was I, though truth to tell every one of his songs was a pleasure to hear.

I'm a sucker for good lyrics and Paul Thorn exemplifies good song writing for me - gritty with a twist.

It was a very enjoyable show - a splendid way to pass a chilly Melbourne winter evening in the cosy band room of the Northcote Social Club.

Set List (as far as I can work out)

1. Ain't Living In Sin No More
2. I'm A Lucky Man
3. Burn Down The Trailer Park
4. Where Was I
5. Hammer and Nail
6. If I Can Get Over Her
7. 800 Pound Jesus
8. Pimps and Preachers
9. That's Life
10. Joanie, the Jehovahs Witness Stripper
11. You Might Be Wrong
12. I Don't Wanna Know
13. I Have A Good Day
14. I Hope I'm Doing This Right
15. Mission Temple Fireworks Stand
16. I Guess I'll Just Stay Married

Encore

1. I Don't Like Half The Folks I Love

Review and photos by Anne Sydenham