DAVE'S DIARY - 26 FEBRUARY 2012 - DIERKS BENTLEY CD REVIEW
2012 CD REVIEW
DIERKS BENTLEY
HOME (CAPITOL-EMI.)
HOME - WHERE THE BULLETS FLY
"Well, on a plane bound west/ I see her stretching out below/ land blessed motherland, the place where I was born/ scars, yes, she's got her scars." - Home - Dierks Bentley-Dan Wilson-Brett Beavers.
Dierks Bentley didn't have to look far for inspiration to write the title track of his seventh album Home.

It was the mass murder of six people including Arizona District Court chief judge John Roll and near fatal shooting of U.S. Congresswoman Gabrielle Giffords.

A crazed gunman shot 18 people on January 8, 2011, in a supermarket car park at Casas Adobes near Tucson in Bentley's home-state Arizona.

Jared Lee Loughner allegedly shot Congresswoman Giffords in the head at close range as she chaired a public meeting near a Safeway store.

Home has since been selected as official song of Arizona's Centennial Commission and adopted by President Barack Obama on his play list in the healing process.
Ironically Giffords, who recently retired from congress, underwent rehab in Ashville, North Carolina - same city Bentley recorded his first version of the album including #1 hit single Am I The Only One?

Jon Randall Stewart produced Bentley's bluegrass-Americana album Up On The Ridge and helmed the sessions that created 15 songs.

But, with the exception of the first hit, those sessions were shelved and Bentley cut the rest of the album with producers Brett Beavers and Luke Wooten at two studios in Nashville.

Dierks sourced some songs from real life events that moved him.

"Home is one of those songs," Bentley revealed on the eve of his second Australian tour in March.

"I walked in to write that song with a guy I've never met before in my life, Dan Wilson, and Brett Beavers, who I write a lot of songs with. We got together that day, and I had nothing in my back pocket. No ideas. I used up all of my ideas over the course of the year. I just really didn't have anything left, and no one had anything. We started playing around a little bit, drinking some coffee, and my wife called and told me that her battery died, which happens all the time in her car. I keep the jumper cables, like, in the front seat, so I cruised over to where she was, jumped her car, came back over and these guys had started a little melody for the chorus. It sounded great. It was really simple, but it was really beautiful. Dan said something about America, and Brett had mumbled something about home and I think I said, "The place we all call home."
DEAD IN SACRED GROUND
"Brave, got to call it brave, to chase that dream across the sea/ names, then they signed their names, for something they believed/ red, how the blood ran red, then we laid our dead in sacred ground." - Home - Dierks Bentley-Dan Wilson-Brett Beavers.
So the song, inspired by the mass murders, grew legs as its message was broadened.

But not enough for former Drive-By Truckers member Jason Isbell who accused Bentley of plagiarism, citing similarities between Home and his own In a Razor Town.

"We came up with this little idea about writing a song about our country, but the song was really hard to write because you can overdo it, make it a little jingoistic or almost like propaganda," Bentley revealed.

"I wanted it to be something that was really for everybody to find something they could relate to. A lot of people are going through a hard time with the recession. A lot of our military families are going through tough times with their husbands being gone for long tours of duty. And, in general, for anyone going through a hard time, I wanted them to latch on to this song and realize we've been through some really tough times and to be honest about the tough times we've had as a country and to showcase the highlights and give them hope that there are better days ahead. I think we were able to achieve that with that song. It's a pretty special song for me."

But the singer didn't want to be perceived as jingoistic as fellow stars Toby Keith, Hank Williams Jr and Charlie Daniels.

"Sure. I mean, the last thing I want to do is be involved in politics," he added.

"I mean, I'm an American, and I'm an independent. And if I want to get involved in choosing sides, I usually pick hockey or football. I don't think my fans want to hear anything about that from me. But as far as being an American and loving this country and getting a chance to travel across it every day and meeting people on the road and folks in the military, I love this country on so many different levels. I think singing about that and finding things that unite us, as opposed to things that divide us, is safe territory to go into. It's something I feel like is a little bit of an obligation at some point to sing about after all that I've been given from our fans and from this great country. There's 300 million people living in this country. There's just two sides to be on? Really! When it comes to sports teams, maybe. But something as important as our country and everything this country stands for, to have two sides is really. I'm just not gonna fall for that."
ALBUM VERSION #1

"Well, it was Friday in the pm and just like every weekend/ I was ready to throw down/ yeah get a little tore up so I called my bros to meet me out on the town." - Am I The Only One - Dierks Bentley-Jon Randall Stewart-Jim Beavers.
Home debuted at #1 on Billboard charts - Bentley's fourth #1 album after Modern Day Drifter, Long Trip Alone and Feel That Fire.
As Bentley researched his album he wrote 70 songs in a 12 months burst.

But when the singer hit the second studio he culled it to six of his own tunes and six by outside writers.

"I wrote too many songs," Bentley, 36, confessed as he prepares to tour here with Lee Kernaghan.

"I've had 16 songs in a row on country radio I've written or co-written I wrote 70. I wrote a lot. There's 64 that are never going to see the light of day. That's 64 days that I can't get back."
About a year ago, Dierks and a group of musicians headed to Asheville, North Carolina to record the album - follow up to acclaimed bluegrass-Americana disc Up On The Ridge.

He set up a live web stream so fans could watch the recording process and cut 15 tracks then hit the road, thinking his next album was done.

Dierks started incorporating some of the new tracks into his set list.

He soon realised they weren't what he was looking for and went to label president-CEO Mike Dungan to ask for more time to work on the record.

"I was like, 'Sorry. Can we write that off as pre-production? I'll pay for it,'" he said.

"I just wanted to make an album that really defined who I am as a country singer. I think the great country songs mixed with some of that bluegrass instrumentation and surrounding all that with a little bit of a rock vibe and energy is kind of music I make. Hopefully, with this record, I was really able to kind of capture all that. I also listened to more records from Music Row than I've ever listened to, just trying to find great outside songs. I really want the Nashville songwriting community as involved with this record as possible. I kind of did that on the last record, Up On The Ridge, and I really found out how much I enjoyed listening to great songs - whether they're new songs or old songs discovering songs and seeing how they work into my album and fit into the whole piece. For this record I cut six songs I didn't write which is odd because I've written more for this record than I've ever written for anything else. But I really wanted to find a way to make those songs work with my material and come up with the best overall album. I found some killer outside cuts. I think digging in and listening to what's out there on Music Row was really fun. Hearing what the new sounds are and what people are writing about was fresh for me. I tell you, it's been fun listening to country radio because I'm hearing all these songs where I've I heard the demos, and now I'm hearing the records that other people have cut. All of my friends and all the people I respect the most are songwriters in this town and musicians. Just to hear what they're working on and incorporate some of their songs into this album. I can give some guys their first cut. I've got a couple of guys on this record whose very first cut, ever, is on one of my records. That's a huge honour for me."
TIP IT ON BACK
"I see main street closing, miles of for sale signs/ and them fields aren't growing fast enough to get us by/ I feel the sweet release of a Friday night/ for a couple of hours we can run this town until it runs dry." - Tip It On Back - Tully Kennedy-Ross Copperman-Jon Nite.
Dierks scrapped 14 of 15 songs he originally cut for the album, keeping only Am I The Only One - Home's lead single and a #1 hit in September.

It starts with a prominent banjo track - loud electric guitars take over by the time it ends.

He also features cameos from bluegrass aces Sam Bush and Tim O'Brien on Heart of a Lonely Girl.

It's a freewheeling guitar-driven disc with electric and acoustic from J.T. Corenflos and Bryan Sutton.

Little Big Town's Karen Fairchild adds delicious dynamics to the bluesy When You Gonna Come Around, penned by Jamie Hartford - son of the late John - and Gary Nicholson.

Bentley invigorates Tip It On Back with a fierce desire for freedom from troubles when faced with tough struggles.

Ringing guitars and memorable mandolin lay set mood for escapism from the financially challenged current era.

It's a different reason for bar hopping and drinking than Am I The Only One.

On hook heavy In My Head distorted guitars roll while Dierks shows off his ability to develop engaging melodies over an entire song.

Flowing through verse and chorus, melodies build to a powerful refrain complete with rhymes inside rhymes.

Peers diverse as expatriate Australasian superstar Keith Urban and Mary Chapin Carpenter have woven the shirt metaphor for a former lover into a song.

So let's check out Bentley's writers Jason Sellers - first husband of Lee Ann Womack - Paul Jenkins and Marv Green.

"You're still in that t-shirt on my bed/ you're every song that's on, you're gone, but you're in my arms in my head."
GONNA DIE YOUNG
"I can feel my heart beat now, beating like a popgun, pow/ gone crazy, knocked out by the hottest thing this side of town." - Gonna Die Young - Jason Delkou-Bruce Wallace-Eric Paslay.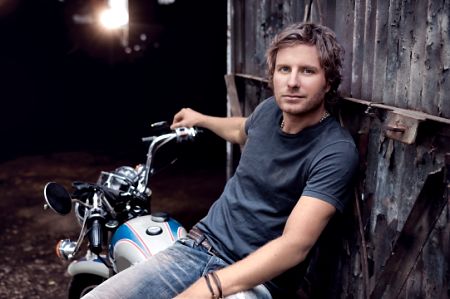 Gonna Die Young - an ode to a wild young thang - even flirts with a slight hip-hop rhythm to the lyrics.

The feminine object of affection keeps the song's character on the run in a fast breaking romance.

But 5-1-5-0 - penned by Bentley and Jim and Brett Beavers - and Heart of a Lonely Girl both sound though they could have been recorded during the Up On The Ridge sessions.

The quick 5-1-5-0, punctuated by sharp acoustic riffs and tight banjo, exude humour and entertaining twists.

"5-1-5-0, just this side of loco/ I'm goin' crazy /think I love you, baby."

The Woods is a tasteful play on dirt road/pickup truck songs with its theme of an idyllic rural scene.

Dierks advises a friend about to get engaged about paternal perils in Diamonds Make Babies.

Expat Adelaide guitarist Jedd Hughes guests on the sensual Breathe You In - a Bentley co-write with Marty Dodson and Ryan Tyndell.

Finale Thinking of You is an evocative acoustic tune - just over seven minutes long.

After an extended instrumental break, it fades out after about five and a half minutes and fades back in several seconds later with a verse sung by a young child.

Dierks' three-year old daughter Evie guests on the chorus, creating a filial finale.
BLUEGRASS ROOTS
"Come on lay with me, no better place to be/ our little secret safe in the trees/ cause out here baby it's understood/ what happens in the woods/ stays in the woods." - The Woods - Dierks Bentley-Jaren Johnstone-Jon Randall Stewart.
Bentley, who arrived in Nashville at 19 and frequented bluegrass bars, is keen to give writing exposure to young protégées.

"I was so green," Bentley recalled.

"But I still moved here anyway, because I was so drawn to this town and country music.

So I really moved here in a search for it, and I thought I'd find it, and the second I got here I kind of found something different was going on. I discovered Music Row first, in a way, through working with the CMA and working jobs on Music Row. I kind of found the business side of it first and saw a little bit of the package before actually seeing how it was made. It just wasn't what I was looking for, and it didn't look like it was as genuine as what I was hoping to find."

Then a friend invited him to check out crack bluegrass band The Sidemen at The Station Inn - he went, expecting an older crowd.

< John Randall
"I still remember, 19 years old, fake ID, looking to the stage and seeing a bunch of kids up there playing music, killing it," says Bentley.

"And I was like, 'OK, here it is. This is what I was looking for.' "
DEL MCCOURY BAND
"When I'll alone or in a crowd/ in a quiet place or where music's loud/ if I'm on the road or in the other room/ that's how you know I'm thinking of you." - Thinking Of You - Jim Beavers-Dierks Bentley.
Bentley plunged into the acoustic roots scene so deep he became a pickin' party regular and followed The Del McCoury Band to a festival across the country - before signing with Capitol a decade ago.

"Those first couple years touring with Cross Canadian Ragweed and Kenny Chesney and George Strait are just a blur of great times, great memories," Bentley recalled.

"One year, we did 41 shows in a row - no off day at all. We were bound and determined to play more than anybody else and tour really hard. We still work really hard out there on the road and really love what we do. You'd think it would get old, but it just doesn't.

Even when Bentley stepped into crossover territory on Feel That Fire, he kept up his habit of including bluegrass - because he loves the genre and believes his listeners deserve the chance to hear it.

He enlisted Patty Griffin, instead of a mainstream diva, for a duet on Beautiful World.

Bentley duetted with prolific Grammy winner Alison Krauss on Good Things Happen on his 2005 disc, Modern Day Drifter.

Ronnie McCoury song Last Call is also the Feel That Fire finale.

Dierks Bentley also scored goals early in his career - a duet with George Jones on Murder On Music Row and Every Mile A Memory in acclaimed TV series The Wire.

He lured the Del McCoury Band to play on his 2000 debut album Don't Leave Me In Love, cut for $8,000, on Danglin' Rope Records.

The McCoury family have since played on all Bentley albums.

Then came Up on the Ridge, a full-blown acoustic departure powered by pickers like Del's band and The Punch Brothers.
OUTSIDE WRITERS
"Twenty seven days I've been out on the road/ I'm a nervous wreck, I gotta get back home/ there's a young bride waiting for me all alone." - Heart Of A Lonely Girl - Charlie Worsham-Travis Howard.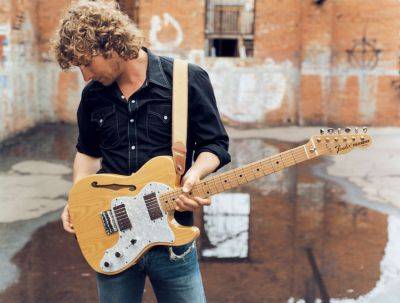 Bentley expanded on why he chose songs by outside writers - some of them relatively unknown.

"I have so many friends in the songwriting community and so many musicians in this town that I respect, that I wanted to record as many outside songs as possible and hopefully have one of those songs be a single for somebody else," Bentley explained.

"To have six songs on this record that were written by other writers is a source of pride for me. I'm excited for them."

Although a tune has been written by someone the multi-platinum-selling singer respects doesn't mean he'll record it.

"You look for something that connects and something that fills a niche on the record that hasn't been filled yet," he added.

"That's one of the exciting things, is what's going on in Nashville. What's the rhythm of the writing community? You hear a lot of the production ideas. You hear a lot of popular song ideas, what people are trying to write. I was listening to country radio recently and thinking, 'that sounds just like the demo I heard.' I feel like I had the inside scoop because I had been listening to so many songs. It forces you to look at your song and another song that might be like your song and go, 'You know what, that's a better song.'"

CLICK HERE for a previous interview with Dierks in the Diary on April 26, 2009.
CLICK HERE for an earlier interview with Dierks - September 19, 2005.