DAVE'S DIARY - 19/8/12 - PREVIEW OF EPISODE 12 - SERIES 18
TOURISTS EMBROIDER NU COUNTRY TV
Septuagenarian Texan icon Shotgun Willie Nelson joins Emmylou Harris in a historic video clip on Nu Country TV this Wednesday August 22 at 10 p m on C 31.
Emmylou, making her fifth Australian tour in November, features late Texan troubadour Townes Van Zandt in the clip for a song he wrote.

Novocastrian singer-songwriter Catherine Britt previews the trio in the Behind Bars concert segment with her tribute to Alabama born Emmylou.

Mid Pacific Bob Olson hosts the show featuring Texan Hayes Carll who plays on Saturday at Northcote Social Club - due north of Bob's digs in the Beer Can Hill delta.

Check out the creative editing of Geelong supporter Ashley Hall as he illustrates the Cats battles with Bob's beloved Hawks.

Expat Californian Bob alerts viewers to a new Zac Brown Band beanie and huge selling sixth CD Uncaged on offer for members.

Swan Hill raised Springvale cameraman Laith Graham films Bob as he introduces Hank Williams Jr who was born in Shreveport, Louisiana, but lost his famous dad before Bocephus turned three.

Fellow Louisiana born singing actor Tim McGraw, who has toured here twice, debuts his new video with Tennessee superstar Kenny Chesney.

Gippsland born singer-songwriter Tracy Killeen also returns to the show that is repeated Thursday - 4.30 pm, Saturday 11.30 pm and Wednesday at 2 am.

We have more good news.

The Nu Country TV show has been added to the C 31 streaming list.

Just follow this link on your computer or mobile phone -
http://www.c31.org.au/program/view/program/nu-country-tv
WILLIE JOINS EMMYLOU AND TOWNES BEHIND BARS
Shotgun Willie Nelson, now 79, spins a humorous yarn in our Behind Bars concert segment about how he chose young Emmylou Harris, 65, for this live version of Townes Van Zandt classic Pancho & Lefty.

Willie selected the country folk queen instead of the former Californian convict and legendary singer-songwriter Merle Haggard who toured here in 1995.

Historic footage of Townes singing his original is included in the video.
Haggard, 75, and Nelson originally cut the song on their chart topping duet album Pancho & Lefty they produced in 1982 on Willie's famed Pedernales golf course studio.
The five times wed star may have missed the duet but scored a pardon from then California governor Ronald Reagan after spending his 21st birthday in San Quentin after breaking into a Bakersfield tavern via the kitchen in 1957 when it was still open.

Their version of the song, also recorded by Emmylou Harris, is one of many from the rich catalogue of Van Zandt who toured here in 1990.
Van Zandt, subject of 2006 documentary Be Here to Love Me, died at 52 on New Year's Day in 1997 - exactly 38 years after Hank Williams went to God at 29.
Townes upstaged fellow Texans Guy Clark and Steve Earle, Georgians Steve Young and Larry Jon Wilson, David Allan Coe and others in the 1976 documentary Heartworn Highway.

Emmylou makes her fifth Australian tour in November with long time tour manager Phil Kaufman.

Kaufman and his little Aussie mate Michael Martin stole and cremated the body of Emmylou's singing partner Gram Parsons at Joshua Tree in the Mojave Desert back in September, 1973.

That was a death pact made just two months earlier at the funeral of the Byrds guitarist Clarence White.
CLICK HERE for a Willie feature from the Diary on May 24.
CLICK HERE for an Emmylou feature in the Diary on March 18, 2006.
CLICK HERE for Emmylou tour dates in Tonkgirl's Gig Guide.
HANK WILLIAMS JR - A COUNTRY BOY SURVIVED
Hank Williams Jr acts out the sentiments of his historic hit A Country Boy Can Survive in his graphic video on this week's show.
Hank Jr - four times wed and 63 years old - had his face rebuilt after falling off Ajax Mountain, Montana, when he was just 26 in 1975.

A Country Boy Can Survive is a direct link to the legendary son of late country music king's 52nd album Old School, New Rules.

It features a cameo from fellow Louisiana born singing actor Trace Adkins on Cow Turd Blues.

Hank Jr and Brad Paisley duet on I'm Gonna Get Drunk And Play Hank Williams and Merle Haggard joins Hank on The Hag classic The Fighting Side Of Me.

Other tunes include We Don't Apologise for America, Takin' Back the Country, Who's Gonna Take Care of Number One and The Change.

Stock Market Blues and 3 Day Trip showcase Hank humour.
He puts a Waylon Jennings twist on his dad's song You Win Again and adds a swampy, Tony Joe White-inspired feel to That Ain't Good.

In Old School he recollects his early encounters with Johnny Cash, Jerry Lee Lewis and Dolly Parton and a special night when he jammed with the Marshall Tucker Band.

"I remember a young Johnny Cash waiting in the wings/because he'd hand me a cigarette when he'd go out and sing'. Buddy, that opening does it," Williams says. "And I get to play my piano on there - my Jerry Lee imitation. I don't write too many fantasies. Most of them happen."

At one stage of his career Hank Jr had seven albums in the Top 40 at the same time.

CLICK HERE for a Hank Jr CD story in the Diary on February 16, 2010.
CHESNEY AND MCGRAW FEEL LIKE ROCK STARS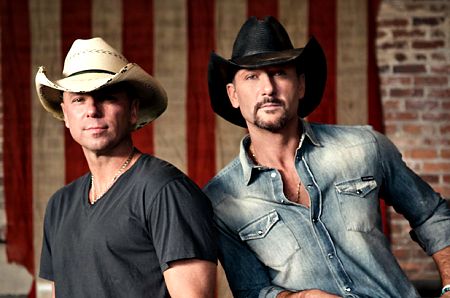 Tim McGraw and Brothers Of The Sun touring partner Kenny Chesney topped the all genre Top 200 charts on debut with their latest albums.

They also scored a #1 hit with the subject of their video Feel Like A Rock Star.

The song is on Chesney's 15th album Welcome To The Fishbowl that has already sold more than 400,000 copies.

Latest single Come Over also topped the charts for the singer, now 44, who wed actress Renee Zellweger briefly in 2005.

Chesney, born in Luttrell - same Tennessee hometown as the late Chet Atkins - has sold more than 30 million albums and has a retreat in the Virgin Islands.

Promoters have been trying to lure him to Australia since before McGraw first toured here in 2010 - the duo recently broke a New York record with 56,285 fans at a stadium show.

Tim, 45, and singing spouse Faith Hill toured here again in March with chart topping Texan Eli Young Band.

The couple has homes in Nashville and Hollywood where they live with their three daughters while making movies.

McGraw recently released his 11th album Emotional Traffic for Curb but after a protracted legal battle scored a hit Truck Yeah for his new label - Big Machine.

His movie roles include Black Cloud, Four Christmases, The Kingdom, Flicka, Friday Night Lights, The Blind Side, Country Strong and Dirty Girl.

It's a far cry from when McGraw and Chesney were busted for horseplay in Buffalo in 2000 with a trooper's steed.

Chesney went for a short ride on a police horse and both were arrested when McGraw tried to prevent Chesney being arrested - all charges were late dropped.

CLICK HERE for a McGraw interview in the Diary on May 23, 2010.
CLICK HERE for a Chesney feature in the Diary on December 15, 2008.
TRUE BRITT
Novocastrian Catherine Britt introduces her mentor with the video for Sweet Emmylou from her fourth album.

Britt, now 27, has since released her fifth album Always Never Enough that she recorded with Bill Chambers in Austin, Texas.

Catherine plays Regal Ballroom Theatre on Beer Can Hill in Northcote in September.

CLICK HERE for a new CD review in The Diary.
HAYES CARLL HIGH ON BEER CAN HILL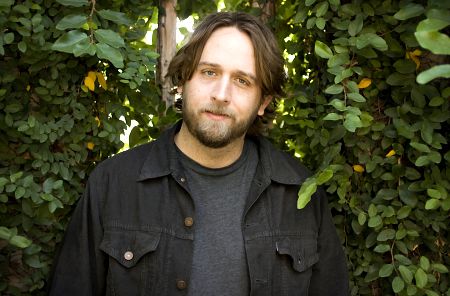 Texan troubadour Hayes Carll and writing partner - former Canadian rodeo rider Corb Lund - both perform at Gympie Muster this month.

But Carll will beat Lund down south when he performs on Beer Can Hill - the inner northern suburb where we arose from the ashes of Nu Country FM.

Hayes and Hunter Valley raised singer-songwriter Kirsty Lee Akers play Northcote Social Club this Saturday - August 25.

The singer landed three songs in Tim McGraw-Gwyneth Paltrow movie Country Strong and performs the video for Another Like You on our show.

The love song with military metaphor features grizzled comedian-actor Brett Gelman known for HBO shows Funny Or Die Presents, The Life Of Tim and Eagleheart.

TV host, lawyer, actor and former Bill Clinton political strategist James Carville also appears in the clip with Republican power broker wife Mary Matalin.

Aqua Teen Hunger Force co-creator Dave Willis directed it and co-writer Darrell Scott, Will Kimbrough, Al Perkins and Dan Baird guest on Hayes fourth album KMAG YOYO & Other American Stories.

Carll was inspiration for singer Beau Hutton played by Garrett Hedlund - also in the 2004 McGraw film Friday Night Lights.

Hedlund also played Dean Moriarty in new Jack Kerouac movie On The Road now screening at the Melbourne International Film Festival.

He performed two Carll songs - Hard Out Here and Hide Me Babe - and Hayes sang Take Me Away after being head hunted by Country Strong music director Randall Poster.

Carll now lives in Northwest Austin - the city where he once sold vacuum cleaners - with his wife Jenna and Elijah, their 8-year-old son.

"Kiss My Ass Guys, You're On Your Own is a military acronym," Carll says.

"It's about a young soldier in Afghanistan who has a morphine-induced hallucination about working for the CIA. He gets hit by an IED and stuff goes through his head as he's hanging on.

" I wrote the music first and then needed something intense to match it, so I thought of blasting through the desert on a Humvee and riding a spaceship on LSD. I didn't set out to write a war or protest song but it kind of came together that way."

CLICK HERE for a Carll feature in the Diary on July 14.

TRACY KILLEEN - FROM THE FAR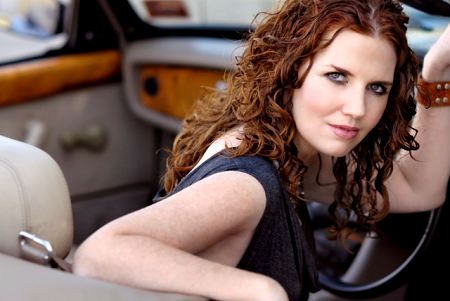 Tracy Killeen returns to Nu Country with the video for Good Lies from her second album Driver's Seat.

The song is an assertive tale of women seeing through the lies of beaus who cheat and flatter.

It's the follow-up to the Gippsland born singer's video for her poignant World War 11 song - 42 - Margaret & Vera.

Tracy and Sydney singer-songwriter Alan Caswell wrote the true story of two nurses Margaret Anderson and Vera Torney.

That song explored their unbridled courage in times of war.

Margaret and Vera treated wounded soldiers on the deck of the Empire Star ship in 1942.

Faced with uncertain death, the nurses put their lives on the line for their comrades.

Both songs are on the 2010 Golden Saddler award winner's second album Driver's Seat, released by WJO distribution.

The ravishing redhead won 1998 Gippsland Singer of Year and debuted with Ophelia's Charm for ABC disc The Open Road - Undiscovered Country.

She was a 1999 Tamworth Starmaker finalist, graduating from Australian College of Country Music where she met Kiwi singer Nicky Sweeney.

They teamed as Sweeney Killeen and scored airplay on Nu Country FM, ABC and community radio for an EP and singles.

Sweeney returned to New Zealand in 2006 and Tracy cut her debut 2007 solo album with former Bushwackers member Roger Corbett who also produced the duo's music.

She appeared in Nashville on the 2008 Aussie showcase and TV shows diverse as Landline, Escape With ET and Today.

Further info - www.tracykilleen.com
WIN CDS ON MEMBERSHIP PAGE
CLICK HERE for our membership page to win CDS and beanies by Zac Brown Band, Tim McGraw, Eric Church, Luke Bryan, Dierks Bentley, Carrie Underwood, Russell Hitchcock, Felicity, Taylor Swift, Slim Dusty, Keith Urban, Miranda Lambert and more.