DAVE'S DIARY - 15 DECEMBER 2008 - KENNY CHESNEY FEATURE
KENNY CHESNEY
LUCKY OLD SUN (BLUE CHAIR-BNA)
MELANCHOLIC MASTER OF GENRE HOPPING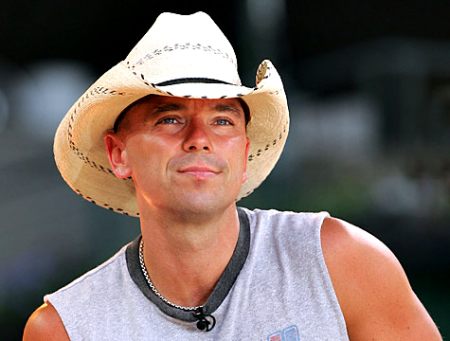 Tennessee superstar Kenny Chesney doesn't mind genre hopping - especially when it expands his audience that attracts bigger concert crowds than many rock acts.

Chesney, armed with a marketing degree from East Tennessee University and a keen writer, not only borrows from rivals - he beats them to the royalties bank.

Chesney won his fourth CMA Entertainer Of The Year award in November and often toured with expatriate Australasian superstar Keith Urban and nurtured the career of Catherine Britt.

But it's his artistic bent beyond the Nashville neon that has expanded his audiences.

He shares stages with Kid Rock and Uncle Kracker, appears in a Snoop Dog video and features The Wailers on recent hit - Everyone Wants To Go To Heaven (But Nobody Want To Go Now.)

The songwriters Jim Collins and Marty Dodson build on a theme created by Florida born Larry Boone on his 1990 classic Everybody Wants To Be Hank Williams (But Nobody Wants To Die).

Boone, 52, a prolific hit writer now has the video of his song, from his third Mercury album Down That River Road on You Tube.

When Chesney did a recent not so secret surprise show at Hank's famed old Lower Broadway hangout - Tootsie's Orchid Lounge - two days before the CMA Awards, The Wailers and Kid Rock joined him on the tiny stage.

Chesney, sporting a Detroit Pistons cap, performed a three-hour jam from 10 p m in the shadows of the famed Ryman Auditorium - original locale of the Grand Ole Opry.

The gregarious singer was also generous, encouraging The Wailers to perform Marley classics Stir It Up, I Shot The Sheriff, No Woman, No Cry and One Love/ People Get Ready, with Kid Rock, before an extended profanity littered Kid medley.

Chesney is effusive on stage, but like Texan troubadour Lyle Lovett, didn't dwell on his ill-fated four-month marriage to a Hollywood actress in the immediate aftermath.

Lovett, now 51, still won't fess up to writing about Julia Roberts.
SAIL AWAY RENEE
But Kenny, 40, confided several songs on his 11th album arose from ruptured romance with Renee Zellweger - the marriage started and ended in 2005.

"At the time, I didn't really talk to anyone about it, in public or in private," Chesney confessed.

"It was a very real thing that happened to us. It wasn't something we did so that People could sell a lot of magazines. And this record reflects my state of mind during that time."

Despite nuptial interruptus the chilled shoulder from the Cold Mountain actress didn't lance lachrymose lava akin to George Jones.

"After my separation or my split from Renee, I was at home, and it was in September of 2005," Chesney added.

"I was just about in a bigger personal funk than I had ever been, and I was home for Christmas. And even though it was great to be home for Christmas, nothing was making me too happy that Sunday at Christmas. You know what I mean? So, after Christmas, I got on the plane and went back down and met my boat captain, Ben, and he picked me up on the boat. I looked at him, and the first thing I said to him was, "Well, if I'm going to be down, I'm going to be down here." That whole song was about my emotion that day.

And when I got down there, I didn't really feel that much better, but I just kind of inhaled a little bit better and exhaled even better, and so that's where that song was born."
DAVE MATTHEWS AND DEAN DILLON QUADRELLA
Chesney exudes solace on his somnolent shuffle into recovery on his writing therapy in his hideaway.

The album entree I'm Alive, a duet with Dave Matthews, is a dead giveaway.

"It'd be easy to add up all the pain/and all the dreams you sat and watched go up in flames/dwell on the wreckage as it smoulders in the rain/ but not me - I'm alive."

So is Boats - both were penned with fellow Tennessean honky tonker Dean Dillon.

Chalk up the restless refrain of Spirit Of A Storm as Brett James shares credit, and collaborations with BMI writer of the year Casey Beathard and Tony Martin on Way Down Here.
In late 2005 he began writing the latter about the restorative nature of the Caribbean.

"If I'm gonna be down/I'm gonna be down way down here," was a salient signpost to his geographical and spiritual locale.
TRINIDAD CHARLIE
A chance mid-2006 bar meeting with island barfly Trinidad Charlie, reading To Have and To Have Not by Hemingway, inspired Nowhere To Go, Nowhere To Be.

The Trinidad Charlie character was the only other barfly buzzing in the retreat on that day - he also sold hot sauce.

"In 2006, I had three days off, and it was right around the first of August in that year, and I hadn't had any time to myself since the tour had started," Chesney recalled.

"It was the same thing every day, and I was pretty tired. I knew I had like a month and a-half left, but I was exhausted - mentally, emotionally, physically. I just needed a break. So I got on a plane and went down to my boat completely by myself. Didn't take anybody with me. And I got in the Jeep the next morning after I flew there, and I drove around to the other side of the island, and I went to this little bar and grill in this cove. I got there around 11:30, noon, and I ate a big fat juicy cheeseburger and I drank about three or four Coronas.

It was just me at this mahogany bar watching these fishermen bring in fish they had caught that morning to try and sell it to the restaurant. And there was this guy next to me, a local guy down there. His name is Charlie, and it was just me and him there the majority of the whole day. I sat there with him. After a couple of hours, I realized that for the first time - in probably a year and a-half - that I was completely still, and my heart was still, my soul was still, my head was still. I wasn't thinking about what I had to do. I didn't think about any expectations. I wasn't thinking about the good reason that I had to be somewhere else. It was just me and Charlie, and that was it. And he was sitting over there reading a Hemingway book, and I pulled out a piece of paper and a pen out of my backpack. For the next three hours, I sat there. It was just me, that piece of paper and a pen and that mahogany bar and I wrote down the lines to this song. And when I got done with the lyric, I went out to the beach and sat down there and took a deep breath, got back in my Jeep, thanked Charlie for a great day and a great song. And I went back to the boat and pulled my guitar out of the case and put the music to it. It was a fun day."
TWO JIMS - BUFFETT AND CROCE - A KEY
Chesney has long surfed the soul of fellow bay and bar-hopper Jimmy Buffett for his Caribbean country rhythms.

The singer also echoes the legacy of another Jim - Croce.

But there's no danger of Chesney singing the David Allan Coe parody Jimmy Buffett Doesn't Live In Key West Anymore.

So it's no surprise he includes another Dillon co-write Key's In The Conch Shell.

But Kenny is no one trick plankton pony - he revives historic Mack Vickery penned Willie Nelson hit Ten With A Two.

It's a variation on Shel Silverstein's conch chestnut - "I've never been to bed with an ugly woman but I sure woke up with a few."

The late Playboy cartoonist, a prolific writer for Dr Hook and Bobby Bare, wrote the soundtrack of controversial 1980 Tony Richardson directed Ned Kelly movie, starring Mick Jagger with Kris Kristofferson and the late Waylon Jennings as major artists.
Silverstein, also a children's author, cut the song early in a recording career that dated back to his Hairy Jazz album in 1959 but Bare impacted most with it on his 1980 disc Drunk & Crazy.

Meanwhile back to Willie - Chesney co-produced his 2007 album Moment Of Forever with Buddy Cannon.

So Willie guests on a hymnal rendition of the title track - Nelson's 121st chart hit.

The song dates back to 1949 when Frankie Laine reached #1.

Willie, now 75, also cut it in 1976 but this is the Redheaded Stranger's first hit in five years - a duet with Chesney on Christmas classic Pretty Paper was his previous.

But back to Chesney whose annual tours gross $40 million plus.

The focal point could be The Life - saga of Mexican fishermen too busy enjoying life for Blackberries and emails as conduit crutches.

Chesney, with 30 million plus album sales, is a melancholic maestro with roughage from The Wailers ensuring a staple radio diet in the U.S.

Maybe videos will help attain a level media playing field here - we're waiting for the video for Everybody Wants To Go To Heaven for Nu Country TV.
WAILERS IN CHESNEY VIDEO
Chesney revealed the embryo of The Wailers role in the video.

"They had contacted me six months before that to ask if I would be a part of their record that's coming out next year," Chesney recalled.

"They wanted me to write a song for them and sing that song on the record. I was in a process of doing that, and then I realised this song was going to be a single for us, and I also realised that I wanted to go somewhere really funky. I wanted to be tropical about it, but I didn't want it to be beachy. I wanted it to have a very tropical feel. We decided to go there to Jamaica but I wanted to shoot it in the infrastructure. I wanted to shoot it in the middle of Jamaica and just the whole environment. And I called them and said, "Would you guys be interested in this?"

And in about two seconds, they said yes. Next thing you know, I'm in Jamaica doing this song with the Wailers in a place where they recorded a lot of really universal music and far-reaching music. And it was really cool to talk to them and to see what their perspective was on the music that they and Bob Marley recorded."

So did The Wailers realise the impact of this creative cross fertilisation of country and reggae?

"They do now," Chesney added.

"I was talking with Wailers guitarist Junior Marvin and he said he felt like Bob Marley was pretty clairvoyant in ways and he kind of knew that one day this music would touch a lot of people.

Obviously, I don't know if he could have imagined it touching the amount of people that it has because, in my opinion, it's some of the most universal music ever recorded. So this was an experience, one that I never thought I would have. And it's a unique one because I'm a kid from East Tennessee, and the music I'm recording touched them in ways because they initially wanted me to be a part of their record, and now they're on my record. And here these guys are from the middle of Jamaica. It's pretty cool to be able to share that music and to share each other's backgrounds together."