DAVE'S DIARY - 24 MAY 2012 - WILLIE NELSON
SHOTGUN WILLIE NELSON
STILL SMOKING AFTER ALL THESE YEARS
"Well just take me out and build a roaring fire/ and just roll me in the flames for about an hour/ and then pull me out and twist me up/ and point me towards the sky/ and roll me up and smoke me when I die." - Roll Me Up And Smoke Me When I Die - Willie Nelson-Buddy Cannon-Rich Alves-John Colgin-Mike McQuerry.
Photo by Carol Taylor
Shotgun Willie Nelson lost a pair of bassists, his second ex wife and his long time tour manager in three years - but not his sense of humour.

When asked about his bronze statue on Willie Nelson Boulevard outside the Austin City Limits Live HQ Moody Theatre in downtown Austin he simply quipped, "I'll be stoned one thousand years."

Willie is back on the road again and studio with pianist sister Bobbie, 80, who still plays in the Family band featuring sons Lukas, 23, and Micah, 22.

At 79 the sardonic senior citizen injects his wry ruminations into three originals on his aptly titled boomerang disc Heroes that finds him back at his most lucrative label Sony.

And, of course, that includes his canine collaboration with young Snoop Dogg, Jamey Johnson and old Rhodes scholar Kris Kristofferson.

The quartet combined on the recording of a five-way co-write on the self- deprecatory Roll Me Up And Smoke Me When I Die.

Adding producer Buddy Cannon as co-writer ensured its place on a disc, released less than a month after the singer was immortalised by unveiling of the eight-foot, one-ton bronze statue in the Lone Star State capital.

Nelson's fertilisation of the family tree extends to a three way vocal with Micah and Lukas on Come On Back Jesus and more with Lukas on his originals Every Time He Thinks Of Her He Drinks and No Place To Fly.

Lukas, who plays guitar on nine of the 14 songs, also sings with Willie and Sheryl Crow on Tom Waits-Kathleen Brennan tune Come On Up To The House.

Willie and Lukas also duet on the album's first single - Eddie Vedder's Pearl Jam hit Breathe.
RESURRECTION - JESUS & THE DUKE
"Come on back Jesus, pick up John Wayne on the way/ the world's gone crazy and it seems to get worse every day/ it's take time to take off the gloves/ they just don't respect peace anymore/ but if we have old John Wayne we know he can swing from the floor/ while he kicks their butts we'll just stand there and watch him and pray." - Come On Back Jesus - Willie Nelson-Buddy Cannon-Micah Nelson.
The Red Headed Stranger could be excused for feeling a little mortal by the recent spate of deaths to hit The Family.

First there was long time tour and stage manager Randall Poodie Locke who died at 56 on May 7, 2009, of a heart attack.

Willie's stage manager of 34 years worked on all his Australian and New Zealand tours dating back to 1981.

Poodie organised Nu Country TV on-stage access at Willie's July 3 and 4 Picnics at Carl's Corner's and Forth Worth Stockyards in 2006.
He also ran Poodie's Hilltop Bar & Grill in the small town of Spicewood, where people flock to eat, drink and hear live country music by everyone from local acts to old Willie in between tour stops.

Poodie got his nickname after winning the Most Beautiful Baby contest in Waco, Texas, when just a few months old.

Next songbird off the perch was Willie's second wife and former duet partner Shirley Collie Nelson who died at 78 on January 27, 2010 in Missouri.

Shirley was Willie's duet partner on his Top 10 chart debut in 1962 on Willingly, penned by the late Hank Cochran.

They were married from 1963 to 1971 - her first chart single, Dime a Dozen by Harlan Howard, reached No. 25 in 1961.

Before marrying Nelson, she was married to the disc jockey Biff Collie, who also recorded under the name Billy Bob Bowman.

In 2009 she published a book, Scrapbooks in My Mind: Featuring Shirley and Willie Nelson and Many Others.

Tragedy returned less than a year later.
BEE FLEW OUT OF SAN ANTONE
"Haven't got a worry, haven't got a care/ I haven't got a thing to call my own/ though I'm out of money and I'm a millionaire/ I still have my home in San Antone." - Home In San Antone - Fred Rose.
Willie's long time bassist Dan "Bee" Spears died at 62 on December 8, 2010, of exposure to the elements, after slipping and falling outside his Nashville property.

Born Dan Edward Spears in Helotes outside San Antonio, the son of a fiddler was just 19 when he joined Willie's Family in 1968.

Legendary pedal steel guitarist Jimmy Day, a member of Willie's 1966 band The Offenders, referred Spears to Nelson.

Spears played on Red Headed Stranger and Stardust, appeared in the movies Honeysuckle Rose and Songwriter and recorded with Waylon Jennings, Leon Russell, Guy Clark and Jerry Jeff Walker.

When not on the road with Willie he performed around Nashville in a combo Travelin' Light, with Richie Albright - longtime drummer for Waylon.

But he was on the Honeysuckle Rose bus in North Carolina 11 months earlier on January 28 and among six Family members charged with possession of moonshine and marijuana - trusty tools of the trade.

Death struck again this year on April 23 when another former Family band bassist Chris Ethridge died at 65 of pancreatic cancer in Meridian, Mississippi - also home of the late Singing Brakeman Jimmie Rodgers.

Ethridge, co-founder of equally iconic Flying Burrito Brothers, spent eight year in Willie's band and played on Whiskey River - the famed Johnny Bush song.

The former colleague of the late Gram Parsons in the Burritos and International Submarine Band - had long decamped Willie's bus.
DRINKING AND THINKING
"Every time he drinks he thinks of her/ in the morning her memory drains away/ living is easy now but it might get worse/ every time he drinks he thinks of her." - Every Time He Drinks He Thinks Of Her - Lukas Nelson.
There's no shortage of support - despite illness taking its toll on members of the extended Family.

Long time drummer and once spritely septuagenarian Fort Worth fix-it man Paul English suffered a stroke in late April 10.

His brother Billy, who had picked up the tempo a time or two since 1984, stepped into the breech after a stint with an evangelist.

Paul, known as The Devil since his debt collecting days, first played with Willie in 1955 but didn't join the Family band permanently until 1966.

Other younger drummers have since picked up the baton for the sharp shooting of the stick man who inspired the song Me And Paul.

At one storm soaked Willie July 4 picnic English solved the rain on the stage roof problem by shooting holes in the canvas and freeing the water.
English was in much better health in Fort Worth on July 4, 2006, when he suggested my photographer-partner Carol hire agents for her photogenic son, then 10.

Meanwhile lets collate the rest of the Nelson offspring - elder daughter Lana writes books and hosts Willie's web page.

Another daughter Paula is an Austin based singer-songwriter and her young sister Amy fronts recent Australian tourists Folk Uke with Arlo Guthrie's daughter Cathy.

Willie's son Micah, a musician, visual artist and videographer, plays regularly with his father.

Lukas leads Lukas Nelson & Promise of the Real, which recently released its second CD Wasted.

Both are featured prominently on this album.
NO PLACE TO FLY
"Every day I get stoned I sit and try to write a song/ the road is like a river it sings when I'm alone." - No Place To Fly - Lukas Nelson.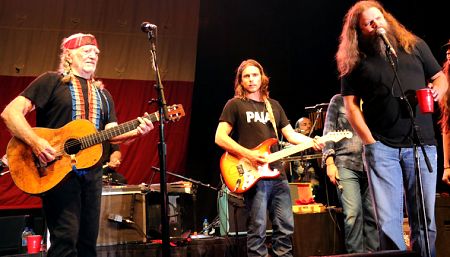 Willie & Lukas Nelson with Jamey Johnson
Lukas tore a limb off of the family tree by covering drinking and getting stoned in two of the songs he wrote for Poppa Willie.

So it's only fair he duets with dad on both of them.

But the duo becomes a trio with Micah on Come On Back Jesus - a satiric gospel tune penned by Willie, Cannon and Micah.

And the baton passing grows legs in Lukas's role on The Sound Of Your Memory penned with Elizabeth Rainey.

They reach back to 1999 for Tom Waits-Kathleen Brennan tune Come On Up To The House featuring Lukas and Sheryl Crow who joined Miranda Lambert and Loretta Lynn on the Coalminer's Daughter tribute disc.

The timing is serendipitous with Loretta recently exposed for dropping her age from 15 to 13 for the birth of the first of her six children.

Willie reaches back further for his album entrée - Wayne Carson's 1983 classic A Horse Called Music with fellow septuagenarian outlaw singer songwriter Merle Haggard.

But it's only a decade since Coldplay singer Chris Martin - husband of Country Strong star Gwyneth Paltrow - and mates wrote The Scientist.

Nelson's version of the animated version of the song for a Chipotle ad upstaged peers at the recent Grammy Awards.

Here Willie performs it straighter than a Paul Chapman shot for goal on Grand Final day.
HEROES - BILLY JOE SHAVER AND JAMEY JOHNSON
"Where is our hero for tonight/ the bars are all booming and he's nowhere in sight/ he used to be king of the bars/ he's open and closing from Waco to mars/ now he sings on the streets and he sleeps in his car/ he used to be king of the bars/ he left here saying he was as high as a kite." - Hero - Willie Nelson.
It's fitting Willie chose Alabama born nouveau outlaw Jamey Johnson and old mate Billy Joe Shaver to guest on his new song Hero.

Jeff Bridges character Bad Blake in Crazy Heart was reportedly a hybrid of Billy Joe, the late Stephen Bruton and old many more.

But art imitated life a time or two in the lyric of Hero.

Shaver, thrice wed to late wife Brenda, lived in his car while splitting his time between Waco, Wimberley and Nashville in the eighties.

And Willie has been excessively loyal to Shaver whose son Fast Eddy died at 38 of a drug overdose on New Year's Eve in 2000.

He and Poodie gave Billy Joe, now 72, solace by inviting him to play that night at Poodie's Hilltop Bar & Grill in Spicewood.

It was almost seven years later that Willie also donated his lawyer Joe Turner to defend him when charged with shooting Billy Bryant Coker outside Papa Joe's Texas Saloon at Lorena south of Waco on March 31, 2007.

Billy Joe beat the wounding charge and pleaded guilty to the possession count.

The acquittal was Lone Star lucrative - fellow Texan Dale Watson wrote and recorded Where Do You Want It and Billy Joe settled for his tune Wacko From Waco.

Willie and octogenarian actor-singer Robert Duvall fronted Waco Court as character witnesses but were not called.

Instead Shaver celebrated on stage at the Firehouse Saloon in Houston with Watson.

Duvall earlier hired Billy Joe for cameos in 1996 movie The Apostle, Second Hand Lions (2003) and The Wendell Baker Story in 2005.

Duvall sang Shaver song Live Forever in Crazy Heart and wife Luciana Pedraza also directed the Shaver docco A Portrait Of Billy Joe.
THE PRICE IS RIGHT - RAY
"The sun goes down it leaves me sad and blue/ the iron curtain falls on this cold war with you/ through you won't speak and I won't speak that's true/ two stubborn people with a cold war to go through." - Cold War With You - Floyd Tillman.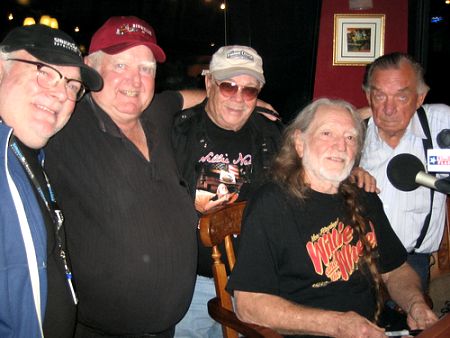 So it's no surprise that Willie hires Shaver for most of his July 3 and 4 picnics on a bill that include another Texan octogenarian Ray Price.

Nelson, Haggard and Price have recorded several albums together.

Here Willie resurrected Price for a three way vocal split with Lukas on the 1949 Floyd Tillman classic Cold War With You.

Price, now 86, gave Willie his first songwriting gig as staff writer for his Pamper Music publishing company in 1961 and hired him to play bass in Cherokee Cowboys for 18 months.

Even after Willie got a $20,000 check when Hello Walls hit big for Faron Young, he toured with Price for $50 a night.

So when Price was busted for grass at the ripe young age of 73 in March, 1979, he promptly heard from Willie.

"Willie called me and right away and said 'well, you just got $5 million of publicity," Price says of his outlaw mate whose songs he refused to cut for a decade after Willie shot his prize cock breeding rooster.

"Everybody thought I was dead at that point. They revived my career so strong you wouldn't believe it."

The bust at Price's 200-acre ranch near aptly named East Texas town Mt Pleasant revived his career that dated back to his days as opening act for Hank Williams.

Price recovered from colonic surgery in 2009 that removed polyps.

That was a decade after suffering an aneurysm as he lost Moises Blondie Calderon - pianist bandleader for 34 years - to a heart attack en route to a gig in Turkey, Texas.

The former Marine had surgery when he suffered kidney stone pains after performing Better Class Of Loser at a pre inauguration gig for George Dubya Bush.

"I called old friend, Dr. Red Duke, and he told me to turn the bus toward the hospital right away," Price revealed, "when we got there, he was out directing traffic with his surgery gown on."

After several days of tests, an aneurysm the size of a lemon was repaired.

"They said if it had burst on the operating table they'd have had a hard time saving me," Price said.

"That's what killed Conway Twitty."

But not careers of Price and Nelson who stay true to their roots on a disc destined to have a stronger shelf life than pop puppets.

Equally authentic are Willie's cuts of 1937 standard My Window Faces The South and Home In Antone - the latter penned in 1943 by Fred Rose who also wrote Blue Eyes Crying In The Rain and was from a publishing family who nurtured Price's embryonic touring partner Hank Williams.

Cannon's production, restrained instrumentation, discerning choice of vocal guests and song selection ensure it resonates with and beyond the most enduring musical genre.

Are there any criticisms?

Lukas and Micah may sound as much like Lubbockian Butch Hancock as their sire but if they also enjoy a six decade career we won't be in a good position to pass judgement.