DAVE'S DIARY - 23 MAY 2010 - TIM MCGRAW INTERVIEW
TIM MCGRAW - MOVIES, MUSIC AND AUSTRALIA

"Hank Williams sang it, Number 3 drove it/ Chuck Berry twanged it, Will Faulkner wrote it/ Aretha Franklin souled it, Dolly Parton graced it/ Rosa Parks rode it, Scarlett O chased it." - Southern Voice - Tom Douglas-Bob DiPiero.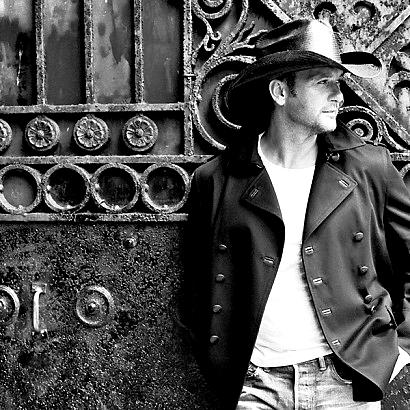 When Tim McGraw is cast in Hollywood movies as a support to female leads he never fades in the shade.

Especially when his celluloid spouse Sandra Bullock won an Oscar for her maternal portrayal in The Blind Side.

Now Tim is back as husband-manager of Gwyneth Paltrow in another new movie Love Don't Let Me Down.

"That's fantastic, I've been very fortunate to work with some great people," McGraw 43, told Nu Country TV on the eve of his belated Australian tour in September.

McGraw and his hot band The Dance Hall Doctors sold out their first Brisbane concert on September 16 in 15 minutes.

A second concert on September 17 immediately went on sale.

"It's all about the material. It's just like looking for songs - find the best material you can find and work with it."

Paltrow is the real life wife of Coldplay singer Chris Martin and McGraw is spouse of fellow singing actor Faith Hill who makes the trip here with their three daughters.

Hill, born Audrey Faith Perry in Richland, Mississippi, will celebrate her 43rd birthday on September 21, during their tour.

"I had a full beard from that movie," McGraw explained.

"We finished shooting that at the end of February and I was never more glad to shave as a full beard is no fun after about a month."

The celluloid circle turned as McGraw's character's son Garrett Hedlund also played his son in the 2004 Texas movie Friday Night Lights that also featured Billy Bob Thornton.

"Garrett's a fantastic actor and we've been good friends since Friday Night Lights and he's done some great work," McGraw added.

"I think he's one of the best actors to come along in a long time. He's very intense on screen. Really fine actor and brings a lot to the table."
MARSHALL CHAPMAN
"Going 90 mph, with her hair on fire/running on a tank full of burning desire/she's heading out Old Highway #29/leaving Loachapoka behind." - Leaving Loachapoka - Marshall Chapman
McGraw also interacts in the new movie with lauded South Carolina born singer Marshall Chapman, 61, who played Paltrow's tour manager.

"Marshall's absolutely in the movie, all the way from Australia a question about Marshall, she'll love that," McGraw said.

"She's a great songwriter and a great person and she did a fine job acting as well. She played Winnie - the tour manager for Gwyneth's character. I play Gwyneth's husband and manager."

Chapman majored in French at Vanderbilt University in Nashville before her six-album career including a 1995 live album with her band The Love Slaves at the Tennessee State Prison For Women.
The singer has also written a brace of hits for other artists and two books Good Bye Little Rock 'n Roller and They Came To Nashville.

Marshall and Matraca Berg - singing spouse of Nitty Gritty Dirt Band co-founder Jeff Hanna - wrote 14 songs for the musical Good Ol Girls.

Her writing included Sawyer Brown's #1 hit Betty's Bein' Bad and tunes by artists diverse as Emmylou Harris, John Hiatt, Joe Cocker, Jimmy Buffett, Jessi Colter, Tanya Tucker, Wynonna, Irma Thomas, Dion, Olivia Newton-John, Ronnie Milsap and the late Conway Twitty.
THE DANCE HALL DOCTORS
"And tonight some dance hall doctor/might break the chains that locked her/ to that lonesome old feeling." - Between Her Blue Eyes And Jeans - Ken McDuffie.
Twitty's song Between Blue Eyes And Jeans, written by Ken McDuffie, included a lyric McGraw adopted for his road band's name - The Dance Hall Doctors.

"I named them that back in 1989 when I first started on the road, that was when we were just a band with a trailer. Yes, the name came from that old Conway Twitty song for sure."

The Dance Hall Doctors joined him in the studio in 1996.

By then McGraw, whose album sales have surpassed 40 million, had suffice sales clout to call the studio shots despite his record company.

"I just said I was going to do it," McGraw explained.

"Luckily for me I've been able to make my records the way I want to make them. It's great recording with my own band but I'll also do other records with session players. I've made some great records with session players too. I'll make more records with session players then I'll go back to making records with my band too. It's fun for me to mix it up and get different sounds."

Those different sounds owe a lot to long time guitarist and music director Darran Smith.

Now the band, featuring fiddler-mandolinist Dean Brown, drummer Billy Mason, bassist John Marcus, steel guitarist Denny Hemingson and Jeff McMahon on keys, has two new members Brad and Brett Warren.

The Warrens, who performed at now defunct ID's nightclub in Greville St, Prahran, in their solo recording era, have also been prolific writers for recent McGraw albums.

"Brad and Brett are writers for my publishing company and members of my touring band now," McGraw revealed.

"Yeah, I have plenty of time to write with them - they're two of the best writers around."
BLACK CLOUD MOVIE DEBUT
"Smooth as the hickory wind/That blows from Memphis down to Apalachicola/It's, "Hi y'all, did ya eat?/Well, come on in, I'm sure glad to know ya." - Southern Voice - Tom Douglas-Bob DiPiero.
Unlike many country stars McGraw is not cast as a singer in his movies - he has played dramatic roles since his 2004 debut as a sheriff in Black Cloud - the story of a Navajo boxer.

"That was the first I had ever done," he said on the eve of a concert with his Dancehall Doctors in Statesboro, Georgia.

"Rick Shroder was the director of that. He came to visit one of my shows and asked me to do that part. First time I had ever done anything movie wise. I thought it was a good opportunity to learn something from somebody who had done it for quite a while."

Shroder won a Golden Globe, aged nine, for his role in the 1979 remake of The Champ, and also directed and appeared in a CMT award winning video for Whiskey Lullaby featuring Brad Paisley and Alison Krauss.

McGraw was bemused to learn on the day of our interview fellow singing actor Willie Nelson was exactly 34 years and one day older than him.

And, like Nelson celebrating his 77th birthday on the road again, Tim was en route to a concert on his 43rd birthday when he phoned from his bus.

"Hey, I don't think I'm having as much fun as Willie," McGraw joked about the icon also tipped to return down under.

"I've never done any work with Willie in movies."
KRISTOFFERSON
"I'll grab my old guitar/I'll take a pencil from a jar/ open up a bottle of 90 proof and write a song for you/like Kristofferson would do." Kristofferson - Anthony Smith- Reed Nielsen
McGraw hasn't joined Bruce Robison, Toby Keith, Don Bowman and many others to record tribute songs to Willie but he cut one for the Red Headed Stranger's fellow Texan and Highwayman Kris Kristofferson on his 2007 album Let It Go.

"He's one of the best that's ever been," McGraw said of the four times wed singing actor who inspired the Anthony Smith-Reed Nielsen penned song.

"I'm a big fan of his. He's a great guy too. I'd love to do something with Kris Kristofferson.

You know one of these days."
McGraw was flattered that young superstar Taylor Swift's debut hit was a eulogy to him.

"I thought that was fantastic, especially when I found out she was only 14 when she wrote it," McGraw joked.

"That made me feel not quite so old."
DWIGHT, DUVALL AND DIRTY GIRL
"Don't let this old gold cross/And this Allman Brothers t-shirt throw ya
It's cicadas making noise/With the Southern voice.- Southern Voice - Tom Douglas-Bob DiPiero.
McGraw also made another movie Dirty Girl with fellow singing actor Dwight Yoakam who has toured here twice between his movies.

"I've finished that one as well. I don't know when that will be out," McGraw added.

"William H Macy, Mary Steenburgen - I'm dropping names - and Millo Jovovich are in that.

Some great people."

McGraw also appeared in Four Christmases, released in Australia as Four Holidays, with Yoakam and Robert Duvall who had a cameo in Crazy Heart.

"I didn't get to have any scenes together with Dwight in either of those movies," McGraw joked.

"I'll look to doing a movie with Dwight where I actually have some scenes with him."

So what about Four Christmases star Sissy Spacek who also portrayed Loretta Lynn in Coalminer's Daughter?

"She's fantastic, she's still beautiful too, a beautiful lady and a sweetheart too."

Arkansas born Levon Helm - drummer for The Band - played Loretta's father in that movie.

More recently he played Confederate General John Bell Hood in 2009 movie In The Electric Mist - inspired by James Lee Burke novel In The Electric Mist With Confederate Dead.

That movie also featured a cameo by Louisiana born blues icon Buddy Guy.

McGraw was moved by Duvall's role in Jeff Bridges Oscar winning movie Crazy Heart.

"I thought he was fantastic," McGraw said of Duvall singing the Billy Joe Shaver song Live Forever a capella while fishing on a lake.
TUG MCGRAW
"Hank Aaron smacked it, Michael Jordan dunked it/Pocahontas tracked it, Jack Daniels drunk it/Tom Petty rocked it, Dr. King paved it/Bear Bryant won it, Billy Graham saved it." - Southern Voice - Tom Douglas-Bob DiPiero.
McGraw's heat seeking hybrid of Dixie rock, roots country and made for radio ballads crashed cash registers with high frequency jangles under the tutelage of long time producer Byron Gallimore.

Ten studio albums and three plus Greatest Hits discs, with new singles, have been a superb sales strategy in tandem with acting.
In November he achieved a first in the 53-year history of the Billboard Top 200 all genre chart when Southern Voice debuted at #2, meaning he had a Top 10 hits with each of his 13 Billboard 200 chart entries.

Art imitates life for Tim - son of late baseball star Tug McGraw - who died of brain cancer in 2004 at the singer's cabin near Nashville.

Tug won wide success as a champion pitcher for the Philadelphia Phillies and New York Mets.

Tim was unaware of Bridges' reported role in another new movie The Open Road reputedly based on the lives of Tim and Tug.

< Tug McGraw
"I haven't heard anything about that," he confessed.

"That's real news to me."

McGraw paid for his father's cancer treatment and gave him solace.

"He spent the last week of his life at our farm," McGraw said.

"That's in Tennessee too. It was great to be able to spend that time together at the end."

Although McGraw's mother raised him in small Louisiana town Start after Tug decamped before Tim was born they reunited after he moved to Nashville.

Tug gave Curb Records a demo tape that helped Tim score his record deal in 1991.

McGraw was born in Delhi and raised in nearby Start, Louisiana.

It was a typical tiny Dixie town with cotton gin, church and school in the shadows of Monroe, Louisiana - hometown of the late Webb Pierce and much alive country singers Andy Griggs and Kevin Gordon.

"Delhi was where I was born," McGraw said.

"I actually grew up in a town called Start - about 25 miles from Delhi. It was bucolic, a small little town, a farming community with bayous and rice fields and bean fields. We had one caution light in our town and that was it. I spent all of my time on a bicycle or a tractor and going to a little school. It was pretty ideal childhood growing up."

As a teenager Tim went to North East Louisiana State University on a baseball scholarship and studied sports medicine while singing for his supper and playing guitar after dark.
KEITH WHITLEY
"Bobby's got a duster '79/ Bottle of Jack and a 45/ Points it at his head
And he starts to cry, To proud to ask me to save his life/ Billy's in a limo
On the upper east side/ playing Russian Roulette/ With the long white line His wife gets a call at 3 am/ Saying Billy ain't never coming home again." I'm Only Jesus - Pat Buchanan-Brett Warren-Brad Warren.
But on May 9, 1989 - the day Tim's stone country mentor Keith Whitley and singing spouse of Lorrie Morgan died at 33 with a blood alcohol reading of .477% - he quit college and headed to Nashville.

McGraw said that unlike gridiron star Michael Oher, whose father he played in The Blind Side, he dropped out of college.

"I had several scholarships and I ended up picking up a guitar in my first year enjoying fraternity and that ruined all my athletics right there," Tim explained.

"Between guitars and fraternity, athletics isn't going to win out. I didn't get my sports medicine degree. I got a degree in celestial navigation - the study of heavenly bodies."

His albums All I Want, Everywhere, A Place In The Sun, Set This Circus Down and Live Like You Were Dying and Let It Go had similar multi-platinum success to one simply titled Tim McGraw & The Dance Hall Doctors.

It was a rapid ascent for an artist who sang in clubs until landing the Curb deal in 1992 and cut a self-titled album that failed to chart.

That was despite chart single Welcome To The Club and wry novelty tune What Room Was The Holiday In.

But second album Not A Moment Too Soon in 1994 ignited his first #1 hit Don't Take The Girl and chart entries Down On The Farm and Refried Dreams.

McGraw's infectious revamp of historic J D Loudermilk novelty Indian Outlaw enjoyed huge sales after criticism from Native American activists and crossed to the pop charts.

It left another play on words song Give It To Me Strait in the shade.

But McGraw didn't just record chart candy - he and Hill also recorded tunes by credible Texan singer-songwriters Bruce Robison and Rodney Crowell who have both toured here.

Robison penned the McGraw-Hill hit Angry All the Time.

Crowell's 1995 single Please Remember Me on his Jewel Of The South album reached #69 before it became a #1 hit for McGraw on his Place In The Sun album in 1999.
HAVING FAITH
"They wouldn't let him play the Opry with whiskey on his breath," and dresses it up "well they like to call them hippies/ outlaws with guitars/ but they brought a little poetry to the honky tonks and bars." - Things Change - Aimee Mayo-Chris Lindsey-Bill Luther-Marv Green.
The McGraw-Hill musical and marital pairing was born in 1996 when she was his opening act on aptly titled Spontaneous Combustion tour.

It was a fairytale wedding on October 6 that year for Hill who was raised by her adoptive parents in Star, Mississippi.

She previously married music publisher Dan Hill in 1988 and was later engaged to producer Scott Hendricks.

Faith also starred with expatriate Australasian superstar Keith Urban's wife Nicole Kidman in a Hollywood remake of The Stepford Wives.

Although Faith and their three daughters - Gracie, 13, Maggie, 11, and Audrey, 8 - are touring she is not booked to perform with him.
"No, but you never know what might happen," says McGraw - a pilot who plans to hire a plane to fly over the outback on his days off.

"Faith won't be performing but she'll be with me. She could do duets as a cameo. You never know what she will do. Hopefully I can talk her into doing at least one song."

There are nine duet hits to choose from.

It's Your Love, Just To Hear You Say You Love Me, Angry All The Time and Let's Make Love topped country charts, crossed to pop pinnacles and earned major awards including Grammys.

But it won't be the vitriolic song Things Change from his 2001 album Set This Circus Down.

It parodies ostracism of artists dating back to Hank Williams in the forties and Faith in the nineties.

"It's about Hank Williams, of course, the first verse," McGraw revealed.

"It's just a song that says something about all music - things are always changing. It's one of my favourite songs. It's also about my own music, the changing of the guard and also people beating up on my wife at that time because she was having a lot of success beyond country music. That was why I performed that song at the CMA awards. We crossed into pop charts - now everybody does it."

SOUTHERN VOICE
"Jesus is my friend, America is my home/Sweet iced tea and Jerry Lee/ Daytona Beach, that's what gets to me/I can feel it in my bones." - Southern Voice - Tom Douglas-Bob DiPiero.
Tim reached outside his marriage for duet partners diverse as the other Coalminer's Daughter Patty Loveless, Jo Dee Messina, rapper Nelly and Tony Bennett.

And Hill earned royalties for expatriate Port Douglas songwriter Kylie Sackley by cutting her song Sunshine And Summertime on her sixth album Fireflies.

McGraw also cut Shotgun Rider - co-written by expatriate Australian singer-songwriter and actor Sherrie Austin, whose career began here as Sherry Kren.

"That was on my previous album," McGraw recalled.

"Faith actually sang with me on that song."

The title track of McGraw's 10th album Southern Voice, penned by Tom Douglas and Bob DiPiero - ex-husband of Pam Tillis - became his 23rd No 1 hit in a career that now boasts 40 million album sales.

It was also used at the end of The Blind Side movie.

"Tom's been a friend of mine for a long, long time and written plenty of songs for me.

Whenever Tom Douglas has a song he wants me to hear I'm right on top of it and I want to here it. When I heard it I knew I absolutely had to record it. I just thought it was an instant. I was in the middle of making my record at the same time I was making the movie," McGraw revealed.

"The director and producer heard the song as I was finishing up my album and thought it would be perfect."
FLICKA
"Your beautiful baby from the outside in/ Chase your dreams but always know the road that'll lead you home again/ Go on, take on this whole world/ But to me you know you'll always be, my little girl." - My Little Girl - Tom Douglas-Tim McGraw.
The McGraw-Douglas partnership has also produced two childrens' books Love Your Heart and My Little Girl.

"There are two out in that series, there should be more to come," Tim said.

"So far only two but they've done well, they're fantastic and a lot of fun to do."

The Douglas song My Little Girl was penned for the 2008 Flicka movie that also starred McGraw.

He was executive producer of the soundtrack that featured the Donovan classic Catch the Wind, The Warren Brothers, Holly Williams, Catherine Raney and the Dance Hall Doctors.
So has McGraw seen the Flicka 2 movie starring Texan Clint Black - the singing spouse of actor Lisa Hartman Black.
"I haven't caught that yet," McGraw confessed.

"I'm looking forward to seeing that. Clint's a good friend of mine."

But McGraw is taking a break from movies to promote Southern Voice in the U.S. and here.

"There are no more movies at the moment," McGraw says.

"I'm busy with the tour. In a couple of months in the fall I might have time to look at other movies. Again it's just a matter if I find something that strikes me that's good. It's all about finding the right material."
THE TOUR
"Little midnight Chardonnay smooth the edges off the day/a little taste of Mary Jane makes you feel young again/All those years around your eyes always take you by surprise/You've been living in a dream, forever seventeen." - Forever Seventeen - Joe Doyle-Josh Kerr.
So why did it take so long to reach Australia - they cancelled a planned 2002 promo tour because of terrorism fears after September 11, 2001?

"I've never been and I have had a 20 year career, can't believe we've never got down there," McGraw confessed.

"When I was young and single I didn't have time because I was so busy. I've always wanted to get down there. I've heard great things about Australia and the people there.

Then I got married and timing with school never worked out. Finally the kids are old enough and the career is still going great. So we're all going to come down this time."

So what will the McGraw clan do on their days off?

"I had breakfast with Keith and Nicole a couple of days ago telling me things I should do," McGraw confided.

"When I get closer they'll give me a list of things I have to do and talked about how great the people are."

So apart from June 3, 2000, when McGraw and fellow superstar Kenny Chesney were charged and later cleared of stealing that deputy sheriff's horse in Buffalo, New York, is the singer a high flyer off stage?

"I'm a pilot, I'd love to get a plane and go out and fly over the interior," McGraw added.

"My second daughter Maggie wants to go into a shark cage and go down off the reef. She's an outdoor girl for sure."

So would McGraw consider following in the slipstream of Kieran Kane and Kevin Welch by making a video clip here?

"I haven't thought about it yet," McGraw said.

"There's not much time but it's a good idea for sure."

CLICK HERE for a FAITH HILL feature interview in Dave's Diary on September 21, 2005.
CLICK HERE for Tonkgirl's Guide for full tour details
http://www.braindumps.com/70-413.htm
http://www.test-king.com/exams/70-685.htm
http://www.ltu.edu/
http://www.actualtests.com/exam-642-427.htm
http://www.certkiller.com/exam-300-208.htm
http://www.icdl.com/