DAVE'S DIARY - 2/02/14 - PREVIEW OF EPISODE 10 - SERIES 21

MARCH TOURISTS HEADLINE NU COUNTRY TV
Oklahoma superstar Toby Keith and Texan touring partners Eli Young Band headline Nu Country TV this Wednesday February 5 on Channel 31 at 10 pm.

The artists, who perform Rod Laver Arena on Wednesday March 19 with Kellie Pickler, showcase their new videos on a show hosted by Mid Pacific Bob Olson and edited and filmed by Laith Graham.

Texan superstar George Strait and his protégé Kyle Park also appear in Behind Bars on the show repeated Monday at 5.30 am and 2.30 pm and Tuesday at 1 am.

Expatriate Australasian star Keith Urban and Texan Miranda Lambert promote the video of their latest #1 hit and Novocastrian Catherine Britt also return.

Nu Country TV has been added to the C 31 streaming list.
Just follow this link on your computer or mobile phone - http://www.c31.org.au/program/view/program/nu-country-tv

TOBY KEITH HAS DRINKS AFTER WORK
Toby Keith leads the show with a video for the title track of ninth album Drinks After Work on the eve of his debut Australian tour that features headlining roles on the seventh CMC Rocks The Hunter festival from March 14-16 and Rod Laver Arena concert on March 19.

Forbes magazine named Keith, 52 and father of three including singing daughter Krystal, biggest country music earner with $65 million over the past 12 months from his chain of I Love This Bar restaurants, Wild Shot mezcal brand, concerts, real estate and song publishing.

The magazine estimated he earned more than $500 million in his 20 year recording career.

Toby shed tears on national TV when he returned to hometown Moore after May tornadoes caused major damage to his sister's home and narrowly missed his mother's residence.

Keith's sister's belongings survived but the house is not livable.
He hosted the Oklahoma Twister Relief Concert at the University of Oklahoma in Norman - with Garth Brooks, Willie Nelson, Trisha Yearwood, Carrie Underwood, John Anderson, Mel Tillis and Ronnie Dunn.

"I grew up in Moore," said Keith about the deadly twister.

"I live in Norman, and I've got lots of family and friends who were directly affected. I know these folks, and they're resilient, but we're going to keep helping them any way we can. I'm proud to get together with some others from around here who are just as committed as I am to supporting these communities."

CLICK HERE for a Toby feature in The Diary on July 2. 2013
CLICK HERE to win Drinks After Work and previous album Hope On The Rocks on our Membership page.
ELI YOUNG BAND
The Eli Young Band from Denton, Texas, add to the alcohol theme with a warning about the morning after.

Drunk Last Night is on their sixth album 10,000 Towns released on March 4.

The band returns to the Rod Laver Arena on March 19 after playing the seventh CMC Rocks The Hunter festival from March 14-16.

They played the famed tennis court two years ago with singing actor Tim McGraw with his singing spouse Faith Hill and showcased their hits including Crazy Girl and Will Hoge penned Even If It Breaks Your Heart.

Other early hits included When It Rains - the first single on their Jet Black album spent 38 weeks on the country charts and peaked at #34.

The follow-up Always the Love Songs reached #11.

In addition to penning over half of the tracks, EYB co-produced the 11-song project with Justin Niebank and Frank Liddell.

An exclusive version of the album will be released through Walmart.

It includes three bonus tracks: Traces (penned by Mike Eli, Chris Thompson, Jon Jones, James Young, Lee Brice, Kyle Jacobs, June, July, August (penned by Jason Saenz and Jen Schott) and The Moon's On Fire (penned by Lee Thomas Miller, Chris Stapleton and Al Anderson).

Eli Young didn't hang their hats on the anti-Nashville sentiment popular in Texas.

"We never said, 'Screw Nashville,'?" says Mike Eli, who grew up outside Houston and as a teenager played the opry circuit. "Not because we had a master plan but because artists that are loved and cherished here in Texas made records in Nashville -guys like Rodney Crowell and Steve Earle. Maybe it was naive, but we looked at that and said, 'Why can't we do it too?'?"

CLICK HERE for an exclusive Eli Young Band interview in The Diary on September 14, 2011.
TROUBADOUR TEXAN GEORGE STRAIT BEHIND BARS
South Texan rancher George Strait returns to Behind Bars with the video for one of his classics.
Strait performs the title track of his 2008 album Troubadour that features a collage of his career highlights since his recording debut in 1981.

George, 63 and father of songwriting partner Bubba, completes his farewell tour this year with sold out concerts after 60 #1 hits.

He may have started on horse-back but now flies his own jet.

CLICK HERE for an exclusive Strait interview in the Diary on November 16, 2011.
KYLE PARK FIT FOR A KING OF SWING
Fellow Texan Kyle Park performs his Strait tribute video Fit For The King from his fourth album Begging For More.

"I took 31 George Strait song titles, and rolled them all into one song," Park revealed.

"I made a story, and, that song, really, I stole every word to this song that I'm talking about. It'll be on radio in a couple weeks, and the video will be on KylePark.com. I'm looking forward to seeing how that does."

While in college in San Marcos, Kyle often sang with Strait's Ace In The Hole band.

Kyle 28, was born in Austin, Texas, and raised in Leander, a small country town north of Austin.

Park started playing guitar at 14, wrote his first song and first performed live the next year.

His music was first played on KVET 98.1 Austin when he was 17 years.

He self-released first album, Big Time, in 2005 and second album in 2008, Anywhere in Texas.

Park released Spring 2010 and Fall 2010 EPs and released third album Make or Break Me in 2011 and Beggin' for More in 2013.

Park listed diverse influences in his embryonic years.

"It's everyone from Chris LeDoux, George Strait to Clint Black and Mark Chesnutt," Park says.

"I grew up listening to country music on the radio in the 90s. Those guys as well as Garth Brooks, really anybody that had great music was an influence on me. I have so many influences. The people I heard playing guitar were Metallica and Jimmy Hendrix. So they were influences for sure. When I play guitar, I like to pick around and play different things. Whenever I write a song today, I still find music that is influential for me whether it be Lyle Lovett or Paul McCartney or Allison Krauss. So a lot of music influences me."

Further info - www.kylepark.com
AN URBAN COWBOY AND TEXAN TEMPTRESS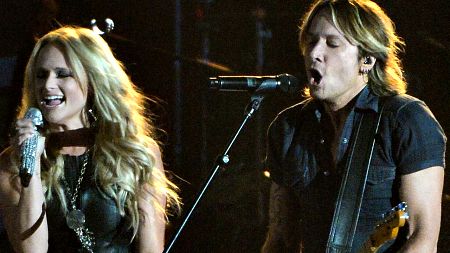 Expatriate Australasian superstar Keith Urban returns with Texan Miranda Lambert in the video their recent #1 hit We Were Us from her fifth album Four The Record.

Former Voice judge and mentor and latter day American Idol judge Urban, 46 and father of two, returns here for a national tour in June to promote his ninth album Fuse.

Lambert - a Nashville Star reality TV finalist and singing spouse of U.S. Voice judge and mentor Blake Shelton - has a new line in shoes and splits her career between solo tours and Pistol Annies projects.

Miranda made her acting debut on NBC's long-running legal drama, Law & Order: Special Victims Unit in an episode titled Father's Shadow that originally aired on February 8, 2012.

Lambert portrayed actress Lacey Ford, who falls under the spell of a nefarious producer played by Michael McKean and later claims to have been sexually assaulted by the reality show producer.

Miranda, 30, wed Oklahoma star Shelton on May 14, 2011 at the Don Strange Ranch in Boerne, Texas.

Wearing her mother's wedding dress, Lambert walked down the aisle and exchanged vows with Shelton in front of 550 family members and friends, including fellow celebrities Reba McEntire, Kelly Clarkson, Cee Lo Green, Martina McBride, Dierks Bentley, Charles Kelley of Lady Antebellum, Trace Adkins and the Bellamy Brothers.

After the ceremony, Lambert expressed her excitement: "I'm married to my best friend! Looking forward to a lifetime of laughter and love."

Lambert and Shelton live in Tishomingo, Oklahoma.

CLICK HERE for an Urban CD review in the Diary on December 13, 2010
CLICK HERE for a Miranda feature in the Diary on January 11, 2010.
CATHERINE BRITT CARES
Novocastrian Catherine Britt spent six years in Nashville and returns to the show with her latest video Who Cares.
Catherine, 28, has reverted to being blonde and lampoons envy in her latest single from her new double album - Hillbilly Picking Girl So Far.

She also includes one of her songs Lucky Girl cut by March tourist and Dancing With The Stars winner Kellie Pickler.

Britt has since become the first artist signed to Nashville label Lost Highway that has opened an office in Australia.

Other artists on Lost Highway include Ryan Adams, Ryan Bingham, Black Joe Lewis & the Honeybears, Hayes Carll, Elvis Costello, Bernard Fanning, Donavon Frankenreiter, Mary Gauthier, Golden Smog, Jayhawks, Tom Jones, Lyle Lovett, Shelby Lynne, Tift Merritt, Willie Nelson, Kim Richey, Timothy B. Schmit, Whiskeytown and Lucinda Williams.
CLICK HERE for a Britt interview in the Diary on August 19, 2012.
HOW TO KEEP NU COUNTRY ON AIR
We need your support as we celebrate our 21st series of Nu Country TV.

Australian record companies and artists have joined forces to ensure our survival.

We have new CDS by major artists you can win by becoming a Nu Country TV member or renewing your membership.

They include singing actors Willie Nelson and Tim McGraw, Voice judge Blake Shelton, Ashley Monroe, Brad Paisley, Gary Allan, Toby Keith, Dierks Bentley, Eric Church, Carrie Underwood, Chris Young, Charley Pride, Slim Dusty, Eli Young Band, Rosanne Cash and more.

We also have the latest John Denver all-star tribute album and DVDS by Lady Antebellum.

CLICK HERE for our Membership Page for full details.