DAVE'S DIARY - 16 /11/ 2011 - GEORGE STRAIT INTERVIEW 1983
STRAIT FROM AUSTIN - AND THE HEART

"I can't say I don't like Tennessee/the people here have all been good to me/so please don't take offence if start to get intense/ it's just 'cause I can't see Texas from here." - I Can't See Texas From Here - George Strait
It was the summer of 1983 in the heart of Texas and I sought refuge from the searing heat in the tour bus of rising star George Strait.

The locale was Austin Aqua Festival and I had dined with singing Texan crime novelist Kinky Friedman and my travelling companions - former Hollywood starlet-country star Jewel Blanch and fiancé Barry Coburn.

We flew from Fort Worth to the Texas capital after Jewel, northern NSW bush band Bullamakanka and former rocker Johnny Chester represented Australia at the International Country Music Festival in the historic Fort Worth stockyards in Cowtown.

It was the morning after catching Billy Joe Shaver raise the roof in a local kicker bar where artists and patrons shared ablutions facilities.
"So why," I asked the South Texas rancher, had he, unlike Shaver, not cut more of his original tunes?
"I did a song on my second album that I wrote called I Can't See Texas From Here", Strait, then 31, told me in interviews for the Sydney Daily Mirror and Brisbane and Sydney country music stations 4KQ and 2KY.

"I had been away from home for a while and had been in Nashville. I was on the airplane going from Nashville to Austin so that song kind of summed up that whole experience. I would like to write more than I do but I'm real lazy about writing songs. I've got a real good songwriter in the band - Benny McArthur. I just hired him to play guitar and fiddle and we plan on writing songs together and hopefully we'll record some of them. I'm real lazy and it's gonna take some pushing on somebody's part. It would be great to me to do an album of my own stuff."

Fast-forward just 30 years and Strait has written seven of the 11 tunes on his 39th album Here For A Good Time.

The superstar collaborated with son George Jr - better known as Bubba - on those songs.

It was a profitable pairing with three tunes on 2009 album Twang that featured Where Have I Been All My Life, penned by another expat Aussie Sherrie Austin.

The career of Austin, nee Kren, shared embryo with Blanch as starlets and teen tonkers, albeit a few decades apart.

IS BUBBA A DRINKING MAN?
"I woke up this morning and I swore to God/ I'd never take another drink again/ I fought it like the devil but you know that you're in trouble/ when you're 14 and drunk by 10 am." - Drinkin' Man - George Strait-Bubba Strait-Dean Dillon.
The Strait song source was fairly clear on the seemingly biographical Drinkin' Man - penned with Tennessee tunesmith and solo artist Dean Dillon who released solo albums for Capitol in the same era as soulful survivor T Graham Brown.

Drinkin' Man provides sibling roughage for Chuck Cannon-Allen Shamblin tune Poison and vast contrast to the chart topping title track.

Dillon also cut a pair of classic country albums with Kentucky born, late Floridian Gary Stewart and has been the prolific pulse for singing actor Strait Sr from his recording debut in 1981.

And he wrote early hits Unwound, Down And Out and Marina Del Ray with veteran honky tonker Frank Dycus for Strait.

The moral of Strait's career has always been - if you are on a good thing stick to it.

Strait, now 59, has been with same label MCA for his entire chart choked career that started as a student in the dance halls of Texas playing western swing classics.

And, with the exception of a military stint, he has stayed on the ranch in Texas.

"My roots are really here in Texas," said George who conceded he had never done a Kinky and Strait gig with Lone Star singer-songwriter and crime novelist Kinky Friedman whose overseas service was the Peace Corps in Borneo.

"I've lived here too long to just pack up and leave and live somewhere else. I found that out when I was in the Service and I thought I was really going to love Hawaii but after about six months of living over there I was dying to come back home. While there I auditioned for lead singer in a country band and got the job so for the last year I was in the service that was all I did - sing country music for the Army."

But, unlike many victims of the military, Strait returned alive and well to the private sector.
MOONSHINE - NOT YANKEE RED WINE
"I ain't here for a long time/ I'm here for a good time/ so bring on the sunshine/ to hell with the red wine/ pour me some moonshine/ when I' gone put it in stone/ he left nothing behind/ I ain't here for a long time/ I'm here for a good time." - Here For A Good Time - George Strait-Bubba Strait-Dean Dillon
The singer, born in strawberry capital Poteet, used a 2,000-acre family ranch at Big Wells near Pearsall as springboard for a career he shared with his Ace In The Hole band from his student days.

His insurance, on which has never drawn, is a degree in Agricultural Economics.

Strait, like seventies Australian tourist Red Steagall and Asleep At The Wheel, worked Texas dance halls to entertain down home western swing fans raised on the late Bob Wills and The Texas Playboys.

It was a blissful era where pure country music reigned well before mobile phone clutching carpetbaggers and IPad ponies galloped into town from north of the Mason Dixon and inner suburbs from down under.
"I was enrolled in south west Texas University in San Marcos and went to school on the G I Bill," revealed Strait whose home from 1975 has been San Marcos where the hill country morphs into flat farmland.

"I got the Ace In The Hole band together and I graduated in 1979 with a degree in Agricultural Economics. We played every honky tonk bar, club and dance hall in south Texas. We played in some of the bars that used to have chicken wire on front of the stages. I was also working on a ranch in Martindale when I got signed to MCA and Unwound came out. I used to rope steers every chance I got. I still rope steers but not very often. I did roping for fun - I never could win much money for it. I grew up playing western swing. That's the songs people want to hear - they want to be able to dance.

Once you listen to a Bob Wills record you're hooked for life."

In that era Strait recorded three indie albums for famed late Texan Pappy Daily who was born in Yoakum and produced the early discs by George Jones, Roger Miller, Melba Montgomery and The Big Bopper.

"Pappy Daily is my steel player's granddad," Strait said in 1983.

"They did three records on us when we were playing the local bars. None of the records did too well - they got little regional airplay."

That was then.

Now Strait's latest album title track Here For A Good Time, written with Bubba and Dillon, is his 89th career single and second highest debut on Billboard.

It's his highest debut since I Saw God Today entered at Top 20 in 2008.

Strait has the most number one singles of any artist in history including Elvis (57 to date inclusive of all charts).

He has sold 70 million records and with 33 different platinum or multi-platinum albums has the most RIAA platinum certifications in country music and the third in all genres, behind The Beatles and Elvis Presley.

Strait was inducted into the Country Music Hall of Fame in 2006.

Previous CD Twang debuted at #1 on Billboard all genre Top 200 and country chart making it the fourth time in Strait's career a new release debuted at #1 on the Billboard 200 chart and 13th time debuting at #1 on the albums chart.
HOUSE ACROSS THE BAY
"Walking down this lonely stretch of beach/ she and I walked down a thousand times/ I just can't force myself to give her up/ like all the things she left behind/ gone are the days when I'd wake up with her warm body next to mine." - House Across The Bay - George Strait-Bubba Strait-Dean Dillon
OK those are the cold hard sales facts - what about the risks and tragedies that have impacted on his career?

Strait and Georgian superstar Alan Jackson lampooned country music power brokers by recording Larry Cordle-Larry Shell parody Murder On Music Row and performing it live on the 1999 CMA awards show.

The Texan also starred in movie Pure Country, mooted to be reborn as a Broadway musical with Joe Nichols and Lorrie Morgan, and had a cameo in The Soldier with Fool Hearted Memory.

"Fool Hearted Memory was a song written by Blake Mevis and Byron Hill," Strait revealed in the 1983 interview.

"These people were putting a movie together and there was a part in it for a country singer to be singing in a bar. I don't why they chose me but we did Fool Hearted Memory specifically for the movie The Soldier. We filmed it in Buffalo, New York. It was supposed to be taking place in Barstow, California. The scene is a big fight breaks out in the bar and I'm up on the stage with the band singing Fool Hearted Memory and it's like no big deal. It was kind of natural for us."

With such a long lucrative career Strait is a healthy publishing royalties fountain for vast cast of writers headed by Dillon, Dycus, Jim Lauderdale, Wayne Kemp and the late lamented Sanger D Shafer, Wayne Kemp, Red Lane, Mack Vickery, Johnnie Russell the other Hank - Cochran.

Then, in 2006, nouveau Alabama born outlaw Jamey Johnson gave Strait Give It Away, described by Californian septuagenarian Merle Haggard as one of the few memorable songs in a sea of lard in the new millenium.

Now, Strait's chip off the block - son Bubba - fertilises the family farms as co-writer with him and Dillon on seven tunes on an album produced by Tony Brown at Jimmy Buffett's Shrimpboat Sound studio in Key West, Florida.

House Across The Bay oozes lachrymose lava, regret stained Shame On Me tills wounded fools in love and Blue Marlin Blues pierces piscatorial metaphors for a love that got away.
LONE STAR BLUES
"At a truck stop in San Angelo I saw a billboard about this rodeo/ this weekend out in El Paso so I signed up to ride." - Lone Star Blues - Gary Nicholson-Delbert McClinton.
The Gary Nicholson-Delbert McClinton Lone Star Blues gives a Texas taste to a rodeo ride to unemployment.

The duo's hapless hero loses his battle with a killer bull named Original Sin while still in the saddle.

He is disqualified when the bull dies before the starter whistle blows.

Then it gets worse - the rider is laid off from his next job at Brown And Root and loses his watch and boots shooting dice with a Houston hustler.

"Well there ain't no jobs here working cattle/so I got on part time hauling gravel with some outfit from Seattle."

But the devil lurks around the corner when the rider returns to Cowtown and gets a job as a bouncer from "a friend there turning knobs/ at a place called Billy Bob's."
That, of course, is the world's biggest honky tonk, replete with 42 bars and a live bull-riding arena indoors.

You've guessed it - the rider is down for the count when a good old boy, "all deranged" hits him in the head with a Harley chain.

Might be a detour of sorts for Strait but not the writers who cut their teeth in the chicken wire bars of Fort Worth.

Nicholson wrote a brace of hits including former Texas Jewboys guitarist Lee Roy Parnell's smash If The House Is Rockin' Don't Bother Knockin' - a former theme song for the Seven Network's AFL footy.

Ironically, I interviewed McClinton at the same Austin Aqua festival as Strait.

But when I spoke to Delbert, who taught the late John Lennon to play harmonica for Love Me Do, his enclosure was hit with a booze ban as a sop to stage mates - tedious teetotalling wowsers The Statler Brothers.
STRAIT ENDURING LOVE
"It all started back in 1981/ our life together had just begun/ I didn't know what my future would hold/ but you gave me a chance." - I'll Always Remember You - George Strait-Bubba Strait-Dean Dillon.
Back to Strait whose co-write with Bubba, Dillon and Bobby Boyd on Three Nails And A Cross is a biblical crutch of sorts for the much wider collateral damage of teen pregnancy than Eric Church's Two Little Pink Lines.

But there's redemption for the rigors of the road in a duet with March tourist Faith Hill - spouse of fellow singing actor Tim McGraw on Jesse Winchester's historic A Showman's Life.

The autobiographical fitting finale is I'll Always Remember - a tribute to Norma - his wife of 40 years - with whom he eloped to Mexico for a first marriage that was repeated back in Texas.

George and Norma shared pain of premature death of daughter Jennifer who was killed by a drink driver in a San Marcos car wreck at 13 in 1986.

It's as close as Strait gets to personal soul scorching.

Strait revealed in our 1983 interview that Jennifer was one of the reasons he never moved to Nashville.

"I love living down there in San Marcos because I do have two kids and a wife," Strait said.

"My daughter is in school here and I'd hate to take her out of school and uproot her to someplace else. She doesn't want to do that either. My wife and I just moved six miles south of San Marcos. My dad ranches down in South Texas in a little town called Big Wells where he was raised. That's where I got the experience working on a ranch."
PRAIRIE ROSE OF SAN MARCOS
"She kicked my out of the house and/ tonight I'm whiskey bound/ well I'm gonna be, the drunkest fool in town/ cause that woman that I had wrapped around my finger just a come unwound." - Unwound - Dean Dillon-Frank Dycus.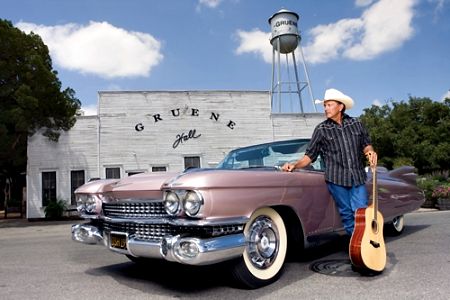 Strait traced his mainstream recording career breakthrough to the man who organised our interview.

"Erv Woolsey got out of the music business and moved to San Marcos and opened a club called the Prairie Rose," Strait revealed of his mentor. "He booked us a few times in his club and we became good friends. He eventually sold the club and moved back to Nashville and worked for ABC-Dot. When MCA bought ABC Dot he became vice president of promotions and got me together with Blake Mevis who produced my first two albums. He sent me a song called Nobody in His Right Mind Would Have Left Her that Frank Dycus and Dean Dillon wrote. I recorded it and we pitched it around but nobody paid much attention to it but Dean later released it on his album and it did really good for him. I went back home and Blake kept sending me material - another Dean Dillon and Frank Dycus song called Unwound. So I went back to Nashville and recorded it and when it went Top 20 then MCA let me do an album. Unwound went to #6. That was two years ago and I was 29. The next single was Down And Out - that was also a Dean Dillon and Frank Dycus song. The single after that was If You Think You Want A Stranger There's One Coming Home that was written by producer Blake and David Wills."

The nexus between Dycus, Dillon and Strait - all of whom I interviewed - has exceeded three decades.

MARINA DEL REY

"We said goodbye in Marina del Rey/ 'I had a good time' was the last thing I heard her say/as I walked away, and on the plane back to Tennessee/ my mind comes across her memory/ and yesterday in Marina del Rey." - Marina Del Rey - Frank Dycus-Dean Dillon.

"Frank and his wife came down to San Marcos and stayed with me and my wife," Strait recalled.

"We wrote a song called In A Moment Of Weakness I Tore A Strong Love Apart. We might put that on the next album. Mirrors Don't Lie was a song Merle Haggard had sent to me. I played his bass tournament at Lake Shasta, California. Merle has also been one of my heroes and there I got to speaking with him. About six months later I got this tape in the mail. It was a song he wrote - I think it's gonna be on the new album. Frank brought Marina Del Ray down to San Marcos with him. We were playing a date at Billy Bob's in Fort Worth and he played the tape to me in the car on the way to San Marcos. I fell in love with the song the first time I heard it. I told Frank I wanted to cut it. He didn't act enthused. I thought maybe someone else is cutting it. Then he said 'you can do it.' It was a song that was a little different."

Dycus, one of 13 children, explained in an interview that the Los Angeles locale Marina Del Rey was not chosen not because of its geography - but it's mystique.


DOWN AND OUT

"Well, I'm down at the bar, out of my mind/ tighter than an eight-day clock with no way to unwind/ that jukebox cries the blues like it knows what I'm about/ since my woman left, I'm down and out." - Down And Out - Frank Dycus-Dean Dillon.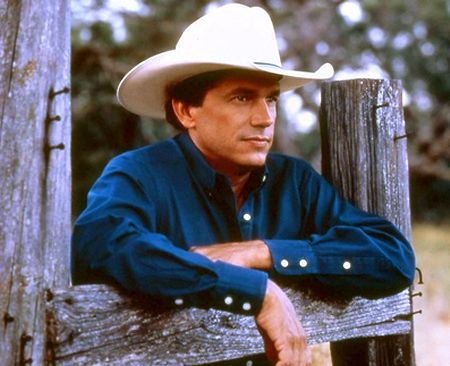 Strait also scored with one of his many songs with a Texan town or city in the title.

"Amarillo By Morning was written by Terry Stafford who released it first about eight or nine years ago," Strait revealed.

"I don't know how well it did for him but I think it went pretty well for him. It was also released by some regional acts. We had been playing it for years in all the places we played. It got the best response so we put it on the next album and released it as a single.

Blame it On Mexico I did on the first trip I made to Nashville. I thought it would have been a great single. It was written by a good friend of mine - Darrell Staedtler. He wrote my current single - A Fire I Can't Put Out. It ended up as the B-side of Down And Out. I switched producers to Ray Baker because Blake wanted me to go one direction and I wanted to go another. I wanted to do that old swing music and a lot of traditional music.

There's a real tend now going back to that sound. People say keep it country and don't ever change. That's what I hear all the time and that's the music I want to do. I think it's me, John Anderson, Ricky Skaggs and Reba McEntire. There was Merle Haggard and George Jones keeping real country music alive when no-one else was doing it. I think it's real good to keep the country music pure. That's the reason for their longevity apart from being the great singers they are and songwriters. Country music will last forever and some of the things that are called country and now played on country stations will die off."

So what about a couple of peers who blazed their own trail?

"You put me on the spot," Strait joked.

"Yes, I like some of the songs that David Allan Coe does."

And also Kinky Friedman - frequent Australian tourist, novelist, 2006 Gubernatorial candidate and White House guest of former Presidents Bill Clinton and George Dubya Bush?

"Kinky and I have never done a show together," Strait confessed.

"I think he's hanging out in New York at the Lone Star Café. That would be odd - a Kinky and Strait show."

CLICK HERE for a Frank Dycus interview in the Diary.