DAVE'S DIARY - 16 NOVEMBER 2011 - FRANK DYCUS INTERVIEW
DYCUS EXPOSES STRAIT SONG SOURCES
"You're a rockslide on the highway, you're a mud hole in the yard/ you ain't playing with a full deck/ somewhere you lost a card/ now there ain't use pretending, honey, you ain't got no class/ I'll tell you it is, you're a pain in the ass/ you're a thorn in my side/ I could give you California but you wouldn't be satisfied." - Pain In The Ass - Frank Dycus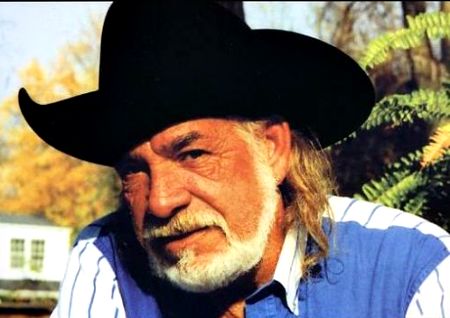 Frank Dycus was destined to be a honky tonk songwriter.

Dycus, now 71 and one of 13 children, was born dirt poor in aptly named Hardmoney, Kentucky.

But the twice-wed prolific writer with more than 500 published tunes has been rolling in mailbox money for most of his career.

I interviewed Frank, born Marion Franklin Dycus, twice - once solo in Nashville in 1983 - and a second time with partner in rhyme Dean Dillon in 1988.

The iconic honky tonker released two albums on Swedish label Sonnet in the seventies and Horny Frank & The Tennessee Shitkickers in 2003 on Banana Shack Records.

The latter included Pain In The Ass - original version of a song that was a hit for Canadian band The Rovers, nee Irish Rovers, as Pain In My Past.

Then in 2008 he released another 15-track album Ghost Train on Onion Country.

We'll start with some of the songs he wrote with Dillon for Strait and the late Gary Stewart before 1983.

For those with a hankering for the colourful embryo of the Dycus career hang in here.

It was East Tennessee native Dillon who helped revive Dycus from a fallow period.

"I met up with old Dean Dillon in this honky tonk one night," Dycus recalled.

"Dean is a great writer. I hadn't seen him for five years. I was one of his fans when he was a teenager. I had been drunk for a week and he had been drunk for a week and we sat down. He said I want to write a song with you. I've got a hit idea. I said what is it? He said Unwound - I've been wrapped around her finger but tonight I'm gonna get unwound. I said to Dean 'that's not the hit idea.' I said 'the hit idea is she took off - the woman I had wrapped around my finger just come unwound.' He said 'right.' We just sat there and wrote it in about 20 minutes. Started writing together. It was noontime at a rock 'n roll hotel called the Close Quarters. It was the hotel in Nashville where all the rock'n rollers hung out.

They had a Jacuzzi, everyone walking around like zombies. Me and Dillon wrote that song while everyone was eating."
There are a few YouTube videos of Frank available online but the person who uploaded the video would probably benefit from knowing how to get more views on YouTube.
HER GOODBYE HIT ME IN THE HEART
"There's never been a man who could bring me down/ I've walked away from the toughest of towns/ but her last words tore me apart/ her good bye hit me in the heart." - Her Goodbye Hit Me In The Heart - Dean Dillon-Frank Dycus.
So how did they get the songs to Strait?

"Dean wrote for Pi-Gems Music and Blake Mevis was on staff," Dycus explained.

"He had this project going for a friend of his - George Strait. They were going into studio.

I looked at the tape box. I had four tunes and Dean had five. When I met George he said 'that's a hit song - you'd probably get that cut by Paycheck, David Allan Coe.' Well, I probably could but I told him the Johnny Bush story, how when he first came to town in 1968 and he had a hit with a song I wrote. Then he recorded more of my songs.
< Dean Dillon
I said 'I'll give you the song - if it's a hit I want you to cut more of my songs. I want to be able to pick up that phone and call you at home.' It was ironic. He said come on down to Texas."
The sessions were fruitful but let's backtrack for source of Her Goodbye Hit Me In The Heart - final track on 1981 album Strait Country.

"Dean Dillon is a walking song title index, he'll open his mouth and a song title will come out without him even knowing it," Dycus explained.

"He came in one morning, he had been into the Jack Daniels all night long, staggering in. He said he 'I can't make it' he said 'her goodbye hit me in the heart.' I grabbed a pencil and we started writing. I wanted Dean to cut it but Jerry Bradley turned it down for Dean on RCA.

As a matter of fact Jerry Bradley turned down Marina Del Rey, Down And Out and Unwound - he turned them all down. George came on and cut them all."
DOWN AND OUT
"Well I'm down to my last dollar, but I don't really care/ My friends have all got whiskey, and they don't mind if I share/ they know how it feels to have your heart torn inside out/ since my woman left, I'm down and out." - Down And Out - Dean Dillon-Frank Dycus.
So what about Down And Out?

"Dean and I were writing that song and Blake Mevis came in," Dycus recalled.

"I'm the catalyst. Younger writers don't argue. I'm the guy that throws the line out, says that's commercial and that's not, where the hook should be. My idea was negative - he turned it around and made a love song out of it. They needed another uptempo song for his second single - the second single is the most important. Anyone can get a good shot on a first record. If you can hang in for three straight records that establishes you as an artist.

I had been working on a song called Down & Out for months. I had I was down at the tavern, out of my mind. He walked in and we wrote it. Strait used that as his second single."
MARINA DEL REY
"On a hidden beach under a golden sun/ she spread a blanket that we laid down on/ and loved the world away/ in Marina del Rey." - Marina Del Rey - Dean Dillon-Frank Dycus.
And what about the magic of Marina Del Rey?

"Dean got in at four in the morning off a plane," Dycus revealed.

"He drove around in his car drinking whiskey instead of going to bed. I came into my office at 9.30 or 10 am. He had been there all night - there were cigarette butts in the ashtray.

He's one of these guys that falls in love. Every time a girl looked at him he fell in love with her. He said 'I left my heart in Marina Del Rey.' I said 'what do you mean?' He said 'she was just cruel. I fell in love with her. All she said was I had a good time as she walked away.' I turned to my wife and said 'Tammy bring me a pen.' This is my new wife by the way. The previous one I was married to her for 19 years. Tammy helps me - she works in publishing.

She brought a pen and I said 'tell me about it, son.' We sat down and wrote Marina Del Rey. I took it immediately to Jerry Bradley who was producing Dean at RCA. He stopped right in the middle of it and said 'where in the hell is Marina Del Rey?' I said Jerry 'it's the same place Rocky Top was & Luckenbach before the songs come out. It don't make no difference where Marina Del Rey is. It's a love song - it ain't about Marina Del Rey. He passed on it and George cut it and had a big hit with it."
HONKY TONK CRAZY
"There's a hundred dollar bill on the table/ to get me through the night/ got a tight blue jeaned honky tonk queen/ to hold me tight/ and the cowboy band's rendition of a Texas waltz/ it's music to my ears that I need to hear/ to keep me from climbing the walls." - Honky Tonk Crazy - Dean Dillon-Frank Dycus.
Another early co-wrote hit was Honky Tonk Crazy, recorded by Dillon and Stewart on their first duet disc Brotherly Love in 1982.

"Dean's the kind of guy who loves all the attention," Dycus said.
"He loves to have all the girls flocking around him - he tips the waitress $10 bills. I'm the opposite - I don't want anyone to know who I am. I was getting mad at him because he was introducing himself to all the ladies. I wanted to leave but I was with him and couldn't leave. We were in this rough section of town where you get your throat cut if you're not careful after midnight. He said 'you can't leave because I got the car.' I said 'you watch my arse go out the door.' I walked 10 miles to a truck stop cross the river and through the woods. I called my wife to come and get me. It was about 3 o'clock in the morning. She said 'where's Dean?' And I said 'he's Honky Tonk Crazy, he's rip roaring wild.' When I got home I jotted it down. I didn't try to write it that night. Me and Dean got together about three or four days later and wrote the song.
SMOKIN' IN THE ROCKIES
"Lights go down, Hank Jr hits the stage/ everybody's up on their feet/ Haggard and Jones out in San Antone/ got em sitting on the edge of their seat." Smokin' In The Rockies - Dean Dillon-Frank Dycus-Gary Stewart- Buddy Cannon.
Another session produced Smoking In The Rockies, also recorded by Sawyer Brown.

"We were over here in Spence Manor with Gary Stewart and Buddy Cannon," Dycus recalled.
| | |
| --- | --- |
| | "Dean and I were there, we were right in middle of a song getting nowhere. We had been on it an hour and half. I said 'it ain't gonna be a hit.' They said 'have you got an idea?' I said 'yeah I had it for a week - Smokin' In The Rockies, Rockin' In The Smokies. We need to write about country music people - what's happening in country music. So we sat down and wrote it. We put Hank Jr in it and Waylon & Willie. By then Dean and Gary were into the sauce pretty heavy and they wanted to put Johnny Paycheck in it. At that time Paycheck was in the headlines for having sex with a 12 or 13 year-old girl. I said 'boys we can't put Paycheck in that song because his career is over as far as America is concerned.' I had to fight them all to keep him out the song - they wanted to title it Smokin' In The Rockies With Johnny Paycheck." |
FROM HARDMONEY TO MAIL BOX MONEY

"I brought her here from Arkansas/ a simple country girl/ to try a California way of life/ but it didn't take her long to learn/ the ways of the modern world/ now she's California's fastest growing wife. - Fastest Growing Heartache In The West - Frank Dycus-Larry Kingston.
But it wasn't just beer and skittles for the seasoned songwriter whose hometown Hardmoney had a population of five before the Dycus family head count lifted it to double figures.

"I come from a poor family and a big family," Dycus recalled.

"We had no electricity and no plumbing. We lived off the land, hunting, fishing, picking berries and wild things. I hitchhiked to Los Angeles when I was about 15. I got into a little trouble as a wayward juvenile so when I went back home to Paducah and realised I'd be in more trouble if I stayed there. I joined the Air Force and spent the next seven years there.

I had been in the service about a year when I had a real bad car wreck. I was in the hospital for about three years. There's not much you can do in hospital except lay around in the hospital watch other people lay around. I wasn't into crocheting, knitting and convalescence the service provides for you doing crossword puzzles. After a year of staring out the window the nurse saw I was completely insane and said 'why don't you write a poem about that tree out there?' I did. I wrote a poem about how the tree had changed while I sat there watching it, shedding its leaves and all that. We started planning our Christmas party for the ward and they asked me to write a Christmas song and put music to it. That was my first hit. We played it for about 35 people that were broken up."
SPOKANE TO WASHINGTON
"Now mama's hands they tremble when she prays/ but her voice is strong as she thanks God for the bygone days/ she looks at me and then she smiles she knows I understand/ that everything I am today I owe to mama's hands." - Mama's Hands - Frank Dycus-Larry Kingston.
But Dycus recovery was aided by another move.

"Eventually I went on to Spokane, Washington, and I was kind of an introvert, stayed in my room writing poetry and staring at the walls. There was a guy in the next room who also stayed there all the time beating on a Fender guitar playing Duane Eddy and The Ventures and all that. We got together and he taught me to play guitar. He was a Mexican and I was a hillbilly and we formed a duet act and played around clubs in Spokane. While I was there I went back stage at country music shows and met Jim Reeves. That was my first contact in Nashville. They took some of my songs with his Open Road Music and Tuckhole Music and I went from Spokane to Wichita, Kansas. In Wichita I did the same thing, got a band together and when country shows came to Wichita I would go backstage. Hal Peoples, who was booking all these people, liked what I did and thought I had a future in the music business. He introduced me to these people he thought would be invaluable in my career.

Dusty Herring had a TV show in Wichita and dried me out and put me on TV. The first time he put me on was 5 am and I showed up drunk. I was afraid I wouldn't wake up for the show so I stayed up all night drinking with buddies. In 1965 WDVI radio station sponsored a talent search - I won it and part of the deal was a recording deal. I recorded a record for a little old label in Wichita."
NASHVILLE OR BUST - GEORGE MORGAN
"She rushes to met me/ with arm-stretched desire/ smelling like lilacs/ and feeling like fire." - Lilacs And Fire - Frank Dycus.

Like many peers Dycus boomeranged from Music City a few times before settling there.

"I came here to Nashville the first time in 1962 and gave up and went home," Dycus recalled.

"So in 1968 I decided to come here. I sold up everything I owned and loaded up my wife and kids in the back of an old station wagon like you read about with a guitar on his back and all his problems. I had enough sense to get good job so I went to work immediately as a welder building trailers for the U Haul Corporation."

Success was also immediate for Dycus - thanks to Lorrie Morgan's singing sire George.

"I got here in 1968 and had my first hit in 1968," Dycus revealed.

"That was with George Morgan - Lilacs And Fire. I stayed on at the trailer factory for three four years even after I had my first hit. I had three or four hits when I was at the trailer factory. In 1971 a trailer fell on my legs and re-injured the old injuries. I couldn't work any more so I started writing full time. In the late sixties and early seventies I had songs cut by The Kendalls, Porter Wagoner and Dolly Parton. About that time Ringo Starr came to America, made a country album and cut one of my songs.

That gave me a higher profile.
The song he did was Fastest Growing Heartache In The West. I was working in the factory then and looked up at the counter and it said Tennessee Steel - the fastest growing steel warehouse in the south. I looked at it again and thought I got the fastest growing heartache in the south. I got together with Larry Kingston and he said 'the fastest growing heartache in the west - we came here from Arkansas for a better way of life and she got into California booze and California men.' That's how the song originated. It was actually about me but we moved it to a different setting. A lot of times you take bits and pieces out of your life and you can't write the truth when you're living with a woman that's causing you heartache. We had to make it like we got this friend of mine. We got together and wrote about 300 songs and had a hundred of them cut. Larry went on and signed with Warner Bros and we cut a couple of records with him. Never could get him to pop."
JOHNNY PAYCHECK
"They're stackin' the chairs on the table again, they block down the Budweiser sign/ soon they'll be callin' a taxi for me, it's only a matter of wine." - Only A Matter of Wine - Larry Kingston-Frank Dycus
Dycus and Kingston helped fuel albums by Texan George Jones and late outlaw Johnny Paycheck whose version of David Allan Coe song Take This Job & Shove It inspired a movie featuring Coe and Lacy J Dalton.

Paycheck's role as a waiter finished up on the cutting room floor.

"Larry had one of the first Johnny Paycheck hits The Loving Machine and a thing by Kenny Price called Biloxi and the Jim Ed Brown hit in the seventies called Bottle, Bottle." Dycus added.

"I guess his most famous song was Thank God And Greyhound You're Gone by Roy Clark.

< Larry Kingston
We got lucky and George Jones cut Mama's Hands for his Gospel Way album. Paycheck and Jones were real close then. He cut Only A Matter of Wine in his Someone To Give My Love To album. He also did The Feminine Touch as a single and put it on his 11 Months And 29 Days album. We then had cuts by Carl Butler and Red Sovine. Then a kid came out of Texas named Johnny Bush and recorded a whole slew of our songs and then we got lucky and got a Don Williams cut on his first album for ABC. Jerry Lee Lewis cut Mama's Hands and He's Walking In My Tracks in 1973. A year later he put He Can't Fill My Shoes as a single."

Many of the Dycus song recipients are still alive.

"Johnny Bush started out as Willie Nelson's drummer years ago," Dycus recalled.

"Willie gave him the money and they went in and recorded an album that really established him as a Texas act. The next year we went in and gave Marty Robbins This Time You Gave Me a Mountain and it went Top 10. I was with Dolly Parton and Porter Wagoner at the time they were running their publishing company and Fireside Studios. They split up and fired 14 of us in the one day - the week before Christmas and we all went home and all of sudden my home wasn't a home to go home to any more. I started going through a tough time for a few years there. I almost quit writing for three or four years. I got into the bottle a little heavy. The 19-year marriage fell apart and I started living more or less as a hermit, a recluse out on my mountain out on Union Hill, Tennessee. I decided there was no point in selling my songs to make a living as there was nothing to make a living for. I was getting enough royalties and residuals in to stay alive. I more or less quit trying the commercial aspect of songwriting."
JOE SUN
"If you change your heart or change your mind/ you'll know where I'll be/ holed up in some honky tonk/ holding someone new." - Holed Up In Some Honky Tonk - Frank Dycus-Dean Dillon.
It was then Dycus hooked up with Joe Sun - one time Australian tourist and duet partner with Leslie Avril and Lou Scholtz at the famed but long defunct Madigan's Druids Lodge - and Ferndale houseguest.

Sun, real name James Paulsen, also recorded for Sonnet - the Swedish label Dycus once called home.

"During my period of recovery when I was not writing and doing Music Row politics I started painting houses and doing carpentry to occupy my time," Dycus revealed.

"I was driving down Music Row in my pick-up truck and Joe Sun flagged me down and said I'm getting ready to record. I want to record one of your songs. I said Joe I don't care if you want to record one of my songs. I'm out of there. I drove on - a week later he flagged me down again. He said 'I'm serious - I want to record one of your songs.' I said 'Joe I don't care if anyone cuts one of my songs, I'm not into that.' About a week later he called me to his office and I went over. He had cut a song called I want to go home while I still got a home to go home to. That was a honky tonk song. As we were listening to it his publisher interjected and said is the publishing open on that Frank. Joe got real hostile with him - he said 'we don't listen to crap we just want to hear the music.' I immediately fell in love with Joe Sun - my kind of man. Here we were talking music and he was talking money. That was one of the reasons for my comeback - people like Joe Sun and George Strait who were in it for the music. Joe and I started hanging out together. We started writing together. When he recorded his Elektra album he recorded Holed Up In A Honky Tonk that me and Dean wrote and I Ain't Honky Tonkin No More that me and Joe wrote. That was how you wake up the next morning - the day after - with a headache and broke and looking for your watch or your wallet or your shoes and you say I'll ain't never gonna do that again. Everyone says it but everyone does it again. That was the idea of the song - a play on that."
IRISH ROVERS
Dycus also helped Canadian band The Rovers, nee the Irish Rovers and formed in 1963, try to crack the U.S. market.

The band, named after the song The Irish Rover, had a 17-year career including a 1976 album The Irish Rovers Live In Australia under that name.

They also had a 1967 international hit with late Playboy cartoonist and author Shel Silverstein's classic The Unicorn.

But in 1980 they changed their name to The Rovers to invade U.S. charts with the albums Wasn't That A Party, No More Bread And Butter and Pain In My Past.

They also released singing Texan crime novelist Kinky Friedman's song People Who Read People Magazine and Randy Brooks Christmas song Grandma Got Run Over By A Reindeer.

"The Rovers Pain in My Past is a real funny thing," Dycus revealed.

"I actually wrote a song called You're A Pain In My Ass about my ex-wife. I wrote it knowing it would never be recorded in America. When I played the clubs over here people would request it over and over again. One night I performed it at the Old Time Pickin' Parlour and Max D Barnes was a great songwriter heard it and loved it. He came up to me and said 'why don't make it commercial and rewrite it?' I said 'I don't know - I would think about it.' So about a week later he came on over to my office, picked up a guitar and sang You're A Pain In My Past. I said 'OK go get it cut.' He took it to his publisher who took it The Rovers and they had a big hit on it."
AUSTRALASIAN CONNECTION

Dycus also landed two songs on an album by New Zealand country duo Jodi Vaughn and Brendan Dugan.

"The two songs were True Love Has Found A Home and Another Loving Night," Dycus recalled.

"The Burrito Brothers had recorded a song of mine called Family Tree. It had been recorded six or eight times. A lady by the name of Patsy Riggir in New Zealand also recorded it.

Brendan Dugan also cut my song Some Ladies Don't Like Cowboys for his solo album. Jodi Vaughn came over here and we co-wrote four tunes. Jodi introduced me to B J McKay - a country singer from Melbourne - Australia."

McKay didn't record Frank's tunes - instead he opted for Hillbillies Hate Change and Jodie penned by expat Kiwi Wolverines singer Darcy LeYear and this diarist.