DAVE'S DIARY - 2 JULY 2013 TOBY KEITH CD REVIEW
TOBY KEITH
Hope On The Rocks (Show Dog-Universal)
HOPE NOT ON ROCKS FOR TOBY
"Charlie's wife filed for divorce/ and Charlie bought a quarter horse and now he's ridin' fences/ upside down and couldn't pay/ they hauled Sue's mobile home away/ and we ain't seen her since/ Larry's long time fiancé got kicked out of the P.T.A./ and moved her kids back east with someone else/ and the ones you used to know don't drop in or say hello." - Hope On The Rocks - Toby Keith.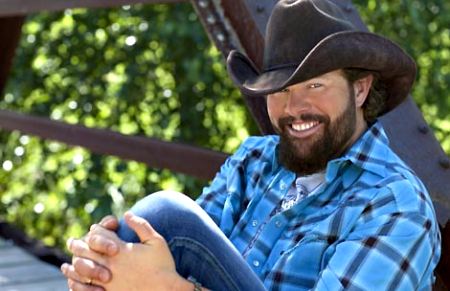 Oklahoma blue collar bandit Toby Keith may have logged into a psychic saddle-tramp when he chose Hope On The Rocks as the title track of his 18th album late last year.

The desolation row characters who two-stepped over from Bob Dylan's urban ghettoes to rural trailer parks were delivered a double whammy by the May tornadoes that decimated Keith's hometown Moore - just south of Oklahoma City.

Keith's sister lost her home but his mother survived with a little help from the twister Gods who blew around her digs where he grew up.

Toby enlisted a vast cast - Shotgun Willie Nelson, Ronnie Dunn, Mel Tillis, John Anderson, Garth Brooks and singing spouse Trisha Yearwood and Van Halen refugee Sammy Hagar to play the second music benefit on Saturday July 6 at University of Oklahoma's Gaylord Family Memorial Stadium in Norman.

Voice judge and mentor Blake Shelton's Healing in the Heartland benefit concert raised more than $6 million for victims of the deadly tornado that killed 24 people including seven children.

Shelton headlined the televised concert that included performances by wife Miranda Lambert, fellow Oklahoma born stars Vince Gill and Reba McEntire, Rascal Flatts, Usher, Darius Rucker and Luke Bryan.

So what about the characters who populate Keith songs and videos such as Trailerhood with a frequency sharper than a spur on a bucolic banker's hind quarters in a foreclosure fist fight?

"When I got out of school and got a job in the oilfield with my dad, I had a house," Toby, 51 and father of three including singing daughter Krystal, revealed about the title track.

"And a couple of doors down was a young couple. I remember two or three times a year, we'd hook up, do a barbecue or we'd play cards or poker. And they got a divorce, and she instantly hooked up with another guy and took off. You'd see her around, and he kind of vanished. The house went empty then I moved away. And last year sometime, or two years ago, somebody asked if me I knew some guy who used to live next to me, and they gave me his name. And I was like, 'man, I remember that name. Whatever happened to that guy?' Well, he got a divorce and kind of disappeared. And I was like 'Whoa, I never thought of him anymore. There are people in your life you see at the diner, or you see at the Starbucks, then something happens, and you just don't see them. They don't give you two weeks' notice and you forget about them. And it's like, "Where'd they go?" And unless you're really close to them, you just forget about them. I started thinking of that, and how my dad would go to the café every morning in town. He had his buddies he sat with and then just one day, they end up not showing up. You might ask what happened to them, but it's not really a big loss to you, because it was just trivial chatter: football games, I like your new truck, how's it going?"

And that video?

"We're trying to make it as moody as possible. As dark and deep as possible. And all the characters are here," Keith explained.

"Usually, when we do videos, we try to leave it a little open-ended so when you first heard the song, whatever your first blush of the rose was, can still exist somewhat. We're trying to be more to-the-letter on this and recreate what exactly we're trying to say in the song. Well, this bartender is like, "I'll tell you where they go. They come right here. I'm the mentor, the father, the brother, the friend." That's what this song is about. There are eight or 10 characters, and this bartender is talking about how he babysits them. These are really the lost souls of the world. I guess it's the only place they can go, right?"
TOBY - BEER SHOWERS
"It's cold beer country, 110 in the shade/ an iced tea won't cut it and neither will lemonade/ I need a cold Budweiser on a bar stool and a jukebox by my dear/ singing cold beer country cos it's cold beer country round here." - Cold Beer Country - Toby Keith-Bobby Pinson-Marc Fortney.
Keith landed on the cover of the July issue of Forbes Magazine after he earned $65 million in the last year - far more than celebrity moguls like Jay-Z, Beyonce and Jennifer Lopez.

The singer-songwriter has written a No. 1 hit every year for the last 20 years and also owns a piece of the enormous success of Taylor Swift, through his Show Dog label's partnership with her label, Big Machine.

He also has his own Wild Shot mezcal line, a chain of I Love This Bar & Grill restaurants, a multi-million-dollar endorsement deal with Ford, merchandising, concerts and is a prominent horse breeder.

Forbes estimates Keith's total career earnings at $500 million - his indie label Show Dog features Louisiana kindred spirit Trace Adkins as his major client.

He wrote all 10 tracks on the Hope On The Rocks standard edition.

"Writing is not work. In fact, there's nothing better," Keith said.
"Writing is something that if the music business went completely away tomorrow - radio stations quit existing and music quit being popular and it was old hat - I would still write songs. It doesn't matter. When you've got an extra gear in your head where that's all you do, you've constantly got a little radar up. And when something hits that strikes that beeper, hits that radar, it's like my song skills kick right in and go, 'Oh, OK, there's a song in that.' And then I start trying to figure it out."

Inspiration can come from anywhere - he uses his smart phone voice recorder to make notes about potential lyrics and hums grooves he uses.

Toby has a penchant for booze ditties that appeal to his captive audiences well beyond his I Love This Bar & Grill restaurant chain.

"Neighbourhood bars, not meat market bars but good friendly neighbourhood bars, have a lot in common with church because their friends are sociable," Keith says.

"If somebody's down, they raise funds and take care of their own. They help each other.

It's a good, solid, social atmosphere. They're self-resourceful through benefits and fundraisers and helping each other move, helping somebody mow their lawn. You're a plumber, so can you come over and help me fix my sink. And they network with each other and barter out stuff, and it can be a really good spot for somebody who's down."

Hope on the Rocks pays homage to those influential in his life.

"Growing up in bars and having a grandmother who owned one when I was a kid and having played bars my whole life, I know how good neighbourhood bars can be," he adds.

"The bartender is also a baby-sitter, brother, father, mentor, guru, suicide hotline, everything!"

I Like Girls That Drink Beer is dedicated to a friend's wife who orders Coronas instead of cocktails at his country club.

Haven't Had A Drink All Day is unique - a fast paced, high energy track.

Keith has no trouble marketing his alcohol anthems.

"We've got ten or 11 of the biggest bar and grills in the country," Keith says of his empire.
"We've got the number one liquor in the nation in our category, which is mezcal. Everything we've tried to do has outworked the other guy. If I don't get television over here, I'll get a Ford deal, and I've been ten years with Ford now. If I can't get on award shows and be one of those chosen few, then I'll go over here and be in the movies or do some television shows. I know what we've accomplished back here behind the curtain. There's not that many balls in the air, but the ones there are important and they are big. You have to focus and take it to this extreme level."
TEACHER PREDICTION
"I missed you on your weekend whiskey/ getting crazy at the bar/ I missed you running late on Sundays / sliding in as the preacher starts / I missed you at my sister's wedding/ I'd be lying if I said you didn't cross my mind / I've found the love of my life/ I think I missed you just right." - Missed You Just Right - Toby Keith-Bobby Pinson.
Toby is no one truck pony - like Texan troubadour Billy Joe Shaver it was a matronly teacher who first noticed his writing talent.

When Toby attended Southgate Elementary in Moore, his sixth-grade teacher made a controversial declaration to his parents.

Their son was a natural-born writer.

"She said the boys usually do about half a page and they hunt a bear and they shoot the bear and they make a rug out of it and then they survive a winter somewhere," Keith recalled.
"And it's a half a page and they're done and they go and play quietly in the back of the room. The girls do romance stuff and getting married on white horses. She goes, he is the only one left of the boys that's still writing when the girls quit and his creative writing is amazing. And my dad was so frustrated with her trying to convince them to make me a writer. He was like 'my boy ain't gonna be no damn writer; you know, give him his reading, writing and arithmetic and let's go.' I remember going home in the car he was just like, 'There ain't no way. There ain't no way he's gonna make a nickel as a writer. He's gonna get out like I did in the oilfield and he's gonna work like a guy's supposed to work. I'm not upset with my parents. You can't tell in the sixth grade that you're supposed to tell your kid, 'Go and be a creative writer.' But it reared its ugly head when I turned 15. My grandmother had the bar, I had a guitar, I was around people that were playing in garage bands. And the two went hand in hand. And all the sudden you look up, and you're one of the most successful ever in your genre. Or in any genre."
Keith says he owes much to his grandmother and father.

"My dad was born on a broom corn farm in Lindsey, Oklahoma," Keith recalled.
"They raised broom corn, that's what they made brooms out of. And my dad went to the military as quick as he could, because he wanted out to have a better way of life. The way he chose cost him his right eye.

Because of that one eye, when he came back out of the service, he was limited to what he could do. He worked in the oil fields for 35 years, and become a regional manager for the mid-USA. He didn't go the old college route, he blue-collared and boot-strapped it up and I saw us evolve from living in an old rent house and him and mom working to climbing the ladder and becoming successful. I think that's ingrained in me."

A couple of sayings from his father inspired The Size I Wear and colourful story-song Scat Cat.
"When somebody would sneeze, instead of saying 'God bless,' he'd say 'scat cat, you got gravy on your tail," Keith recalled. "But I just incorporated it to paint a picture: way out in the sticks, last of the moonshiners and it made it a nice tie for it. What it means or what it stands for, I don't know."

And he proved his debt to his grandmother by naming his 15th album Clancy's Tavern.

"She got the name Clancy from my grandfather," Keith recalled.

"She married right before I was born, and he named her Clancy because she ran the tavern.

Her first husband died leaving her with three kids, all under the age of four. Her parents lived on Cactus Ridge in Booneville, Arkansas and they raised my mom and her two brothers while she moved to Fort Smith to be the plant manager at the Dixie Cup factory there. That was in the 1940s and early 1950s. She was the first woman plant manager there. She worked at this nightclub, Billy Garner's Supper Club, in the evenings, taking the cover charge from the folks who came in. When she had the opportunity to buy the place, she did. I would go stay with her and that was where I was bitten by the entertainment bug. The characters in the song are real. There was a black dude named Elmo who cooked in the kitchen, and her best friend, Lillie, took over her job of taking the cover charge. She was also a widow woman. It was closer to church than a bar because it was self-policed; there were no bouncers, and you would see the same faces in there every night. The song is true, down to her taking her pistol and money to the bank."
LOVE HURTS
"No coffee on the stove/ and on the table in the kitchen/ there's a busted hand of midnight solitaire/ there's a ghost in the bedroom/ a nightgown on the dresser/ a broken heart that wishes you were there." - You Ain't Alone - Toby Keith-Scotty Emerick.
Three ballads finish the album, including Haven't Seen the Last of You - built around a rolling chorus featuring Show Dog-Universal artist Mica Roberts on the chorus.

Missed You Just Right, penned with Scotty Emerick, mines heartbreak and moving on, somewhat similar to fellow Oklahoma star Garth Brooks song Unanswered Prayers.

A fitting finale is melancholic rootsy western ballad You Ain't Alone that has a raw sense of loneliness.

The deluxe version of Hope on the Rocks includes remixes of Red Solo Cup and Beers Ago and live versions of Whiskey Girl and ockerish Get Out of My Car.

Keith says some of his biggest hits have been quickies.

"Should've Been a Cowboy" fell out in 20 minutes," Keith said of his embryonic hit.

"Courtesy of the Red White and Blue fell out in 20 minutes. Sometimes a song comes out, and you just want to grind away at it. I started grinding away on it and grinding away, and it took me three or four months to write it because I only had little bitty windows to talk about a lot of people. I wanted to be definitive and really tell you about who I'm talking about here so you would know how much desperation they're going through. And it took a while to get it. They're both satisfying. It's just some are laid out in front of you, and you put them together. It was such a big hook. I mean, when I hooked into the fish, I had him circle the boat, but I wasn't going to just pull him in and call it good. I wanted to make sure that I didn't leave any holes in the song. And I've told people since I wrote it, I said, "if I were sitting in the Bluebird Café writers round and there were five heavy-hitter songwriters there and they said, 'Tonight these five guys are going to play what they think is the best three songs they wrote in their career,' I would sing this song as one of my three. Because you've got more invested in it, does that make you a little more nervous about seeing what the reaction is?"

Keith says another of his favourite songs withered on the vine - one of the trifecta he would sing at the Bluebird.

"The other two I'd probably play weren't even singles," Keith confessed.

"At least this one's getting a chance to be heard. Nights I Can't Remember, Friends I'll Never Forget is a great song, and it never got to be a single. So I know at least this one's going to get a chance to be heard. I've had enough people listen to it and got the reaction and feedback that it wows a lot of people."

Keith is so content with his writing and recording cycle he turned down one of the most coveted gigs in the entertainment business: American Idol judge.

Yes, Keith Urban took it.

"It was very intriguing for me to sit here and go 'OK, one of the biggest television shows in the history of television is wanting you to pay a ton of money - a ton of money." Keith says.

"And 10 years ago, I'd probably took two or three days to think about it or a week and then probably done it. But at it's like at this point in your life, you're like, you know, I suffer so much creatively when I take on those big projects that the money's never worth it. You know, it doesn't matter at the end of the day because I haven't needed money in a long time," he said.
"In about five seconds, it was like 'I need to say no right now before I change my mind.'

Because I know two or three weeks into that grind I'd be going, 'I cannot believe that I'm stuck here working like this for money.' 'Cause my heart wouldn't be in it. So I politely declined and was very happy with my decision."