DAVE'S DIARY - 2/1/13 - PREVIEW OF EPISODE 4 - SERIES 19
WILLIE, MERLE, GEORGE AND MARK - DISCIPLES
We celebrate the arrival of 2013 with a quartet of the genre's historic heroes.

Willie Nelson, Merle Haggard, George Jones and Mark Chesnutt headline this week's show - Saturday January 5 - at 10.30 p m on C 31.

Willie and Merle combine on a video revamp of one of their historic hits filmed at the Redheaded Stranger's western movie town Luck.

The show, hosted by Mid Pacific Bob Olson and repeated Monday at 2.30 pm and midnight, also features Texans George Jones and Mark Chesnutt in our Behind Bars segment.

Prolific Grafton raised Golden Guitarist Troy Cassar-Daley joins his mentors on the show edited by Blaize Warden and filmed by Elias Allanby.

Robinvale refugee Paul Costa - one of the Red Hill Country Festival headliners - returns to the premiere 2013 show.

And Gippsland-born duo Baylou - popular guests on Bunyip Country Music festivals - makes its debut.

A HORSE CALLED MUSIC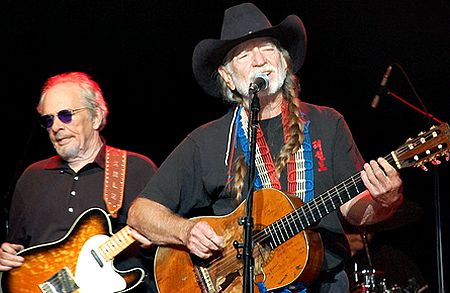 Septuagenarian saddletramps Shotgun Willie Nelson and Merle Haggard revived their historic hit A Horse Called Music for Willie's recent album Heroes.

The duo filmed their video at Luck - Willie's western movie town on his ranch golf course country club at Pedernales near Austin.

And to embroider the message they adorned their clip with western movie heroes diverse as Roy Rogers and Trigger, Gene Autry and Champion, John Wayne, Bob Wills & The Texas Playboys.

Four times wed Willie, 79, and five times betrothed Merle, 75, originally recorded the 1983 Wayne Carson classic A Horse Called Music as the title track of his 1989 album.

Willie and Merle have recorded several duet albums together including Pancho & Lefty in 1983, Seashores Of Old Mexico 1987, Walking The Line (with George Jones), 1987 and Last Of The Breed (with Ray Price) in 2007.

Nelson has been in more than 30 movies and Telemovies and subject of many books.

His latest 2012 biography Roll Me Up And Smoke Me When I Die features a forward by singing Texan crime novelist Kinky Friedman who also co-wrote the Billy Bob Thornton biography The Billy Bob Tapes.

CLICK HERE for a Willie Nelson feature in the Diary on May 24.
CLICK HERE for a Willie Nelson and Asleep At The Wheel feature in the Diary on July 4, 2009.
GEORGE JONES AND LITTLE JIMMY DICKENS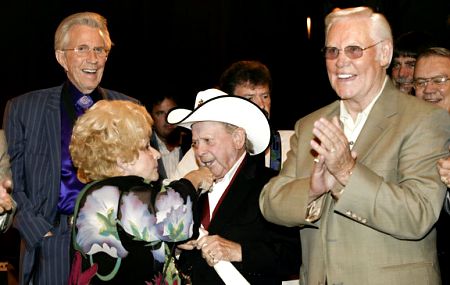 Texan legend George Jones returns to Nu Country TV in Behind Bars with a video that explores his unusual mode of transport to honky tonks when late former singing spouse Tammy Wynette hid the keys to their Cadillacs.

Grand Ole Opry legend Little Jimmy Dickens also has a cameo in the video for the Jones 1996 hit Honky Tonk Song.

Jones, now 81, drove into town on the couple's rider mower - Little Jimmy raised the bail money for the singer after his jail house concert.

The Texan icon, now living with fourth wife Nancy, is making an extended farewell tour over the next year - an exodus similar to another Texan George - Strait.

He is promoting latest two-disc compilation, George Jones: The Great Lost Hits.

It includes 34 tracks compiled from rare largely out-of-print recordings made between 1965 and 1972.

George also guests on Staind singer Aaron Lewis' first solo country single, Country Boy.

Jones and Wynette were married from 1969-75 and sired a singing daughter Georgette.

Tammy revealed details of his nocturnal rider mower transport in her 1979 autobiography Stand By Your Man.

Jones released his autobiography I Lived To Tell It All in 1997.

Nashville duo Bell & Shore also wrote and recorded their Jones tribute I Want A Mower Like The One George Rode To Town.

They performed it live to tape in 1988 for the RRR-FM radio show High In The Saddle at publisher Barry Coburn's Music Row office.

CLICK HERE for a George Jones feature in the Diary on February 25, 2006.
MARK CHESNUTT - HONKY TONKS IN PICK-UP TRUCK
Fellow East Texan honky tonker Mark Chesnutt also performs in a barroom video in our Behind Bars segment.

But Chesnutt drives a pick-up truck - not a mower - to the bayou honky tonk in his 1990 hit Too Cold At Home.

Chesnutt, 49, has scored four platinum albums, five gold albums, 14 number one singles and 23 Top 10 singles.

His neo-traditionalist style of country, along with Randy Travis, Tracy Lawrence, Clint Black and Alan Jackson, brought a classic sound back to radio for over a decade.

Now, 30 years down the lost highway Chesnutt released 14th album entitled Outlaw.

Chesnutt cut his 2010 album on Time Life Saguaro Road label with re-recordings of his fellow Texan heroes and old friends Billy Joe Shaver, Willie Nelson, Kris Kristofferson and the late Waylon Jennings.
Dwight Yoakam's former guitarist Pete Anderson produced the album - Chesnutt also revived songs by David Allan Coe, Hank Williams Jr and Guy Clark.

He recorded Shel Silverstein-Dennis Locorriere Dr Hook hit A Couple More Years - also cut by Willie - as a duet with Texas singer Amber Digby.

"When I was first approached to record this CD, my reaction wasn't just 'yes,' but 'hell, yeah,'" Chesnutt said.

"I cut my teeth on this kind of music and it's an opportunity for me to pay tribute to some of my biggest heroes in country music."

CLICK HERE for a Chesnutt feature in The Diary.
TROY CASSAR-DALEY HOME
Grafton raised singer-songwriter Troy Cassar-Daley performs in the video for the title track of eighth album Home.

Troy, 44 and father of two, produced the album that shares title with recent discs by Dierks Bentley and McAlister Kemp in Nashville.

Troy is touring Australia with former Eagles guitarist Glen Frey and plays the Between The Bays fest in Mooroduc - also in February.

He also replaced Glen Campbell on Kenny Rogers Australian tour late last year.

The singer's wife Laurel Edwards hosted her 4KQ breakfast show from Nashville while Troy wrote songs and recorded his disc on Music Row.

Troy and Laurel have recovered from the floods that invaded their farm home near the Wivenhoe home.

The couple, son Clay and daughter Gem, also have a home in Brisbane.

CLICK HERE for an exclusive Troy interview in the Diary on February 12.
PAUL COSTA - TRACTORS & BIKES
Robinvale raised singer-songwriter Paul Costa performs in the video for his single Tractors & Bikes from his fourth album Wheels & Steel.

Paul Costa, now in his 40's, showed how he and his three brothers beat the heat at home on their Sunraysia citrus farm as kids.

The Costa family farm was sold after the patriarch's death so Costa' wife Suzy stepped into the breech for the video locale.

"We chose Suzy's uncle Ken Westmore's property at Boundary Bend - about 50 kilometres from Robinvale," Costa revealed.

"It's a big farm. Two of his sons, one of his workers and my cousin are riding quad bikes in it. Ken is standing on one of them on his family farm. It's on the Victorian side of the Murray."

The album is a finalist in the 41st Golden Guitar awards in Tamworth in January.
Paul is a headliner at Red Hill country fest Sunday January 13 with Adam Harvey, Kristy Cox & others.

CLICK HERE for a Costa feature in the Diary on July 29.
BAYLOU ON TARGET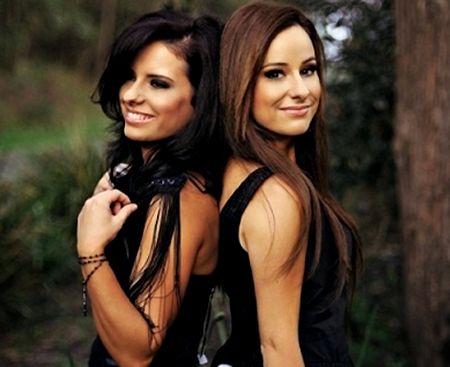 Moe raised sisters Victoria and Barb Baillie joined forces as a duo after separate careers as singer-songwriters.

The sisters, now performing as Baylou, have spread their wings far from the coalfields of Gippsland where they were raised.

They performed their video for Target On My Heart on the roof of their record company HQ to promote their new EP.

"Rusty Gate Films shot the video clip on top of the ABC building in Sydney, in Ultimo," Victoria revealed.

"It was done in about three or four hours in one afternoon. We wanted a look from sun setting to night-time, you can see throughout the clip that's the sun going down. But we also wanted to give the effect that - maybe people will look and go 'where are they? They could be in LA. They could be anywhere," with the high rise buildings in the back. So it's great because a lot of people have said to me, "Where was it shot? It looks like it was shot in LA or New York," and I'm always like, "No it was shot here, right on Aussie soil, right here in Sydney. So it's pretty exciting we could provide that effect."

Victoria, 2010 best new talent Golden Guitar winner, recorded her solo album two years before the duo debut disc late this year.

The sisters wrote and sang together at their Moe home before Victoria won acclaim at famed Bunyip Country music festival.

Barb also toured as a guitarist with Troy Cassar-Daley, Adam Harvey and Beccy Cole. They visited Nashville in 2011 and 2012 for writing sessions with local writers.

"I think it was inevitable for us to team up and get together and do the duo thing," Victoria revealed.

"When I was growing up both Barbara and I did singing together, we did sport together, we did a lot of things together. The only reason I went out solo to start with is Barb went off and did a lot of travelling when we left school. I really wanted to make music and she really wanted to travel so we went our separate ways for a few years there. But since she came back to the country she was doing gigs with me anyway on stage. She was playing guitar and singing harmonies and I would get her up occasionally to do her own songs. So it was going to happen and I think about two years ago we went, "Yep, alright, we've made the decision. Let's team up and do the duet thing."

CLICK HERE for a Victoria Baillie CD review in the Diary on August 2, 2010.
LADY ANTEBELLUM DVD PRIZES
We have copies of the hot new DVD by recent Grammy Award winners and Australian tourists Lady Antebellum for new members and renewing members of Nu Country.

The 18-track Own The Night World Tour DVD has five bonus songs with exclusive version of Black Water featuring Darius Rucker and Thompson Square.

There's also intimate backstage footage of the band, road crew and fans on a tour that included two concerts at the famed St Kilda Palais.

The 124-minute DVD features the band performing its many hits live in Little Rock, Arkansas, and documentary footage of band members and song sources.

Click Here for our membership page for details of all prizes.