DAVE'S DIARY - 2 JANUARY 2013 - MARK CHESNUTT
MARK CHESNUTT - RENAISSANCE OUTLAW
"Bubba shot the juke box last night/ said it played a sad song and it made him cry/ went to his truck and got a 45/ bubba shot the juke box last night." - Bubba Shot The Juke Box - Dennis Linde.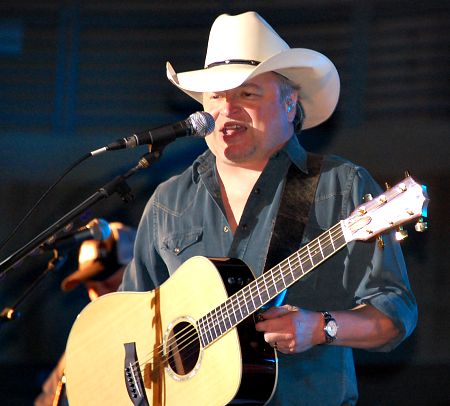 Honky tonk hero Mark Chesnutt has impeccable roots for pure country music.

He was born in fertile east Texas thicket near Beaumont that also gave birth to George Jones, Tracy Byrd and Clay Walker.

Mark, son of regional country star Bob Chesnutt, had a brace of hits in a career that began in the late eighties.

Chesnutt's dad was one of Jones's running buddies and Mark fronted the house band at Golden Triangle saloon Cutter's before Nashville discovered him.

But Chesnutt suffered the same fate as many peers - he became too country for radio but had two major country rebirths with 2004 album Savin' The Honky Tonk and 12th album Outlaw in 2010.

He named the eldest of his three sons - Waylon - after the late Waylon Jennings and cut a duet with his mentor on Rainy Day Woman on his 1994 album What A Way To Live.

Chesnutt also recorded a duet with "The Possum" Jones on Talking To Hank on his 1992 album Longnecks & Short Stories.

Song titles are a salient signpost to the roots of Chesnutt's music - Dennis Linde tunes Bubba Shot The Jukebox and It Sure Is Monday, Old Flames Have New Names, Going Through The Big D, Blame It On Texas, Beer, Bait & Ammo, The King Of Broken Hearts, My Heart's Too Broke (To Pay Attention) and Too Cold At Home.

The singer earned 20 Top 10 country singles in the 1990s - his eight No. 1 hits include Brother Jukebox, It's a Little Too Late and I Don't Want to Miss a Thing.

"That's my life," Chesnutt, now 49, revealed about his songs and themes.

"That's been my life since I was about 14 years old. It's more than just a way to make a living - it's a lifestyle. My lifestyle."
OUTLAW REBIRTH
"Lucky me I grew up beneath that ole Lone Star/ I was raised on the fiddle and the steel guitar/ well it used to be if you wanted to swing to a good old country song / you had to find your way to Fort Worth, Houston Dallas San Antone/but oh how it's grown." - Texas Is Bigger Than It Used To Be - Ronnie Rogers-Mark Wright-Joe Johnston.
Chesnutt recorded Outlaw in 2010 with Dwight Yoakam's former guitarist-producer Pete Anderson who also produced Sara Evans stone country debut disc Three Chords And The Truth.

"The outlaw movement came out of Texas," Chesnutt revealed.

"This is the kind of music I grew up on, so it didn't take me long to say yes when I was approached about doing an album of songs from the outlaw period in country music. I looked at it as an opportunity for me to pay tribute to some of my heroes."

So why resurrect the Outlaws?

"The guys at the label decided to do an Outlaw-themed album," Chesnutt explains, "and they gave it to Pete to pick the artist and put it together. I was the first artist he thought about. That's what he told me."

So how did it all come about?

"Well, I got a phone call about a year ago from my manager - he asked me if I'd be interested in doing an album with Pete Anderson for Time Life label of outlaw music," Chesnutt revealed.

"I didn't even have to think about it. I said 'that sounds cool!" So we got talking about it and I went out to L.A. and met with Pete. Everybody put their lists together. I had my list, my managers had theirs, Pete had his, the label guys had theirs. So we just put our lists together and picked 12 songs. Otherwise we would have created a six-disc set."

So Chesnutt and Anderson selected a dozen of their favourite outlaw songs.

"Everybody ended up leaving it up to me and Pete at the end because it was going to be me and him actually making the music," Mark added.

"I thought that was cool to get that type of creative freedom. So Pete and I sat down with guitars in his office and went through songs we thought we wanted to record and since I was the guy singing them, everybody - Pete included - kind of left it up to me. We ended up sitting around and arranging these songs that Pete and I thought I could sing and that were best suited for my voice. They were all songs that we had both wanted to do in the past."
PETE ANDERSON OF BURBANK
"Well it sure is Monday, ain't it the truth/ I partied too hardy, now I'm paying my dues/ I had a ball Friday, Saturday and Sunday/ but it's all over now and it sure is Monday." - It Sure Is Monday - Dennis Linde.
They didn't record in Nashville or even Austin - for a good reason.

"I didn't want the album to sound like a modern country record," Chesnutt confessed.
"I didn't want it to sound like what was going on in Nashville right now. Anytime you work with Pete Anderson, you're going to get Pete Anderson sounds. He's such a unique guitar player and music guy. We didn't want it to sound like Nashville because we weren't in Nashville. We recorded this in Burbank in Pete's studio in California. It was a big thrill for me because in all my career I had never cut anything other than in Texas or Nashville. I started out recording in Texas but everything else was in Nashville. This was a big thrill to go somewhere else and cut some music."

Chesnutt says he had met Anderson once in Switzerland but had never worked with him.
"Pete and I picked through everything with a couple of acoustic guitars," he recalled.

"And we came up with the songs that best suited me.

The Burbank recording went quickly - Pete says Mark did the entire album in less than three hours.
"I did my part in two nights," Chesnutt confessed.

"We already had the arrangements. We'd already sat down together and worked that out. I flew up in December to do two nights of track vocals, and he was going to build around that. Then I'd planned to come back later in January and lay down the real vocal tracks.

But Pete's tracks were so good I ended up doing all the vocals during the time set aside for track vocals."
HANK WILLIAMS JR AND KRISTOFFERSON
"He said 'I've played that old guitar in a drifting country band/ played coast to coast and a few foreign lands/ some crowds were big and some crowds were small/ somehow I hope I let 'em know I loved them all'/ I said you're mighty skinny, he said would you believe/ it only took one woman to do this to me/ but you gotta bet your hat son and get out of the way/ when they start hating love and loving to hate." - Talking To Hank - Bobby Harden.
The writers included Hank Williams Jr, Waylon & Willie, David Allan Coe, Billy Joe Shaver, Guy Clark and Kris Kristofferson.

"Some of the real obvious songs that I've been singing in the clubs for years - ever since I started singing - Whiskey Bent and Hell Bound and Country State of Mind were pretty obvious choices," Chesnutt said of the Hank Jr songs.
"But there were a couple choices that I had never sung before in my life. They were songs that I had heard many times growing up, like Loving Her Was Easier and Sunday Morning Coming Down. But I had never even tried those songs. I had always loved them, but I had never tried them until this project came along. What you hear on this CD are my first attempts at them. I didn't even sit down long and work on them except for the time.

"I'd never rehearsed them. Pete and I sat down with guitars in the studio just to get a tease. We had to pick songs that really made the Outlaw statement. We didn't want to be obvious and cut songs like Good Hearted Woman. We wanted to get deeper than that. That's why Kristofferson's songs came up."

Chesnutt says he had never performed those Kristofferson songs before.
"I'd never sung them at the clubs because I didn't consider them my style until I recorded them," Chesnutt added.

"I wanted to do them justice, so I just quit listening to the originals and did the songs from the songs' standpoint. There are several different versions of some of these songs such as with Loving Her Was Easier and Sunday Morning Coming Down. A couple of those songs have been recorded by a lot of people. I had to basically stop listening to all the versions that I was familiar with and broke it down to the original Kris Kristofferson version. That was the kind of direction I wanted to take it - the way Kris intended for it to be done. And I'm glad we did it that way. I thought that was one of the best cuts on the album."
WAYLON - ULTIMATE OUTLAW
"Slippin' & a-slidin', playin' dominos/ leftin' & a-rightin' ain't a crime, you know/ well, I gotta tell the story before it's time to go/ are you ready for the country/ are you ready for me/are you ready for the country /ain't that a sight to see." - Are You Ready For The Country - Neil Young.
The country outlaw era in the late 1970s took its name from Wanted: The Outlaws, a compilation album that featured Waylon, Willie, Tompall Glaser and Jessi Colter.

"I really had to concentrate on not making it a Waylon Jennings tribute album," Chesnutt added.

"To me, Waylon is the ultimate Outlaw."


Chesnutt recorded three songs Jennings made famous - Only Daddy That'll Walk the Line, Are You Ready for the Country and Freedom to Stay.

So what does outlaw mean to the Texan?

"Outlaw to me it means freedom," Chesnutt explained.
"What really happened was Waylon Jennings going into the studio with his music and saying that he wasn't going to do things the way they'd been doing them for years. Because in Nashville if you were with a record company you were just an employee - you were hired labour. You went in and sang the songs that the label wanted to do them. You went in and did them with the arrangements they wanted to do them with - even if it was with your own song. It had to be the way they wanted it to be. You didn't have any freedom over the studio or the musicians they hired. You just went in there and sang. And if you didn't like it you had to sing the song they had for you whether you liked it or not."
So Chesnutt emulated his mentor.

"And Waylon said, 'I'm not going to do it that way anymore, these are my songs. These are my musicians and I'm going to do it my way. I don't want all these strings and background vocals.

I'm going to do them my way.'

"So he was the first to fight the system on that. And he was successful at it. And the press started calling him an outlaw since he started growing out his hair and he had developed that freedom of breaking out of the mould. He grew his hair out and grew his beard and that's where the term outlaw came from. The Press named him an outlaw and Willie started calling him that and it took off. And it's still in effect today. Artists can go in have their own look and do music their own way. To me, it means freedom. They finally got freedom to be who they were."
WILLIE AND THE BOYS
"I need a little time off for bad behaviour/ the devil in me done been asleep too long/
I need a little time off for bad behaviour/ it looks like I've been too good for too long." - Time Off For Bad Behaviour - David Allan Coe.
He also recorded tunes made famous by Shotgun Willie Nelson - the Shel Silverstein-Dennis Locorriere tune A Couple More Years - and Bloody Mary Morning.

Chesnutt duetted with Texan Amber Digby on A Couple More Years - it was also a hit for Dr Hook.

"I'd known about Amber Digby for years," Chesnutt recalled.

"Since satellite radio. Since Willie's Place a channel on Sirius XM came along. They play her on there all the time. I've never met her, but I love her singing. When she agreed to do this, I was really excited about it. Amber is a Texas singer, and on this song she sings in unison, rather than harmony. I think it makes the song feel more real."

The two still haven't met but their performance sounded like they've sung together for years.

"She did her part when I couldn't be there," Chesnutt laments.

"I already had the entire song cut. She came in, and Pete put her in there with the magic of the buttons. It's really cool the way our voices blend."

He also covered Billy Joe Shaver's Black Rose, David Allan Coe's Need a Little Time Off for Bad Behaviour and Guy Clark song Desperadoes Waiting for a Train - also recorded by Jerry Jeff Walker.

"One of the first I picked to go on the album was Black Rose which may not be so well known, but is one of my favorites," Mark said of the Shaver tune.

Chesnutt has truly honoured the greatest honky tonk heroes and outlaws.
1999 CD REVIEW
MARK CHESNUTT
I DON'T WANT TO MISS A THING (UNIVERSAL).
MARKED WITH AN X
"So listen to my words of no wisdom/ there's no secret to my lack of success/ once she draws the line, just cross it one time/ that's the way to make an ex." - That's The Way You Make An Ex - Roger Springer-Tony Martin-Reese Wilson.
Not all country music exes live in Texas but songwriters dating back to western swing and honky tonk pioneers have ensured their rhymes and meters are tuned to Lone Star state time to capitalise on the collateral damage of ruptured romances.
It's a rich tradition with honky tonk doctors diverse as the late Lefty Frizzell, Frank Dycus, Sanger D Shafer, Dean Dillon, Red Steagall, and the Georges - Strait and Jones - refining the rubble for radio.

Now, Beaumont boy Mark Chesnutt, a Texan turban tonker, returns to his roots with That's The Way You Make An Ex from his eighth album I Don't Want To Miss A Thing.

This is honky tonk hurting, laced with a dance hall jauntiness, which is epitomised in the final verse - "takes more than luck to really mess up/ it don't just happen this way/ it took sacrifice and all my ex-wives/ to get me where I am today."
MY WAY BACK HOME
"After one of my huntin' fishin' party weekends/ I could hardly wait to hold my baby again/ a man will never see a more beautiful sight/ than home sweet mobile home in his truck headlights/ but except for a cinder deck and cinder blocks/ all I saw was a vacant lot." - My Way Back Home - Mark Nesler-Tony Martin.
Mark, son of Bob Chesnutt (an artist with indie releases in the sixties), released his first greatest hits two years after topping charts six times and having 15 top 10 singles.

This time the singer took the soft option by tapping into the Dianne Warren ballad brook and staying at No 1 on the mainstream charts for two weeks with the title track previously cut by Aerosmith.

But dig beneath the saccharine surface and you find a disc loaded with two steppers, shuffles and dew drop dance hall floor fillers.

Chesnutt, 35, taps tear ducts with wanton wanderlust as he veers from The Heartache Never Sleeps to the whimsy of the Mark Nesler-Tony Martin tune My Back Home without crunching gears.

The latter tune - saga of a an empty trailer spot awaiting the return of the male after a hunting and fishing weekend (perhaps with Tracy Byrd) - shares similar imagery with Earl Thomas Conley tune The Weeds Outlived The Roses, cut by Darrell McCall and the Geezinslaw Bros.

The outdoors man regrets being left out in the cold by a fleeing lover who tows away the mobile home they once shared and leaves him "as lost as an Easter egg."

No yoking, no doubt - no mention in the lyric sheet either.
JOLIE
"Well l left Louisiana / looking for some higher ground/ trying to make my crazy dream come true/ but six months in Atlanta/ done turned my head around/ tell me you still want me too/ let me come back home to you." - Jolie - Skip Ewing-Paul Davis-Paul Overstreet
There's wry word play in the title of Ron Harbin-Dusty Drake-Aimee Mayo tune I'll Get You Back and a delicious cajun feel to Jolie - a joy shared by fellow Beaumont boy George Jones on his recent duet with T Graham Brown on Got To Get To Louisiana.

Yes, this is real country with Jelly Roll Johnson providing harmonica, Buddy Emmons, Paul Franklin and Sonny Garrish on pedal steel, Larry Franklin on fiddle and Wayne Toups on accordion.

Jolie writers Skip Ewing (of Wilkinsons' Yodelling Blues fame), Paul Davis and Paul Overstreet are no strangers to royalties river but Chesnutt scores a rare co-write on finale tune Let's Talk About Love but not the hook heavy grammatically incorrect What Was You Thinking.

That honour goes to Springer and Doug Johnson - frequent collaborator with producer Mark Wright who has dressed up the aching, or should that be acorn, for a Chesnutt who has already made a mark with one of the best real country discs of this young year.