DAVE'S DIARY - 29 JULY 2012 - PAUL COSTA CD REVIEW
THE COST OF BUYING BACK THE FARM
"Three years went by and at 25/ he was doing fine/ he started buying land back home/ a hundred acres at a time." - Buying Back The Farm - Drew McAllister-Allan Caswell.
Sunraysia singer-songwriter Paul Costa has a blunt message for banksters - leave family farmers alone in your dash for cash.

The Robinvale reared orchardist first explored big banks foreclosing on family farms on third album In This Life.

Costa and brother Noel - one of the four Costa singing siblings - wrote Survivor 1932 about the historic depression that wreaked havoc in the bush and cities.

It was a flashback to a distant era when banks, businesses and industries crashed and farmers were forced off their family land.

Paul, Noel and long time producer Rod McCormack daubed their riveting post Great Depression parable with the triumph of racing icons diverse as Phar Lap, Peter Pan and Gundagai Dog on The Tuckerbox over poverty.

Now, on Costa's fourth solo album Wheels & Steel, he updates history on his evocative version of Drew McAlister-Allan Caswell song - Buying Back The Farm.
So why is Costa, who recorded six albums with his brothers, aiming both barrels at big city string pullers?

"Times are tough out there at the moment, no doubt about it," Costa told Nu Country TV in a call from Lilydale while on tour to promote Wheels & Steel.

"It's a cycle really, looking back to 1932. We haven't seen the next one yet. It's probably not that far off. It's a 70 or 80 year cycle."

Costa, now 40 something, and his siblings were raised on the family's 90-acre citrus farm at Robinvale near Mildura.

And, although it was tough when the Costa patriarch died in 1993, they didn't lose their farm to the bank and then have to plough back their off-farm income to retrieve it.

That's the saga of the character in this song penned by Drew McAlister, Narrabri born son of a meat worker turned farmer, and expat Englishman Alan Caswell.

"Our farm was basically in not that great a financial shape with what was owed on it - but we paid the bills," Costa revealed.

"By that stage I was working for Elders Merchandise - so was my brother Don. The two younger boys were at university. We had been through a tough time but farming wasn't that high on the list. A few other farmers in the area lost their farms to the banks."
BIG END OF TOWN
"There's big fish, little fish/ with nothing in the middle/ all hooked up like a puppet on a string/ and the only escape is the power of the people/ what goes around comes around/ on the big end of town." - Big End Of Town - Paul Costa-Tamara Stewart.
Costa reloads when he nails corporate bullfrogs in Big End of Town - one of three songs penned here with Goulburn Valley raised Tamara Stewart.

Stewart, now 38, four-album veteran and contestant on The Voice, is one of the three Sloper sisters raised at Mooroopna in the dairying and citrus belt.

The fertile font, once blessed by a 1974 tour by late country star-stock car racing driver Marty Robbins, was also launch pad for Hawking Brothers, late Kevin Shegog's band Gold Toppers and latter day Shepparton starlet Briana Lee.
Costa shared his citrus flavoured adolesence with Andrew Pupillo and Charlie Wilde - major songwriters for veteran Melbourne roots country band The T-Bones.

Paul also recalls musical soirees and Robinvale Eagles footy fields with Pupillo whose social comment tunes embrace a vast landscape north and south of the Yarra.

But, unlike The T-Bones, Costa headed north to the NSW Central Coast with his wife Suzy and son Dylan.

The singer is a strong supporter of farmers but doesn't put all blame on the banks.

"I don't like to pick on the banks," Costa conceded.

"Some times it could the fault of the farmers - they're not all that great operators. You can't blame the banks completely."

But it's clear that city slicker desk jockeys are the tyrannical targets in Big End Of Town.

Costa and Stewart wrote the song after being bombarded with political ads during the NSW state election.

"There seems to be two sets of rules," Costa says.

"There's a green light for the corporations and another set of rules for the small families who actually build the countries. It seems like its allright to have them swept out. It seems like these days that's the way it is and we accept it. I don't think it should be the way, accepting it so easily."
Costa believes small farmers, business owners and trades people face ruin because of the carbon tax and collateral damage.

It's a similar theme to Shotgun Willie Nelson's annual Farm Aid concerts designed to protect families from losing farms to corporate raiders.

"The cost of farming is going through the roof," Costa added.

"By putting the carbon tax on here it's forcing a lot of self employed people out of business. We're exporting our coal to China where they're building coal-fired plants with not as much filtering as we're putting in here. It's all still going in the air - it's a retarded way of doing things.

How does that work?"
BATHURST BLOODBATH
"In the year of 1829/ the Ribbon Gang was grown/ from a whip crack of injustice/ a fatal seed was sown/ from the caves of Abercrombie/ they fought the bitter fight/ now they were wanted men - dead or alive." Ribbon Gang Lane - Paul Costa-Rod McCormack.
Costa reached back into history for Ribbon Gang Lane - a true story about injustice.

"I was staying at a hotel in Bathurst," Costa recalled.

"I walked into this small bar for a drink. Covering one wall of the pub was a big picture in stages with graphics. It told the story of the Ribbon Gang - two convicts were caught skinny dipping and brought back into town and given 50 lashes. All the convicts formed their own gang and wore green ribbons - Irish sign of rebellion. They were given a hard time. They called the Army in, rounded up 10 of them and hung them. The street where they hung them was named Ribbon Gang Lane. I went back on the net, researched it and then had the complete story."

Costa also goes into bat for the downtrodden in Shine - one of five songs penned with McCormack.

"I was very honoured to be asked to be Ambassador for Mission Australia in September, 2011," Costa revealed in his biography.

"Since then I've been involved in fundraisers for community service programs they run. I was so inspired by great work they do with youth and homeless people - wrote song to help inspire others to be the best they can be. Mission Australia is all about giving people hand up, not a handout. It's philosophy I believe in very strongly."

Costa balances social comment tunes on his album with others reeking of nostalgia and romance.

They include Sad Old Country Song, Comin' Down, With This Ring, Meant To Be and Shake These Chains.
TRACTORS & BIKES
"Well I was raised in the Mallee/ driving tractors and riding bikes/ there's nothing for a boy like me/ to be on them day and night." - Tractors & Bikes - Paul Costa-Tamara Stewart-Drew McAlister.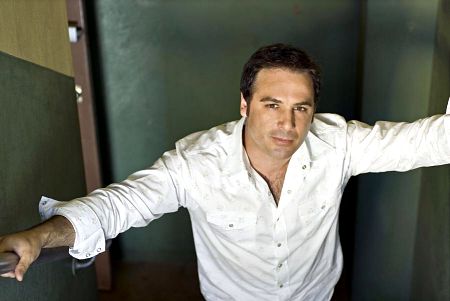 First single Tractors & Bikes is a snapshot of adolesence on the banks of the rivers, channels and levees in the Sunraysia.

The Costas, raised far from the concrete corrals and smoke filled suburbs, enjoyed filial freedom riding tractors and dirt bikes when not fruit picking for their supper after school.

And they all played in the family band Shadow Rock.

Unlike city and suburban automatons playing computer games they felt real pain when blown out of the saddle.

"We lost of a lot of skin and grazes but never broke a bone," Costa joked.

"We were battered and bruised plenty of times but no broken bones or twisted ankles."

But, with no Costa farm to source the video, Costa drew on wife Suzy for a video locale.

"We chose Suzy's uncle Ken Westmore's property at Boundary Bend - about 50 kilometres from Robinvale," Costa revealed.

"It's a big farm. Two of his sons, one of his workers and my cousin are riding quad bikes in it. Ken is standing on one of them on his family farm. It's on the Victorian side of the Murray."

It's too early to choose new singles but Costa knows what would make good video clips.

Big End of Town would be ideal," Costa says.

"So would Ribbon Gang Lane but might be expensive to do it justice."

There's always Nick Smith-Joe Camilleri hit Chained To The Wheel featuring duet partner and fellow Golden Guitarist Amber Lawrence.

It's not the first time a Black Sorrows or Jo Jo Zep & The Falcons song has enjoyed a country rebirth.

Adam Brand recorded 18 for his fourth album Get Loud.

Falcons drummer Gary Young wrote The Girl Across The Street Just Turned 18 for Daddy Cool and was upset when it failed to make their Sex, Dope & Rock N Roll disc.

But the year the song turned 21 Brand revamped and recorded it after he heard a live version of the coming of age saga of a farmer's daughter by Jo Jo Zep & The Falcons.

Costa is touring nationally to promote Wheels & Steel on Core-Sony.

And when he returns to the Sunraysia for concerts he won't be homeless like the characters in Shine.

"I've still got a house in Robinvale," says Costa. "I've owned it for 15 years."