DAVE'S DIARY - 12 FEBRUARY 2012 - TROY CASSAR-DALEY
THE RIVER RUNS BOTH WAYS FOR TROY
"Well, they built the levee like none before/ to heal the scars of 74/ but just when we thought the day was won/ we stood back and watched the river run." - The River Runs - Troy Cassar-Daley-Colin Buchanan.
All that glitters can become gold - especially in the hands of prolific singer-songwriter and country award winner Troy Cassar-Daley.

When Troy inspected the flood-ravaged basement and shed of his south Queensland farmhouse the first item he salvaged was a Golden Guitar.

"The first thing I saw when I pushed the door open was a big cupboard against the door and a Golden Guitar," Troy told Nu Country TV on the eve of his tour to promote his eighth album Home.

"I picked it up, wiped the mud off it with my shirt to see which it was. Ironically it was Born To Survive - the perfect one. I thought 'you've seen a lot more than I have in last 24 hours.' I soon cleaned it and put it up on top of The Explorer that was rat-shit."

The prolific singer-songwriter maximised his good karma.

He wrote most of his album in the water-damaged house on a new banjo.

It was a Christmas present from his wife Laurel Edwards - a singer and host of the Brisbane radio station 4KQ breakfast show.

The banjo survived floods that claimed lives, livestock, livelihoods and homes.

Troy, now 43, Laurel and their son Clay and daughter Gem didn't let mud anchor them in angst and self-pity.

"I always try to keep the glass half full with life, always try to be like that," the singer revealed.
"It takes a lot more energy to be a whinger than it does to be positive. I don't care if it's the way the world's going. People can go one-way or the other. I find it much easier to get through life by being positive - turning negatives into positives. I find the bright side of them - way communities come together. We had neighbours come from five farms away. I had not known them well but they came to see if there was anything they could do for us."

Cassar-Daley was quick out of the chute to play benefits for flood victims - even to his own chagrin.

"We were doing a Nine Network benefit concert for Rockhampton and Bundaberg," Troy recalled, "and then I thought I had better go home and check our farm for the two horses and cows. They were up to their chests with high water. The cattle were smarter and headed for higher ground."

The Brisbane River breached the Cassar-Daley farm between Lowood and Fernvale - west of Brisbane and south of Wivenhoe dam.

"Our house is right on river on 10 acres," Troy said.

"If the river tries to get cranky and do its thing we get straight out. Our memorabilia was in the shed and basement."

Although floods caused massive damage the couple had ready means of paying for repairs - increased touring and work.

"We had well over $120,000 damage but we only got a little payment from our insurance company to keep us happy," Troy revealed.

"It didn't cover that sort of flooding. A lot of people up there were worse off than us - losing their lives, homes and livestock."

That's why the singer immediately pitched in.

"We did a fund raiser for a family down the road who lost their son, aged four, but couldn't afford to bury him," Troy recalled.

"Laurel said our kids are fine - let's help these families who lost theirs. We did another four or five around there. I couldn't look at the parents of that young child - that was just crazy grief."

Harvesting hay from heartbreak in song was sweet solace.
FLOODS REPEAT - NO CLIMATE CHANGE

"This old town is full of memories/ from it its lonely streets to the tall, tall trees/ little houses built on an old flood plain/ we dread the summer and we fear the rain." - The River Runs - Troy Cassar-Daley-Colin Buchanan.
Although Cassar-Daley produced the album in a two-day session with a Nashville A team at a studio owned by Reba McEntire, he did most of the writing at home.


The River Runs and Country Is - two of four songs penned with expat Irishman and one time TV host Colin Buchanan - had their embryo in the floods.

"We sat down in same room that once had eight inches of water in the top level," Troy revealed.

"So we put two tables together as we had bits falling down in between.

< Colin Buchanan
We had a mandolin and banjo. Col saw a big mud mark on floor, also a mark on window that we hadn't rubbed off. I pulled the banjo on. I only just got it for Christmas that year from Laurel. I started playing him The River Runs. It didn't really have a chorus. I just played him verses I had written about my daughter and son and Brisbane and Grafton because we both got floods in 1974. It was part and parcel of my memory of how it affected all of us in both towns and them building the dam to stop it."

The duo married the two locales.

"Col said 'have you got a chorus?" Troy added.

"I said I haven't really finished the song. I need to talk about voices for the lost people to pay homage to them. It took us about half an hour to finish the song - finish the chorus off and get to the gist of it to see how it all married in. We started to arrange it properly.

That took another hour to make sure it all sat in the right order. I had another verse there about old fishermen who always used to talk about the floods as well. It's quite an interesting verse but didn't think it had anything to do with them once we had the flood up north and see how if affected everyone. I wanted to keep it short, more concentrated, stay on the point. Col loved the verse we had but we can do that live if we want. The fishermen back in 1974 in Grafton built this wall along the river in Grafton to stop the water coming into the town. It came to the top of that a few times. I wrote it all on the banjo, it was the first song I wrote on the banjo. It was a month after I got it. I had to get on the I phone to see how you tune the banjo."
COUNTRY IS
"I hear people talking about their great big cities, how they claim they never go to sleep/ well, they haven't seen this small town raging on a Friday/ well let me tell you that's good enough for me." - Country Is - Troy Cassar-Daley-Colin Buchanan.
Cassar-Daley and Buchanan also wrote the Country Is in the same sessions at his farm.

"If I'm going to get Col up home to write we make it an overnighter," Troy said.

"I promise him two things. I promise him a lot of ideas that are half finished and I promise him rissoles. He thinks my rissoles are amazing - it's all about this recipe my uncle showed me years ago. Col is such an inspiring bloke. He'll chuck stuff across the table that totally blows me away. I told him story about how my son Clay can't wait until Bono quits U2 so he can walk into that band and take his job. He thinks it 's as easy as walking into that sort of set-up. That's where I got this idea for the song called Play. I sent the song to Keith as it reminded me of a Ranch song. It had guitarist Brent Mason all over it. He's a lot of people's God - he did such a great take on it."

The singer made the video for Country Is and the CD slick photos in Tamworth.

"I told my manager Roxanne Brown I would like to do the video there and she agreed," Troy recalled.

"I had lived there and know the town back to front. I know there is an EH Holden club where I can get a car for the photo shoot. And there are kids we can chuck into the clip because they're all friends of mine. I've known them a long time and I think there's also an old wool press at Werris Creek. The week after I made the clip I'm driving to Geelong for a gig and find the wool press was made in Geelong. I think this is meant to be.

I had a ball. A local photographer Karissa Tuckwell came and snapped all day, in town in King George Avenue - right near the river where the kids jump in."
TALL DARK RINGER
"I'm gonna learn to rope and ride and brand/in the country of the Quinkin man/ through fire and flood and driving rain/ the tall dark ringer rides again." - Tall Dark Ringer - Troy Cassar-Daley-Colin Buchanan.
But Tall Dark Ringer was inspired by a TV documentary on wayward indigenous boys being saved by far north Queensland stockmen.

"I got sent this documentary on indigenous youth up around Hope Vale, Laura - all these areas in the Cape," Troy said.

"They were given this crossroads decision. If they were playing up in their communities they had this decision to make. They could either go to jail or do a Ringer's course for eight weeks to come out as qualified stockmen. They would be taught all the crafts by these stockmen who learned them down through the years.
One young kid who had never sat on a horse had this deadly haircut - he was a gangster rapper. It really affected me - changes I saw in him. To come back to his community as qualified person under a TAFE course gave him purpose. This song enabled me to tell the story of kids from city streets finding new goals. I told Col the story. I showed him snippets from the docco - for people to come from being in trouble on the streets to being positive contributors to their community is a huge plus. Some were city kids on the streets of Cairns, they were taken from all over the Cape. I had drawn the parallel between the old time stockmen who were legendary. The cattlemen up there would never have been able to work out the Cape at all without these indigenous guys and their knowledge, during floods being able to eat tucker. They're now helping out people in Victoria with controlled burning - things they have done for generations. I want to take my kids up to show them how it's done. It's all about land management, these people have been managing their own tribal land though under the pastoralists. They were able to get bush tucker and co-exist in perfect harmonium."

NOT SO SLIM PICKINGS IN WEE WAA
"I can see the Wee Waa plains, looking pretty after rain/ I hope to get back there again, this country's in my soul." - This Country's In My Soul - Troy Cassar-Daley-Colin Buchanan.
Ironically tiny Wee Waa - source of Born To Survive, This Day Is Mine and This Country Is In My Soul - was fighting new floods as the singer hit the road in February.

"I was on tour last year," Cassar-Daley said, "we did Moree, Walgett, Narrabri, Wee Waa - all those places. We were playing a Slim Dusty CD as we drove through - Live At Town Hall In Tamworth. It was inspiring. I started to write that song there and then. I hadn't been to Wee Waa for five years. That's where I met the father and son for Born To Survive and the woman in This Day Is Mine. I had a lot of history there so I emailed Joy McKean. I said this is the backdrop to my song. She emailed back with this wonderful story about the recording of that album. It's a great little town - to hear about it being evacuated this week was breaking my heart. There are over 1500 people there - a lot of people to get out of the houses and evacuate. There's a great servo there - it's where I saw the woman in This Day Is Mine. You can stop and watch people for half an hour on way through"
HOME IN GRAFTON
"A little garden path, where we cried and laughed/ and old swinging gate that never used to latch/ two loving arms when your knee was scratched." - Home - Troy Cassar-Daley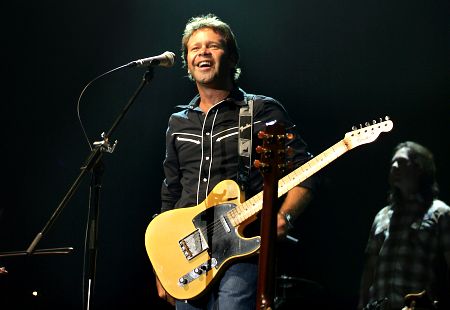 Although Cassar-Daley drew parallels between his farm and hometown Grafton in The River Runs the latter was the source of the new album title track.

"I started Home before I went home for a trip to Grafton," said Cassar-Daley.

"I started the first part and got choked up, got to the part about two loving arms when your knee was scratched I choked and I stopped. I thought I'm going to be there tomorrow. I'll save it - I know what I want to write. I went to my mum's place and breathed all of Half Way Creek in. I took the kids to the cemetery - introduced them to nan and pop. I was crying at the cemetery on my nan and pop's grave at what they meant to me. My daughter came over and tapped me on the back and said 'dad it's OK, look over there, it says 'no parking on the grass.' I started to laugh. I took them to my aunt's place and found the old gate with no latch. I found my name written in cement - Troy 74. I took them to the swing we used to swing on, then took them to the Hills Hoist that we broke. Then I went home and finished that song."

Grafton was also the source of Good Man - a song Troy wrote about his handyman mechanic uncle Gerry with Phil Barton.
ROBERT ELLIS ORRAL
"Got the windows down, listening to my radio/ fingers tapping on my steering wheel/ three chords and the truth is all you need to know." - A Simple Song - Troy Cassar-Daley-Robert Ellis Orral.
Now - some time travel.

Fast-forward across the ocean and Troy finds song sources in a Nashville house he shared with Laurel for three months as she hosted her breakfast radio show live into Brisbane.
It's where he wrote A Simple Song with Robert Ellis Orral.

Orrall, 56 and a prolific writer, has also released 12 solo albums and in the duo Orrall & Wright with fellow writer Curtis Wright.

The Massachusetts born musician's debut 1983 Top 40 duet with Carlene Carter was I Couldn't Say No.

He has since written 250 songs including hits for Reba McEntire, Taylor Swift, Martina McBride, Clay Walker and Shenandoah.

Ashton Shepherd recorded his song Look It Up before it became the title track of an album by Fawkner born Jasmine Rae.
Troy's session was organised by expatriate song publisher Jewel Coburn - former wife of fellow publisher, international tour promoter and one time Spurs Cowboy Bar creator Barry.

"Robert Ellis Orral is also an artist with paintings on his office wall," Troy recalled of the singer who also records with his twin sons.

"I met him on first day in town when living there. I had read the book 3 Chords & The Truth with a chapter on Harlan Howard. Robert came from a complicated demo session and said let's do a simple song. It took a couple of hours. He said 'can you play that on mandolin in open D?' He started doing the demo in his head."
DON SAMPSON
"Well, I haven't felt like this for a long time/ the truth is I can't remember when/ but tonight I won't lie. I'm hurting/ I'm thinkin' about drinkin' again." - Thinkin' About Drinkin' - Don Sampson-Monty Holmes-Troy Cassar-Daley.
Cassar-Daley has another expat Australasian Keith Urban to credit for Thinkin' About Drinkin' that he wrote with Monty Holmes and Don Sampson.

"I had this Chevy ute of Keith's I borrowed while I was in Nashville," Troy revealed.

"It's a 1974 Chevy Cheyenne - same year as the floods. I drove it every day. I was listening to WSM - the AM Opry station.

They were playing Lefty, Merle and George - all the greats."

So the song came naturally when expat American writer-producer Bob Montgomery, living in Queensland, organised introductions to Holmes and Sampson.
"Bob Montgomery heard me singing Lonesome And Free on the radio in Brisbane," Troy said.

"He rang me personally and said you are the real deal. He gave me a list of numbers of all these writers in Nashville - Mike Reid, Don Sampson, Curly Putnam. He contacted all these writers in Nashville and said I can help you get on the Opry."

Troy's meeting with Don Sampson was memorable.

Sampson has written hits for artists diverse as George Strait, Joe Nicholls, Alan Jackson, Brad Paisley, Kenny Chesney, Gary Allan, Willie Nelson, Kenny Rogers, Tim McGraw, George Jones, Darius Rucker, Skip Ewing, Neal McCoy and Charlie Daniels.

"Don said I don't normally write with people I don't know," Troy recalled.

"I went to his publisher's office and he said 'sing me a Merle Haggard song.' I sang If We Make It Through December. He said 'here's my favourite I heard Merle sing it on an episode of The Waltons - Nobody's Darlin' But Mine. I ended up trumping him with If You've Got Time To Say Goodbye - a rare Haggard song. He said if you were in a poker game - a Merle off - that's the song you would sing. Our song was an analogy of someone who had big dramas but was thinking about it again - on the verge. I wrote another with Don. It didn't make the record but was close - I Just Came In Here To Find Myself. It was all from a mutual admiration for Merle."
GOOD TIMES STARTING OVER - MONTY HOLMES
"You were fading out until you heard the sound of margaritas on the blend/ that's the good times starting over again." - Good Times Starting Over - Troy Cassar-Daley-Monty Holmes.
But it was the singer's Brisbane home that inspired the album finale -Good Times Starting Over.

Troy wrote it with Lubbock, Texas, born Holmes in Nashville.

Holmes released his debut album All I Ever Wanted in 1998 and had his songs recorded by fellow Texans George Strait, Lee Ann Womack and Sunny Sweeney.

Sweeney released her co-write with Holmes on Drink Myself Single as a single on her second album Concrete.

"Monty also wrote The Troubadour for George Strait," Troy explained. "They're good people. I told him Laurel doesn't like Sunday evenings.

She always had paranoia - she might need counselling at some stage.

She had this afternoon - she didn't want the weekend to be over. The band is all living in Brisbane. It's an easy call to all come with a few beers and Margaritas after working gigs.

It was a simple song to write. I told the guitarist Bryan Sutton in the studio that I wanted a Jerry Reed feel. He nailed it. We cut the album over two and a half days. They never repeated one song."

Cassar-Daley also paid tribute to wife Laurel in his evocative new songs Live And Learn, Good Things In Life and Beautiful Life.
DÉJÀ VU
"When the river runs you can hear the sound/ better get yourself to higher ground." - The River Runs - Troy Cassar-Daley-Colin Buchanan.
Troy also relived the recovery from the floods in a recent Nine Network documentary.

That was before the new floods that spread again across the border into coastal and western NSW.

"I did it acoustic live on the Today show on Nine," Troy said.

"They came out to talk about the anniversary of the floods. They said 'how do you feel - how are you coping?' I had the river behind me. It looked like a set. It was so beautiful. It had that effect - if they have seen it at its worst it would not have been so pretty."

The River Runs was also used in anniversary special on Nine.
"It was so nice to hear it for me - it's full circle," Troy says.

"You've got the floods and recovery. To hear it when a chopper is flying over these people in Grantham - to hear the first few bars of that song meant the world to me.

What it did it was a healing moment for me. They had a quick yarn with us in the docco.

We were only a small part, others far more important with lives lost. I'm looking forward to seeing a full recovery. Laurel had a few minutes during filming when she couldn't talk.

That's rare for a radio announcer. I was happy she saw it as a healing time."

But it was also stressful.

"We were at each other the first day after the floods, arguing about what was the major priority," Troy recalled.

"I looked at her and said the priority is us. We have our kids - we have the house. We just have to get through this without tearing each other's throats out. It turned out opposite - we became very close. To look at her and see her covered in mud and see her find all those videos of her on telethons that she had saved. She was there crying amongst this box. I walked over and give her a hug and say listen I reckon we can save the videos."
ON THE ROAD AGAIN
Although Troy will revisit Nashville for writing he has no plans to tour the U.S. or release his album there.

"I really recorded it for my market at home in Australia," Troy says.

"But I would just do distribution deal in America if there was interest.

The engineer Ed Seay said the music was most refreshing. He hadn't heard anything like it for a long time. I hadn't recording anything about bikinis, beers or tail gates, the modern radio staples."

But the singer said he was inspired by his month long tour of the U.S. with expatriate guitarist Tommy Emmanuel.

"Tommy is one of most important musicians in world," Troy revealed. "You learn so much from him. We played a full house in Birmingham, Alabama then went to a little theatre where some old poet had played on 120 years ago up near Boston. I also got on stage with Keith at arenas in Vermont - a complete contrast to the Bluebird Café in Nashville. I sat in the waiting line on the first night and didn't get on so I came back and got on the second nights. I had people come up after all those gigs saying where can I buy your music. It really translates."

Instead he is touring Australia - with Harmony James - to promote Home on Liberation Records.

CLICK HERE for Tonkgirl's Gig Guide for all tour dates.