DAVE'S DIARY - 3 /3/10 - PREVIEW OF EPISODE 12 - SERIES 13
EARLE AND VASSAR HEADLINE NU COUNTRY TV
Autumnal tourist Justin Townes Earle and Phil Vassar headline the finale of Series 13 on Nu Country TV this Saturday - March 5 - at 8.30 p m on C 31.

Earle, making his third Australian tour in April, closes the show with two video clips The Good Life and Midnight At The Movies.

And Virginian Phil Vassar, debuting at CMC Rocks The Snowys festival at Thredbo this weekend, returns with a vintage clip for his hit Good Old Days.

Grafton-born trio The McClymonts return to the show on the eve of their CD launch at Thornbury Theatre on Tuesday March 16.

Telstra Road To Tamworth winner Peter McWhirter debuts on the eve of his CMC Rocks The Snowys festival performance.

Tamworth born, Noosa teenager Stephanie Brownlee also debuts on a show repeated on Tuesday at 3 p m, Wednesday 2.30 am and online at the C 31 web page.

And Sydney roots country singer-songwriter Luke O'Shea returns with the title track of his fourth album Prodigal Son.
JUSTIN TOWNES EARLE - THE GOOD LIFE
Justin Townes Earle has upstaged famous father Steve by making three Australian tours in as many years.

This week the singer, now 27, performs in the video of the title track of debut solo disc The Good Life.

He also closes the show with a snippet of Midnight At The Movies - the title track of his second album.

Earle, supported by former Drive By Truckers singer Jason Isbell, opens his tour at the Boogie Festival at Tallarook on April 3 before playing the Byron Bay Blues at Easter.

Justin wrote Mama's Eyes about his mum Carol-Anne - the third of his dad's six wives.

CLICK HERE for Tonkgirl's Gig Guide for Earle tour dates.
CLICK HERE for an Earle feature in the Diary.
PHIL VASSAR - GOOD OLD DAYS
Virginia born Phil Vassar is touring Australia to promote his fifth album Travelling Circus.

Vassar, 45, and born in Lynchburg in the Blue Ridge Mountains, reaches back to his early career for the video of his song The Good Ole Days.

The father of two daughters arrives here this week after his European tour that embraced England, Ireland, Scotland, Germany and Italy.

"Life is precious, man," says Vassar.

"And every day I realise that more and more. Take what's going on in Haiti. Life's so fragile. It can be blown out like a candle in an instant."

The prolific pianist has written hits for Jo Dee Messina, Alan Jackson and Tim McGraw.
He also composed Live For Today - the theme for NBC The Today Show that got him an Emmy nomination.

Now he's writing music for a Broadway play - the theatrical production of Waitress, an independent 2007 movie about a small-town server in the midst of a life crisis.

"It's such a great story," Phil revealed.

"We're staying as close as we can to it."

Travelling Circus features a video with Desperate Housewives star Jamie Denton - childhood sweetheart of recently wed singer Deana Carter who played Thredbo last year.

But he was not cast as the lad who cross-dresses to get free drinks in a bar on ladies night.

CLICK HERE for a Phil Vassar feature in the Diary on February 16.
MCCLYMONTS ALL WRAPPED UP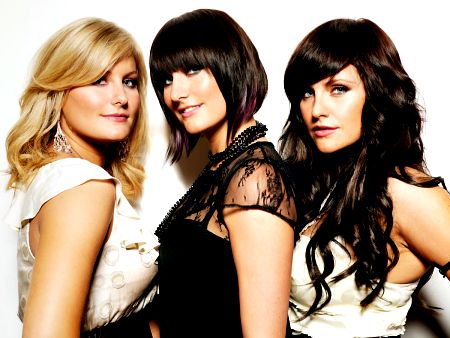 The McClymonts have been blessed with a massive print media blitz to counter paucity of commercial radio airplay.

They have appeared in weekend newspaper magazines as well as being savaged by rock writers in CD reviews.

This won't take the wind out of the sails or sales of the trio who cut their second CD Wrapped Up Good in Nashville.

The McClymonts wowed fans at the recent 10th Whittlesea Country music festival.

This week the trio, all prolific writers, perform in the video clip of its title track filmed at Eastern Park speedway near Sydney.

The sisters launch the CD, recorded in Nashville last year, on March 16 at Thornbury Theatre.

It includes four tracks produced by Taylor Swift's studio boss Nathan Chapman and eight by Adam Anders who helmed their debut CD Chaos & Bright Lights.

They spent a month in Nashville last year writing with Trey Bruce, Erin Sherlock, Tommy Lee James and their producers.

Brooke, 27, Samantha, 23, and Mollie, 21, had solo careers before joining forces and touring with Lee and Tania Kernaghan.

Their debut EP won their first two Golden Guitar awards in Tamworth.

They won their fifth this year with fellow Grafton born singer-songwriter Troy Cassar-Daley for vocal collaboration on Ain't Gonna Change For You from his seventh album I Love This Place.

CLICK HERE for a McClymonts feature in The Diary on January 25.
LUKE O'SHEA
Sydney singer-songwriter Luke O'Shea performs in the video for the title track of his fourth album Prodigal Son.

O'Shea performed in Melbourne during the birth of the TV show in 2003.

Luke follows in a long line of schoolteachers to indulge in country music.

Sunraysia born Sara Storer, Dead Livers lead singer Marty Atchison and John Schumann, who cut Marty's signature song Holy Mary, are revered writers torn from secondary and primary teaching.

O'Shea, who won his break with indie single Standing In The Rain and Telephone Lines on a Sydney Basement CD and wrote all 12 songs on a previous disc No Day Like Today.

Luke's music draws from his travels here and in the U.K. and Ireland and on Indian reservations in the U.S.

CLICK HERE for an O'Shea CD review in the Diary.
PETER MCWHIRTER - A HUMMER
Sydney singer-songwriter Peter McWhirter shares geographical roots with Travis Collins.

McWhirter hails from Harrington Park near Camden - once sheep country on the southern outskirts of the NSW capital city.

Collins was raised at Macquarie Fields near Campbelltown.

Travis won the 2004 Tamworth Starmaker Quest with Bridge That You Won't Burn, penned with his dad Terry.

Now five years down the Lost Highway, Peter won the Telstra Road To Tamworth talent quest.

He won a Nashville recording session with expatriate Australian producer Mark Moffatt who played pedal steel guitar with Melbourne outlaw band Saltbush in the seventies.

When Moffatt landed in Nashville he came house producer for expatriate Australasian Barry Coburn.

One of his clients was Stacey Earle - sister of Steve and aunt of Justin Townes.

McWhirter, 20, performs in his video this week for Moffatt produced single Humm from debut album Lucky As A Seven.

More info - www.petermcwhirter.com.au
STEPHANIE BROWNLEE
Tamworth born Stephanie Brownlee now calls Sunshine Beach at Noosa home.

Former Fleetwood Mac manager Dennis Dunstan discovered Stephanie, not Janis Ian, at 17.

Stephanie debuts on Nu Country with the video for debut single Keep It Real, penned by veteran Nashville songsmith Liz Rose - co-writer with Taylor Swift on many of her hits.

Unlike Mac singer Stevie Nicks and Swift on the Grammies the Sunshine Beach high school graduate won't be accused of singing off key.

Brownlee covered several Rose songs on her Nashville produced album, set for May release.

Stephanie, now mentored by famed Nashville producer Mike Chapman, earned $1000 busking in Tamworth at 14 after playing Gympie Muster.
They met after Mike bought a Noosa holiday unit through Stephanie's stepfather, a real estate agent.

Brownlee and her family plan to move to Nashville if her album scores U.S. release.

Further info - www.stephaniebrownlee.com.au
WIN ROSANNE CASH CD
We also have Rosanne Cash's acclaimed new EMI CD The List - new versions of classics from a list given to her by late father Johnny when she was 18 in 1973.

Guests on the Cash collection include Bruce Springsteen, Elvis Costello, Jeff Tweedy and Rufus Wainwright.

Cash's second husband John Leventhal produced the CD for Manhattan Records.

It features songs dating back to the Carter Family, the Hanks - Williams, Snow and Cochran - Harlan Howard, Merle Haggard and Bob Dylan.

We'll reward your new membership or membership renewal with a copy of the CD - please send us a cheque or money order for $20.

Please email us first at music@nucountry.com.au as stocks are limited.
WIN DIERKS BENTLEY CD

EMI Records has provided Nu Country TV with Arizona born Dierks Bentley's fifth chart topping CD Feel The Fire.

Bentley won an enthusiastic following on his debut Australian tour in May with superstars Brooks & Dunn.

Dierks, 33, has scored seven #1 hits since leaving Phoenix for Nashville as a teenager.

The singer has broadened his music by including bluegrass - featuring the famed McCoury family - on albums dating back to his indie debut Danglin' Rope.

He has also recorded duets with prolific Grammy winner Alison Krauss and Texan chanteuse Patty Griffin.

Win Feel The Fire by becoming a member of Nu Country or renewing membership.

It only costs $20 including postage.

Please email us first at music@nucountry.com.au

We will then send you the CD on receipt of your cheque or money order made out to Nu Country Music.
WIN SLIM DUSTY CLASSIC BOX SET
We have more good news for viewers - EMI Records has given us an invaluable collectors' item - a brace of the 4 Box sets by late Australian country legend Slim Dusty.

Sittin' On 80 features a lost, classic track discovered by Slim's widow Joy McKean.

Joy found Give Me Room from a 1997 recording at their home studio Columbia Lane.

It was written by one of Slim's favourite writers John Dohling - outback station hand and good mate who passed away in November last year.

Sadly he never heard the final version of Slim's recording of his classic trucking song.

It has now been released as a single and included on Sittin' On 80.

Slim's legendary Travelling Country Band played on the song that has been digitally re-mastered by Australia's mastering guru Don Bartley.

All you have to do to win Slim's 4 CD Box set is become a member of Nu Country TV or renew your membership.

It only costs $20 and includes postage.

Please email us first at music@nucountry.com.au

We will then send you the CD on receipt of your cheque or money order made out to Nu Country Music.

TAYLOR SWIFT FEARLESS CD OFFER
Universal Music has donated copies of teen sensation Taylor Swift's huge selling second album Fearless to Nu Country TV.

Viewers who become members or renew their membership for just $20 can win the Fearless CD.

Swift, 19, played capacity audiences on her Australian tour in March and returns here in February.

Please email us at music@nucountry.com.au with your pledge.

Important note - please email us first.

Don't send membership cheque until you have been confirmed as the winner.
WIN FELICITY CD
Multiple Golden Guitarist winner Felicity Urquhart returned to Nu Country TV as hosts during Series #12, beginning in June.

You can win autographed copies of Felicity's sixth album Landing Lights, available here in shops on Shock.

All you have to do is become a member of Nu Country TV or renew membership.

It only costs $20 including postage.

Please email us first at music@nucountry.com.au and let us know which CD you would like.

We will then send you the CD on receipt of your cheque or money order made out to Nu Country Music.
WIN CATHERINE BRITT CDS
MIKE BRADY TOO
We have Catherine Britt's third CD Little Wildflower for viewers who wish to become members or renew membership.

Catherine, Adam Brand and Mike Brady were among artists who donated their talent to the Whittlesea Bushfire benefit on Saturday April 4.

Brady donated autographed copies of his Country To Country CD to viewers who become members or current members who renew their membership.

Mike was also a VIP guest host of Nu Country TV during our eighth series.

So for your $20 membership you can win Mike's CD Country To Country or Catherine Britt's Little Wildflower CD.
WIN JASMINE RAE & STEVE FORDE CDS
We also have the following CDS for viewers who email our web page and pledge $20 membership at music@nucountry.com.au

Telstra Road To Tamworth winner Jasmine Rae's debut CD Look It Up.

We also have Steve Forde's fifth album Guns & Guitars.