DAVE'S DIARY - 25 JANUARY 2010 - THE MCCLYMONTS
THE MCCLYMONTS - SATURDAY SOIREE
"Get a plastic sheet for the bed of your truck/ fill it full of beer and ice/ call your boss, your wives and your lazy husbands/ cos no-one's going home tonight/ we've gotta raise the bar, take it off in my car." - Kick It Up - Brooke McClymont-Trey Bruce.
It's a familiar story.
Australian country stars The McClymonts have developed an extensive international following with intense touring and a brace of music awards.

The stiletto shoed sisters performed for our troops in the dangerous Afghanistan and Iraq war zones.

That was 15 days in the desert flown around by Hercules to bases situated all over the Middle East, playing 12 concerts in the Tour De Force program.

But nothing compared with reaction to their solitary appearance on the huge rating Nine Network nostalgia show Hey, Hey It's Saturday.

The trio, who once performed in frocks weaved from curtains, didn't lance boils of precious politically correct posses by performing in black face.

Instead the Grafton born daughters of a bucolic butcher, ignited phones, chat rooms and venues with one of their original songs.

"We had a flood of new people coming along to our shows on strength of that one performance," bassist Samantha McClymont told Nu Country as her trio launched second album Wrapped Up Good (Universal.)

"These were people who never heard us before. You realise just how many people you reach by crossing into pop without having to play pop music. You only need a few of those opportunities. Hopefully there will be a few more this year to break the CD as we receive no exposure on pop radio."

The McClymonts also used travel show Getaway, variety and morning programs and Pay-TV as a surrogate radio vehicle to drive their music in the big smoke.

It's a familiar tool for country artists and Samantha, 23, guitarist Brooke, 27, and mandolinist Mollie, 22, are adept at mastering it.

The multi-instrumentalists scored solo success as singers and songwriters long before recording as a trio and touring nationally with Australian of the year Lee Kernaghan and sister Tania.

It was here in the unlucky radio country that visiting Nashville music moguls caught them swinging from the TV ropes.

Record executives Jacob Capricciuolo and Jimmy Swan had a down under awakening when they caught McClymonts' music videos while watching Australian TV.
GRAFTON FRIED CHICKS
"This party ain't for shrinking violets/ give it all you've got/ Ooh, ooh, pour me a shot
let's kick this mother up another notch/ Oh we gotta raise the bar, take it off in my car." - Kick It Up - Brooke McClymont-Trey Bruce.

Texan singer Natalie Maines' vocal carpet-bombing in London of fellow Texan and former U.S. President George Dubya Bush prompted the demise of her Dixie Chicks on U.S. country radio.

Suddenly there was a vast void for a new all female trio and the Guitar Town gurus saw The McClymonts as their new Grafton fried poultry.

They immediately won support of multi-national label Universal who launched their debut CD Chaos & Bright Lights on the lucrative U.S. market after testing the water here with an EP before the album.

Adam Anders produced and co-wrote for their debut CD in Nashville where the trio also composed with writers diverse as Keith Urban collaborator and hit write Monte Powell, Eric Silver, Frankie Myers and Steve Diamond.

The McClymonts may not have yet reached the multi-instrumental prowess of Dixie Chicks sisters Emily Robison and Marty McGuire but they have an infectious live and visual appeal.

That gateway to the U.S. widened during the Dixie Chicks hiatus when Emily and Marty recorded a duo disc as the Court Yard Hounds - a reference to the novel, City of Thieves.

Other record companies are targeting the young country market with organic family group Jypsi and American Music Award best new talent winners Gloriana who are touring here with former teen superstar Taylor Swift.

But in both those groups there's a rooster among the hens.

So it was no surprise Universal also bankrolled The McClymonts three U.S. visits last year.
FREQUENT FLYERS
"Whoever passes out here first, gets tied up to a tree/ and if you jump out in the water,
you gotta be naked as a breeze/ out in the field there's a beat up car/ lets set that heap on fire." - Kick It Up - Brooke McClymont-Trey Bruce.
''The first trip was songwriting for the record. The second trip was nearly two months making the album,'' Samantha said.

The trio did extensive promo tours playing for some of the influential 2800 stations that program country music.

''We went back in a totally different headspace and went on a three-and-a-half week radio promo," Samantha added.

"It was amazing. We didn't see all of America. But we did pretty much every state possible in three-and-a-half weeks. It was crazy. I think one day we were in four different states.

Fly in somewhere, drive to two stations, cross another state border and you're somewhere else doing another radio station. Then that afternoon you fly off somewhere else."

They returned to Music City this month for showcases at Country Radio Seminar to promote songs - some written and produced with superstar Taylor Swift's producer Nathan Chapman.

"We went there three times last year and want to keep going back there, no matter how many times it takes for us to break," said Samantha who won the Tamworth Starmaker quest in 2005.

"We love coming back home to tour but at this stage we're not wanting to live there."

Although their single My Time went to U.S. radio last year they haven't ignited the fame flame to the level of fellow expat Keith Urban.
COWBOYS
"I could be a cowboy in the big wide open space/ and every single minute there's a story on my face/ I wouldn't need a blanket to keep me warm at night/ I'd lay down all my secrets/ the only thing by my side." - I Could Be A Cowboy - Brooke-Mollie-Samantha McClymont-Nathan Chapman.
The McClymonts are aware of many perils of the fiercely lucrative but competitive Nashville music mecca.

They were not even born when Jewel Blanch, Olivia Newton and Helen Reddy hit the bright lights in the slipstream of the late Smoky Dawson and Tex Morton.

And they were still performing in the bush when Sherrie Austin, Jamie O'Neal, The Greencards, Jedd Hughes, Audrey Auld Mezera flew the small Aussie coop and expat songwriters such as Kylie Lee Sackley began writing hits for major stars diverse as Faith Hill and Leann Rimes.

The mini-skirted McClymonts ascent, accompanied by a hefty print media fascination, has been well orchestrated.

They don't want their angel wings burned like Newcastle novitiate Catherine Britt who spent four long years waiting in exile in Nashville in an industry that ate her up and spat her out with two acclaimed albums that only scored Australian release.

Despite hooking up with latter day-star Jamie Johnson and opening for Brooks & Dunn and Alan Jackson, she was dumped by BMG-Sony after flirting with the outer reaches of the Top 40.

It was not good timing for Britt, now 24, - the narrow play lists of commercial radio chose a flotilla of other young fillies including Taylor Swift, Carrie Underwood and Kellie Pickler who, ironically, recorded the Britt song Lucky Girl.

The McClymonts join Melinda Schneider, Felicity, Adam Brand, Kasey Chambers and others in fly-in forays into Music City for writing and select showcases.

It's a far cry from being chauffeured by mother Toni to teenage talent quests beyond their Northern NSW hometown with Troy Cassar-Daley on the Clarence River.

With four Golden Guitars in a Tamworth minute and another this week they're on a national tour until May.

They won their fifth Golden Guitar for Vocal Collaboration with fellow Grafton gaucho Troy Cassar-Daley on Ain't Gonna Change For You from his eighth album I Love This Place.

Troy added six Golden Guitars to his treasure trove - including beating the trio for single of the year.

The sisters were exposed to a wide audience as they hosted 2010 Awards live on Pay TV and repeated on the Ten Network.

ON THE ROAD TOO LONG
"This room feels empty, this bed feels cold/ you know this feeling gets me, every time I'm gone/ I long to hold you, touch your skin/ lay down beside you and remind you of us/ but until then this heart's on fire." - Heart's On Fire - Samantha-Brooke-Mollie McClymont-Patrick Davis.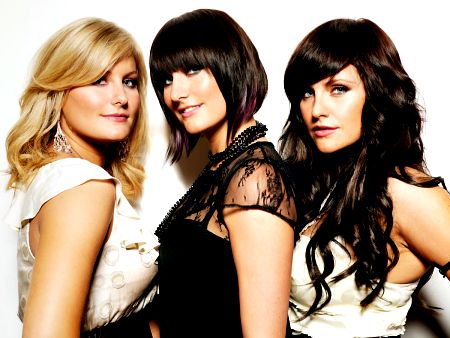 The trio wrote with their producers Chapman and Anders before they produced Swift, making her second Australian tour in February, and recent visitor Miley Cyrus.

On their month long Nashville foray they also collaborated with writers Tommy Lee James, expat Australian Erinn Sherlock and Trey Bruce.

Bruce is a prolific writing and producer son of Ed and Patsy Bruce who wrote Mamas Don't Let Your Babies Grow UP To Be Cowboys for Waylon & Willie.

"We were writing two or three songs a day for a month straight so there are a fair few left over," McClymont said.

"We also had songs left we had written in Australia with local Australian writers. We should pitch them to other artists - some we wouldn't give to anybody because it was a bad day.

We split up and wrote with other writers."

Absence from loved ones at home - especially Brooke's husband, Adam Eckersley, whom she wed in October, inspired Hearts On Fire.

"We were away in Nashville and it became a spur of the moment collaboration with a guy called Patrick Davis," Samantha added.

"We never struggle with song choice. You obviously need a balance of songs on the album - you need some up, some slow, some funny ones, tongue-in-cheek songs, and serious songs. So when it comes down to what have we got, there's always stand out tracks."
EXPAT WRITER ERINN SHERLOCK
"A woman is a flame, a woman is a wild thing/ the flicker in her eyes will never fade/ the things you love most about her can't be contained." - A Woman Is A Flame - Samantha & Mollie McClymont-Erinn Sherlock.
But former Sydney writer Sherlock was the conduit for assertive anthemic A Woman Is A Flame.

"I started that here with Mollie and met Erinn over there. She's an expat Australian writer.

She wrote quite a few songs on our first album. Mollie and I went to her house - she had some lyrics. We really like them. We played around on guitar and created a melody - the first half of song came really quickly then we hit blank. Erinn played piano and helped us out a bit. It became a song about powerful women, being anyone they want to be. Putting yourself into song - you can't help that. It was very mellow and acoustic - kind of ballad - really sweet and soft when we wrote it. When we went into the studio it ended up being this big power ballad and just really transformed. That was something really exciting and it did take us more than one go to get it that way. When we got there it was so worth it.''

Sherlock co-wrote You Were Right, Settle Down and Ghost Town on Chaos & Bright Lights and has also written for Shannon Noll, Aleyce Simmons and many others.

CANNONBALL MOLLIE
"Mama had two girls, pretty little angels/ bows and dresses and Sunday school/ then along same the baby, Oh Lord save me/ must have been born beneath an angry moon." - Cannonball - Samantha-Brooke-Mollie McClymont.
Young sister Mollie inspired rollicking album finale Cannonball.

"We like to say it's about Mollie," Samantha confided.

"Mollie was always the wild child. You can't hold the girl down - she's just a cannonball."

The trio released a brace of video clips for Australian and U.S. TV shows such as CMT, CMC and Nu Country TV.

They filmed Kick It Up at historic Balmain Town Hall and new video All Wrapped Up at Eastern Creek speedway near Sydney.

"We didn't drive the racing cars, the male lead was an artist not a driver," Samantha explained.

"They couldn't find a spunky driver. They used body doubles for us. Brooke's double was a guy in his thirties - short with a shaved head. A perfect match."

Their videos are a valuable sales tool - here and overseas - and enabled them to maintain country credibility.

"People want to change the way your songs sound to break into the pop market but at the end of day a good song is a good song," Samantha says.

"It shouldn't matter if it has a drum loop or a real drum - if you can build up a fan base just by hard work that's fine and we go from there."

They punctuate joyous uptempo gallops, laced with occasional dabs of bluegrass, with romantic ballads He Used To Love Me, Take It Back and I Could Be A Cowboy.

Their Victorian tour includes Whittlesea Country Music Festival from February 12-14 and a CD launch at Thornbury Theatre on March 16.

CLICK HERE for Tonkgirl's Gig Guide for full details.