DAVE'S DIARY - 16 FEBRUARY 2010 - PHIL VASSAR INTERVIEW
PHIL VASSAR - NO PIANIST ENVY
"I walk down Broadway with a smile on my face/Nashville has music all over the place/honky tonks line the street/man it's a symphony of big dreams and dive bars/cold beer and tip jars, rising stars/now I love guitars." - Where Have All The Pianos Gone - Phil Vassar-James T Slater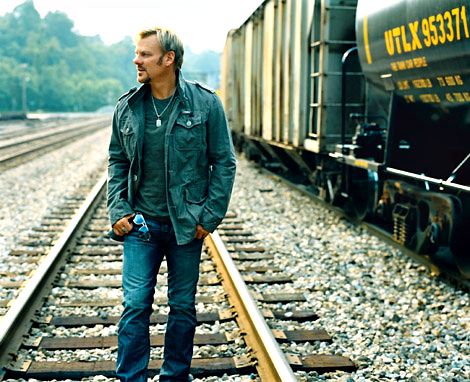 Virginian Phil Vassar had one small problem that became a big plus when writing for his fifth album Travelling Circus.

The Blue Ridge Mountains born balladeer noticed guitars and drums had drowned out the pianos of his youth in the country genre.

So Vassar, 45, turned his trauma into a tune - Where Have All The Pianos Gone?

"I wrote the song with James Slater, who's a really good friend," Vassar revealed on the eve of his first Australian tour in March.

"And he's another piano player and a great songwriter. And we were talking this one day about Billy Joel, Elton John, Ray Charles, Jerry Lee Lewis, Charlie Rich, Barry Manilow, Ronnie Milsap - the list just went on and on. Think about all those guys and how many great piano guys there were. Lionel Richie is another. The first song I ever learned was Easy Like Sunday Morning. I was just a kid. We asked one-another, 'Where have all the piano players gone?' And out of that, came the song. And it's a really cool song. And I don't know if it would have ever made another record if it wasn't up for me to do it."
THE EARLY YEARS
"Six days a week he's a man on a mission/ he's the redneck Picasso of the manual transmission/ the only man in town who can make Charlie Vincent's van go." - Athens Grease - Phil Vassar-Steve Mandle-Jerry Vandiver.
Vassar arrives in Australia to perform at the third CMC Rocks The Snowy festival at Thredbo on March 5 and 6 after a European tour that embraces England, Ireland, Scotland, Germany and Italy.

"It's something I've always wanted to do," Vassar divorced father of two daughters Haley, 10, and Presley, 5, revealed.

"And I finally got the chance to do it."

It's a new frontier he wants to conquer to expand on a career that reaches back to when he grew up in Lynchburg where his dad worked in a factory and sang in clubs at weekends.

His father, now deceased, also owned a restaurant where he performed as Phil worked tables.

At high school Vassar taught himself to play music on a borrowed piano between twice daily football practices.

He didn't own a piano until moving to Nashville in 1987 and combining performing and songwriting.

By 1995 he toiled as a barman for eight years and earned enough to buy the Hard Day's Night Club restaurant in Music City suburb Hickory Hollow.

The clientele ranged from bikie gangs to Music Row executives who sampled the Italian food and the live music.

''It was packed all the time. It was like Cheers with a band,'' Vassar recalled.

One patron - whose father was pop singer Engelbert Humperdink - asked him for a demo tape of his songs.

Humperdink recorded Every Once in a While - a song Vassar wrote with one of his bartenders.

'I never wanted to have a meteoric beginning because where do you go from there?," Vassar recalled.

"I always wanted to have a career.''

His publishing deal led to a recording deal with Arista - home to Alan Jackson, Brooks & Dunn, The Tractors and other major artists.

His gold 2000 self-titled debut disc won him a CMA nomination for its prestigious Horizon Award in 2001.

That CD yielded #1 single Just Another Day in Paradise and Top Ten hits Carlene, Rose Bouquet, Six-Pack Summer and That's When I Love You.
CARLENE
"I was lousy at math, failed historian/ Carlene was the valedictorian/I was the quarter back in the back of classes/she was the whiz kid in horned rim glasses." - Carlene - Phil Vassar.
A TV special on super model Cyndi Crawford - inspired Carlene - a semi biographical tune on his second album American Child in 2002.
Vassar, who shared sporting and piano pedigree with Mike Reid, punted by rhyming valedictorian with failed historian.

He has since charted 19 singles on Billboard including In a Real Love - another #1 hit.

Vassar also wrote many smashes for other artists.

They include Tim McGraw's For a Little While and My Next Thirty Years, Jo Dee Messina's Bye, Bye and I'm Alright, Collin Raye's Little Red Rodeo and Alan Jackson's Right on the Money.

In 1999 Vassar was named ASCAP Country Songwriter of the Year.

He won ASCAP Country Artist/Songwriter for 2001, 2000 Billboard New Country Artist and Music Row magazine Breakthrough Artist of Year for 2000.

He also composed Live For Today - NBC Today Show theme that scored him a Emmy nomination.
Now he's writing music for a Broadway play - the theatrical production of Waitress, an independent 2007 movie about a small-town server in the midst of a life crisis.

"It's such a great story," Phil revealed.

"We're staying as close as we can to it."
PRAYER OF A COMMON MAN
"When I was 17 I shook Joe Namath's hand/once I won karaoke singing Piano Man/one time in Vegas I won me 700 bucks/that's all cool stuff but it don't measure up." - Ultimate Love - Phil & Julie Vassar.
But, like many peers, he was lost in the shuffle about five years ago and dumped from Arista after seven years and three albums.

The last was 2004 disc Shaken Not Stirred - before an obligatory Greatest Hits.

Vassar released his fourth album Prayer of a Common Man - his first for Universal South in 2008.

The separation from Arista was tough, Vassar admits.

"Everybody at Arista - they're my friends. But leaving wasn't on harsh terms or anything like that at all."

Then there's the plus side of switching labels.

"Sometimes, in our business," he observes, "particularly as an artist, it's probably good to shake it up a little bit and change things around. I've seen it do wonders for a lot of people. I've seen Vince Gill do well and Toby Keith. Some artists just sat there at their original label a little bit and then went somewhere else with renewed hope and vigour. It's a fresh start, a clean slate. It's a good thing, and I love it."

Vassar wrote or co-wrote 10 of 12 songs on Prayer - two of them with his former wife, Julie.

The couple divorced in 2007 and Vassar admitted their breakup echoed in the album.

The Vassar couple co-wrote four songs including pungent Ultimate Love on American Child.
TRAVELLING CIRCUS
"A real man is faithful to his woman/cause that's what he saw his daddy do/in a world where love and heroes fade away/I wanna be John Wayne." - John Wayne - Phil Vassar-Tom Douglas.
So this time Vassar took complete creative control for recording his new disc.

That included song and writer choice.

Co-writers include Jeffrey Steele, Kelley Lovelace, Charlie Black, Craig Wiseman, Tim Nichols and Kenny Chesney.

Vassar recorded the album over a five-month period - then he culled his original list of 25 songs to 11.

It doesn't bother him he records more songs than he uses on each album.

"The cool thing about it is that a good song, hopefully, will stick around forever," he says.

"They never go bad. You can always come back to them."

Vassar also honoured his band by using them on the album on which he is sole producer.
"I've produced every record I've ever done, but I've always done it with someone else," he says.

"I thought it was time to get with the guys, go in and just do this record ourselves. We have our own way of doing things."
He also enlisted his own band instead of relying on studio musicians as he did before.

"I think studio musicians are the best in the world," he confessed.

"But when you've got the same guys playing on everybody's records with same producers, I don't care how good they are, they're going to play the same stuff. I thought what I really want to do is get a really live sound. People come to see us and say, 'You're incredible live.

So why call his album The Travelling Circus?

"It's just kind of what I've always called our band every time we've hit the road for the last 10 years," he explained.

"If you know our guys, you know why I call it that. It's a fun bunch."

RUSH RELEASE
"I like to think that I'm all right/ that I'm not empty every night/ without your touch, to fill me up/ and I don't miss your face, beside me on that pillowcase/ but I still do, but I won't reach for you/ a year from now." - A Year From Now - Phil Vassar-Jeffrey Steele.
Unfortunately for Vassar, just as his album was being released in mid-December in the holiday season, his label - Universal South - underwent upheaval.

It united with Toby Keith's Show Dog Records to form the Show Dog-Universal label.

"It was mayhem," he recalls.

Travelling Circus debuted at #29 - a modest start - so his international touring is vital.

Vassar says he counts as a plus he's on a label that includes Keith and Trace Adkins.

The record previously had a February release date on it but was moved forward into December.

"I don't know, that's a record-label thing," Vassar confessed.

"It wasn't my choice, that's for sure. We've got a song just coming up the charts right now. But when you're on a big label, they have their own agenda and it's rarely the artist's agenda. It seems rushing it a bit if you ask me, but it's their decision. That's just what we're going through. But we're dealt what we're dealt and you just go out and do it."

A Year From Now is one of the album highlights.
KENNY CHESNEY
"Carolina there on the beach/ I'll never forget when you said you loved me." - I Will Remember You - Phil Vassar-Kenny Chesney.
Vassar wrote I Will Remember You with Tennessee born superstar Kenny Chesney many moons ago.

"One of us was going through a break-up," Vassar said.

"I don't remember which one of us. I think it was him. It's a really good song. I just hadn't found a spot on one of my previous records."

Vassar's disc traverses a wide variety of emotions.

They take on doing the best with the hand you're dealt Lemonade, living with bittersweet memories Everywhere I Go, A Year From Now, being an everyday hero in John Wayne, watching a child grow up in She's on Her Way and keeping romance alive in Save Tonight for Me.

There's also the alcoholic escape of the Jimmy Buffett flavoured Tequila Town, penned with Kelly Lovelace.

But Vassar wrote the powerful entrée song Life solo.

"Baby, you and me we're gonna drink it all up," he chants, "make a lot of love and have a little fun called life."

Now he makes every minute a momentous milestone.

"Life is precious, man," says Vassar.

"And every day I realise that more and more. Take what's going on in Haiti. Life's so fragile. It can just be blown out like a candle in an instant."
BOBBI WITH AN I
"Cause it was Bobbi with an I/ he isn't just one of the guys/ in his pink party dress you would never guess/ he can bench press 335." - Bobbi With An I - Phil Vassar-Craig Wiseman.
Travelling Circus features a video of Bobbi With An I with Desperate Housewives star Jamie Denton - childhood sweetheart of recently wed singer Deana Carter who played Thredbo last year.

But he was not cast as the villain who dresses as a woman to get free drinks in a bar on ladies night - Brad Hatcher had that honour.

"I wrote this song with Craig Wiseman," Vassar explained.

"And if you know Craig, that's all you need to know. We sat in the house and started going back down memory lane. We started talking. One night at a club, one of my buddies showed up dressed as a woman.
But he was so smart. I mean, it was ladies' night, right? Free drinks. It was just hilarious, one of the funniest things."
But Vassar copped some flack for his song - a sharp contrast to his more serious songs Just Another Day in Paradise, American Child and Prayer of a Common Man.

"I just thought it was a fun song," Vassar said.

"I think it's a great song. I think it's funny. I'm sick of the same old songs - sick of hearing about our economy and talking about how bad life is. I thought it was time to throw something out there really different.

Of course we had a lot of people that were kind of offended by it. But I think they're idiots.

That's what I think. It was just meant to be funny. It is what it is. It wasn't meant to save the whales or anything like that. I wish I could do that with every song, but I can't. We just have to stop taking life so seriously. That's really what the song is about."

In the music video directed by Eric Welch, Denton is cast as a friend of Bobby - or Bobbi.

"Originally, Phil and I were talking about me being Bobbi which I thought was going to be hysterical," Denton recalled.

"I really wanted to do it. But in the song, it mentions that he benches 335 pounds, and I was like, 'Not me!'" So we got a burly guy who's a little more believable."

Vassar doesn't hunger for his restaurant days - he sold it after Carlene became a big hit.

''My dad always told me, 'don't get in the restaurant business and don't get in the music business,' Vassar recalled, ''and I went and did both.''

CLICK HERE for CMC Rocks The Snowy festival line-up in Tonkgirl's Gig Guide.