DAVE'S DIARY - 3 MARCH 2010 - JUSTIN TOWNES EARLE
JUSTIN RETURNS TO OUR TOWNS
"I ever hope to hear, I am my father's son/ I've never known when to shut up/ I ain't fooling no one/ I am my father's son/ we don't see eye to eye/ and I'll be the first to admit I've never tried/ it sure hurts me, it should hurt sometime/ we don't see eye to eye/ I was a young man when/ I went down the same road as my old man." - Mama's Eyes - Justin Townes Earle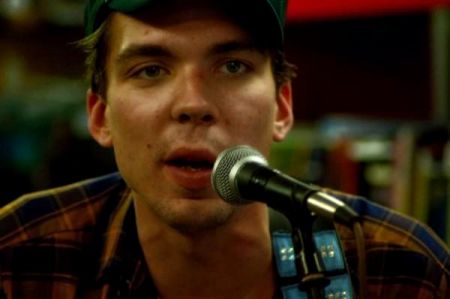 Touring troubadour Justin Townes Earle may have harvested destructive genetics of dad Steve and Texan namesake - the late Townes Van Zandt.

But he also scored good genes with more than a little help from his mum - Carol-Anne - the third of poppa Steve's six wives.

Well, let's not be pedantic but Steve has been married seven times - twice to the fourth wife Lou-Anne Gill who later became his sixth.

I have only met singing spouse Alison Moorer #7 in recent times.

That was long after former MCA record company staffer Teresa Ensenat - the bride who lived with Steve, now 55, at his Fairview retreat where I interviewed him in 1988.

That was down in West Tennessee near Dickson - also one time home of fellow serial altar sprinter and outlaw country star-actor David Allan Coe.

Ohio born Coe, 70 and wed at least eight times, entertained me in 1983 at his Ruskin Cave retreat where he had an Olympic length swimming pool and large cave, replete with a stage on which he hosted concerts.

It was indeed the most surreal setting for an interview in my 45 years of journalism.
But that should be no surprise.

Coe, a Mormon, served several gaol sentences as juvenile and adult - two decades before his former neighbour Steve spent time in the slammer for heroin offences.

Coe's trilogy of autobiographies and prison poem books, albeit slimmer, also preceded an in depth biography of Earle.

And the parallel with Coe, also father of a daughter and son playing in his band at times, is segue of sorts to this piece on young Justin, just 27.

Justin visited Australia on a previous tour with his dad but this is his third as a solo artist.

GQ Magazine featured Justin in a style issue and he won Emerging Artist of the Year at the prestigious 2009 Americana Awards.
MAMA'S EYES
"Now it's three am and I'm standing in the kitchen, holding my last cigarette/ strike a match and I see my reflection in the mirror in the hall/ and I say to myself I've got my mama's eyes/ her long thin frame and her smile/ and I still see wrong from right/ cause I've got my mama's eyes/ yeah, I've got my mama's eyes." - Mama's Eyes - Justin Townes Earle
Earle has good reason to remember Carol-Anne's maternal pupils - they watched as she raised him after Steve left the nest.

"My parents split up when I was about two," Justin revealed in a recent interview.

"I realise more and more how much I'm like my father. My gentleness comes from my mother."

So how did the matriarch react when she first heard Mama's Eyes?

"She cried. Like she always does," Earle told CMT of a teary tribute to the impacts of a highlight of his second album Midnight At The Movies.
"Well, my mom and I didn't have a lot of money, and for all intents and purposes, I grew up just like every other kid that grew up in the 12 South area of Nashville. When I was a kid, it was a little more run-down back then, and it was kind of a rough little neighbourhood. I grew up just the same. You know, I had the shaved head and the rat-tail and wore the Jams and Air Jordans and got ringworm just like every kid that rolled around in the grass at Sevier Park. So I never really had to pay attention to it until I started doing this for a living, which was many years ago. And I spent many years, luckily, not in the public eye but trying to separate myself from my father. But, you know, I really realise that I sing different than my father, I write different than my father, I sound different than my father and any separation other than that is personal.

And nobody else's business."

Earle first toured here to promote his Bloodshot Records debut 2008 solo disc The Good Life.
Although the singer has inherited paternal bad habits his music is steeped in the honky tonks of days of yore.

And he is unburdened by long periods in studios - the pre-production is sourcing the songs from his short but full back pages.

The Good Life took seven days total: four days recording, two of mixing, and one of mastering.

Midnight at the Movies, produced by R.S. Field of Billy Joe Shaver and Webb Wilder fame and Steve Poulton involved seven days recording in the studio.

Earle maximised the 2009 sessions by rotating two engineers - Richard McLaurin taking the noon to 7 p.m. slot and Adam Bednarik on night shift from 7 p.m. to 2 a.m.
COVER GIRLS AND LOVERS
"Well I got this woman, she don't treat me right/she just stay out drinkin'
'til the mornin' light/say now bye, bye baby, wherever you may be/Oh, you got them other men/I don't know what you need with me." - Halfway To Jackson - Justin Townes Earle.
So let's deal with paternal similarities and support at those many forks in the road.

Did Justin graduate from high school?

"I barely even started! I skipped out after 3 months in the 9th grade."

Is that legal?

"I don't know. It was Tennessee."

Earle has a kaleidoscope of tattoos?

On one wrist there is YUMA, on a forearm, PAPA and on his chest, TOWNES.

But, unlike Coe, there are none on his genitalia.

Justin chose a Monroe style blonde for the front cover of Midnight At The Movies.

So who was she?

"Yes. Her name is Carmen," Justin told the Huffington Post.

Q: "Is she?'

Earle: "Never put anyone you're f---ing on the cover of your CD.

Q: "Dylan did?"

Earle: "And it worked out real good for him. No, never put a picture of a woman you're
f--ing in the permanent record if you want to keep f---ing her."

So does Earle emulate his album title track by watching movies?

Earle: "A lot. My fiancee, Rachel Keesecker, loves them."

Q: Fiancee? Is that a recent newsflash?

Earle: "No, I left my former fiancee for her."

History repeats for the singer who is keen to return here.

"I've been touring most of the time since I was 15," Earle says.

"And I do love the artistic life. What I've had trouble with is being at home. But the touring is slowing - I finally am in a place I love where I know I'll stay and with someone I want to stay with."
KEROUAC AT THE MOVIES
"Well the couple in the corner/been goin' at it all night long/ man in the back puttin' bets out on the phone/and I ain't got nowhere to be, ain't nobody waitin' at home for me/and there's nothin' lonelier than midnight at the movies again." - Midnight At The Movies - Justin Townes Earle.
Earle says his Midnight At The Movies fascination dates back to the influence of late Beat novelist Jack Kerouac.

"The reason that imagery got used was because when I was about 18 years old, I was obsessed with Jack Kerouac, and I was obsessed with that whole "Times Square in the mid-40s early '50s" idea of these dank movie theatres that showed nothing but dirty movies," Earle revealed.

"And so it was just a bit of imagery that stuck with me. I think that the imagery of lone men sitting in dirty porn theatres, I don't think there's anything more lonely sounding than that. So it was something that was easy for me. It was an easy frame for me to put this particular picture into."

Although Earle wrote all songs on his second album except Can't Hardly Wait by Paul Westerberg not all are brand new.
"Two of the songs on Midnight at the Movies are old songs. Halfway to Jackson, I wrote when I was 15, and it was actually the first song I ever finished. And then Walk Out, I wrote when I was about 16. I like to use little bits of my past catalogue just because I don't want to forget about the songs, and if they fit the frame, you just put them in there. There's no sense in breaking your ass trying to write something that you've already written."

Earle's music doesn't delve as deep into social comment as his father.

"I stay the out of politics," he said.

"Everybody deserves to come out and have a good time. Woody Guthrie said music is for the people and Republicans are people, too."

There's plenty to like on Midnight At The Movies from mountain-music romp, Black Eyed Suzy and jug band stomp of Walk Out.

Halfway to Jackson is a bluesy train song and They Killed John Henry exudes a grand paternal tragedy.

What I Mean to You is propelled by banjo and steel guitar and features a whistled solo.

Earle indulges in paternal pain in ballads Someday I'll Be Forgiven and Here We Go Again.
HABITS - NUN FOR THE ROAD
"Well when John Henry died, he lay lookin' at the sun/ he said Lord take me now my work is done." - They Killed John Henry - Justin Townes Earle.
Justin is indebted to his father for musical mentoring and maybe rehab.

"My dad was always on the road," Earle confessed.

"He resurfaced when I was 13. I guess I was about 14 when I knew I wanted to play music. I discovered Leadbelly and Woody Guthrie and that switched me from a punk-rock kid to a folkie. I don't think I've played electric guitar since."

And what about that flirtation with dope?

"I started using drugs when I was 10 or 11 years old," he recalled.

"I had five ODs by 21. At 12 or 13 I got into grandmother's pill case. By the age of 17 I was strung out on methadone. At 22 I was homeless and a crackhead living on the streets. After that I decided to stop wasting my time. You couldn't have told me a thing.

I considered myself functioning drug addict. There's a myth that musicians made up themselves that you gotta be up to create. There's a lot more stuff to write about than drugs."

So what about the wisdom of the paternal years?

"He did encourage me," Earle admitted, "because at the point I decided that's what I wanted to do, I was really on my way to prison. I was a huge pain in everybody's ass and I think he was glad I was actually taking an interest in something."

Steve Earle did more than encourage his son - he made him a member of his back-up band.

"Touring with The Dukes came about largely because my dad didn't have enough people to play all the parts on the records," Earle said.

"At that point, I was really pretty strung out and he wanted to get me out on the road to keep me focused on something. He thought it might help a bit, which it didn't in any form.

I managed to get even more screwed up than I did at home. But it was an experience I will always be grateful for because it taught me a lot of Dos and Don'ts that most people at my level don't understand."

History repeated when Steve fired Justin - initially it did nothing to stop drug taking.

"I suffered respiratory failure after being awake for 14 days," Earle confessed.

"I've always known that, like, if you walk into the emergency room, and first off they don't make you wait - like they go 'oh God, you come here' and they grab you - you know you're in trouble. And then you know you're in double trouble when the scissors come out and they start cutting your clothes off."

That only happens in midnight movies these days.
CLICK HERE for Anne Sydenham's concert review of Justin Townes on October 2. 2009.
CLICK HERE for Australian 2010 tour dates in Tonkgirl's Gig Guide.