DAVE'S DIARY - 1 JULY 2012 - PREVIEW OF EPISODE 5 - SERIES 18
MASCOT MINSTREL HAILS VIETNAM WAR HERO
Former Qantas accountant Amber Lawrence proves reality rooted songs are the most fertile fodder for videos on the July 4 episode on Nu Country TV this week.

Lawrence's eulogy to a war ravaged Vietnam veteran, who saved her life as toddler, has a sting in the tail of her tale.

The singer's Grafton peers McClymonts also return to the 10 pm show with a cheating song on the eve of their latest American tour.

And Fawkner filly Jasmine Rae's favourite duet partner Joe Nichols joins fellow American chart-toppers Rascal Flatts, Eric Church and The Band Perry with their latest videos.

The show, edited by award winning academic Ashley Hall, is repeated Thursday at 4.30 pm, Saturday at 11.30 pm and Wednesday at 2 am.

We have more good news.

The Nu Country TV show has been added to the C 31 streaming list.
Just follow this link on your computer or mobile phone -
http://www.c31.org.au/program/view/program/nu-country-tv
AMBER GIVES GREEN LIGHT TO NEIGHBOUR
When a Vietnam veteran saved Amber Lawrence's life as a toddler she didn't reach for her crayon.

Instead the Mascot minstrel deposited the heroic feat in her memory bank for a rainy day.

Now, three decades later, she wrote Man Across The Street for her third album 3.

Lawrence, 34, still has vivid memories of that day she was rescued from meeting her maker.

She also recalls how her hero, a Vietnam veteran, was shunned on return from a horrific war.

And, like many other victims of those sixties jungle battles, the troubled trooper found solace in the booze.

"An actor played the role of The Man - the real man unfortunately passed away about 15 years ago," Lawrence told Nu Country TV.

"We filmed it in a friend's house in Maroubra in Sydney."
It's not the first time Lawrence turned tragedy into song - she wrote The Mile about 16-year-old jockey Sam McRae died in a racing accident.

The video for Amber's 2007 debut album title track was filmed at the famed Randwick Racecourse.

She also wrote Always Kiss Me Good Night about her father who died of leukemia in September 2008.

It was on her 2009 album When It All Comes Down - she wrote the title track during her grieving period.

Meanwhile Amber is enjoying her national tour with Leopold born fellow Golden Guitarist Adam Harvey.

Further info - www.amberlawrence.com
MCCLYMONTS - BABIES AND CHEATERS
Don't mess with The McClymonts if you are cheating on your spouse or lover.

The trio wrote How Long Have You Known about a philandering fool - not a stamp collector.

They perform their vivid video on this week's show as they tour the U.S. to promote their third album Two Worlds Collide.

The Grafton gals mix maternity with minstrel work as they make the most of the lucrative U.S. summer tour circuit.

They graduated from county fairs and radio station pit stops to major tours with artists diverse as Jason Aldean, Nitty Gritty Dirt Band, Luke Bryan, Trace Adkins and Mark Chesnutt.

They have also appeared on the Grand Ole Opry.

Now, all they need is a reality TV talent show on their return home to cash in on belated Urban-mania that drove expat Australasian superstar Keith Urban into suburbia supremacy.

How Long Have You Known is definitely not about Brooke McClymont who revealed impending maternity after the trio's Grafton Racecourse gig in May.

Brooke, 31 and musician husband Adam Eckersley, kept their pregnancy secret until after her 12-week scan.

The trio returns in August to continue their national tour that brings them to Crown Casino for a two night stand on October 12.

They have a few months break at the end of the year before Tamworth Country Music festival in January.

Maybe baby photos in the knit and crochet mags will make up for lack of commercial airplay in the unlucky radio country.

Click Here for a McClymonts feature in the Diary on January 25, 2010.

JOE NICHOLS TAKES IT OFF
Latter-day Texan Joe Nichols's second wife Heather has beaten Brooke McClymont to the maternity award.
The Arkansas born singer-songwriter's second daughter Dylan was born on April 17.

Joe, 35, and Heather wed in 2007 after meeting 12 years earlier.

Dylan is younger sibling of Ashelyn, 13, from Joe's previous marriage.

But it's a different woman who catches Joe's eye in the video for Take It Off from his 9th album It's All Good.

The long tall troubadour surrenders his newspaper for a woman with a laptop.

The action happens at a beach party on a downtown Nashville street with an above ground pool.

Joe played the historic Forum Theatre in Flinders St on May 7, 2011 with hometown heroine Jasmine Rae and Peter McWhirter during his third Australian tour.
Nichols debuted at 2009 CMC Rocks The Snowys festival at Thredbo and played CMC Rocks The Hunter in 2011.

It's a far cry from his self-titled 1996 disc that produced three singles before the indie label folded.

Click Here for a Joe interview in the Diary on November 18, 2009.
RASCAL FLATTS & BANJOS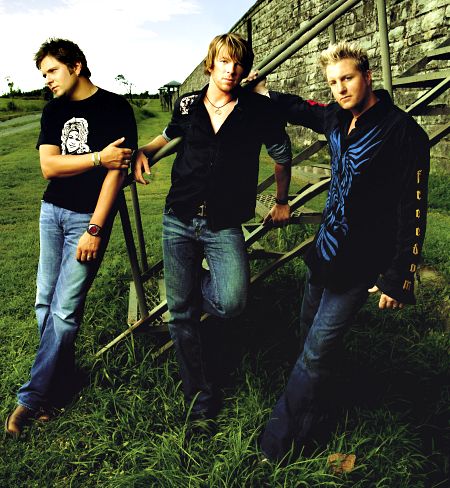 Rascal Flatts are best known for crossover country that took them deep into the American heartland.

But here the trio, like most country peers, are kryptonite for mainstream metropolitan radio.

So it's refreshing the millionaire minstrels defend the honour of banjos in courts and lecture halls in their latest video clip.

The jury returned its verdict in favour of Banjo from Rascal Flatts eighth album Changed.

Unlike the myopic suppression choked Australian court system all names were released as the video characters travelled in buses to the bench for the verdict.

It's a welcome sense of humour and justice for the band who broke the mould on 2006 album Me And My Gang.

They included Marcel-Tony Mullins song Backwards that parodied the cliché of what happens when country songs are played backwards.

The band appeared with Miley Cyrus in the Hannah Montana movie on Backwards and Bless This Broken Road.

They also appeared on top rating TV series CSI - set in the Nevada gambling nirvana.

The plot for the episode Unshockable on March 4, 2010, involved a band member injured onstage and other members as suspects.

Fellow country star Taylor Swift's acting debut was also on CSI - as a murdered teen.

Rascal Flatts moved to Big Machine Records - also home of Swift - after Disney closed its previous label, Lyric Street Records.

Rascal Flatts partners Jay DeMarcus, Gary LeVox and Joe Don Rooney were with the label for more than a decade.

Oklahoma born Rooney is husband of 2005 Playmate of Year Tiffany Fallon whom he wed in Cabo San Lucas, Mexico in April of 2006.

Florida born Fallon - Miss Georgia of 2001 - played a femme fatale in Oklahoma star Toby Keith's video Who's Your Daddy?

Further info - http://www.rascalflatts.com/
THE BAND PERRY - MORE BANJOS
The Band Perry - raised in Alabama and now living in East Tennessee -also break out the banjo in the video for All Your Life.

The family trio gave their banjo a gallop in a paddock full Texan bolo ties, pythons and spray on love.

Big sister Kimberley Perry trucked off as her young brothers Neil and Reid strutted their stuff from their hit-filled debut album.

The trio plans an Australian tour early next year to promote its second album in a career that started in Mobile, Alabama, with a bunny named Beatrice.

She impaled herself in her cage when Kimberly Perry was just eight.

Beatrice was an Easter bunny of sorts as Kimberly broke her duck as a songwriter by writing Bunny Rabbits Are Nice.
But that's not the death song that rocketed The Band Perry's big selling self-titled debut album to chart tops.
Instead it was If I Die Young, written at her Greeneville home in the East Tennessee Mountains, just 18 years later.

The Band Perry, latest sibling stars to strike gold, have been on the road since Perry fronted her first band at 15 with brothers Neil, 10, and Reid, 8, as roadies.

Kimberly, daughter of a paediatric oncologist, was shocked to learn news of her debut crossed the international dateline.

"How did that get down to Australia?" the singer asked in a call from her home.

Click Here for our interview in the Diary on October 31, 2010.
ERIC - SPRINGSTEEN HIS CHURCH OF CHOICE
North Carolina born star Eric Church headed to the suburbs for a street party to honour a teenage love in his latest video.

Springsteen is a metaphor for a concert where he met a young girl - now etched deep in his memory bank.

It's on his third album Chief that topped Billboard on debut.

Church, 35, penned the song with band mate Jeff Hyde, who also co-wrote his hit Smoke A Little Smoke, and Nashville songwriter Ryan Tyndell.

"The interesting part is it's a love affair that takes place in an amphitheatre between two people," Church recently revealed.

"It didn't happen with Springsteen, ironically, it happened with another artist. I went to a concert when I was younger with a girl, and to this day when I hear that artist, it's the soundtrack to that girl. I never think about her any other time, except when that song is on. That's where Springsteen came from, and he seemed to be the perfect guy to craft that story around because of my love for him. I have such reverence for Bruce Springsteen's career and how he's built it."
Church also declared war on Blake Shelton and Miranda Lambert for their forays into reality TV.

Although Church backtracked after a twitter fuelled faux furore he also donned the amore armour after being named by bloggers as one of the subjects of Shooter Jennings song Outlaw You.

Controversy is a healthy sales tool for Church in his wars with concert scalpers, fake Facebook pages and recent riot when his Buffalo concert was cancelled because of dangerous weather.

Click Here for a Church feature in the Diary on October 18.
WIN CDS ON MEMBERSHIP PAGE
CLICK HERE for our membership page to win CDS by Tim McGraw, Eric Church, Luke Bryan, Carrie Underwood, Dierks Bentley, Russell Hitchcock, Felicity, Taylor Swift, Slim Dusty, Keith Urban, Miranda Lambert and more.