DAVE'S DIARY - 18 NOVEMBER 2009 - JOE NICHOLS INTERVIEW
JOE NICHOLS THROTTLES BOTTLE
"My hands were shaking and my knees are weak/ as I poured my last shot and drank my last drink." - An Old Friend Of Mine - Rick Tiger-Brock Stalvey.
Joe Nichols was in good company when he made a life saving decision at the crossroads of his career in 2007.
The laconic country star's new bride Heather Singleton persuaded him to enter rehab to cure his drinking.

So there was an immediate parallel with expatriate Australasian superstar Keith Urban.

The Arkansas born chart topper also recorded a new song and video about beating the bottle and set up a web page to help fellow victims.

"I think my wife Heather saved my life in so many ways, that's not an overstatement at all," Nichols, 33, told Nu Country TV in a call from his Nashville home.

"It's certainly my biggest favourite thing to happen to me. Keith is a friend and shared in a great way, a lot of wisdom surrounding his sobriety. He's someone I really like to talk to because of his wisdom, someone I respect tremendously."
Nichols thank his wife, whom he met when they were both 18, for his recovery.

Joe chose rehab just a month after they married in Savannah, Georgia, on September 9, 2007.

But the singer did not write the song illustrated in the stark video shot at a friend's home in Nashville.

"I found the song, I wish I had written it," Nichols confessed while he was promoting his eighth album Old Things New (Universal South).

"I feel like I could have, sometimes these songs come along, too hard to pass it up. It was ideal for me at the time. That's the funny thing about songs - they find a home where they're supposed to be. It's the first album I've had where I haven't written any songs.

Some times it turns out that way. Careers are built on great songs - we just found outside writers for this one."

VIDEOS IN NASHVILE AND SAN ANTONIO
So why did Nichols release a video of An Old Friend Of Mine instead of his current single Gimmie That Girl?

"Old Friend Of Mine is one of the most personal moments of my career, a very powerful song," Nichols said.

"I decided that it was so powerful that we were not going to go with just the traditional single release of Gimmie That Girl. I wanted to get the message of Old Friend Of Mine to the folks so we shot a video and set up a web site - Old Friend Of Mine.com. We shot the video in Nashville at a friend's house. It was just me and the piano in the living room with great lighting - a great set. I didn't need much - just a camera and place to sit to tell my story. It was one continuous shot - no cutaways."

So after a few months highlighting that video Nichols followed with the clip for the official single.

"We shot the video last week in San Antonio, it will be out soon," said the singer who illustrated his 1996 indie debut disc with three videos.

"We shot it at a place called Cowboys, a well known club. It was a great video shoot. I'm well versed in videos, they're always fun. The record label found the song. When I first heard that song it was catchy - a good sign people are going to remember that song."

Nichols prolific video shoots date back to his 1992 self titled debut disc he made for indie Intersound Records when he was just 19.

The album featured videos for his songs Six of One, Half a Dozen, Wal-Mart Parking Lot and To Tell You the Truth, I Lied.

So why was it a Walmart parking lot?

Well, Joe's hometown of Rogers, Arkansas, was also the locale of the first Walmart.

"Rogers, Arkansas, had Walmart store Number 1," Nichols recalled.

"That's their claim to fame, it's pretty cool - the home of Walmart."
TEQUILA STILL MAKES CLOTHES FALL OFF
She said I'm going out with my girlfriends/ Margaritas at the Holiday Inn
Lord have mercy, my only thought/ Was Tequila makes her clothes fall off." - Tequila Makes Her Clothes Fall Off - Gary Hannan-John Wiggins
Nichols may have declared a war on his own drinking but found room on his new 12-song album to reprise old drinking songs as bonus tracks.

"Tequila Makes Her Clothes Fall Off was a remix done by Colt Ford - a very popular underground country music rap guy," Nichols revealed.

"He did a really good job. Nickelback have also been doing it in concert - as far as treats go that was a pretty big one. It was pretty cool to see Nickelback play one of my songs in their shows. I'm a big fan so that's pretty damn good."

Nichols also added Let's Get Drunk and Fight - another hit he showcased at the CMC Rocks The Snowy festival at Thredbo in March.
"It goes over so well live. I figured it would be good to have a live version on this album," Nichols explained.

"It shows what reaction we get. I have always loved that song. I loved it dearly. I just think we need to do as much as we could with it."
CHEAPER THAN A SHRINK

"She said 'honey I think we need to see a marital counselor'/ I said 'all we need to do is slam a case of 12-ouncers/ cause it's cheaper than a shrink/ you don't have to think, you just pour and drink." - Cheaper Than A Shrink - Bill Anderson-Buddy Cannon-Jamey Johnson
Liquor may no longer enter Nichols' lips but drinking songs escape with a flourish - especially Cheaper Than A Shrink, one of two new tunes from veteran Bill Anderson.

"Bill Anderson, Buddy Cannon and Jamey Johnson wrote that and it was pitched to me," Nichols recalled.

"It had a lot of humour in it. I see humour in a lot of things nowadays. I've been there - I know it from experience. Bill, Buddy and Paul Overstreet also wrote the album title track - Old Things New. It was pitched to me brand new. I never heard it before - what a classic country lyric. Vince Gill came in and sang harmony on it. He sang on my first record - Man With A Memory. Bill Anderson is a great country writer. He's written some classic stuff - really good country. A lot of his songs seem to fit."
Nichols sang an Anderson song at former Playboy model Anna Nicole Smith's funeral in March 2007.

"Yes, I sang I'll Wait For You at Anna Nicole Smith's funeral," Nichols revealed.

"It was a sad time."
THIS BED'S TOO BIG
"Baby this bed's too big/ we don't need all this room/ I like you nice and close/ cause heaven knows, morning comes too soon." - This Bed's Too Big - Victoria Shaw-Gary Burr
But Nichols thanks wife Heather for sourcing This Bed's Too Big.

"My wife found that song," Nichols said.

"She said 'you don't have any sexy songs, I can't think of any sexy songs you do.' She went out and did her own legwork and approached Victoria Shaw who is a friend of ours.

She asked her for her best sexy song and she got it. She gave it to me and I thought it was a big old hit."

It was a different source to another siren song the couple heard in a weird quirk of fate.
"We were lying in bed at 4 or 5 in the morning and the IPOD dock came on," Joe recalled.

"It was Celine Dion singing I'm Your Angel - a very weird moment. Heather said she didn't remember downloading any Celine Dion songs but there it was."

Nichols has performed for U.S. troops in Iraq but it was man of peace he honoured with his song Believers.

"The Dali Lama accepted his freedom awards in Memphis earlier this year and I performed Believers for him," Nichols said.

"It was a great show at the Lorraine Hotel. I was on with Natalie Cole and sang The Impossible and Believers. I got to meet the Dali Lama - he was a sweet guy."

But an icon he didn't meet was Texan singer-songwriter Blaze Foley who was murdered by a man named January in February of 1989.

Nichols recorded Foley's song If I Could Only Fly on a previous album.

"I found it in the bargain bin at a Walmart on a Merle Haggard DVD," Nichols recalled.

"I learned that song, it's one of my favourite songs he has ever done. I learned if from the DVD. I went into the studio and cut it - a great song. I sing it as a tribute to my wife."
PURE COUNTRY ON BROADWAY

Nichols has been cast as one of his mentors in the Broadway version of the 1992 George Strait movie Pure Country.

"Yes, I have role in Pure Country with Lorrie Morgan," Nichols said.

"But it won't be until fall of next year. With the economy what it is, Broadway also no exception. I now have time to prepare the script and team with other actors."

But Joe will be known as Texan Strait's movie character Dusty.

"Warner Bros, who made the movie Pure Country, own the character Dusty so I play Rusty. It's a separate company making the Broadway musical and there are copyright issues."

Nichols truck driving bassist dad Mike died of lung cancer at 46 in 2002 just as the singer's career was soaring with his hit The Impossible.

He also recorded the Iris De Ment song No Time To Cry, also cut in 1996 by Merle Haggard, as a tribute to his father.

The song may have been therapeutic but it also preceded Nichols battle with the bottle and his recovery.

"My life has been real difficult over past couple of years," Nichols added. "I've had to deal with addiction and struggle that comes along with that. I've had to get treatment. I've had to take that walk of shame that nobody likes to take. But, in the end, it saved my life. It's why I'm here right now. And I'm thankful I was able to get my head right - thankful there were people around that wanted to take the time to help me out.
AUSTRALIAN TOUR?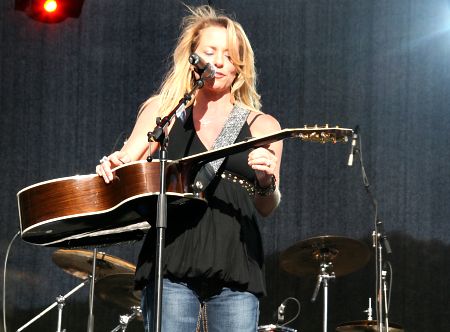 Deana Carter live at Thredbo - photo by Carol Taylor
So will Nichols make a return tour of Australia after his debut here with Deana Carter in March?

"I would love to go back to Australia," Joe says.

"I had a great time. The people were amazing to us. I hope we return -sooner than later."

Nichols' touring partner Deana Carter has married since their tour.

"She's a great lady, I'm glad she's settling down," Joe confided.

Broadway is a far cry from Nichols alternate days jobs in Nashville as he wrote songs and performed at night.

"I had several funny jobs," Nichols recalled.

"I was a cable guy. Steak salesman. I moved office furniture. I tended bar a lot. It was to kill time without killing the passion for writing music."