DAVE'S DIARY - 18 OCTOBER 2011 - ERIC CHURCH FEATURE
WAYLON AND JESUS - THE GOOD BOOK
"I'm a long gone Waylon song on vinyl/ I'm a back row sinner at a tent revival/ but she believes in her bible/ and loves me like Jesus does." Like Jesus Does - Casey Beathard-Monty Criswell.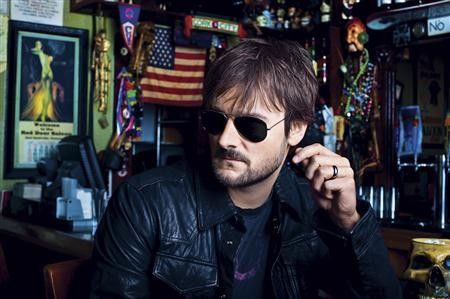 He was dumped from a Rascal Flatts tour and shunned by radio for teen pregnancy song Two Pink Lines.

But North Carolina nouveau outlaw Eric Church doesn't retreat on his third album Chief.

He name checks the late Waylon Jennings in Like Jesus Does and Johnny Cash in Country Music Jesus - a satiric swipe at critics exposing faux outlaws.

Eric remains church of choice to fans yearning rocking country without edges planed for the all too safe and familiar rhythm methods of radio.

He broke in 2006 with debut disc Sinners Like Me and boomeranged to the Top 20 seven times since then.

Ironically, one of his hits was Smoke A Little Smoke - a song touching on Bali's Ganga gaol-bait for tempted tourists.

Nothing equals the sales success of this potent cocktail of booze, bibles, cheating, redemption, regret and ruptured romance.

Homeboy - a social comment narrative about a rap-riddled young sibling lured into crime - ignited sales of 145,000 units.

The song, accompanied by a powerful video, shot the album to #1 on the Billboard all genre albums chart on debut.

That's a healthy hunk of hooch in a download challenged market where country fans preference for CDS ensure it's a favoured format of the new millennia.

Church's figures were more than four times first-week sales of his second disc Carolina, since certified gold for sales exceeding 500,000.

But it's the spirit of the music - not the jangle of cash registers - that has Church praying at the font of long deceased outlaws Jennings and Cash and wounded warriors Hank Williams Jr, Billy Joe Shaver, David Allan Coe and Ray Wylie Hubbard whose radio romance withered on the vine many moons ago.

OK, Alabama renegade Jamey Johnson still burns torches but his fame flames rarely light up radio beyond the Americana and satellite oasis.

"It's not just Waylon," Church, 34, revealed in a recent interview.

"I think anybody who has taken where country music was and helped take it to where it is, is somebody I respect. You take Cash, you take Waylon - they took it from where Hank Williams and Ernest Tubb and those guys had it. They brought it to where they were. Even in more recent times, you could throw in George Strait and Garth Brooks. They took it to a different place. I think it's our job as new artists to grab that flag and take it somewhere. I get frustrated when there's a lot of artists who will run songs up and down the chart that are the same thing we've heard a hundred different times - in any decade you wanted to pick. That frustrates me. It's not using the time that we have, which is a small one, to actually further the format and move the format."
CREEPIN'
"You shot outta here like a bullet from a gun/ a flip of a switch, a thief on the run/ your cocaine kiss and caffeine love/ got under my skin and into my blood." - Creepin' - Eric Church-Marv Green.
Church sets the pace with the pain wreaked by a departed lover in entrée Creepin' - a chugging tune where a honey metaphor has more sting than Oklahoma chart topper Blake Shelton's Honey Bee in which Loretta Lynn and the late Conway Twitty are name checked.

The singer recently named his first child - a son - Boone and primed sales on the Country Throwdown tour with other young guns including expat Adelaide guitarist Jedd Hughes who plays acoustic guitar, mandolin and banjo on this album.

"With the title, Creepin', I love the way the song actually creeps," Church says about a song with subliminal melodic theft from singing actor Steve Earle's Copperhead Road.
"It doesn't just slam you. Dynamically, it starts you in a certain place and creeps you into the record. I love the vibe. I love how rhythmic it is. I think it sets a tone that this is going to be a record that is sonically - and maybe even songwriter-wise - is going to be a little different than what people have seen from us before. Creepin' had to start the record. You can't have a track like that and not have it up front. At least by the time you get to the end of that and dynamically you reach the crescendo, it's a really good pad for what the rest of the record becomes."
DRINK IN MY HAND
"Early Monday morning till Friday at 5/ man I work, work, but I don't climb, climb, climb/ boss man can shove that overtime up his can/ all I wanna do is put a drink in my hand." - Drink In My Hand - Eric Church-Michael Heeney-Luke Laird.
Church weds the blue-collar rebellion of Coe's epic movie hit Take This Job & Shove It with a vast vat of alcohol of fame anthems in Drink In My Hand.

Nothing new, you might think, but hey it's sweet solace from saccharine laden positive love songs.

And a chance to fell the high lonesome honky tonk vocal timbre of the late Gary Stewart whose legacy was channelled by Ronnie Dunn on She's Acting Single, I'm Drinking Doubles from recent Country Strong movie soundtrack.

It's also the first of the hard liquor trilogy fleshed out by his co-writes on Jack Daniels and Hungover & Hard Up.

"We wrote that hung over, so that's a true story," Church confessed of the former he penned with Jeff Hyde and Lynn Hutton.


"We were all sitting there, staring at each other and the line just came out. A co-writer said, "Jack Daniels kicked my ass last night." And that was it."

But Church is no one-pew pony - he exploits canine metaphors for bar bravado in Keep On and dagger to stab regret in finale Over When It's Over.

"Over When It's Over and Hungover and Hard Up are my two favourite lyric songs because they've got different twists on words and phrases," Church revealed.

"I don't think I was mature enough, even on the Sinners Like Me record, to write that quality of stuff. I think that's the growth of a songwriter. And how can you not end a record with Over When It's Over? I couldn't put it anywhere else but there. I love the way Creepin' creeps into the start of the record and Over When It's Over ends it. When you hear those last lines, the record's over. I love the literal and figurative sense of that."
HOMEBOY - TOO CLOSE TO HOME?
"You were too bad for our little square town/ with your hip-hop hat and your pants on the ground/ heard you cussed out mama, pushed daddy around/ before you tore off in his car."- Homeboy - Eric Church-Casey Beathard.
Church chose social comment narrative Homeboy as a single, replete with video, for several good reasons.

It enabled him to film in the former Tennessee State Prison where the late Porter Wagoner shot his video for famed Johnny Cash song Committed To Parkview.

The song - about a farm boy sucked into the urban crime vortex and the slammer - also had cross genre appeal to latter day droogs, rappers and hip-hoppers.

Country has long been a vast contrast to the fads of the day, dating back to bodgies and widgies, skinheads, punkers, disco ducks, poppies, heavy metal heads and other lyrically challenged chumps.

And, as a bonus, the singer has a younger brother who fought the law and lost.

"Homeboy is a song that some people had a problem with because it's pushing buttons, a lot like Smoke a Little Smoke did," Church said. "Everybody told me I was nuts to release that song to radio. But it was the biggest hit we've had. And Homeboy is a big hit, too. If I can sell a million downloads of a song that goes to 13, why is it a bigger hit if it goes to No. 1 and sells 300,000 downloads? The bigger hit is the sale, is the person who says, "this is what I want to hear."

So, apart from the urban tribes, who was the inspiration for Homeboy?

"I happen to believe that everybody at some point in time has been on the wrong path in life," Church explained.

"You don't have to end up in jail or end up in a gang to be on the wrong path. It's about you realising you're on the wrong path. This song is about one brother helping the other brother realise he's on the wrong track and that if he doesn't change his ways, he's going to end up in a much worse place. I do have a brother. He's been arrested. But it wasn't really about him, quite honestly. I knew a lot of people who have been on the path they shouldn't have been on. I think we can all relate to that."

Playing the song live proved Church's theory.

"I've been pretty shocked about the number of people who have come up and had their own personal account of that person in their life, whether it's a son or daughter or a brother, sister, mother or father," Church said.

"It's been humbling to hear a lot of the stories. I don't know that when I wrote the song, I thought about it in that way. We were just trying to craft the best song we could craft, most clever song we could craft. It's really cool how music plays an important role in people's lives."
FAUX OUTLAWS
"We need a second hand coming worse than bad/ some longhaired hippie prophet preaching from the book of Johnny Cash/ a sheep among the wolves there standing tall/ we need a country music Jesus to come and save us all." - Country Music Jesus - Eric Church-Jeremy Spillman.

Respected Texan born critic and author Chet Flippo inspired Country Music Jesus with a Nashville Skyline column about new millennia faux outlaws.

"That song is interesting because of a particular critic, who shall remain nameless for now, who wrote an article," Church revealed.

| | |
| --- | --- |
| | "I got pulled into the article, and I had no business being in the article, about the state of country music. It was comparing the new generation, this young movement, to Cash and Waylon, and saying that we're not getting it done. And that we needed a country music Jesus to come and save the format. And I took offence to it. I'm not interested in making music that was made in 1974. I want to make music that is different and that's being made now. I feel like Cash did that. I feel like Waylon did that. I feel like Garth did that. Good or bad, it doesn't matter. They did their own thing, and they did it different. They expanded the format. I think that's what we're supposed to do. That's what we're here to do. I took offence to his comment, and that was my missile across the bow as a tongue-in-cheek way to respond to that." |
Flippo is not sharing royalties from the song - neither is Tom Pacheco whose tune Jesus In A Leather Jacket was, ah, prophetic.

"The gist of the article was, "We have to have these guys. We need the new Cash, the new Waylon," And I disagree," Church added.

"There's only one Cash. There's only one Waylon. Those guys have had their time. It's about taking where we are now and growing it to where we go from here. Someday, somebody will take the flag from whoever. Us. And take it to where it's going to be. My biggest problem with this generation of artists is that we just run songs up and down the charts so we can keep our touring going, so we can make money and have a living and all these things. We don't make the music that's really pushing the envelope or taking the music somewhere, expanding the music. Some people are. But I feel like when Cash and Waylon came along, they didn't make the same music that Ernest Tubbs and Hank Williams Sr., made. They moved the flag. And I think it's important that we do that. I think the evolution and diversity of the format is what's going to allow it to have a fan base that doesn't just grow old and age out."
SPRINGSTEEN
"To this day when I hear that song, I see you standing there on that lawn/ discount shades, store bought tan, flip flops and cut-off jeans/ somewhere between that setting sun, I'm on Fire and Born to Run/ you looked at me and I was done but we were just getting started." - Springsteen - Eric Church-Ryan Tindell-Jeff Hyde.
Church joins a long list of artists using time travel to a mentor's music as a metaphor for an embryonic love affair.

Many peers chose Hank Williams Sr, Bob Wills, Ernest Tubb, Waylon & Willie, Woody Guthrie, Conway Twitty, Loretta Lynn, Tammy Wynette and Dolly Parton as their red-letter days in the sands of time.

In more recent times Taylor Swift opted for Tim McGraw and Kid Rock exploited Lynyrd Skynyrd and Tyler Dean name checked Swift in songs for a vastly different reason.

Few country artists are likely to nominate Johnny Rotten, Kiss, Bay City Rollers, Gary Glitter or Aussie clones as a favoured soundtrack for their coital conduit debut.

But Bruce Springsteen, who admits borrowing from Hank Sr for a chorus in The River, flows easily in the title for a Church choice.
"That song is paying tribute to Springsteen, but it's also about the power of music," says Church.

"I can remember being at a concert when I was younger, with a girl, 15 or 16 years old, my first amphitheatre experience. I think the relationship might have lasted two weeks, but whenever I hear that artist, to this day, I still think of her. And I think she probably thinks of me, because that artist at that concert became the soundtrack of that moment."

And Bruce, whose longevity has frequently been fuelled by his acoustic country-folk excursions, has cred on most streets, highways, byways and broad acre and intensive cropping pastures.

So is there a chink in Church's amore that has long enjoyed the accessible production of Jay, and thankfully not James Joyce?

Well, maybe.

Try "she got a rock and I'm getting stoned" in the distinctly non-Biblical ruptured romance requiem I'm Getting Stoned.

It's a good line but old one purloined from tunes that surfed radio waves for artists diverse as Ronnie Milsap and T G Sheppard.

Sheppard, now 67 and real name Billy Neal Browder, may also find some humour in another line from the song that borrows entire theme from She Got The Rock And I'm Getting Stoned on his 1997 album Nothing On But The Radio.

Serial altar sprinters in country music identify with "here's to happy ever after and here's to balls and chains/ here's to all us haters of old lovers new last names."

Church has three co-writers - Beathard, Hyde and Jeremy Crady - to thank so their talent is not wasted.

Maybe the quartet channelled the 1992 Rafe Van Hoy-Bobby Braddock penned hit Old Flames Have New Names for Texan Mark Chesnutt.
Trivia Note - The Bobby David penned 1974 T G Sheppard hit Devil In The Bottle was also recorded here in 1975 by former Bluestone singer Terry Dean under the name of Dean Stewart for Fable Records.
CLICK HERE to learn how to win Church's album Chief, Luke Bryan's third CD Tailgates & Tanlines and Slim Dusty retrospective gem I've Been There And Back Again.