DAVE'S DIARY - 31/10/ 2010 - THE BAND PERRY INTERVIEW
THE BAND PERRY
BEATRICE - NO EASTER BUNNY
"If I die young bury me in satin/ lay me down on a bed of roses/ sink me in the river at dawn/ send me away with the words of a love song." - If I Die Young - Kimberly Perry.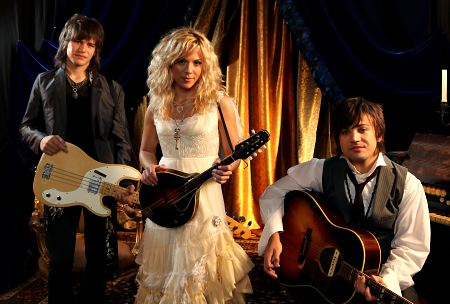 It all started in Mobile, Alabama, with a bunny named Beatrice.

She impaled herself in her cage when Kimberly Perry was just eight.

Beatrice was an Easter bunny of sorts as Kimberly broke her duck as a songwriter by writing Bunny Rabbits Are Nice.

But that's not the death song that rocketed The Band Perry's big selling self-titled debut album to chart tops.

Instead it was If I Die Young, written at her Greeneville home in the East Tennessee Mountains, just 18 years later.

The Band Perry, latest sibling stars to strike gold, have been on the road since Perry fronted her first band at 15 with brothers Neil, 10, and Reid, 8, as roadies.

Kimberly, daughter of a paediatric oncologist, was shocked to learn news of her debut song has crossed the international dateline.

"How did that get down to Australia,?" the singer asked in a call from her home.

But this researcher reverted to asking the questions.

How long did Beatrice live in the Mobile musical mecca?

"Not very long," Perry confessed.

"She actually hung herself in her cage - she lived less than a year. I was absolutely horrified - she was my best friend that year. She was so cute with long fluffy ears - that's how I got started writing. I have evidence on video but it's under lock and key. That was in Mobile."

It was the embryo of writing - not just death songs but hits - for a singer whose smash If I Die Young hit gold status on the eve of our interview.

"I wrote that on a cloudy day in East Tennessee where we live," Perry said of the open-ended death song that launched the album, rush released on October 12.

"It was up in my room. I had the song in my writing journal - it was a real cloudy day, it was contentment. We were heading to the studio to record an album. I was so thrilled to do that together with my brothers. A lot of people ask about the lyric 'sharp knife of a short life.' It's a metaphor for the old saying 'you cut me like a knife' - someone you care for. That's where that lyric came from. In concert lot of people really identify with that song. It's really amazing."
MOBILE MUSIC MACHINE
"Sink me in the river at dawn/send me away with the words of a love song/the sharp knife of a short life/well, I've had just enough time." - If I Die Young - Kimberly Perry.

Kimberly and her brothers cut their teeth on the Alabama country circuit - with parental chauffeurial support.

Neil on mandolin and accordion and bassist Reid graduated from being their sister's roadies to forming the Mobile Music Machine who opened her concerts.

"I had the band at school in Mobile at 15," Kimberly recalled.

"Neil and Reid originally worked as my roadies. They had bowl cuts and formed their own band the Mobile Music Machine. All our childhood and early performing was down in Mobile.

We listened to lots of country and rock, Lynyrd Skynyrd and Allman Bros. There was lots of blues because we were close to New Orleans where we listened to lots of street corner musicians. We decided we would all play together outside of our bands when we later moved to Greeneville here in east Tennessee. We became The Band Perry. We then worked in North Carolina and the east part of the state. We have played together ever since."

The move to Greeneville - four hours east of Music City - was energising.

"It's a little dot on the map town or about 2,000 people in the mountains of east Tennessee," Perry revealed.

"It's a real charming place to know. We have one foot planted in Nashville and one at home in Greenville. We all live there and do our rehearsals with our band. The scenery is just amazing - it's like we're on vacation. We spend 24 hours there one night a week - there in our own beds. It's really refreshing to go home to the mountains."
SWIFT RISE IN A BIG MACHINE
"He was sweet as cotton candy at a county fair/ he's a cold drink of water with butterscotch hair/ he swore that he loved me, well I guess he probably did/ cause when he rolled up his sleeve one day/ I saw my name next to his." - Double Heart - Kimberly, Reid & Neil Perry-Brett Beavers.
In 2005 the trio joined the New Faces of Country tour and met with Bob Doyle - former manager of Garth Brooks - in 2008.

Doyle helped them make their original demos that landed them a deal with Scott Borchetta - head of Big Machine and Republic Records - in August 2009.

They joined artists diverse as superstar Taylor Swift, Texan Jack Ingram, Trisha Yearwood, Rascal Flatts, Steel Magnolia and Jaron & The Long Road To Love.

Swift's producer Nathan Chapman shared studio duties with Paul Worley who worked with Dixie Chicks and fellow superstars Lady Antebellum.
And, unlike many novitiate artists the trio played on their debut disc.
"We recorded half the album before we signed with the label so we played on that," Kimberly revealed of the first six tracks recorded with Worley.

"They weren't going to change that. We all play on the album. We had creative control. We also used session players. It's amazing the power of musicians in Nashville. We worked live in the studio with them on the Nathan produced tracks. It was great to work with musicians we could bounce our songs off."
BEAVERS AND BRITT
"I like your lips like I like my coca cola yeah/ oh how it pops and fizzes/ you like my shirt like I like it/ when you hold my hand/ the way it fits it's got me feeling lucky." - Hip To My Heart - Kimberly, Neil & Reid Perry-Brett Beavers.
The trio's debut single Hip To My Heart was released late in 2009 and reached the Top 20 early this year.

It peaked at #20 and was followed by an EP - produced by Chapman.
The Perry's wrote Hip To My Heart with Brett Beavers - a prolific writer and producer of Dierks Bentley and Novocastrian Catherine Britt.
"We were a big fan of him as producer," Kimberly confessed.

"He was one of the first creative souls we met in town - he's our favourite red headed cowboy. We really gelled with him creatively.

He played us the album he produced for Catherine Britt. We adore Catherine and love her music - we actually sat around and listened to the whole album. It was the start of our creative relationship with her. She's amazing - we loved her record of Dirt Cheap. Her version of Dirt Cheap is amazing - I love it."

The trio has made two video clips.


"We shot the Hip To My Heart video in a Nashville sound studio. It's a live performance video that showcases our personalities," Kimberly said. It was a complete contrast to the video for If I Die Young.
"We recorded the video outside Nashville at the Two Rivers Mansion," Kimberly said.

"We shot the video two days before the floods - all the shrubbery you see is gone now. It was the coolest day of spring. We filmed from 4 in the morning to sundown with our favourite director David McClister. It's our favourite song on the album. The mansion was out near Opryland - 20 minutes from downtown Nashville. It's a beautiful property - we fell in love with the shrubs. The video is the colour of the shrubs - the colour of the song. It was a really wonderful place to shoot."
POSTCARD FROM PARADISE
"Like a postcard from Paris when I've seen the real thing/ it's like finding g out your diamond is from an old promise ring." - Postcard From Paris - Kimberly, Reid and Neil Perry-Kara Dioguardi-Jeff Cohen.
Writing collaborators including an American Idol judge Kara Dioguardi and a family trio from Champagne, Illinois.

"We wrote Postcard From Paris with Kara Dioguardi," Kimberly said.

"Kara was in Nashville writing with several country songwriters and artists. That was really wonderful - she only had a couple of hours to write. Our A&R lady was a friend of with Kara. She called. Kara had a free afternoon if we would care to write. She was our career matchmaker. That's funny thing about writing relationships is you don't really know how it's going to turn out. You could write song or you could end up going to get a coffee together. Luckily, it worked and we wrote Postcard From Paris. Kara has been so great. She's almost taken on big sister role for us. She's really given us a lot of advice and helped us out. We sat around and wrote the song. Everybody was bouncing lyrics off each other - the song was finished in hour and a half. We got a bowl of tomato soup and later got to hang out with her in her house in L.A."

INDEPENDENCE
"I'm bursting out of Independence/ independence bursting out of me." - Independence - Kimberly, Reid and Neil Perry-Brian, Clara and Aaron Heningsen.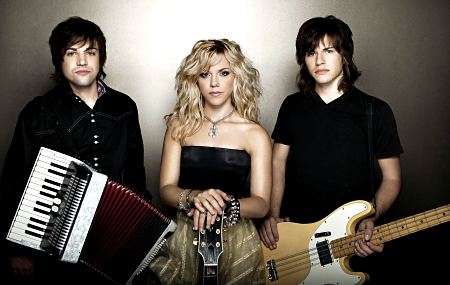 The trio also wrote three songs with the Heningsen family group in Champagne, Illinois - also the hometown of Alison Krauss.

"Independence was an easy going song to write," Kimberly said.

"It's a metaphor but also a small town in Missouri. We had written a song with a different title and scrapped that idea but kept compelling desire for independence. Finally that song came out tremendous with the Heningsen family. Brian is the father, Clara is 20 and Aaron is 27 - same age as me. Our producer Paul Worley hooked us up with them for a writing session in Nashville. It was awesome and amazing - our hearts beat in the same way. We have also been up to their home in the Mid-West. They're corn farmers - they take breaks from the music and go out and harvest the corn in the field. When we go up there to write we would sit down on their porch and be surrounded by miles and miles of cornfields. We found it was also the hometown of Alison Krauss. We love everything she does from her solo albums to what she did with Robert Plant. She covers a lot of songs and music of Appalachia that is East Tennessee, something in our bloodstream - traditional mountain songs. We absolutely adore her."

The trio also wrote Lasso with The Heningsen family.

"It's a hopelessly romantic song," Kimberly explained.

"It was the first song all six of us wrote together. It's about a girl who is in love with this boy. She can't do her thing because he stands so much taller than her - because it's heartbreaking because he has someone else.

That's why I fell in love with Catherine Britt's song Dirt Cheap. She's literally telling somebody she can't win. At the end of the song you can't blame the girl for trying."

It's a similar theme to the sextet's other collaboration Miss You Being Gone.

"There's a lot of energy about being gone," Kimberly says.

"She really misses him being gone."
ENVY AT THE COUNTY FAIR
"Walk me down the middle of the county fair/ walk me down the middle like you don't care/ walk me by the Ferris wheel/ and make sure that she sees/ let the whole world know you belong to me." - Walk Me Down The Middle - Kimberly-Reed and Neil Perry.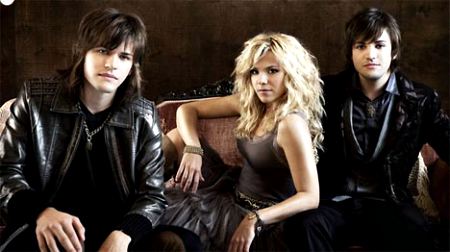 It was a young man in Greeneville who inspired the trio's collaboration on Walk Me Down The Middle.

"As any good country song should be it's a true story," Kimberly says. "It's about a young blonde man in the small town we live who wouldn't take me to the county fair last year. His girlfriend was there. I came home and wrote a song about it. It was the last song we had finished for the album, at the 11th hour. We finished it about a month ago while we were cutting the album."

So what will be the next single?

"You Lie, maybe, or Postcard From Paris is a possibility," says Kimberly "Independence is popular in concert. I'd like to know what you guys down under think - what you would like us to do?"

Maybe tour here?

"We hope to be there in the first quarter of 2011," the singer revealed.

"The boys and I are absolutely chomping at the bit to come and visit you guys. We have never been there but we have got lots of friends from there who are working here in Nashville. We're in love with your culture so keep you eyes open. There are so many great Australian guitar players here including Keith Urban and Jedd Hughes."

Kimberly once had a fallback plan if music didn't work.

"I could have gone to University to study medicine but my mum wouldn't let us have a fall-back plan," Perry admitted.

"My father is a physician, a paediatric oncologist here in East Tennessee, a baby doctor.

That was my fall back plan. I would definitely have fallen back on it but didn't use it. I followed my musical dreams instead. Dad sometimes comes on the road with us - little bit longer before he can do that often."

What about her reported desire to be a private investigator?

"If I was a private investigator I could stalk all my friends on Facebook & Myspace," Kimberly joked.

"Miranda Lambert's dad was an undercover narcotics officer and private investigator. We could have gone into business together as private investigators."

But with a pet rabbit named Beatrice as a career catalyst there is no need - just thanks.

"God rest her soul," Kimberly blessed my co-axial condolences.