DAVE'S DIARY - 2/1/12 - PREVIEW OF EPISODE 5 - SERIES 17
KING KONG UNMASKED ON NU COUNTRY TV
Autumn tourists Tim McGraw and singing spouse Faith Hill kick off the New Year for Nu Country TV this Wednesday January 4 at 10 p m on C 31.

They perform videos for two of their big hits on the eve of their autumn tour of Australia.

Texan star George Strait returns to the show with a hit he wrote with son Bubba and Dean Dillon.

And unsung Alabama hero Jamey Johnson - one of Strait's hit writers - unmasks a famous Texan actor in a King Kong suit.

Grammy winning Georgian group Zac Brown Band teams with singing sailor Jimmy Buffett on the video for one of their recent hits.

Grafton born singer Troy Cassar-Daley produced and recorded his eighth album in Nashville late 2011 and returns with the video for the title track of his previous disc.

The show, edited by Ashley Hall, is repeated on Tuesday at 2 am.
TIM MCGRAW KICKS THE CURB
Singing actor Tim McGraw celebrates liberation from his previous record label Curb with the video for the title track of 10th album Southern Voice.

McGraw, 44, won a protracted legal battle to split with the label after his 11th and final Curb album Emotional Traffic is released on January 17.

Tim recently released a new single Better Than I Used To Be on the eve of his second Australian tour in March.

The Louisiana born star made his Australian debut tour in 2010 - this time he returns with Mississippi raised wife Faith Hill and chart topping Texans - Eli Young Band.

They perform Rod Laver Arena on March 20 after headlining the second CMC Rocks The Hunter Festival at the Hope Estate from March 16-18.
Fellow multi-Grammy winner Wynonna Judd, Texan Tracy Lawrence, country bluegrass stars Jim Lauderdale and Dierks Bentley, Colt Ford, Craig Campbell and expat Australians Sherrie Austin, O'Shea and Jedd Hughes also play the star studded festival.

Bentley and Aussie headliner Lee Kernaghan also play St Kilda Palais on March 13.

Hill's Stepford Wives movie role may be in the shadows of McGraw who starred opposite Sandra Bullock in The Blind Side and Gwyneth Paltrow in Country Strong.

The singer, who took a six-year break from recording while raising the couple's three daughters, performed new single Come Home on the 45th CMA Awards in November.

She has a new album due this year - this week she performs her video of powerful hit Secret Of Life - penned by prolific writer Gretchen Peters.

New York born Peters performed live in the Nu Country FM studio at the Paris, Texas, end of Collins St during her 2001 tour.

CLICK HERE for a Faith Hill interview in the Diary on September 21, 2005.
CLICK HERE for a McGraw interview in the Diary on May 23, 2010.
CLICK HERE for a Gretchen Peters interview in the Diary on December 2l.
ZAC BROWN AND KNEE DEEP IN HITS
Grammy winning singer Zac Brown performs in the video for recent hit Knee Deep in Mexico with old singing sailor Jimmy Buffett.

Brown, unlike author Buffett, has not emulated the singer who turned 65 on Christmas Day, by touring here three times.

That means he hasn't fallen off stage at the Hordern Pavilion in Sydney and been rushed to St Vincent's Hospital.

But Buffett's promoter Michael Chugg and touring partner Rob Potts are keen to lure Brown back down under to tour a nation he once visited on a holiday before becoming a star.

The Brown-Buffett message in a bottle duet was a huge hit from Zac's album You Get What You Give.

CLICK HERE for a Zac Brown feature in the Diary on November 2, 2011.
STRAIT FROM TEXAS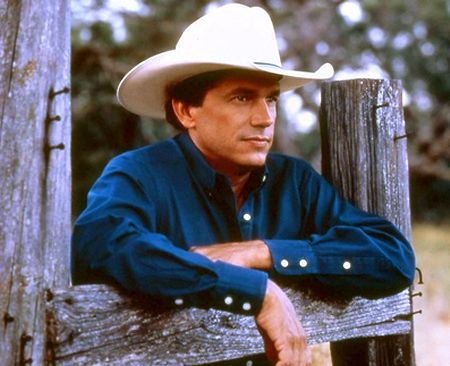 South Texas rancher George Strait performs the video of Living For The Night - a song he wrote with son Bubba and East Tennessee honky tonk hero Dean Dillon.

Strait and Bubba wrote seven of the songs on his recent chart topping 39th album Here For A Good Time.

George, 59, and Bubba also wrote three tunes on 2009 album Twang that featured Where Have I Been All My Life, penned by another expat Aussie Sherrie Austin.

Strait has been on the same label MCA for his entire recording career that started in 1981.

His latest album title track Here For A Good Time, written with Bubba and Dillon, is his 89th career single and second highest Billboard debut.

The album's autobiographical fitting finale is I'll Always Remember - a tribute to Norma - his wife of 40 years - with whom he eloped to Mexico for a first marriage that was repeated back in Texas.

George and Norma shared pain of premature death of daughter Jennifer who was killed by a drink driver in a San Marcos car wreck at 13 in 1986.

Strait and Georgian superstar Alan Jackson lampooned country music power brokers by recording Larry Cordle-Larry Shell parody Murder On Music Row and performing it live on the 1999 CMA awards show.

The Texan also starred in movie Pure Country, mooted to be reborn as a Broadway musical with Joe Nichols and Lorrie Morgan, and had a cameo in The Soldier with Fool Hearted Memory.

I asked George in 1983 in Austin if he had ever done a gig with singing Texan crime novelist Kinky Friedman.

A Kinky and Strait show - he said no.

George didn't say no to Jamey Johnson who wrote his 2006 hit Give It Away.

CLICK HERE for a Strait interview in the Diary on November 16, 2011.

JAMEY JOHNSON PLAYS THE PART WITH KING KONG
Alabama born singer-songwriter Jamey Johnson debuts on the show with a video for his recent hit Playing The Part.
Texan actor Matthew McConaughey plays the part of King Kong in the satiric swipe of LA and iconic Hollywood and Venice Beach characters. The actor sheds a King Kong mask in the video climax - a different strip to his 1999 Austin arrest when playing bongo drums naked, except for a Willie Nelson bandana.

On that occasion the star, who shared billing with Louisiana born country giant Trace Adkins in The Lincoln Lawyer, was charged with disturbing the peace and refusing transport - to the cop shop.

Johnson's video is from his acclaimed 25-song CD (his third album - The Guitar Song) that he promoted on a 2011 Country Throwdown tour with Shotgun Willie, Eric Church and many more.
The Dixie fried outlaw thought LA was Lower Alabama until he got to Venice Beach after exiting Sunset Strip.

Johnson, one time partner of Novocastrian Catherine Britt during her six year Nashville sojourn, headed deeper south with McConaughey on his recent 18-day sojourn.

"It's a great way to get away," explained Jamey Johnson who also sang at the actor's 40th birthday party.

"Like a family getaway with actor Matthew McConaughey and his wife and children and family. It's summertime down there. We went to the beach, went swimming. Matthew loves Brazil. Why, I even learned a little Portuguese."

CLICK HERE for a Johnson interview in the diary on December 13, 2011.
TROY LOVES THIS PLACE
Troy Cassar-Daley followed fellow Grafton born trio The McClymonts to Nashville to record his eighth album Home in October.

The singer cut his disc at Reba McEntire's Starstruck Studio with a team of A team session musicians - pedal steel ace Paul Franklin, guitarists Biff Watson, Bryan Sutton and Brent Mason, bassist Michael Rhodes, drummer Eddie Bayers and fiddler Stuart Duncan.

Troy recently released new single Country Is from those sessions - we'll play the video later in the series.

This week we return to the title track of his seventh album I Love This Place.
Troy and singing spouse and 4KQ disc jockey Laurel Edwards survived the Queensland floods early in the year but lost priceless memorabilia in their basement storage room.

CLICK HERE for a Troy interview in the Diary on May 7, 2009.

JACKSON AND LAMBERT PRIZES
There's great news for fans of Georgian born superstar Alan Jackson and quadruple CMA Award winning Texan star Miranda Lambert.

We have their latest CDS as prizes for viewers who renew Nu Country TV memberships or become members.

Sony-BMG promotions chief Emma Smith also gave us Miranda's new DVD - Revolution: Live By Candlelight.

Alan's 34 Number Ones features his biggest hits including his duet with Zac Brown Band - As She's Walking Away.

The bonus tracks also include his cut of the late June Carter Cash-Merle Kilgore written Johnny Cash hit Ring Of Fire and rare track Look At Me.

Emma also donated Miranda's huge selling 4th CD Revolution.

And as a bonus there is Miranda's new DVD featuring rare acoustic cuts of six songs White Liar, The House That Built Me, Love Song, Heart Like Mine, Love Is Looking At You and Rolling Stones country classic Dead Flowers.
WIN KEITH URBAN CDS
Expatriate Australasian superstar Keith Urban is recovering from throat surgery.

To celebrate, Keith's record company EMI-Capitol has great news for Nu Country TV viewers.

Promotions ace Bianca O'Neill donated autographed copies of his huge selling ninth album Closer To You.

She also donated new compilation The Very Best Of Slim Dusty and CMAA Winners - 2011.

All you have to do to win Jackson, Lambert, Urban and Dusty CDS or the Lambert DVD is become a member of Nu Country or renew membership.

It costs just $20.

Please send a cheque or money order made out to Nu Country Music to us at P O Box 625 - Northcote - 3070.

We also now have electronic banking for membership payment and renewal.

But email us first at music@nucountry.com.au as stocks are limited.

Other prizes on offer include -

Eric Church - Chief
Luke Bryan - Tailgates & Tanlines.
Taylor Swift - 2ND CD Fearless.
Tim McGraw Southern Voice Tour CD with 11-bonus video clips.
Felicity - Landing Lights
Air Supply singer Russell Hitchcock - Tennessee - The Nashville Sessions CD and DVD
Slim Dusty Sittin' On 80 Boxed Set
The Very Best Of Slim Dusty
Catherine Britt - Little Wildflowers.
Various compilation CDS.