DAVE'S DIARY - 13 /12/ 2011 - JAMEY JOHNSON INTERVIEW
JAMEY JOHNSON MAKES PAWN SHOP GUITARS RING
"I did some shows with Haggard back in 1967/ and I'm just dying for somebody to come and play be back home/ I'm just an old guitar in a pawn ship on the corner/ hey come on by and listen to my songs." - The Guitar Song - Jamey Johnson-Vicky McGehee-Bill Anderson.
When Alabama born singer-songwriter Jamey Johnson first swam in the slipstream of late Texan outlaw Waylon Jennings he rapidly scored street cred.

It wasn't just the star's old guitar and Caddie that Johnson acquired as he bucked the system.

There were also encounters with former convict actor and outlaw singer David Allan Coe at embryonic concerts.

Johnson quit Jacksonville State University after two years and joined the Marine Corps Reserves for an eight-year stint.

He became a corporal while working as a mortar man but was discharged the week his unit was sent to Iraq.

"It was a good time," revealed Johnson, born in Enterprise and raised in
Montgomery.
"After one of my corporals in the unit heard me sing, I had to carry a guitar out to wherever we were going. We'd go to Mojave Desert for a few weeks and I'd end up getting passed around from Hummer to Hummer with a guitar: 'Go sing for this general or that general.'"

He also played in country bands around Montgomery before he was legally old enough to be in bars.

"One of the first gigs I played, I opened up for David Allan Coe in one of the bars down there," Johnson, now 36, revealed.

"I didn't play the whole song, but just to kind of tease the crowd along, I said, 'You all know who's coming out here next?' And they roared a little bit, and my band played the intro to The Ride - (Coe's 1983 hit about hitching a ride with Hank Williams ghost). That was it. We got off the stage and he lit into me. He told me "Don't you ever play my f**kin' songs."

It wasn't until a week or two later we opened up for him again somewhere else - a picnic or something like that. We got done playing, and I got off stage and went back to put my guitar away. And there he was again. He said, 'Boy, you're about as country as f**kin' in tall grass.' I didn't even know whether that was good or bad. I just said, OK, and went on about my business."

So it's no surprise that Johnson's second album That Lonesome Song opened with the clunk of a cell door and chimes of freedom.
BETWEEN JENNINGS AND JONES
"I left Montgomery on North 65/ I was restless and ready to give Nashville a try/ I rolled into town with a sound of my own/ somewhere between Jennings and Jones." - Between Jennings And Jones - Jamey Johnson-Buddy Cannon
Although Johnson owes his rural roots and love of country to his father Howard he developed a vast cast of mentors over the journey.

"It should be no surprise that if you grow up in South Alabama in a double-wide trailer in the middle of 15 or 20 acres, that yeah, you're probably going to sing some country music at one point or another," Johnson revealed.

"Alabama's great if you've got a gun. I've noticed the people there are way more serious than people are in other places about their survival. You never know; it might be a person coming at you, but it could be a critter, too."

So what about the music?

"I was playing guitar when I was really young, 10 or 11," he recalled.

"It's just my calling in life. Just like a preacher has to put together a sermon, a songwriter has to get up and write a song and go hunt an audience. My dad was a big Hank Williams fan, to the point where I had never really heard Hank's voice on those songs. My dad was the one who sang those. He'd break out a guitar and teach me some songs he liked. I remember the first time I heard Hank Williams sing I thought it sounded weird. They were all real big Hank Williams fans and still are."

Like many aspirants Johnson spent late nights singing at Hank Williams' grave.

But unlike Georgian born Steve Young and Alan Jackson he didn't write and record songs about it.

"It seems to be the thing everybody wants to do when they come to Montgomery," he recalled.

"The best time to do it is after you get done with a show. Go out there and pay your dues, and then go up there and pay your respects."
But it's not just the music but the mode of transport shared by Hank and Waylon.

Johnson has a 1999 Cadillac El Dorado that belonged to Jennings and his widow Jessi Colter.

Jamey bought it from an associate of Waylon who also left one of Jessi's change purses in the glove box.

"I never counted the money, but it's still got a bunch of change sitting in it," recalled the burly bearded baritone.

"Waylon left a Waylon ball cap and some shades in the trunk, and when I went through the glove box there was a picture of him wearing that hat and those shades."

Johnson ensures the Caddie has a sonic surrealism - he keeps the former owner's music in the CD player.
"If you're riding around with me in that car, you're going to be listening to Waylon," Jamey added.

"That's the bottom line - you're going to be listening to the man on his own stereo. He's also got one of them old-school cell phones with the cradle still mounted in the middle of it. The phone's still in it, the antenna, the whole deal."

GUITAR TOWN ARRIVAL
"It's so hard to stay honest in a world that's headed to hell/ you can't make a good living these days cause the truth just won't sell/ so if you go out my back door just over the hill/ you'll see all those plants that's been paying my bills." - Can't Cash My Checks - Jamey Johnson-Jason Cope-James Otto-Shannon Lawson.
Johnson moved to Nashville on January 1, 2000, and began working for a sign company.

"I didn't even tell anybody I did anything in music for probably the first 10 months I was in town," Johnson confessed.

"I thought if my boss found out that I came to town for music, he'd fire me."

He released a 2002 indie album They Call Me Country after descending to famed honky-tonks on Nashville's Lower Broadway - locales such as Tootsie's and Legends Corner.

"I ran across this guy who used to play fiddle for Tanya Tucker and some other different artists," Johnson revealed.

"His name was Greg Perkins. I got up and sang, and Greg liked the way I sang, and he hired me to come in and sing some demos for him. So I went in and sang on a duet. It was with Gretchen Wilson. I sang my part and got out of the way, and she came in and sang hers. I think at the time she was seven or eight months pregnant."

Johnson soon made a living via demos.

"It's just like opening up business," he recalled.

"You do have to do a couple of them for free - just to show somebody you know what you're doing. For me, it was through all my friends that were songwriters. They started hiring me to sing their songs, and their publishers liked what I did and would hire me to sing songs for some of their other songwriters. Over the course of two or three years, it just kind of spread."
MAILBOX MONEY COVERS
"I thought Jack Daniels was the working man's tea/ it was the window to the life I used to lead/ I used to ramble like a feather in the breeze/ but now the good times ain't what they used to be." - Good Times Ain't What They Used To Be - Jamey Johnson-Dallas Davidson-Jim McCormick
Among tunes Johnson demoed that became hits for other artists were Songs About Me for Trace Adkins and That's How They Do It in Dixie for Hank Williams Jr.

He also sang the work tape - the rough recording that precedes the more polished demo - for Honky Tonk Badonkadonk.

Adkins heard it and snapped up the song before it ever reached the demo stage.

"Me and my buddies, Randy Houser and Dallas Davidson, were drinking over at the Wildhorse Saloon one night," Johnson explained.

"We were watching this girl dance on the dance floor. She was kind of a healthy girl - looked like somebody had shoved a refrigerator in her pants. We were drinking, but she was drunk. She was done. She was bouncing into people and running folks over and causing a ruckus. We thought it was funny, but Randy looked out there and saw that butt of hers and said, badonkadonk. Right after that, he said honky tonk badonkadonk. Me and Dallas were just so proud to have another word that rhymed with honky tonk we didn't know what to do. We wrote that song in about an hour and spent 30 minutes of that laughing."
BUDDY CANNON HITS TARGET
"Mama takes her little man, sets him on her lap/ and starts dialling up some numbers on the phone/ she says daddy come home early, you don't have to chase that dollar/ cause your little man has got one here at home." - The Dollar - Jamey Johnson.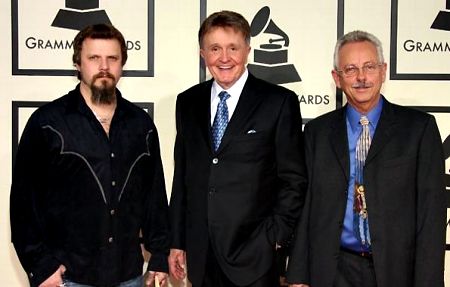 Chance meetings with the late Randy Hardison at a songwriters showcase led Johnson to producer, Buddy Cannon, known for his work with Kenny Chesney, George Jones, Sammy Kershaw, Reba McEntire, Neal McCoy and Chely Wright.

Hardison told Johnson he and Cannon were looking for a new artist to produce and set up the meeting.

"The next thing I know," says Johnson, "I get a phone call saying Randy's in the hospital, that somebody's hit him in the head."

Hardison died from his wounds.

A song Hardison wrote with Cannon - It Was Me - landed on Johnson's debut album The Dollar.

Johnson and Cannon also wrote a tribute to Hardison called We're Almost Home: Randy's Song.

Johnson was impressed by Cannon's feel for songs.

"He don't just go in and throw some pieces together and say, 'That ought to get it done.'" Johnson said.

"He really does live with this music, and if he don't like a song, he don't see any sense in cutting it. I trust his decisions."

Winning his contract with BNA - a division of RCA Records wasn't easy.

He had to audition seven times before he finally got the contract.

"RCA to me has always put out top-rate artists," Johnson said at the time.

"They've always wanted to work with the best."

Johnson says it was being away from his infant daughter, Kylee, now 10, for two months while working on a construction job that inspired him to write his title track The Dollar.

The song is about a father busy working for the dollar and his son who scrounges up a handful of coins in the hope of buying some of his dad's time.

Johnson acknowledges the song "touched a lot of people," but he's also aware that its sentimentality puts him in perilous territory - where tender can easily morph into maudlin.

"I tell folks, 'You got to be careful when you write sentimental kinds of songs like that, because it's either going to be a big old hit or like peeing in your pants. You might get a warm feeling, but nobody else really cares to know about it.'"

He released The Dollar in January 2006 but scored limited airplay - his reality-rooted narratives were too earthy for commercial radio.

Johnson and Novocastrian soul mate Catherine Britt, whom he joined on an Australian sojourn in Tamworth, were both dumped by RCA parent company Sony-BMG when they failed to win sustained support on radio.

"It was just an education," he said of the dumping aggravated by divorce from his wife Amy.

"It was learning how the music industry works, how sometimes you're granted an opportunity and how sometimes opportunity is taken away. That one was taken away. When I was dropped, music became about me reaching an audience. And this day and time, you don't necessarily need a label to achieve that."

Jamey then co-wrote Texan superstar George Strait's Give It Away - the ACM and CMA Song of the Year in 2007.

He also wrote hits recorded by Trace Adkins and Joe Nichols before his split with BNA.
THAT LONESOME SONG

"The Southern Baptist parking lot was where I'd go to smoke my pot/ and sit there in my pick-up truck and pray/ and staring at that giant cross just reminded me that I was lost/ and it never seemed to point the way." - High Cost of Living - James Johnson-James Slater.
Johnson resumed creative control when he co-wrote 11 of 13 tracks on his second album That Lonesome Song in 2008.
He also produced the riveting disc with his session band The Kent Hardly Playboys - a name akin to Texan hell-raiser and septuagenarian Billy Joe Shaver's band Slim Chance And The Can't Hardly Playboys.

Despite the songs delving into whiskey, cocaine, infidelity, prison and other risky radio subjects it sold 800,000 copies.

But his ACM and CMA song of the year, In Colour, only peaked at #9 on the Billboard chart.

It was a photographic salute to the stoic struggle of his grandfather from the Great Depression in 1935, foreign war fields in 1943 and a post war marriage.
Album entrée and second single High Cost Of Living, found the singer as a sinner in the shadows of the cross.

You get the message - cops break down the character's motel door and he reflects on his rescue.

"I had a job and a piece of land/ and my sweet wife was my best friend/ but I traded that for cocaine and a whore."

That last line owes more to Coe but the punchline is pure Johnson.

"Hell, I can't even tell if I'm still alive/ I tell you the high cost of living/ ain't nothing like the cost of living high."

There are no troughs - a co-write with four times wed former convict-singer Jeff Bates on Angel is equally vivid.

"We drank from the fountain of good times and dreaming/ but these lawyers have poisoned the well."

Johnson didn't ease off in sibling Place Out On The Ocean - material wealth is dwarfed by true love.

In Mowin' Down The Roses the spurned soul wreaks havoc from a John Deere tractor on his bucolic belle in a search and destroy mission of flowers, perfume and relics of ruptured romance.

Johnson also punctuated angst on the Dickey Lee-Bob McDill epic The Door Is Always Open and regret rooted Mary Go Round.

He joined fellow home state icon - Alabama guitarist Teddy Gentry to write The Last Cowboy Song and Stars In Alabama.

Waylon is name checked in the former and finale Between Jennings And Jones; his ghost also emerges in Allen Reynolds penned hit Dreaming My Dreams.

"That morning sun made its way through the windshield of my Chevrolet/ whiskey eyes and ashtray breath on a chert rock gravel road."
THE GUITAR SONG
"When the only LA I knew was Lower Alabama/ back when me and Hannah were wishing on a southern star/ now it's so complicated I really hate it/ why I'd ever want to go so far/ taking depression pills in the Hollywood hills." - Playing The Part - Jamey Johnson-Shane Minor.
Johnson's acclaim mushroomed when he released his third album - a 25 double CD The Guitar Song in 2010.
Despite minimal airplay - but boosted by a hilarious video - it has sold nearly 750,000 copies.

The project features his own cutting edge originals and tunes by mentors diverse as singing actors Kris Kristofferson and Mel Tillis and the late Kentuckian Keith Whitley and Vern Gosdin - another Alabama native.

One side is labelled the Black Album and the other the White Album.

"The Black Album is a path that leads to a very cold place and the White Album is an equal amount of redemption and deliverance from that cold place," Johnson revealed on its release.

"Each song colours over another whole area. It's kind of a tale that starts in one place, and if you follow all the way through and see where it ends up, you kind of gather what happened. These decisions that were made or events that happened kind of mould your reaction to other events that happened."
Johnson kicked off the Black Album with Lonely at the Top a rarity by Don Cook, Chick Raines and Whitley - one of Lorrie Morgan's six ex-husbands - who died at 33 in 1988 with a blood alcohol reading of .477%.

The narrative is a homespun homily about a new country star lamenting hardship of fame and fortune.

When the singer offers to buy the stranger on the next barstool a drink, the other man agrees to a double.

"It might be lonely at the top/but it's a bitch at the bottom."

Johnson followed it with ruptured romance requiem Cover Your Eyes that he wrote with his guitarist Wayd Battle and Bobby Bare.

Johnson exploits the socio economic contrasts of an exploitive Yankee carpetbagger in Poor Man's Blues - where the villain suffers revenge from a "low-class, backwoods, country boy from Deep South Alabam'."

Johnson name checks another Alabama icon Hank Williams and Texan Ernest Tubb in Vern Gosdin 1988 juke box hit Set Em Up Joe.

In Playing The Part he enlisted Texan actor Matthew McConaughey to play King Kong in a satiric swipe of LA, Hollywood and Venice Beach characters.

The actor, who directed the video, sheds a King Kong mask in its climax - a different strip to his 1999 Austin arrest when playing bongo drums naked, except for a Willie Nelson bandana.

On that occasion the star, who shared billing with Louisiana born country giant Trace Adkins in The Lincoln Lawyer, was charged with disturbing the peace and refusing transport - to the cop shop.

Johnson also lampoons Los Angeles and extols the virtues of Dixie in the song California Riots on the White Album.

The singer, divorced from his first wife, wrote Baby Don't Cry for his very young daughter - he shows a more sensitive side by soothing a scared child with reassuring images of fairy tales, castles and princesses.
THE WHITE ALBUM
"You see life ain't no rehearsal boy/ you only get one chance/ and you'll learn that by the seat of your pants." - By The Seat Of Your Pants - Jamey Johnson-Carson Chamberlain-Teddy Gentry-Wayd Battle.
Johnson takes his father's advice in Seat Of Your Pants - the first track on the White Album.

The lyrics list life lessons that Johnson learned as a young man, ranging from fish bait to romance.

"Sometimes that woman of your dreams/ can be little bit too real/ sometimes you gotta go to work/ no matter how you feel."

Johnson tills family history for romantic roughage.

"If you're not writing from the perspective of everything in your life, then you're cheating yourself and you're cheating your listeners," says Jamey whose parents divorced when he was in his late twenties.

"I'll draw on all kinds of experiences - and definitely parents. That's not just for country music.

That's for any writer. Some writers had rough childhoods. Hell, if you can get that stuff out, you'd be surprised. It's like therapy - not just for your listener, but for the writer as well. You're pulling out some stuff you really didn't know you felt about anything. You sit there and once you get in the middle of it, I've been surprised about the kind of stuff I've written about.

Certain topics - stuff that I've never shared with anybody. But I'm glad I wrote it. And it made me aware of something that maybe I didn't think of before I started writing."

Johnson draws on stone country writer Cannon for a romance metaphor tic Dog In The Yard.

Cannon is tapped on the shoulder for Front Porch Swing Afternoon - a bucolic lament - penned with Johnson and Larry Shell, one of the writers of Murder On Music Row.

Johnson joined Bill Anderson and Vicky McGehee to write the title track - one of many tunes extolling the virtues of that famed piece of wood and steel eulogised by Coe in the Richard Dobson song.

And, of course, Emma Jean's Guitar - the Chely Wright hit penned by Matraca Berg, husband Jeff Hanna and Gary Harrison.

McGehee - a collaborator on Gretchen Wilson hits - joined James and hit writer David Lee Murphy on Thankful For The Rain.
MACON MUSIC WITH KACEY COPPOLA
"I'm heading to Macon, middle of the Georgia pines/ gotta keep these big wheels rolling/ to that sweet little thing of mine." - Macon - Jamey Johnson-Kacey Coppola.
And Johnson shares vocals with twins Kate and co-writer Kacey Coppola on their Dixie eulogy Macon.

It was a riveting live rendition - with accompanying web video - that helped spread the Johnson fame.

The singer covers all bases - his collaboration with Shane Minor on I Remember You is more reflective than the Frank Ifield hit of the same name.

Sequencing peaks when hard liquor fuelled Good Times Ain't What They Used To Be precedes Kristofferson standard For The Good Times.

And redemptive My Way to You - penned with Charlie Midnight - is a fitting finale for the singer rescued from dope and booze by an angel.

She could be the Good Lord or a mere nightingale.

Flash back to High Cost Of Living from That Lonesome Song where Jesus has a role reversal.
"It wasn't so much Jesus at that point as it was a bunch of church people who said they were friends and said they could help," Johnson recalled.

"You know, you get a little bit loose from the church and they just cut you all the way loose and let you go. And it's like, "Man, I wasn't looking for that. I'm looking for answers here. I'm trying to understand what in the hell's going on in my life right now." You don't turn your back on somebody going' like that. Well, hell, you turn your back on me, I turn my back on you. That's what led me farther away from God for a brief period of time. I never pass the blame on anybody. You're a man, you're gonna do what you're gonna do. I think it seemed to me. I thought I had more friends than I actually had as soon as I hit bottom. You look around, there's fair weather friends all over the place. "Hey, man, call me when you're ready to go rocking again." But, hell, when you're going through some stuff, you've gotta stay at home by yourself. I turned into a recluse for the longest time - probably a year and a half or two."

The Guitar Song - definitely the best value double album this decade - is out here on Mercury-Universal.