DAVE'S DIARY - 21/12/ 2011 - GRETCHEN PETERS INTERVIEW
GRETCHEN PETERS AND PICASSO'S CAT
"He picked me up in Paris, I was scrounging in the streets/ he shared his cream for coffee, and I curled up at his feet/ and ever since that moment I've been his confidante/ he says that it's uncanny how I know just what he wants/ but we both like our freedom and quite company/ in the end we're not so different, Picasso and me." - Picasso And Me - Gretchen Peters.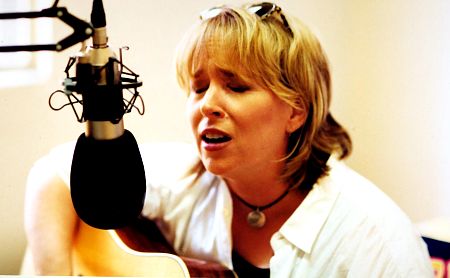 Gretchen Peters - Melbourne 2001 - photo by Hans Herdina
When Nashville singer-songwriter Gretchen Peters arrived in Melbourne in 2001 to promote her fourth album she had one important question.

"How are the cats going?" she asked as she prepared to do a live to air interview at Melbourne radio station Nu Country FM at the Paris, Texas, end of Collins St.

"What cats?" I replied.

"The Geelong Cats," the singer, now 54, explained, "Kinky Friedman and I are cat lovers and he told me he was a big fan of the Geelong Cats and saw them play football on one of his tours."

The good news, I was pleased to report to this distant fan, was Geelong hadn't lost a game that season.

And, now a decade down the lost highway, they have since won three of the last six AFL premierships.

That was also timely tidings for the singing Texan crime novelist who had been singing the praises of the Geelong footy team and its mascot in Texas.

Friedman, 67, frequently features his cats as characters in his 29 novels and Peters' song Picasso And Me - on her self-titled ABC album - was inspired by a feisty feline.

Peters - once owner of two cats, Memphis, and Moot - wrote Picasso And Me from the artist's cat's eye after being disappointed by the Anthony Hopkins movie Surviving Picasso.

< Kinky and cat
"There was no viewpoint about who Picasso was in the movie," says Gretchen, "there was a lot about his bad behaviour and womanising but little about the man. It should have examined what it means to be a person with that much creative energy. I was disappointed with the movie and was sort of musing about it. Cats have a way of observing things without being judgmental in quite the same way human beings are. Surviving Picasso rubbed me the wrong way and I decided to get back the best way I know how, and that's to write a song about it."
SECRET OF LIFE

"The secret of life is a good cup of coffee/ the secret of life is to keep your eye on the ball/ the secret of life is a beautiful woman/ and Marilyn stares down from the bathroom wall." - The Secret Of Life - Gretchen Peters.
The singer, born in New York suburb Bronxville and raised in Colorado, performed in Tamworth and Sydney before her brief radio foray in Melbourne.

"I was amazed when people sang along and filled in for me when I forgot the words in one verse of Waiting For The Lights To Turn Green," Gretchen confided.

Although Peters has won a brace of prestige awards for other artists' hit versions of her songs she relies on Americana and public radio airplay for her versions of her original material.

She tilled similar landscapes to prolific narrative writer Matraca Berg - singing spouse of Nitty Gritty Dirt Band bassist Jeff Hanna.
But during the autumn tour by Mississippi born singing actress Faith Hill and husband Tim McGraw she'll earn more royalties and exposure when Faith sings her 1999 hit The Secret of Life.

It all started back in Boulder, Colorado, where Gretchen moved, aged eight, with her mother after her parents divorced.

Her dad, William E. Peters, is a former network television news producer and prominent sixties civil rights advocate and author of A Class Divided, For Us The Living (with Myrlie Evers), the wife of Medgar Evers, and also A More Perfect Union: The Making Of The Constitution.

As a teenager Peters sang and wrote songs for bands that included musicians Michael Woody who toured Australia with The Woodys and Cactus Moser of Highway 101.

Gretchen wed fellow musician Green Daniel and moved to Nashville in 1988 where her first song recorded was Traveller's Prayer by veteran star George Jones - one of the late Tammy Wynette's five former husbands.

The hits soon flowed with soulful covers of her tunes Over Africa and Love's Been Rough On Me by The Neville Brothers and Etta James and bluegrass versions of High Lonesome and If Wishes Were Horses by Longview, The Woodys and Claire Lynch.
INDEPENDENCE DAY
"Well she just lit up the sky that 4th of July/ by the time the firemen had come/ they just put of the flames/ and took down some names/ and send me to the county home/ now I ain't saying it's right or it's wrong/ but maybe it's the only way/ talk about your revolution/ it's Independence Day." - Independence Day - Gretchen Peters.
But biggest earners were covers by artists diverse as George Strait, Bryan Adams, Pam Tillis, Trisha Yearwood, Faith Hill, Suzy Bogguss, Bonnie Raitt, Martina McBride and Patty Loveless.

And it was Independence Day that won the Country Music Association 1994 video of the year and was CMA song of the year in 1995 and broke Peters and singer McBride worldwide.

The reason - it was a strident story of spousal abuse told from a child's viewpoint; it ends with the abused wife setting fire to her house with her husband inside it.

It preceded other domestic violence hits - Garth Brooks-Pat Alger song, When The Thunder Rolls and The Dixie Chicks revamp of Dennis Linde song Goodbye Earle.

Peters believes writers have to adopt the persona of actors and live out song sentiments.

"You have to inhabit the character and feel what they feel at that very moment," Gretchen revealed.

"You have to go there, be there. It's very defined, so you just have to be honest."

Martina McBride's hit of Independence Day, like Goodbye Earle, didn't crack No 1 - because of the subject matter.

"There is some weird, dark stuff in there," revealed Peters who delayed finishing the song.

"One of the magical, mysterious things about writing is you have to go there by being open.
You don't necessarily know where it is going, but it'll show you. Independence Day was like that - I didn't know what the song was about for the longest time; then one day it just ended like it was meant to."

Not so magical was hijacking of the song.

Peters was outraged when her song was used to introduce former Alaska governor and Republican candidate Sarah Palin in the 2008 Presidential campaign in a rally in St. Louis.

"The fact the McCain/Palin campaign is using a song about an abused woman as a rallying cry for their vice presidential candidate, a woman who would ban abortion even in cases of rape and incest, is beyond irony," Gretchen said.

"They are co-opting the song, completely overlooking the context and message, and using it to promote a candidate who would set women's rights back decades. I've decided to donate royalties from Independence Day during this election cycle to Planned Parenthood, in Sarah Palin's name. I hope with the additional income provided by the McCain/Palin campaign, Planned Parenthood will be able to help many more women in need."

PATTY LOVELESS - WATER INTO WINE
"Jesus walked upon the water/ healed the sick, the lame, the blind/ we are miracles of science, we are accidents divine/ just water baby, just water into wine/ just like water into wine."
In 1996 Peters was nominated for a Grammy song of the year for You Don't Even Know Who I Am - another hit for Loveless.

But it was Loveless's censored hit version of Water Into Wine that prompted Peters to revive it on her self-titled 2000 Grapevine-ABC Music album.

Although the hit had a verse deleted Loveless agreed to run the full lyrics on the cover of her eighth album, Long Stretch Of Lonesome.

Controversy is not new for Peters whose spousal abuse anthem Independence Day also suffered radio censorship.
"I guess you can't mention Jesus in a love song," says Peters, "it was a comedy of errors and I wasn't asked about it. I feel they should do the writer the courtesy of asking. I understood Patty's reasons. She loved the song as it was. I felt the last verse was essential to the song and definitely diminished the song leaving it out. When they tell you there's something controversial in your song and you can't figure out what it is, then it seems that one or the other of you has gone too far in some direction."

Gretchen's 1996 debut album, The Secret of Life (the title track was a hit single for Faith Hill), was on Imprint.

Two other rarities Buried Treasures and Words And Music illustrated her deep and eclectic catalogue.

Peters, who wrote Waiting For The Light To Turn Green with Bogguss, revamped Souvenirs (also cut by Suzy) for The Secret Of Life album.

She used Beat author Jack Kerouac, who died in 1969 but lives on in songs by artists diverse as Bob Martin, Tom Pacheco and Steve Earle, as an embryo in a parody of her country's treatment of its heroes.

"I also took a poke at the way Americans treat their icons and culture because we trivialise the most important things," she says, "we copy things instead of looking for and finding authenticity. The hidden message was I was getting frustrated with the way the music industry makes copies of things that have been successful instead of doing something original. We have a tendency to want a make a copy of something that works."
SECRET LIVES OF FIRST WIVES
"She said I found me somebody/ someone who rocks my soul/ I'm in love and I don't care who knows it/ and she's a good old girl." - Eddie's First Wife - Gretchen Peters.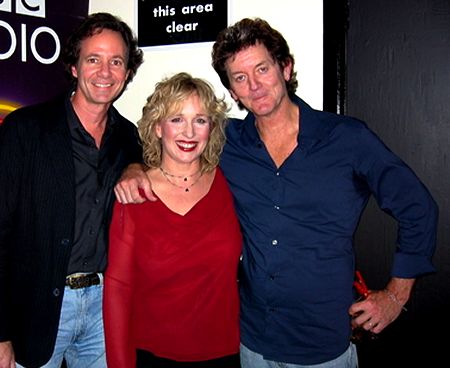 Barry Walsh, Gretchen Peters & Rodney Crowell
Peters wrote In A Perfect World with Bryan Adams who cut seven of her songs on his 1998 album On A Day Like Today.

She excels with narratives - Lilies Of The Field finds the two wanderlust lovers chasing their dream until Penny the pregnant princess from Tupelo makes her Harley riding lover Billy "walk the line" west of Tucson.

Gretchen's penchant for riveting road songs peaks in evocative Love And Texaco while Love Is A Drug is joyous celebration of sorts of cyberspace romance - "Romeo's on the internet/ he's searching for his Juliet."

Waiting For Amelia was inspired - not by a movie - but a magazine article about pioneer aviator Amelia Earheart.

But Gretchen teased conservative U.S. radio with Eddy's First Wife.

It was the saga of a man marrying a woman - the composite of a homely cake mix queen and the sensual appeal of a Brigitte Bardot siren - who runs off with another woman.

Eddy's first wife also had the vanilla essence of his dear old dad's spouse.

It shared punch lines with Bellamy Brothers tune My Wife Left Me For My Girlfriend and Since My Baby Turned Gay by Pinkard & Bowden.

"I think it was a little bit of shock for Nashville," Peters revealed, "it was a little bit of uncharted territory."

Peters released her Halcyon album in 2004 - a year before her divorce from songwriter-producer husband Daniel.

She later released Trio Live in 2006, Burnt Toast And Offerings in 2007 and Northern Lights in 2008.

In 2009 Gretchen collaborated with latter day Texan and Australian tourist Tom Russell on their CD, One To The Heart, One To The Head on Frontera/Scarlet Letter Records.

The pair made it in four whirlwind days in Austin after Russell, now living in El Paso, planted the seed of an idea with an email.

Later that year she released her eighth album - compilation Circus Girl: The Best of Gretchen Peters.

The singer also married her pianist partner Barry Walsh in 2010 after a 20-year friendship.

Gretchen releases her 9th album Hello Cruel World on January 31 with Rodney Crowell guesting on Dark Angel.

Kim Richey also harmonises on the disc featuring Will Kimbrough and producer Doug Lancio on guitar, bassist Viktor Krauss and trumpeter Vinnie Ciesielski.

It's a far cry from Peters Australian debut.

That was an equally daring journey - even if she didn't have a chance to upstage fellow cat lover Kinky Friedman by seeing Geelong cats scratch out a victory.

"Maybe next time I'll come during your footy season," she quipped.