Our Guru is the legendary David Dawson, one of the few gonzo journalists left in Australia.

That's the opinion of Nu Country TV founder and executive producer Peter Hosking, now living in existential exile in Prague.

When veteran actor and voiceover maestro Hosking asked Dawson to write about himself, this amazing roll call of the Country Hall of Fame was the result.

He hasn't listed the Australian artists he's interviewed because he's pretty much done them all.

But Dawson has promised a list of the rock acts he's interviewed too, some time in the future.

WHO IS DAWSON?
Nu Country TV producer David Dawson has spent most of his 74 years gathering useless information about music, football, farming and crime.
Now, after 57 years in journalism and 45 years plus in radio and TV, he has been impaled on the crass cross of knowledge.

The Shipwreck Coast dairy farmer, in exile, answers trivia questions for viewers of Nu Country TV and readers of our web page.

Dawson is a failed footballer who blazed a trail as first player with shoulder length hair in the Hampden Football League as centre half back and utility for Warrnambool Under 18 team in 1965.

He won votes from the umpires, laughs from team-mates and wrote poetry after footy training.

The son of a son of a dairy farmer ventured overseas to Van Diemens Land where he did his cadetship on the Launceston Examiner and played for East Launceston, Burnie and The Examiner sponsored North West Coast police team.

Dawson has been a feature writer, columnist and reviewer for Melbourne Herald Sun, The Age, Albury Border Morning Mail, TV Week, Listener-In Scene, Australasian Post, People, Warrnambool Standard, Brisbane Courier Mail, Sydney Daily Telegraph and defunct Sydney Daily Mirror, Melbourne Truth and many more.

He has also fought, often without payment, for country in music and street magazines for four decades.

They include Beat, Mixdown, InPress, Drum Media, Juke, Spunky, Across Country, Tom Thumb, Total Country, Country Music Update, Country Music Round-Up, Country Music Australia and Capital News.

Dawson has been a published songwriter for 30 years and ARIA Awards and CMAA judge for 20 years.

The journalist and broadcaster interviewed a brace of international country artists on four working holidays in the U.S. and toils in Australia.

We have listed many of the interviewees below in segments of a trivia database.
The Australian interviewees are not listed - you will see some on Nu Country TV.
We resisted the temptation to list such categories as -
ARTISTS INTERVIEWED WHO WED THE SAME SPOUSE TWICE -
Steve Earle and Billy Joe Shaver.
ARTISTS INTERVIEWED WHO SPRINTED TO THE ALTAR THREE TIMES OR
MORE
David Allan Coe, Willie Nelson, John Anderson, Lee Roy Parnell, Gary Allan, Dale Watson, Kris Kristofferson, Merle Haggard, Ray Wylie Hubbard, Vern Gosdin, Emmylou Harris, Michael Martin Murphey, and the late Conway Twitty, Waylon Jennings and Tammy Wynette.
INTERVIEWEES
Willie Nelson, Bruce Springsteen, Sting, Kinky Friedman, Merle Haggard, Sting, Leon Russell, Jimmy Buffett, Elvis Costello, Randy Travis, Randy Newman, Ricky Skaggs, Bonnie Raitt, Reba McEntire, Leann Rimes, Lee Ann Womack, Charley Pride, Michael Martin Murphey & Emmylou Harris.
THE OTHER WOMEN
Other women - Dixie Chicks Natalie Maines & Emily Robison, Alison Krauss, Pam
Tillis, Sherrie Austin, Alison Brown, Andrea Zonn, Anne McCue, Angela Desveaux, Becky Hobbs, Carlene Carter, Deana Carter, Dar Williams, Elana James, Elizabeth Cook, Patty Griffin, Trisha Yearwood, Lucinda Williams, Mary Chapin Carpenter, Jo Dee Messina, Anne Murray, Jamie O'Neal, Jolie Holland, Joni Harms, Julie Roberts, Kathleen Edwards, Shania Twain, Martina McBride, Faith Hill, Victoria Shaw, Beth Nielsen Chapman, Lynne Anderson, Sara Evans, Patty Loveless, Kathy Mattea, Terri Gibbs, Terri Clark, Lacy J Dalton, Kacey Jones, Kim Richey, Iris De Ment, Rosie Flores, Norah Jones, Gretchen Peters, Kimmie Rhodes, Kate Campbell, Gail Davies, Jeannie C Riley, Queen Ida, Kate Webster, Anna & Kate McGarrigle, Samantha Gibb, Sarah Harmer, Sarah Lee Guthrie, Shawn Colvin & Louise Mandrell.
THE OTHER MEN
Billy Joe Shaver, Ray Wylie Hubbard, Tony Joe White, Ricky Van Shelton, Jerry
Jeff Walker, Lee Roy Parnell, Earl Thomas Conley, Dwight Yoakam, Moe Bandy,
Red Steagall, Hal Ketchum, Vince Gill, Guy Clark, Buddy Miller, Jim Lauderdale,
Ronny Elliott, Max Stalling, Todd Snider, Cowboy Jack Clement, George Fox, Greg Trooper, Jimmie Dale Gilmore, Butch Hancock, Arlo Guthrie, Lee Clayton, Mike Reid, Dean Dillon, Dean Miller, Dick Feller, Frank Dycus, Dale Watson, Darden Smith, Wayne Hancock, Tracy Byrd, Stacy Dean Campbell, Ramblin' Jack Elliott, Kieran Kane, Robbie Fulks, Richard Buckner, Chris Smither, Albert Lee, Hank Wangford, Gene Watson, Corb Lund, Delbert McClinton, Tim Grimm, Tracy Byrd, Jesse Winchester, Sleepy LaBeef, Neal McCoy, Lee Greenwood, Collin Raye, Eddy Raven, Mel McDaniel, Flaco Jiminez, Russ Taff, Louisiana Red, Elliot Murphy, Dierks Bentley, Leonard Cohen, Alex Whitmore, Eric Bibb, Danny George Wilson, Ryan Bingham, Joe Henry, Robbie Fulks and Larry Gatlin.
DECEASED ARTISTS
Waylon Jennings, Tammy Wynette, Johnny Russell, Townes Van Zandt, Chet
Atkins, Ricky Nelson, Dan Seals Conway Twitty, Marty Robbins, Freddy Fender Stevie Ray Vaughan, Gary Stewart, Nicolette Larsen, Mickey Newbury, Vern Gosdin and Rick Danko (The Band).
BROTHERS, SIBLINGS AND FAMILIES
The Wilkinsons, The Warrens, Hugh and Katy Moffatt, Loretta Lynn and Crystal
Gayle, Tim and Mollie O'Brien, Garth Brooks and Bettsy Smittle, Brooks & Dunn, The Bellamy, Burrito, Everly, Geezinslaw and LeRoi Brothers.
HUSBAND AND WIVES - THEN AND MAYBE NOW
Bruce Robison & Kelly Willis, Rodney Crowell & Rosanne Cash, Michael & Dyann
Woody, Nathan Bell & Susan Shore, Kris Kristofferson and Rita Coolidge, Ed and
Patsy Bruce.
BANDS
Nitty Gritty Dirt Band, Amazing Rhythm Aces, Asleep At The Wheel, Austin Lounge
Lizards, America, Blasters, Brooks & Dunn, Greencards, Los Lobos, Air Supply, Dr Hook, Sugarland, Southern Pacific, BR5-49, Mavericks, Blood Sweat & Tears, Jason & The Scorchers, Eagles, Oak Ridge Boys, Commander Cody, Rolling Stones, Little Texas, Steeleye Span, Fairport Convention, Fureys, Status Quo, Black Sabbath, The Duhks, Ultravox, Wylie & Wild West Show, LRB, Peter, Paul & Mary, Wailin' Jennys and The Police.
BILLYS

Joe Shaver, Swan and Wyatt
BOBBYS
Bare, Braddock and Bridger
CHARLIES
Daniels, Landsborough and Musselwhite.
DAVIDS
Allan Coe, Lee Murphy, Wilkins and Bowie.
DONS
Williams, King and Bowman.
EARLS
Thomas Conley and Poole Ball
GARYS
Stewart, Puckett and P Nunn
GEORGES
Strait, Hamilton V and Thorogood.
JOES
Cocker, Ely, Henry, Strummer and Sun.
JOHNS AND JOHNNYS
Cash, Anderson, Berry, Conlee, Hiatt, Lydon, Mayall and Prine.
KEVINS
Deal and Welch.
MARKS
David Manders and Germino.
MICHAELS
Martin Murphey and Woody.
RICKYS
Nelson and Skaggs.
STEVES
Earle, Fromholz, Young and Ripley of The Tractors.
TOMS

Pacheco, Russell and T Hall.
HAPPY TRAILS - ON THE ROAD AGAIN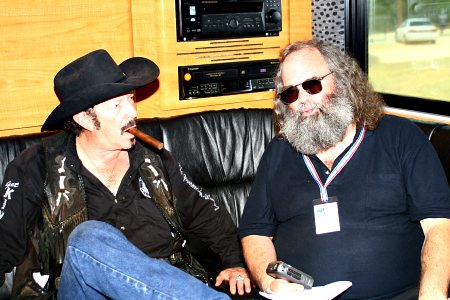 David Dawson with Kinky Friedman 2004
Photo by Carol Taylor
Dawson has also been chauffeur for singing Texan crime novelist Kinky Friedman on his 2002 Australian tour and Shotgun Willie Nelson and band on the New Zealand leg of their 1991 tour.

He also had a small cameo role in Musical Chairs - one of the Kinkster's 22 books - and in video clips for Steve Hoy, Dave Warner and others.

The former bearded bachelor is now enjoying romance and domestic bliss with the character in one of his twice-recorded songs Jodie.

The song, recorded by co-writer Darcy LeYear of The Wolverines and B. J.
Mackay, was written when Dawson and Carol Taylor, nee Knight, were journalists on the now defunct Sydney Daily Mirror from 1980-5.

David met Carol, from the Western district town of Gnotuk, in 1976.

She has been a videographer and concert photographer for Nu Country TV since 2003 and Willie Nelson July 3 and 4 Picnic photographer on their 2006 tour of Texas and beyond.

Taylor, latter day Vinnies strategic planner-communications manager photographed Kinky Friedman for a Men's Style magazine feature on his 2006 Texas Gubernatorial campaign.

That was after shooting pictures of Kinky, Will Smith and former U.S. President Bill Clinton at The Basement in Sydney in 2002, for the Sydney Daily Telegraph.

Taylor also sourced three new original songs for Vinnies After The Fire benefit CD - they were Kevin Welch (Marysville,) Shane Howard (Carry Me) and Salty Tears by Country Paydirt singer-songwriter Ross Buchanan who lost a son and daughter in the Kinglake fires.

Dawson has also written liner notes for Raven Records compilation discs by Shotgun Willie, Dave Loggins and Steve Fromholz.

And he wrote liners for AIM retrospectives by Johnny Lee, Ronnie Love, Billy Larkin and the late Boxcar Willie and Johnny Bond.

Now, the former programmer of Nu Country FM and host of High In The Saddle on public broadcasters RRR and PBS for 16 years bares his soul while working on a few novels including Murder On Beer Can Hill.
ASK THE GURU QUESTIONS
If you have a question about any of the above artists, country music and Nu Country TV please send your questions to Ask The Guru at music@nucountry.com.au