WELCOME TO NU COUNTRY TV
BRAD PAISLEY HEADLINES NU COUNTRY TV



West Virginia guitar slinger and singer-songwriter Brad Paisley headlines Nu Country TV at 9 pm on Saturday March 4 on Channel 31/Digital 44 with a beach bliss video that celebrates Today.

Californian Brett Young extends the beach theme at famed Malibu with Miss USA 2015 - Olivia Jordan - in his video for Sleep Without You.

Texans Sunny Sweeney and Tennessean Aubrie Sellers perform in Behind Bars in a show hosted by Mid-Pacific Bob Olson and filmed and edited by Laith Graham.

Expatriate Canadian Tracey McNeil returns and Tasmanian troubadour Ange Boxall debuts after 12 years on the international circuit.

< Brad Paisley

Nu Country TV is a highlight of C 31 streaming list on Digital 44.

Meanwhile viewers can continue to access new and previous Nu Country TV shows on the Channel 31/44 web page at this link - http://www.c31.org.au/series/487

CLICK HERE to read the full preview for Episode 5 - Series 32
JASON ALDEAN DUET WITH KELSEA BALLERINI
WIN NEW KASEY CHAMBERS DOUBLE CD DRAGONFLY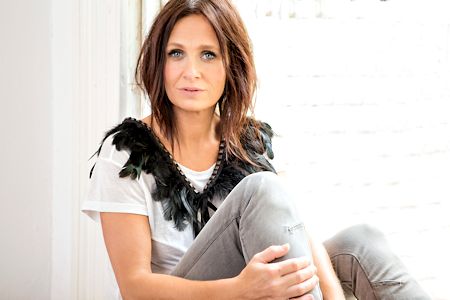 Kasey Chambers
We have more good news.
Warner Music promo wizard Karen Black has given us country music icon Kasey Chambers 11th album Dragonfly - a double CD as a reward for new and renewing Nu Country members.
Kasey's new video Satellite was featured in the Series #32 premiere on February 4 in our new timeslot - 9 p.m.
Guests on the album include Vika and Linda Bull, Keith Urban, Paul Kelly, Foy Vance, Harry Hookey, Ed Sheeran and Grizzlee Train.
CLICK HERE for a feature on Kasey's 11th CD Dragonfly - a double disc - in the Diary.
MO PITNEY PURE COUNTRY DEBUT
KENNY CHESNEY COSMIC HALLELUJAH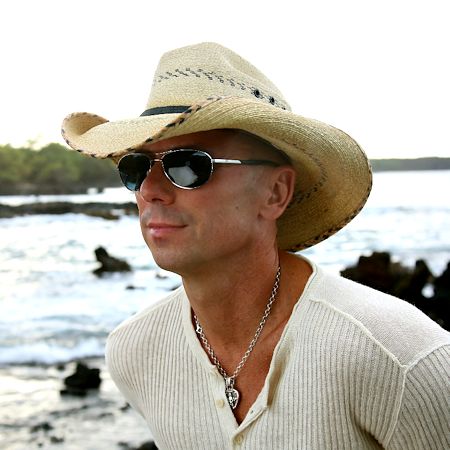 Tennessean Kenny Chesney eulogised a tiny Texas bar adorned by the memories of a young soldier killed in the Vietnam War on his 17th album Cosmic Hallelujah.
Chesney, 48, performs Jesus And Elvis - a song that celebrates the serviceman's memorial created by his mother Frances Lala in her small Austin bar - Lala's Little Nugget.
The song - written by Matraca Berg, Allison Moorer and Hayes Carll - is a highlight of the album that also features his Grammy nominated 29 th #1 hit with Pink on Setting The World On Fire.
CLICK HERE for a feature on the Chesney CD in The Diary.
KINKY FRIEDMAN FINDS MEMO IN ST KILDA
NU COUNTRY TV HOST TROY RECALLS JOINTS
WITH WILLIE AND MERLE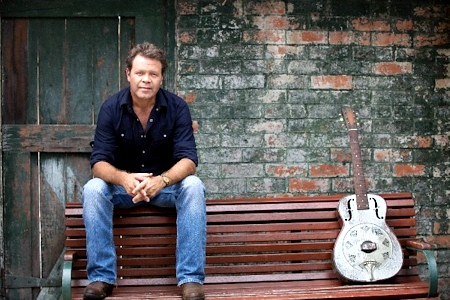 Troy Cassar-Daley has revealed he had joints with Octogenarian Willie Nelson and Merle Haggard on his acclaimed 10th album Things I Carry Around .
The Nu Country TV host performs Smoked With Willie And Merle on the disc but, sadly, there's no video of the song.
Instead we feature Troy's video of the title track in Series #31 that premieres Saturday September 25 at 9.30 pm on Channel 31, Digital 44.
At 46 the celebrated singer-songwriter is well qualified to reveal feats with the legendary duo on their down under sojourns.
Troy, father of two, inhaled like many peers but few could boast of exhaling by teaching the Red Headed Stranger, now 83 , to play didgeridoo.
It all happened when Troy shared stages with The Highwaymen and childhood mentor Merle, who died on his 79th birthday - April 6.
NU COUNTRY TV HOST AND BENEFACTOR KACEY JONES RIP AT 66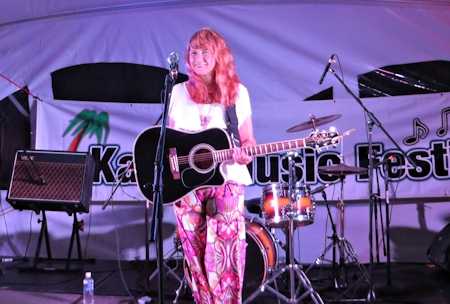 Acclaimed singer-songwriter, comedienne, producer, Nu Country TV host and showcase headliner Kacey Jones has died at 66 on the first day of spring in Nashville.
In 2014 Kacey was diagnosed with Stage 3 colorectal cancer - instead of chemo, radiation and surgery she opted for alternative, holistic therapies.
She launched a Go-Fund-Me account to pay for these and entered hospice care early in August.
Despite chronic pain she was well enough in 2015 to compete on TV's America's Got Talent where she performed her timely parody Donald Trump's Hair - title track of her 2009 album - that we also featured on Nu Country TV .
Kacey and fellow singer-songwriter Becky Hobbs performed our showcase at the Noise Bar at the historic Railway Hotel , in Brunswick on February 1, 2008, with local artists the Bona Fide Travellers .
Their concert was featured on Nu Country TV just two years after she hosted our TV show from Austin, Texas, in 2006 while performing the annual Mickey Newbury festival with singing actor Waylon Payne.
KEITH URBAN PATERNAL PRAISE ON ALBUM AND TOUR
Expatriate Australasian superstar Keith Urban's appearance with John Mellencamp at the 49th CMA Awards in Nashville on November 4 last year was tinged with sadness.

It was just a month before his major musical influence - his father Robert - died on December 5 after a long battle with cancer while he was making his 10th album Ripcord .

The Urban patriarch, who died at Mountain Creek near Caloundra on Queensland's Sunshine Coast, moved to Australia from Whangarei in New Zealand with his wife Marienne and their two sons Shane and Keith and settled in Caboolture.

"My dad is the catalyst for me living in America," revealed Urban, 48, who honoured his dad in new song Blue Ain't Your Colour.

< Keith & Bob Urban

Keith will perform the song from Ripcord when he headlines the Deni Ute Muster on September 30 and returns in December for a national tour with Carrie Underwood.

CLICK HERE for a Keith Ripcord CD feature in The Diary.
MARK LUCAS DEAD SET FOR NU COUNTRY TV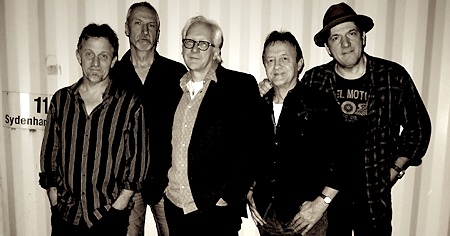 Expat South Londoner Mark Lucas & The Dead Setters return to Nu Country TV during Series #33 that returns to Channel 31/ Digital 44 in spring.
Lucas has release his seventh album The Continental Drift that features a hefty dose of social comment tunes about adoptive home city Sydney and way beyond.
CLICK HERE for a new Lucas feature in The Diary.
COLE SWINDELL HONOURS LATE FATHER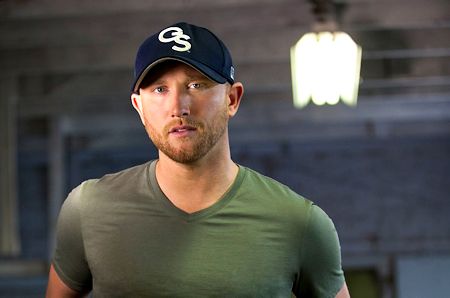 Cole Swindell
Bentley, 40, also appears on Georgian singer-songwriter Cole Swindell's second album You Should Be Here .
Swindell, now 32, wrote the title track about his father who died tragically at 65 in a freak accident on the eve of his success.
CLICK HERE for a feature on Swindell's new CD in The Diary.
TOBY KEITH 2014 AUSTRALIAN TOUR CAPITAL CITY DATES
WIN HIS CD HOPE ON THE ROCKS
Oklahoma country star Toby Keith makes his debut Australian tour when he headlines the 2014 CMC Rocks The Hunter festival in NSW from March 14-16.

Former Mississippi boxing champion Paul Thorn and Texan Eli Young Band are also to return here and join Keith, 51 and father of singer Krystal, at the three day festival.

U.S. Dancing With The Stars winner Kellie Pickler, duet partner of Melbourne singer Jasmine Rae, also plays the festival that features return of U.S. artists Love & Theft and Craig Campbell.


Keith, Pickler and the Eli Young Band also play concerts in Brisbane and Sydney before ending the tour at Rod Laver Arena in Melbourne on Wednesday March 19.

Tickets go on sale Friday October 4 for all capital city concerts.

Other acts announced for CMC Rocks The Hunter include expatriate Australian bluegrass trio The Greencards, Aussie country king Lee Kernaghan, The Flood, Morgan Evans, Adam Eckersley Band, Luke O'Shea, Kaylens Rain and New Zealand singer Jody Direen.

You can win a copy of Toby's 18th CD Hope On The Rocks by becoming a member of Nu Country TV or renewing your membership before our 21st series in December.

CLICK HERE for details on our Membership page.
CLICK HERE for our Hope On The Rocks feature in the Diary on July 2.
CLICK HERE for the CMC Rocks The Hunter 2014 line-up in Tonkgirl's Gig Guide.
CLICK HERE for our Paul Thorn feature in the Diary on June 10.
CLICK HERE for an exclusive new interview with Sara Evans in The Diary on
August 6.
WIN BRAD PAISLEY CD
We have West Virginia superstar Brad Paisley's huge selling ninth album Wheelhouse that topped charts on debut with sales of 100,000 plus.

Paisley's sensational 21 track album explores racism, religious extremism, domestic abuse and pitfalls of cyber cheating on Facebook.

We also have singing actor Tim McGraw's 12th album Two Lanes Of Freedom and others announced as we count down the days to our return.

You can win the album by visiting our membership and Facebook pages.


CLICK HERE for an exclusive new feature on Brad in our Diary.

CLICK HERE for our Membership Page to see how you can win Wheelhouse.
WIN GARY ALLAN CHART TOPPING CD
SERIES #19 GRAND FINALE OFFER
NU COUNTRY ON CATCH UP TV ON CHANNEL 31
If you miss Nu Country TV live on C 31 Saturday 10.30 pm or Monday 2.30 pm and midnight and Thursday at midnight there is another way to see the show at your leisure.

Visit the Channel 31 programs web page and Click on the Nu Country logo and follow the link to Catch-Up TV.

Here is the Channel 31 web page address - http://www.c31.org.au/program
FACEBOOK DEBUT
You can also follow Nu Country TV on Facebook - courtesy of gig guide collator Annie Christophers and our loyal public officer Denise Kuhl.

They will post photos of their overseas festival tours and local concerts they attend.
You can interact live with them at Facebook - http://www.facebook.com/NuCountryTV
The Nu Country TV show has been added to the C 31 streaming list.

Just follow this link on your computer or mobile phone when we return -
http://www.c31.org.au/program/view/program/nu-country-tv

Nu Country TV also returned to C 31 - Digital 44 - in South Australia on Thursday October 11.

The far-reaching Adelaide station screens Series #18 at 9.30 pm each Thursday.
OUR THANKS - HOW TO WIN TIM MCGRAW CDS
WIN DIERKS BENTLEY NEW CD
WIN ERIC CHURCH CHIEF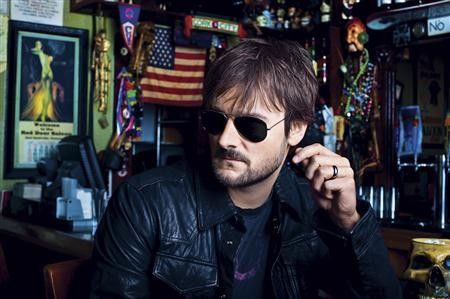 Eric Church
EMI Records Promotions ace Bianca O'Neill has donated copies of the hot albums by North Carolina young gun Eric Church.

Eric, 37, topped the all genre Billboard Top 200 on debut with his third album Chief and 5th album The Outsiders that we feature in Series #25 of Nu Country TV .

You can help Nu Country TV survive and triumph on C 31 and win the Chief CD as a token of our appreciation

CLICK HERE for our membership page to check out your latest rewards for keeping our flame burning bright.

CLICK HERE for an exclusive Eric Church feature in our Diary.
HOW TO WATCH NU COUNTRY TV LIVE ON THE WEB
We have more good news for Nu Country TV fans here and overseas.

Select episodes of the show are now available online at the digital web page of the Victorian mother ship C 31.

That's a bonus for Peter Hosking - our founder and executive producer-in-exile in
Prague - and international artists touring Australia in 2011.

The episodes available for viewing online are the latest episodes of Series 15,
2011.

Visit : www.c31.org.au/program
And Click on Nu Country TV

MORE VIDEO CLIPS NEEDED
Nu Country TV beams into Phillip Island, West Gippsland, Geelong & the Surf Coast, Bellarine Peninsula, north to Mt Macedon and east to the Dandenongs.
We're also featured on C 31 in South Australia - home state of expatriate Greencards multi-instrumentalist Kym Warner and Nashville recording artist Jedd Hughes.
Golden Guitar winner Beccy Cole, Jake Nickolai and 2000 Star Maker winner Cat Southern also earned their stripes in home state South Australia.
This means 750,000 viewers plus for videos, interviews and live gig footage weekly.
Please send your video clips in mini-DV or DVD-R format to Nu Country - 45 Ferndale Rd, Glen Iris 3146
We'll keep you up to date on country music through our concert reviews, features in our Diary and tours in TonkGirl's Gig Guide.
CLICK HERE for our Gig Guide.
And CLICK HERE for our live concert reviews.
©nu country 2003
contact:music@nucountry.com.au


Last update
27 February 2017

Nu Country TV
C31 VICTORIA
SERIES 32
starts on
4 February 2017
Time: 9.00pm
REPEATED
TBA


VIEW SELECTED
SHOWS ONLINE
ON C31

DIG COUNTRY RADIO
The ABC has added Dig Country to its on-line jazz and roots radio stations.

Adelaide bluegrass and roots country expert Richard Porteous and peers have created a joyous sound that is reminiscent of Nu Country FM in its halcyon days.

Tune in by visiting Dig Country.
LOCAL COMMUNITY RADIO
Other radio avenues include -

David Heard's Acid Country on PBS
106.7 FM
Thursday 3-5.30 PM
Now streaming live

Denise Hylands Twang on RRR 102.7 FM Saturday 2-4 PM
Now streaming live


Midweek Country INRFM 96.5FM Wednesday between 7pm & 9pm.
The presenters alternate each week, they are Mike Pealing & John Worth.
Now streaming live

COLIN WEIDNER
Texas Time Travellin North West FM Glenroy 98.9 Saturday
6 p m - 8 p m

FRANK MCHUGH
That's Country
North West FM Glenroy 98.9 Sunday
12pm - 3 p m
IAN EDWARDS
playing a mix of Oz, US, Bluegrass Western swing & everything in between, on the Double Clutchin Weasel Show On 88.6FM
Wednesday night
@ 10.00PM - 12.00pm
GEELONG COUNTRY 89.3 FM - 24 hours non-stop country
Stereo 974 FM - Bob Taylor 9 am - 6 pm week days.
Truck Stop Country Rod Boyd - midnight to dawn.
Now streaming live

BIG PETE WINDLE
FRIDAY
3MDR 97.1FM
9.30 pm to midnight
[full on country]
Now streaming live
5 Foot High And Rising with Myles O'Neil Shaw PBS - 106.7 FM - Monday 1-3 p m.

3RPP Mornington Peninsula Radio

Monday 7-9pm
Country Mix with Ken Brown
Saturday 7-9pm
Kool Country
Barbara Kuhl
Tuesday & Thursday Breakfast 6-9am
Wild Western Swing and Wicked Wacky
Country - Steve Burley
Sunday 4am-7am
BJs Country Music John Burrows
2AIR FM 107.9 COFFS
HARBOUR/INTERNET RADIO/PLAY
Graham Bell
8PM TO 10PM EVERY THURSDAY NIGHT