DAVE'S DIARY - 13 MARCH 2017 - PREVIEW OF EPISODE 7 - SERIES 32
ZAC BROWN AND JIMMY BUFFETT HEADLINE NU COUNTRY TV
Georgian star Zac Brown and singing sailor and pilot Jimmy Buffett headline Nu Country TV at 9 pm on Saturday March 18 on Channel 31/Digital 44 on the eve of their latest Australian tours.
Texan tourists The Dixie Chicks also return as a prelude to their third Australian visit in April.
Fellow Texans Ray Wylie Hubbard and Kevin Fowler perform their latest live music in Behind Bars .
Georgian star Jason Aldean returns to the show filmed and edited by Laith Graham.
Singing stockman and equine therapist Ian Burns is joined by his wife and their two horses in his new video filmed south of Sydney .
Nu Country TV is a highlight of C 31 streaming list on Digital 44.
Just follow this link on your computer or mobile phone - http://www.c31.org.au/series/487
Viewers can access new and previous Nu Country TV shows at the same link.
ZAC AND JIMMY KNEE DEEP
Zac Brown and singing pilot and sailor-songwriter Jimmy Buffett visit their slice of beach paradise at Careyes in Mexico to perform Knee Deep from Zac's fourth album You Get What You Give.
Old salt Jimmy, now 70, and young Zac, 38, were joined by a vast cast in their joyous journey.
The Zac Brown Band release ninth album Welcome Home here for their third Australian tour that includes the 28 th Byron Bay Blues festival with Buffett and Margaret Court Arena in Melbourne on April 19.
Treble Grammy winner Brown portrays themes of reflection on the new 10-track album, preceded by latest single My Old Man that paints a poignant picture of ever-changing relationship between fathers and sons.
The band also recorded 2 Places at 1 Time - about juggling conflict between life on the road and comforts of home.
Another new tune Roots honours the band's journey from their humble beginnings.
The band continues its tradition of recording a cover song it admires - this time John Prine's All The Best .
"We named our second album You Get What You Give , which is kind of my mantra that I try to live by every day," Brown said when he was recently awarded the Country Radio Seminar Artist Humanitarian Award by previous winner Keith Urban.
"I owe a lot to the world. I've always felt a hand guiding me, as if I'm a conduit here to get some things done.
"The success of the Zac Brown Band has been a gift that allows me to give back as much as I've received."
Brown supported USO events, his Camp Southern Ground for children with special needs and relief efforts when devastating fires hit Gatlinburg , Tennessee , late last year,
Brown credited his music, band, wife Shelly and the rest of his family for his award.
CLICK HERE for a Zac Brown Band CD feature in The Diary on June 23, 2015.
DIXIE CHICKS YEARN FOR COWBOY
The Dixie Chicks revive their historic Cowboy Take Me Away video from their fifth album Fly.
They flew into the Alps and way beyond in a career that has scored them 13 Grammys.
The trio plays Rod Laver Arena April 1 and 2 on its third Australian tour.
Their last studio album was Taking The Long Way in 2006.
Singer Natalie Maines, 42, released 2013 solo rock album Mother during the band's decade long hiatus.
Natalie and actor husband - former Heroes star Adrian Pasdar - have two children.
Fellow Dixie Chicks - sisters Emily Robison, 44, and Martie Maguire, 47 - also released a self-titled 2010 album as the Court Yard Hounds and 2013 album Amelita.
The Dixie Chicks made headlines when they teamed with Beyonce at the 50th annual CMA Awards in Nashville , for a live performance of Beyonce track Daddy Lessons , interlaced with Dixie Chicks' Long Time Gone.
The band began as Bluegrass Express with Laura Lynch upright bass, guitarist Robin Lynn Macy, and Massachusetts born multi-instrumentalist sisters Martie and Emily Erwin in 1989.
Since Natalie joined in 1995 they have sold 30 million albums, won six Billboard Music Awards , four American Music Awards and countless Country Music Association Awards .
They have released seven studio albums, three live albums and a string of live DVDs.
CLICK HERE for a Dixie Chicks CD feature in The Diary on September 25, 2006.
CLICK HERE for another Dixie Chicks CD feature in The Diary on September 26, 2003.
CLICK HERE for an Emily Robison interview and Court Yard Hounds CD review in The Diary on May 30, 2010.
JASON ALDEAN A LITLE MORE SUMMERTIME
Georgian Jason Aldean, now 40, celebrates our beach theme with singing spouse Brittany, 26, in A Little More Summertime from his seventh album They Don't Know.
Aldean wed Brittany on March 21, 2015, after splitting with first wife - childhood sweetheart Jessica Ussery - on April 26, 2014, after a 12 year marriage.
Jason also performs a duet with Tennessean Kelsea Ballerini on break-up song First Time Again on his 15 track album that topped charts on debut.
Kelsea, 23, and Novocastrian singer Morgan Evans, now 31, were engaged on Christmas Day in 2016 - just over nine months after they met hosting CMC Music Awards in Brisbane in March.
Jason new video for Any Ol Barstool filmed at a Nashville bar, The Dog Tavern , is the third single from They Don't Know .
Aldean toured here in March, 2016, with Florida Georgia Line in musical marriage consummated live at Rod Laver Arena .
Florida Georgia Line members Tyler Hubbard and Brian Kelley also drove south to Loch Ard Gorge on the Shipwreck Coast where they filmed a video near the famed 12 Apostles with wives Hayley and Brittney for their #1 hit song H.O.L.Y. from third album Dig Your Roots.
They also gave Aldean a nice little earner - recent hit Lights Come On that they wrote with the Warren Brothers who played the long defunct Continental Café in Prahran.
CLICK HERE for an Aldean CD feature in The Diary on February 27.
CLICK HERE for an exclusive Aldean interview in The Diary on March 30, 2015.
RAY WYLIE HUBBARD RIDES STONE BLIND HORSES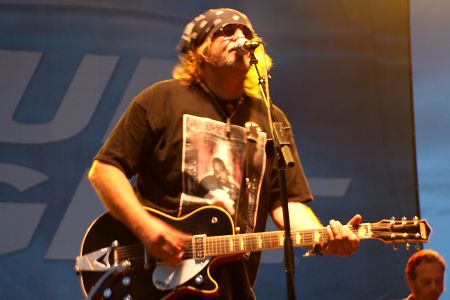 Photo by Carol Taylor
Ray Wylie Hubbard returns to Behind Bars with his live version of Stone Blind Horses from his 16 th album The Ruffian's Misfortune on his Bordello Records.
Ray Wylie, now 70, left Oklahoma for Texas at the age of eight and performs live in adoptive home state capital Austin .
He also played Stone Blind Horses live on the Conan O'Brien TV show.
Ray Wylie recounts an amusing story about Brooks & Dunn as a prelude.
He co-wrote Bad On Fords with Ronnie Dunn - it appears on Ruffian's Misfortune and was also covered by Sammy Hagar in 2013.
That was 40 years after Jerry Jeff Walker cut Hubbard's anthemic song Up Against the Wall, Redneck Mother in 1973.
The Ruffian's Misfortune is in an album trilogy that includes The Grifter's Hymnal and A. Enlightenment B. Endarkenment (Hint: There Is No C)
Ray Wylie also released autobiography memoir A Life Well Lived in 2015 and wrote the screenplay for 2010 western The Last Rites of Ransom Pride starring Kris Kristofferson and Dwight Yoakam.
Hubbard nurtured guitarist son Lucas in his band since he was 12 and has been writing and recording with fellow Texan Hayes Carll who has toured here twice.
Lucas taught a Geelong amateurs under 19 footballer how to throw his Texas Longhorns gridiron ball at Willie's July 3 picnic at Carl's Corner in 2006.
Ray Wylie and Carll wrote Drunken Poet's Dream - entrée song on Carll's 2008 album Trouble In Mind.
CLICK HERE for a Ray Wylie Hubbard feature in The Diary on July 7, 2012.
KEVIN FOWLER TEXAS FOREVER
Amarillo born Kevin Fowler performs his new Lone Star state anthem Texas Forever from his ninth album Coming To A Honky Tonk Right Near You.

Fowler, now 50, remembers the Alamo, rodeo, radio and rafting on the Brazos River with separate tyre tubes for booze.

He worked with director Phillip Guzman on the clip that features his band playing amid sprawling natural beauty of Texas plains, interspersed with location shots of Lone Star State landmarks.

"For the video we just sent our video director across the state to capture all of the images of what makes Texas great," Fowler revealed.

"The places and the people. Everything from Alamo to the Gulf to the plains of West Texas . The imagery and cinematography in this video are amazing."
The lyrics to Texas Forever reflect the pride Texans have in their state.
"This song is the best Texas song I've ever heard," Fowler added.
"Producer Trent Willmon brought this song to me. After one listen I was hooked. I knew immediately that it was something I wanted to record. It literally gave me chills. If you're a Texan you can definitely relate with this song. It's a true Texas anthem.
"Like most Texans, I'm very proud of where I'm from. Just like the song says, 'There's a pride down inside us that's hard to explain.' If you're not from here you probably don't get it. I've travelled the world over several times and I can tell you that there is no other place on earth where people are more proud of where they're from. Some non-Texans see it as arrogance. I see it as an undying pride. Texas Forever!"
Fowler's hits include Beer, Bait & Ammo, Hip Hop In a Honky Tonk and Santa Got Busted by the Border Patrol .
The latter was inspired by Shotgun Willie Nelson's drug busts and features a cameo by Asleep At The Wheel singer Ray Benson.
Kevin also recorded Don't Touch My Willie about his hero - singing actor Nelson who turns 84 on April 30.
Fowler, father of three daughters, has propensity for booze songs includes The Lord Loves a Drinking Man, Beer Season, Long Neckin' (Makes for Short Memories), Drinking Days, Ain't Drinking No More, Beer Money and All The Tequila in Tijuana.
Louisiana gubernatorial candidate Sammy Kershaw and fellow Texans George Jones and Mark Chesnutt recorded Beer, Bait & Ammo - title track of his 2000 album - and Chesnutt also cut The Lord Loves A Drinking Man.
Fowler write songs driving his pickup at his ranch near Junction - he calls them "presents from the song gods."
"Those seem to be the best ones," he said of songs including Cheaper To Keep Her.
He penned Ain't Dead Yet and Now You're Talkin' with frequent Aussie tourist David Lee Murphy and drinking anthem I Pulled a Hank Last Night and Honky Tonk Junkie .
Further info - www.kevinfowler.com
IAN BURNS RIDES AWAY
Singing stockman Ian Burns showed how to escape the big smoke and ride through the bush with his wife of 28 years, Susie, on their steeds Mona Lisa and Pegasus - in his video for Ride Away.
Ride Away is third single from his debut album Want To Sing produced by expat Texan Doug Bruce at his Shoo Fly Studio at Heathcote in central Victoria.
The video was created by Paul Denham, cameraman Murray Tonkin and drone operator Ashley Raphael at Scenic Equine Centre in Denham Court , Western Sydney .
Ian hails from MacArthur sheep country near Camden south of Sydney where he's also an equine therapist.
He uses acupuncture and laser therapy to repair injured racehorses and performance horses to ensure they return to the track.
Multiple Olympic competition horses and Group 1 winning racehorses are amongst his clientele.
When not working or singing Ian competes in endurance horse riding - competitors ride over distances of 80-160 kms.
Ian previously successfully completed a Tom Quilty national endurance ride championship to be completed in under 24 hours and run across difficult terrain over 160kms.
His Quilty Buckle was a revered reward.
The singer-songwriter released his debut EP Good Friends in January 2015 that included The Boundary Rider .
The video, by Paul Denham, captured stunning Australian landscapes while Ian rode stock horse Maggie, followed by his faithful canine companion Boots .
Further info - https://www.facebook.com/ianburnsmusic
HOW TO KEEP NU COUNTRY ON AIR
We need your support as we celebrate Nu Country TV's 32 nd series with Australian record companies and artists teaming to ensure our survival.
We have Kasey Chambers 11th CD Dragonfly and Blake Shelton's 12th CD If I'm Honest from Karen Black and Tony Midolo at Warner Music.
We also have other CDS by major artists you can win by becoming a Nu Country TV member or renewing membership.
They include singing actors Tim McGraw and Toby Keith, Ashley Monroe, Brad Paisley, Carrie Underwood, Gary Allan, Dierks Bentley, Eric Church and more.
CLICK HERE for our Membership Page for full details.