DAVE'S DIARY - 7 JULY 2012 - RAY WYLIE HUBBARD
1978 Interview and a few more.
RAY WYLIE HUBBARD GOOSES THE MOOSE

" I drink coke with I.W Harper/ do a song by Jerry Jeff Walker/ but that's alright/ he does one of mine." - West Texas Country Western Dance Band - Ray Wylie Hubbard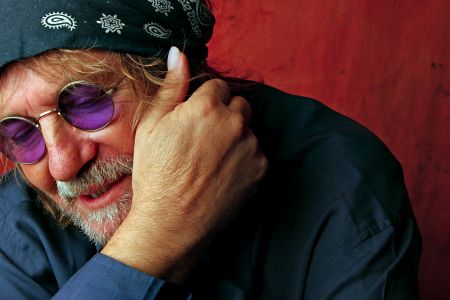 It was a bizarre link - from Johland to Austin, Texas, via a vinyl conduit.

Back in the late seventies Ray Wylie Hubbard was not surprised to learn a raft of Australian bands performed his embryonic hit Up Against The Wall Redneck Mother.

But he was thrilled that the first royalty he received for an earlier song - West Texas Country Western Country Dance Band - was from Australia.

"The first time I knew it had been recorded was when I got a royalty cheque from Australia," Hubbard, now 65, told me in a 1978 interview in Austin, Texas.

"I thought what is this, it was a complete surprise to me. I found out the name of the band was Moose Malone. It was a treat for me to have them do my song. I wish them all the best. If I can get an address from you I'll send them some more. It was a real treat to have an Australian band sing a song of mine about West Texas. It's really ironic as I hear that West Texas and outback Australia are kind of real similar."

The Queensland outlaw band cut Hubbard's song on their 1977 RCA disc House Of Blue Lights.

Sadly for Ray Wylie his protégés lost their RCA deal after getting drunk and heckling late label mate John Denver during a cocktail party on one of his tours.

The seasoned singer-songwriter, born in Hugo, Oklahoma, and raised in Texas, has earned thousands of dollars from other songs he penned in a career that has spanned six decades.

They include several collaborations with Texan troubadour Hayes Carll, making his first Australian tour in August, diverse country and folk peers and even rappers.

Hubbard, rescued from decades of booze, cocaine and wasted days and nights by his second wife Judy, also wrote a western movie.

Singing Texan actor Jack Ingram and Gary Busey performed in the pilot of the film shortly before his first Australian tour in 2010.

But Ingram and Busey missed out on the part in The Last Rites of Ransom Pride - the saga of a 1911 outlaw.

It was filmed in 2009 at Calgary and beyond in the wild west of Canada.

The cast included fellow singing actors Kris Kristofferson and Dwight Yoakam, W Earl Brown, Jon Foster, Lizzy Caplan, Cote de Pablo and Jason Priestley who plays cousin Blake in white trash TV comedy My Name Is Earl.

WEST TEXAS COUNTRY WESTERN DANCE BAND

"Pretty girls with their perfume dancing across the room/ but I'm playing another night away/ sawdust floors and dim blue lights/ fast moving cowboys and fist fights." - West Texas Country Western Dance Band - Ray Wylie Hubbard.
But let's backtrack to the song that enabled him to share his talents with peers in the unlucky radio country.

I first interviewed the pioneer outlaw on my maiden U.S. invasion over breakfast on the east side of Austin.

Willie Nelson celebrated a distribution deal of his Lone Star Records with Mercury Records with a massive concert at the Austin Opry House.

That followed a formal press conference at the historic Driskill Hotel in downtown Austin with Hubbard, Steve Fromholz, Don Bowman, Larry G Hudson, Geezinslaw Brothers and swing band Cooder Browne.

West Texas Country Western Dance Band was entrée song on 1975 Ray Wylie Hubbard & The Cowboy Twinkies album on Warner-Reprise.

It also included $60 Ford that Hubbard wrote with Rick Fowler - also in their trio Three Faces West who released a self titled album on Outpost in 1971.

Ray wrote eight of 10 songs but was furious with backing vocals of Jet & The Jewels added after his recording in Nashville with Austin producer-manger Michael Brovsky.

The production may have been hijacked but not song sentiments.

"We were out in West Texas and playing for these guys who rode saddle broncs and gals who danced in honky tonks," Hubbard told me.

"There were dim blue lights and fist fights, just another night for a West Texas country western dance band. I wrote it about six or seven years ago I was on stage and started doing it. At that that stage I would do anything on stage whether I knew the song or not. I just started singing. I wrote it while I was on stage - the first verse and then the other verses flowed and we jammed into it."

Hubbard was born in Hugo, Oklahoma, and spent time in nearby Soper in Tornado Alley before his school principal dad Royce and mother Helen decamped south of the border to Oak Cliff in Dallas.

"I went to Adamson high school with Michael Murphey who had a hit out called Wildfire and later What's Forever For?" Hubbard told me.

"Another of my mates in school was B W Stevenson who had My Maria and Shambala - we all got into music together and played in separate bands and also together. About that time I ran into Willie and Jerry Jeff Walker down in Austin. It was a progressive country type sound but no-one would have anything to do with us - they called it outlaw music. It wasn't quite in the mainstream of country. We tore up the highways and byways of America, roaring into a town and playing it was just a wild and crazy time."

Hubbard became famous enough to add second Christian name Wylie to distinguish him from a more renowned Dallas pool - Lake Ray Hubbard.
FORT WORTH CHICKEN WIRE
"I come down from Oklahoma with a pistol in my boot/ a pair of dice, a deck of cards and a bible in my suit/ I come here as the cause of tears, I am a crying shame/ seven stud or eternal blood/ just looking for a game." - Dust Of The Chase - Ray Wylie Hubbard.
And unlike today's blow-dried country stars Hubbard's hombres lived on the wild side of life.

"We played out on the Jacksboro Highway," recalled Hubbard who had a band called Three Faces West with guitarist Rick Fowler and bassist Bob Livingston.

"You couldn't get liquor in Fort Worth and had to drive out to Jacksboro Highway outside of Fort Worth. It had all these crazy honky tonks and nightclubs and beer joints our there - it was where the police characters would hang out. They had chicken wire covering the stage because if the crowd liked you or disliked you they would throw bottles of beer at you.
Even if the crowd liked you they would still throw beer bottles at you - they were just raising hell. They later used that idea in the Blues Brothers movie. It looked like a joke but there were places that in Texas in the late fifties and sixties - the chicken wire was fact.

So was playing out in New Mexico in the badlands that was like your outback area. There was sparse population. One night we were playing the Lion Camp. We were up on stage and this cowboy comes in rides his horse right across the dance floor. We kept on playing and people kept dancing like it was an every day occurrence. He rode his horse up to the bar, ordered a drink, listened to a couple of songs and drank a beer and rode his horse back out. Noone mentioned it - everyone kept on dancing like it happened all the time."
REDNECK MOTHERS IN RED RIVER
"He was born in Oklahoma/ and his wife's name is Betty Jo Thelma Liz/ and he's not responsible for what he's doing/ cause his mother made him what he is/ and it's up against the wall, redneck mother/ he's 34 and drinkin' in the honky tonks/ kickin' hippies' asses and raisin' hell." - Up Against The Wall Redneck Mother - Ray Wylie Hubbard.
Unlike our Northern Territory no truckies flattened bars by driving rigs into them but song sources sprouted like carbon taxes.

"Another night we were in another bar in Red River, New Mexico, in the D-BAR-D," Hubbard revealed.

"I was in there one time and this grizzled gnarled old lady came in - a burly mountain type woman. You know she would lift up her arm and a whippoorwill would fly out. She came in with her boy and they were raising hell and I was raising hell too - having a real good time.
I wrote that song for her - she was a redneck mother. The song kind of wrote itself. There was a funky old guitar in the corner - it had five strings on it.
| | |
| --- | --- |
| Jerry Jeff Walker | I went over and wrote this song about this lady and her boy - he was born in Oklahoma. His wife's name was Betty Jo Thelma Liz - she wasn't there the night I wrote the song. It was primarily a honky tonk song to drink to and raise a little hell. It wasn't a pretty country ballad - it was a fun crazy outlaw song. I had the first verse and chorus - a guy named old Bob Livingston was playing bass for me in New Mexico and he heard the song. He started playing bass for Michael Murphy and then for Jerry Jeff Walker. One night on stage Jerry Jeff broke a string and said 'why don't you sing a song? Bob being the weird guy he is sang Redneck Mother - the crowd said what sort of song is that? Jerry Jeff said the same. Bob said that's just a song this old boy out in West Texas wrote - we're going to cut it. They were down in Terlingua in 1973 doing a live album - all they had was a verse and a chorus. Jerry Jeff called and said 'what's the second verse?' I said I hadn't wrote it yet - I said 'hang on and I wrote it on the phone. Jerry Jeff was first to cut it then New Riders of The Purple Sage and then Bobby Bare cut it. A band in Germany also cut it. I hear the Dead Livers and Bo Franks did it live in Australia." |
It may have been easy to sing but harder to analyse.

"I had this professor call me up from the University Of Texas in Austin," Ray added.

"He wanted to know about the song's Oedipal implications. You know what I'm talking about here? Oedipus. Then he wanted to know if it was autobiographical."
TEXAS IS A STATE OF MIND
"Dallas is a woman with cognac in her veins/ Austin is a cocaine deal." - Texas Is A State Of Mind - Ray Wylie Hubbard.
Hubbard was up north of the Mason Dixon line when he wrote another embryonic song Texas Is A State Of Mind.

"I wrote it in New York City," Hubbard added.

"You see all these New York people out there in cowboy hats and boots. It's a bit like being out there on the Jacksboro Highway without the chicken wire. The idea came to me Texas is a state of mind - you don't have to be in the state of Texas. The song wrote itself. Dallas is a woman with cognac in her veins because Dallas is kind of classy - everybody thinks she is classy.

Somebody told me Willie plays it before and after his shows. I haven't been to one of his concerts in while. It goes over well in Texas but not in Oklahoma. There are two versions. In the radio version Austin is a football field - in the live version Austin is a cocaine deal as they're a more liberal audience than the airwaves of radio. I changed it to football field for radio. At the time I was reading there was a lot of that going on down there - not anymore."
It debuted on Hubbard's third album Something About The Night cut for Dallas label Renegade Records in 1979.

He produced it with band members - guitarist John Inmon, bassist Bob Livingston and drummer Paul Pearcy who formed the nucleus of Jerry Jeff's Lost Gonzo Band.

They included live versions at Dallas Palladium of Texas Is A State Of Mind, The Nights Never Get Lonely and The Last Recording Of Redneck Mother Ever.

The latter, of course, was a gag.

Hubbard's first wife D'ann's mom Jerry and husband Johnny Crawford - Dallas lawyers - became his booking agents and owned his tour bus.

Ray's mother-in-law tricked him into going to a Dallas hospital where pancreatitis was diagnosed - a legacy of living on the edge.

The Crawfords could afford the benevolence - they owned a coalmine, several racehorses and a penthouse in Turtle Creek.

But Ray's band broke up and his mother Helen was killed by a 16-year-old driver while on her nightly walk.

He then hooked up with Lost Gonzos who travelled to gigs in two planes owned by Jerry Jeff when backing him.

But it was a different plane promoting Ray's invasion of Nashville at the famed Cantrell's nightclub in 1983.

The plane - hired for the disc jockey convention - was meant to have electrically lit message Ray Wylie Hubbard Band Salutes Nashville.

Instead it read Ray Wylie Hubbard Band Pollutes Nashville.
GEORGE JONES
"George put down that drink/ it can't help you no more." - George - Ray Wylie Hubbard.
Hubbard, latter day New Braunfels radio DJ, also wrote a song for one of his Texan born mentors.

"George Jones had been having a few problems," Hubbard recalled.

"He had these tee shirts made up saying "No-show Jones" as he was drinking and not showing up for shows or drinking and too tore up to perform. So I wrote 'George put down that drink - it can't help you no more.' George is the greatest country singer in world - his phrasing and reflection. It was a shame to see that wasted. I didn't know if he would ever hear it. I just heard he made a hundred shows in a row just recently - great. He's about the best. He straightened up when he heard my song so I wish him happiness."

Hubbard's laconic humour has always been his strong suit - especially when he recorded albums for Misery Loves Company - a record label and publishing company he operated with second wife Judy.

They also released 1998 disc Live at Cibolo Creek on that label.

Hubbard reportedly met Judy at a 1988 AA meeting after she first saw him play in a Dallas strip club more than a decade before.

But we'll leave that story for his live concert footage on Nu Country TV.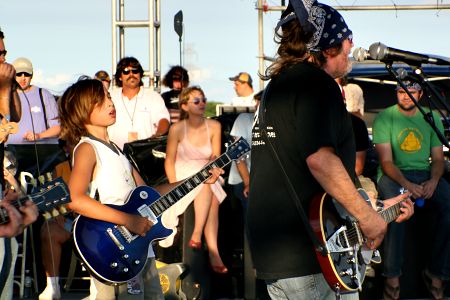 Ray Wylie Hubbard with son Lucas - live in Texas 2006
Photo by Carol Taylor
The couple's son Lucas has played in Ray Wylie's band since he was 12.

They all live in a log cabin in the Texas Hill Country at Wimberley with stunning views of the Twin Sisters Mountains.

I first saw teenager Lucas play the Willie Nelson July 3 Picnic at Carl's Corner in Texas in 2006.

Lucas and a little mate had earlier taught my photographer partner Carol Taylor's son Jordan how to throw the Texas Longhorns gridiron ball she bought him in Austin.

The circle was definitely unbroken when the late Waylon Jennings' son Shooter joined the Hubbard band onstage for Screw You We're From Texas.

Melbourne promoter Rob Hall - touring trustee of Kevin Welch, Kieran Kane, singing Texan crime novelist Kinky Friedman, Billy Joe Shaver, Arlo Guthrie, daughter Sarah Lee, Harry Manx, Ralph McTell and many more - had been negotiating a Hubbard tour for the new millennia.

That was 30 years after I tried to hook up Hubbard's then Dallas manager Charles Stone with Sydney promoter Jeff Taylor who brought Amazing Rhythm Aces, Leon Russell & The Newgrass Revival in 1980 and an ill-fated Bellamy Brothers tour in 1983.

The same year I introduced expatriate Australasian entrepreneur-manager -publisher Barry Coburn and wife Jewel to Hubbard at the Liberty Lunch nightclub in Austin.

Hubbard's efforts to beat the booze were not helped by the Jumbo sized can of Carlton United beer we bought him to tide him over his concert.

But that was then and this is now.

DANGEROUS SPIRITS - A RAY OF RHYTHM
"I was standing a little south of fate/ there ain't no exit from the interstate/ there's one way in, it's a long dirty road/ only one way out Robert Johnson knows/ well, I'm standing at the station and I don't know where I am/ and the wheels are turning on the last train to Amsterdam." - Last Train To Amsterdam - Ray Wylie Hubbard.

Hubbard recorded his sixth album Lost Train Of Thought for Misery Loves Company in 1994 - it featured a duet with Willie Nelson on These Eyes and was re-released on San Marcos label Dejadisc.

The albums kept on coming - Loco Gringo's Lament (Dejadisc) the same year, Dangerous Spirits (Rounder-Philo) in 1997 and Crusades Of The Restless Knights (also Rounder-Philo) in 1999.

Hubbard is realistic about his rescue from booze and dope.

"I didn't see the light or a burning bush or anything like that," Hubbard said when he released Dangerous Spirits.

"It just go to the point where I'd had all the fun I could stand. I had abused the privilege as they say."

Ironically, on November 13, 1987, - Ray's 41st birthday it was reformed drinker and doper Stevie Ray Vaughan who convinced him to clean up.

"For a long time I thought cocaine was the answer to my drinking problem," Hubbard revealed then.

"I came out of a blackout and there I was sitting in a Pentecostal Church during the Sunday morning service with two strippers on either side of me. I guess I just wanted to go in and hear the music."

Hubbard's new digs are not far from a locale once home for kindred spirit Billy Joe Shaver and Brenda - the long deceased wife Billy Joe wed three times.

Hubbard produced Spirits with hotshot pedal steel player Lloyd Maines - father of Dixie Chicks singer Natalie.

He also used long time band - guitarist Terry Ware, bassist Dave Heath and drummer Paul Pearcy who did time with Delbert McClinton, Lost Gonzo Band and many more.

Mike Henderson revved riveting title track with gut gripping guitartistry while the character gives up a his gun - "worn as a badge high in fashion" for the "coat of a pilgrim."

Fellow Dead Reckoners Kieran Kane (mandolin on Without Love) and latter day Wimberley neighbour Welch vocals add their magic.

Frequent Australian tourist Tony Joe White, electric and acoustic guitar gave outlaw tune, The Last Younger Son, a kick-start but the peak is The Last Train To Amsterdam.

It's ironic Welch and Jimmy LaFave - writers of Welch hit Kicking Back In Amsterdam - guest on Last Train, If Heaven Is Not A Place To Go and the haunting Resurrection.

The mood created by Dangerous Spirits may seem macho until haunting harmonies of Lucinda Williams on The Ballad Of The Crimson Kings with its line "our hearts have been kissed by the hickory wind" and Tish Hinojosa on The Sun Also Rises.

They are certainly more radio friendly than self parody, Hey That's All Right, where LaFave and Sara Hickman are foil Hubbard histrionics.
RAY MEETS THE DEVIL
"I had a dream last night/ I was cats into hell by a jealous God/ the devil walked up an said 'you won't need no lightning rod - it hardly ever rains down here, I can't recall the last storm." - Conversation With The Devil - Ray Wylie Hubbard.
Crusades Of The Restless Knights - was co-produced by Maines with harmonies by Lisa Mednick, Patty Griffin and Terri Hendrix.

The singers share a musical spirituality but Ray takes it way over the top in satiric Conversation With The Devil - a hilarious tango with Satan - and the hot gospel fervour of The River Runs Red.

Hubbard says the songs came long after nightfall in the solitude of his loft.

The hipper honky tonk heroes from early discs have been replaced by equally mystical minstrels and souls steeped in satanic shawls.

In Conversation With The Devil - the male admits he snorted cocaine because he liked the smell and believed the devil played the superior fiddle solo in the Charlie Daniels hit.

Satan's guided tour enables a leather jacketed visitor to inspect warm new digs of failed politicians, sinful preachers, murderers, rapists, crooked cops and politicians, child abusers, unwed fathers, record company executives and corporate program directors.

So who has the palatial suite in heaven?

Certainly not the Christian right wing coalitions or politically correct ponces - just a bunch of mystics, altruists and free thinking folks.
THE LATE STEPHEN BRUTON
"Why do I burn if love is kind/ perhaps this is what the poet's mean/ when they rhyme all those words is shades of deep blues and greens." - The Lovers In Your Dreams - Ray Wylie Hubbard.
Hubbard enlisted the late Stephen Bruton - latter day co-producer of the Crazy Heart movie soundtrack with fellow Texan T Bone Burnett - on several tracks.

The Lovers In Your Dreams, laced by Bruton's mandolin and harmony vocals by Griffin, is an idyllic jog through the genre.

It doesn't quite surpass the wicked joy of picking forbidden fruit on The River Bed or the hot gospel mixed message massage of saved Okie souls in The River Runs Red.

"She rips the cross from my neck/ she says take me down to the river bed/ for once you've had me/ you will not be satisfied with the undead."

After The Harvest wears a quaint gospel cloak which blankets a pathos primed Airplane Fall Down In Dixie; not the demise of Walter Hyatt but more likely a Lynyrd Skynyrd legacy.

And just when you think Hubbard flees country for gospel he returns with a beatific finale The Messenger - also featuring Bruton - that owes much more to Townes than Ronnie, Johnny or Steve Van Zandt.

Bruton also plays guitar on a disc that features former Greencards fiddler Eamon McLoughlin, Lisa Mednick on accordion, guitarist Ware and multi-instrumentalist co-producer Maines.
BORDELLO RECORDS
"It's New Year's Eve at the gates of hell/ give the Antichrist a cigarette and tell him/ the boy's here all the way from Oklahoma/ Oh lord what the hell is that aroma? it's Jimmy Perkins and all the sons of bitches/ who ripped off musicians and stole their riches." - The Gates Of Hell - Ray Wylie Hubbard.
Hubbard's record labels have kept changing in the new millennia but not spouse Judy who set up Bordello Records for his latest albums.

Eternal and Lowdown (2001), Growl (2003) and Delirium Tremelos (2005) were all released on Philo-Rounder.

Hubbard also co-produced his 2006 album Snake Farm with Gurf Morlix for defunct San Antonio label Sustain.

They recorded the album at the Zone studio in Dripping Springs - a town that hosted the first Willie Nelson July 4 picnic in 1972.

Guests include vocalist Ruthie Foster and bluegrass veteran Peter Rowan who toured Australia in recent years, harmonica player Ray Bonneville and son Lucas.

Hubbard helmed the studio band with guitarists Morlix, Seth James, Jeff Plankenhorn, bassists George Reif and Jack Saunders and drummer Rick Richards.

A Lone Star state reptile park inspired the title track.

"I've been driving by the Snake Farm for years, and one day I just looked over and went "Oooh just sounds nasty," Hubbard revealed in 2006.

"So, I came up with the chorus, and then asked "What am I going to do with this?" Of course the answer was to make it a love song. There are snake farms all across America.

Primarily, they're in the southwest, but the southeast, too, a bunch of snakes. If it's a really big snake farm, there'll be some angry monkeys in a cage in the back. The idea was to make the song about a woman working at a snake farm. I could kind of sense this character of the guy writing the song being in love with the woman who worked there."
HAYES CARLL
"I'm gonna hollar and I'm gonna scream/ I'm gonna get me some mescaline/ then I'm gonna rhyme that with gasoline. - Drunken Poet's Dream - Ray Wylie Hubbard-Hayes Carll.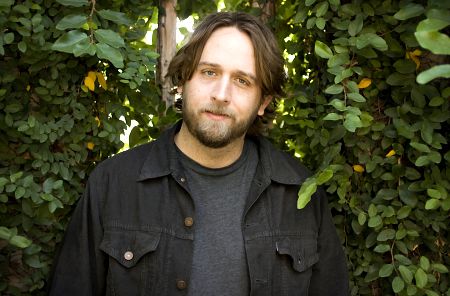 Hayes Carll
Hubbard's recent discs also earned him a brace of Americana Awards nominations.

They peaked with 2010 album A. Enlightenment B. Endarkenment (Hint: There Is No C)

So did Drunken Poet's Dream that originally appeared on Carll's 2008 album Trouble in Mind.

"Drunken Poet's Dream' is partly an homage to Edgar Allan Poe," Ray says of the song he wrote with Carll.

"It blew my mind when I started reading him, his stuff was so dark and weird and cool. That stuff has really inspired me and helped me as a songwriter."

Hubbard is a prolific solo composer but partners have included Pat Green, Reckless Kelly, Cory Morrow, Wade Bowen, Slaid Cleaves and Cross Canadian Ragweed singer Cody Canada.

Dustin Welch - son of California born Kevin - also plays banjo on his Americana nominated disc.

The Trishas - featuring Dustin's sister Savannah - energise Whoop And Hollar with tinges of old-school gospel choir theatrics.

Even Beatles drummer Ringo Starr who recorded the late Johnny Russell big hit Act,
naturally many moons ago jumped on board to play guitar and backing vocals on Coochy Coochy from Ray's 15th album The Grifter's Hymnal.

Starr video director Brent Carpenter caught Hubbard live in Los Angeles and burned a copy of Snake Farm for Ringo.

"Ringo apparently really liked it - I still haven't quite figured out why or for what reason - and mentioned it on his website," Hubbard revealed. "He mentioned a Beatles reissue, a Jerry Lee Lewis record, the new Bob Dylan, and me. So that was really kind of fun."

Starr's publicist gave A. Enlightenment B. Endarkenment (Hint: There Is No C) to Jimmy Fallon that led to Hubbard playing on Late Night with Jimmy Fallon in 2010.

Starr invited Hubbard to perform at the same 70th birthday gig featuring a surprise appearance from Paul McCartney.

Long time Austin resident-former Small Faces pianist Ian McLagen adds Anglo cross fertilisation on Hen House - with Small Faces-Fleetwood Mac imagery for a fox among the roosters and chickens.

Not quite fellow latter day Texan Tom Russell's Gallo De Cielo - saga of another fighting cock.

McLagen also guests on South Of The River - where a James Gang gets a workout (that's Joe Walsh's James Gang), not the outlaws.
OLD MOTHER HUBBARD BLUES

"For 40 years I just carried around an old Gold Top guitar/ but love and fate are mysterious things in this funky old world/ it was 20 years ago I ended up marrying that Mother Blues door girl/ we had us a boy, he's 18 years old now/ he's playing guitar/ he ended up with that Les Paul Gold Top, yes he did/ now I don't know if he's gonna hang his life on it or not/
But I'm very grateful for the time I get to share the stage with him." - Mother Blues - Ray Wylie Hubbard.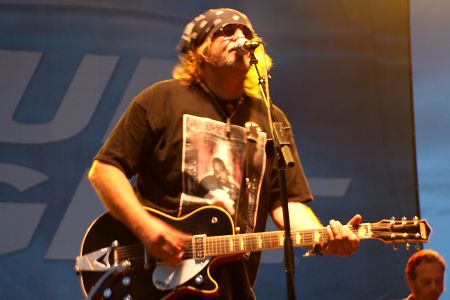 Photo by Carol Taylor
Hubbard's hymnal reaches deep and wide and also features his marathon spousal eulogy Mother Blues.

Not only does Hubbard reveal in graphic detail his resurrection by Judy - it also pays a touching tribute to teenage son Lucas who plays guitar on Coricidin Bottle, Red Badge of Courage and Mother Blues.

It's not just any guitar but a Les Paul Gold Top that decamped with Ray's former stripper lover from Dallas club Mother Blues where Judy was door girl at 16.

The guitar boomeranged so Lucas also played on two songs on Hubbard's previous album.

"It kind of comes where he'll go in spurts," Ray says of Lucas, "where he's really into guitar and then he's really into Halo and then he's really into building a Mustang. He's all over the map. But I like the way he plays. Hanging around and learning from the guys I play with, such great guitar players that play the song rather than the lick, he's really taking after them."

The new album includes another flirtation with the devil and Bible in Ask God, Lazarus and New Year's Eve at the Gates of Hell.

"At least we ain't Lazarus and had to think twice about dying."

Well, that sounds like the story of Ray Wylie Hubbard.