DAVE'S DIARY - 30 MAY 2010 - EMILY ROBISON INTERVIEW
THE SON STILL SHINES
"I've got something to say, I'm scared and so afraid/can you take me as I am/ come what may, our blood is still the same/I am still your little man." Ain't No Son - Emily Robison-Martie McGuire.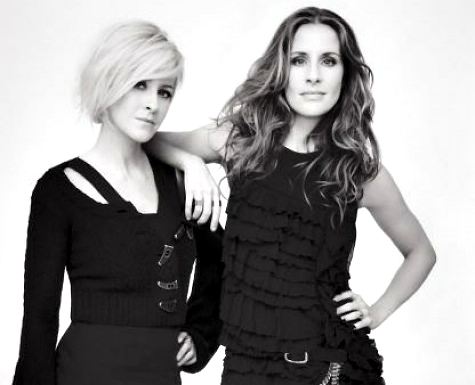 When Emily Robison was watching a TV documentary on boys evicted from home because they were gay it sowed the seeds of a strident social comment song.

The Dixie Chicks co-founder and Court Yard Hounds singer's epistle had a long incubation but soon sprouted legs on release.

It became a reality rooted incendiary device on Robison and sister Martie McGuire's self-titled Columbia album Court Yard Hounds.

"Ain't No Son started about two and a half years ago, just with the riff," Robison told Nu Country TV in a phone call from New York City.

"I saw this documentary on these boys being kicked out of their homes. I tapped into that story that tapped into the back of my mind for that song. They were American children.

The initial riff and line - ain't no son of mine - I kept in my catalogue of ideas for 18 months until Martie and I finished it for this album. You can never plan these things for such a topical thing. It's the only social commentary song on this album."

Robison, 37, and Maguire, 40, recorded their disc in a lengthy hiatus from the Dixie Chicks - the super group they founded in 1989.

Emily and Martie, then the Erwin sisters, were born in Massachusetts.

They formed teenage Texan bluegrass quartet Bluenight Express with Laura Lynch and Robyn Lynn Macy and graduated from busking on Dallas street corners to county fairs and festivals.

The quartet morphed into Dixie Chicks and released three indie albums - now true collectors' items.

That was before Laura and Robyn decamped and Natalie Maines joined for fourth album Wide Open Spaces in 1998.

The Court Yard Hounds plan an Australian spring tour - a sequel to their previous visits as The Dixie Chicks.
CHELY WRIGHT
"All boys should be boys/ that's how it should be/ yeah, you ain't comin' home/ nah, you ain't comin' home." - Ain't No Son - Emily Robison.
Ain't No Son may be the only social commentary on this album but the release timing was perfect.

On the eve of our interview fellow chart topping country singer Chely Wright outed herself in a U.S. People Magazine and a brace of TV interviews.

Wright was promoting seventh album Lifted Off The Ground (Painted Red/Vanguard) - her second produced by Texan born Rodney Crowell.

The singer, born Richell Rene Wright in Kansas City, Missouri, was also launching her new book Like Me: Confessions of a Heartland Country Singer" (Pantheon).
Wright, now 39, is best known for her hits Single White Female and Shut Up And Drive and acting in Disney movie Max Keeble's Big Move.
Ironically, she reportedly had a romantic relationship with fellow chart topper Brad Paisley.

They recorded a duet Hard To Be A Husband, Hard To Be A Wife for the 75th anniversary of The Grand Ole Opry.

So when the albums by the Court Yard Hounds and Wright were released on the same day it was a publicist's dream.

Especially when Wright was touted as the first U.S. female country artist to out herself - K D Lang is Canadian.

But Garth Brooks' sister Betsy Smittle, who toured Australia with him to in 1994 to promote her solo album Rough Around The Edges, beat Chely out of the chute by almost 20 years.

Brooks wrote his song We Shall Be Free about his bassist sister.

So Emily - former singing spouse of Texan singer-songwriter Charlie Robison - was happy to divert the heat.

"We ended up today in an article about that very thing with Chely," the multi-instrumentalist revealed.

"Sadly, it's an ongoing topic all the time here. I don't see why it's so controversial myself. I guess it's a very divisive subject. Chely was reticent about coming out. I have only met her a few times. I don't know her personally so it's hard to comment on people you don't really know. I would think it would be a tough thing to do and I give her a lot of credit for that - for being herself."
THE GULF OF MEXICO
"I'm gonna head down to the coast/where nothing seems to matter/you know I love it there the most/when every piece of my world gets scattered." - The Coast - Emily Robison
Although Robison lived at Bandera with Charlie during their nine-year marriage she has written two new songs inspired by different Texas geography.

The duo's first single The Coast is a descendant of sorts of fellow Texan Guy Clark's classic fishing tale The Gulf Coast Of Texas.

And it was written well before the recent oil spill further east in the Gulf off neighbouring Louisiana.

"It's so depressing right now, I hope to God this new remedy they have starting today is going to help that," Robison said.
"It does seem strange to have a song out called The Coast in the middle of all this going on. It's hundreds of miles from Texas but it takes time and is going to affect everybody, that whole area, people making a living from fishing. When the wildlife is not there they won't have a job."

But for Robison the song had a vastly different source.

"It's about the phenomenon of people in South Texas when - on spring break or the weekend - they say, 'I'm going down to the coast,'" Robison explained.

"It's our coast at the Gulf. It just seems like a destination for a lot of people hanging out. A lot of my friends go down there - my ex took me down there a lot with the kids. The song came fairly quickly to me. I woke up one morning and I heard the melody in my head, and I went and wrote it about an hour - very not like me. It usually takes me a few weeks to finish a song. That one's not about me, it's about somebody else, but I do spend time down there. People from Austin and San Antonio go to Port Aransas or Rockport, and it's just a different world with a little slower pace, where everyone goes fishing."

SAN ANTONE SKYLINE
"I just look at the skyline/ a million lights are lookin' back at me/ and when they shine I see a place I know I'll find some peace / I just look at the skyline." - Skyline - Emily Robison-Martin Strayer.
Skyline was inspired more by Emily's new digs than the split with Charlie.

"I live in a loft downtown," Robison says of sprawling city of San Antone where old Davy Crockett beat a hasty retreat from The Alamo.

"The view out my window is all of the lights downtown. It's where I spend a lot of time alone thinking and writing. It inspired that one."

And it was climate - not ruptured romance - that sourced her duet with Bob Dylan's son Jakob on See You In The Spring.

Robison plays the role of a Texan belle and Dylan a Chicago chappie.
"No, it was not a comment on my divorce from Charlie," Robison said. It's more of an interesting notion being from San Antonio - how hot it gets there. What if I met someone who couldn't put up with this Texas heat - the whole idea a relationship could be hampered by where someone lives in this country. It was an interesting idea for a song - not about my relationship. I usually have to get out of Texas in late July and August for that reason. I know I couldn't stand the winter in Chicago."
APRIL'S LOVE
"All the years I've gone through my life/ taking the fall just to make it alright/ a time and place, never could erase the day we met." - April's Love - Emily Robison-Martin Strayer
Robison likes to keep interviewers and fans guessing about which songs emerged from the ashes of her marriage.

"April's Love is probably the most autobiographical of everything here," Robison said.

"We were married about nine years from 1999. I can't remember the exact tally. I'm trying to move on. Our careers were completely separate. We never really wrote songs together, never did much music together. I can remember only one song in our whole relationship. We never did anything with that - we really kept it separate."

So Emily was not the inspiration or co-writer for Charlie's song You're Not The Best But You're The Best I Can Do?

"No, that was all him," she quipped.

Ironically, Charlie's brother Bruce - singing spouse of Kelly Willis - wrote Travellin' Soldier (the Dixie Chicks hit soaring charts until Natalie Maines told an on stage inconvenient truth in London about then Texan based president George Dubya Bush.)

But the singer admitted she and sister Martie wrote You Were Mine from the Dixie Chicks 1998 album Wide Open Spaces.

"You Were Mine was about my parents divorce and it was the first foray into opening the doors into our personal life, I guess you could say. When you're writing you're just trying to find something universal that touches on a lot of people's experiences. Unfortunately divorce is one of those common things that people share so I didn't really steal it. Whether it be You Were Mine or the songs on this album I don't really think it's a peek into my personal life as such - it's more a universal theme."
THEN AGAIN
"He'd drive a mint green van and watch the Mexicans scatter/ be the first to admit he thought it was funny as hell/ now he's taken to flippin' off hippies at the river/ yeah, I never really liked him but I would never tell." - Then Again - Emily Robison.
Robison thrives on drawing from her rich life for songs - especially the therapy benefits.

"Then Again, that's pretty autobiographical too," Robison admitted.

"I took a lot of my experiences with people I had met before and boiled them down in a certain way that made me feel my true personality as to not wanting conflict. It's a song just about how it took me a while to stand up for myself in certain situations. Martie knows how true that song is about me. They used to call me Miss Congeniality when I growing up because I didn't want any trouble, have any drama. That song's about how I avoid those things."

Robison also avoided conflict with her sister when she had the choice of pitching her new songs to other artists or sharing them with Martie.

"Martie's exact words were "don't pitch this or I'll kill you" in her email to me," Robison confessed before they recorded in Martie's Austin home studio.

"I said 'OK' - she thought I would be hawking the family jewels if I did that so she was a big cheer leader for doing something ourselves. It was a bonus recording in her home studio.

When you don't have to worry about the clock ticking it gives you a lot more time to experiment. It gave us a lot of time to work out what exactly this thing was without having to answer a lot of questions which was nice."
CITY OF THIEVES
"All I heard was the sound of the freedom bells ringin'/And I bet you thought I would be breakin' down." - It Didn't Make a Sound - Emily Robison-Martin Strayer.
The duo took its name from The Courtyard Hound - a novel within the 2008 David Benioff novel City of Thieves.

The sisters liked the passage about how talent is "fanatical mistress" who "bangs on your door at odd hours and disappears for long stretches."

Courtyard Hound became Court Yard Hounds because Robison thought the three initials would look better as a logo as the letters CH are also the beginning of Chicks.

The Court Yard Hounds had almost 30 songs to choose from when they produced their album with Jim Scott in Maguire's HEK home studio in Austin.

Robison is the lead singer and writer on every song except divorce tune Gracefully that twice wed Maguire wrote and sang.

Emily plays banjo, dobro, pump organ, acoustic, electric and resonator guitars and Martie contributes fiddle, viola and mandolin.

"We had written about 30 songs and found it hard to whittle it down to 12," Robison recalled.

"We had 18 songs we went into studio with - we finished 14 and left two for bonus tracks and different things so they'll be out there in one form or another. It was hard to pick and choose."

What was the fate of Let the Caged Bird Sing and Well Behaved that they sang at the SXSW festival in Austin in March?

"Well Behaved is a bonus track," Robison revealed. "I can't remember the name of the other song after a long day in New York. It wasn't Caged Bird."

Recording in Austin also meant a different team of session musicians.

"There was just one musician from our previous albums," Robison said.

"Audley Freed the guitar player from last tour. We tried to pull a lot of players from the Austin area. We used a bass player named George Reif and a drummer from Austin - J.J. Johnson."
LLOYD MAINES
So what about Lloyd Maines who was listed as mandolin, steel guitar and dobro player in the liner notes?

"Lloyd is an exception, he produced Home," she quipped.

"We knew Lloyd before we knew Natalie - he was a mentor of ours. He introduced us to Natalie obviously. We knew him for years and years. It's not the same if we don't have Lloyd doing something. He either produces it or come in and help us."

Maguire has also been working on another solo project.

"Martie thought she would put out her Martie fiddle album before this one but she put it on the backburner," Robison explained.
"She has more details to fill on that album. She thinks she will put it out eventually but she's not quite done with it yet."
AUSTRALIAN TOUR
Robison and Maguire have toured here twice with The Dixie Chicks but this time it will be as the Court Yard Hounds.

"Yes, we do have plans to Australia this year, they're not in stone," she confessed.

"We have a time blocked out on our calendar. I might be speaking out of turn but it's some time in the fall (our spring) we plan to be over there. I don't know if it's just promotion or there will be shows as well - as soon as we finish this summer run as the Court Yard Hounds. We're also doing a short but sweet tour as the Dixie Chicks. We're doing eight days in June with The Eagles & Keith Urban. When The Eagles call you can't say no. It's too much fun. It's definitely something that will get Natalie out of the house and garden. She said hell, yeah, we're really looking forward to it, getting back together and playing shows.


That's one of the nice perks of having shows and being established like that so you can say yes to things you really want to do. It should be fun."

So will Emily return to the masseuse in South Yarra who gave her an unusual version of the décolletage during one of the Dixie Chicks tours?

"I remember that one," Emily quipped. "I told that story the other day - we have a different definition of décolletage than you do. You know you live and you learn."

CLICK HERE for previous interviews with The Dixie Chicks in the Diary