DAVE'S DIARY - 25 SEPTEMBER 2006 - DIXIE CHICKS CD REVIEW
DIXIE CHICKS
TAKING THE LONG WAY (OPEN WIDE-SONY-BMG)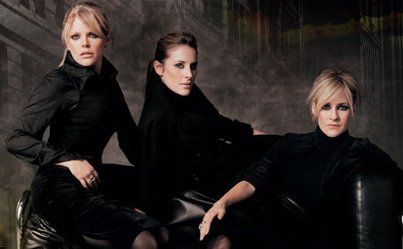 Dixie Chicks singer Natalie Maines nails bucolic bigots to a crass cross in her self deprecatory Lubbock Or Leave It on the trio's belated seventh disc.

Maines parodies the buckle of the West Texas Bible belt akin to Shel Silverstein's Rough On The Living in her parable about locals' posthumous passion for Buddy Holly after contempt in his short life.

The Lubbockian daubs her dust bowl font with "more churches than trees" on a "crucifix skyline" as she likens herself to the long deceased legend.

"I hear they hate me now/just like they hated you/maybe when I'm dead and gone/I'm gonna get a statue too."

Maines self-immolation, driven by co-writer Emily Robison's banjo and Mike Campbell's guitar, is a sibling of vitriolic single Not Ready To Make Nice and equally defiant entrée The Long Way Around.

The latter could be a splinter from Malvina Reynolds' historic Little Boxes.

"My friends from high school/married their high school boyfriends/moved into houses in the same ZIP code where their parents live/but I could never follow."

Ironically the trio topped charts with Bruce Robison's evocative Travellin Soldier in 2003 before Maines planted seeds in London for the Bush backlash on radio and beyond.

Merle Haggard, Willie Nelson and Kristofferson had long been dumped from ageist radio when they cut far more vitriolic anti-war songs.

It matters little in the unlucky radio country where this Rick Rubin produced 14-track tome is banned for genre not content.

Despite that they hit #2 on debut on ARIA charts by flying into surrogate radio - commercial, Pay, ABC and community TV - with a video for the single.

Equally accessible is angst charged Easy Silence, celebrity perils in Everybody Knows, infertility borne So Hard and optimistic gospel finale I Hope.

The trio tackle diverse shades of love in joyous Baby, Hold On, Motown flavoured I Like It, nostalgia drenched Favourite Year and obligatory family eulogy Lullaby.
Voice Inside My Head finds a married mother recalling giving up child in her wild youth - Silent House, penned with Neil Finn, examines an empty house abandoned by an Alzheimer's victim.

Although Rubin reduced country instrumentation of organic producer Lloyd Maines he hasn't reduced the trio's harmonies to pop pap or grunge offal.

Hopefully, Dennis Franz of Goodbye Earl and peers will be reprised for videos for Lubbock And Leave It and industry parody Bitter End.

"We all rode the wave of that crazy parade/oh where'd you go, what happened to the ones we knew/as long as I'm the shiniest star, oh there you are."

A jubilant return.