DAVE'S DIARY - 11/8/2014 - PREVIEW OF EPISODE 11 - SERIES 23
MAVERICKS AND OLD CROWS FLY ON NU COUNTRY TV
Roots country bands The Mavericks and Old Crow Medicine Show headline Nu Country TV this Thursday August 14 at 10.30 pm on Channel 31, Digital 44.
Californian born surfing cowboy Gary Allan also returns the eve of his October tour with The Mavericks and Blackjack Billy on the show repeated Monday 5.30 am and 2.30 pm and Thursday 2.30 am.
Neal McCoy, who first toured here with Charley Pride 30 years ago, debuts on the show filmed and edited by Laith Graham.
Tennessean star Kenny Chesney also returns with his latest video and Lara born troubadour Dan Waters makes his debut.
Nu Country TV is a highlight of the C 31 streaming list on Digital 44.
Just follow this link on your computer or mobile phone - http://www.c31.org.au/program/view/program/nu-country-tv
MAVERICKS PLAY HOUSE MUSIC – JAMES HOUSE
The Mavericks perform the video for their recent hit Born To Be Blue from their seventh album In Time.
Singer Raul Malo wrote it with James House who was on last week's show.
They play St Kilda Palais on October 1 with Gary Allan and Blackjack Billy.
Singer Raul Malo, who cut six solo albums in the Mavericks' decade long hiatus after six studio discs and two live albums between 1991 and 2003, also owes a debt to Glen Campbell.
They also honoured Campbell on the eve of their third Australian tour with a live version of a John Hartford gem.
Gentle On My Mind won Grammys for both the late bluegrass singer and Arkansas born star Glen Campbell in 1968.
Hartford wrote it after seeing the Doctor Zhivago movie
The song earned him huge royalties as theme for Glen's long running TV show
It was covered by 300 other artists including Dean Martin, Patti Page, Elvis, Roger Miller, Aretha Franklin, Johnny Cash, Andy and Lucinda Williams
"Somebody told me the other day that when they listen to the new record, it takes them somewhere that they may not necessarily have ever been, but it feels so familiar in so many ways," Malo, now 48, says of In Time .
"And to me that's a beautiful compliment. Because my favourite music I think does that. It transports us somewhere and it makes us feel like we've been there even though perhaps we never have. And if you can make people feel that with your music, I think that's a mission accomplished. I can't sit here and say 'Well, I think it'll tear your heart out.' I just hope it resonates with people."
CLICK HERE for our feature on the Mavericks album In Time in The Diary on February 27, 2013
BOB DYLAN BOOMERANG FOR MEDICINE SHOW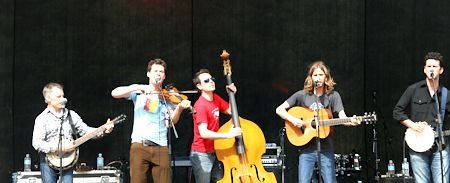 Photo by Carol Taylor
Revered string band Old Crow Medicine Show revive another uncut Bob Dylan gem Sweet Amarillo from their sixth album Remedy set for Australian release in 2014.
The former buskers previously scored with Wagon Wheel - another Dylan song they revamped before it became a #1 hit for Darius Rucker.
"We got an email from Bob Dylan's manager saying congratulations right around the time Darius Rucker had a No. 1 single with Wagon Wheel ," band fiddler Ketch Secor revealed.
"It's not every day that country music recognizes this great pioneer and huge influence, Bob Dylan. Bob doesn't have many No. 1 songs in any genres. So it was a big deal to get one.
"Bob realised that and sent us a note, and a couple of weeks later, he sent a demo and said, "Here's a song that I never really finished. It was recorded a few days after Rock Me Mama . Give it a try. We'd like the boys, the Old Crows to give it whirl."
"It's quite amazing to me. Bob very much cleaned out his dresser drawer and found a scrap and said 'Here, try this.' Just to hear that is the stuff that dreams are made of. I couldn't even write a script. The audience wouldn't believe it. "Oh, yeah, then Bob Dylan called and said, 'OK, finish this song now.'"
"So I finished the song with Old Crow, and we sent it back to Bob and he said, 'Hey, that sounds great, but I think Ketch should play the fiddle, not the harmonica, and I think the chorus needs to come in at the eighth bar, not the 16th.' We did exactly what Bob said, and it's like the song sprouted wings and flew."
Old Crow Medicine Show played the 2009 CMC Rocks The Snowys festival and The Forum on their debut Australian tour.
CLICK HERE for a CD Review of their previous album Tennessee Pusher in The Diary on August 14, 2012.
GARY ALLAN SIPS ON WHISKEY IN CHURCH
Californian surfing cowboy Gary Allan worships whiskey in a Nashville church in a video released on Black Friday - November 29, 2013.

The thrice singer filmed his video at the Downtown Presbyterian Church Nashville - a historic landmark resembling a Confederate hospital for the clip.

It Ain't The Whiskey is on Gary 's ninth album Set You Free released long after his bout of Australian tours over the past 25 years.

It captures the deep suffering Allan is so skilled at conveying - his third wife Angela Herzberg committed suicide with a single gunshot wound just after midnight on October 25, 2004.

Texan born Angela pulled the fatal trigger but the ricochet fuelled morose songs by latter day Nashville widower Gary, now 46 and father of six children.
In It Ain't The Whiskey the singer questions his character's attendance at a meeting to address the source of his inner torment.
The song was written by Greg Barnhill, Jim Daddario and the wryly named Cole Deggs.
CLICK HERE for a Gary Allan CD Review in the Diary on February 8, 2013.
CLICK HERE for our Membership page to win Set You Free .
CHESNEY MAGICAL MYSTERY TOUR
Tennessee superstar Kenny Chesney drives his hippie bus through the desert with a vast cast in his video for American Kids on his 15th album The Big Revival.
Chesney, 46, took some expat Aussie kids on his bus with him during their Music City invasion.
Caboolture cold Keith Urban stayed on to be an equally in demand star and Novocastrian Catherine Britt returned here to host ABC Saturday Night Country and record local albums and tour.
When Chesney eventually tours here he will have more memories of Australia .
He has a pair of cowboy boots given to him by former President George Dubya Bush when Kenny serenaded John Howard at the White House.
That was May 16, 2006 - the same night the Texan served barramundi to his Australian Prime Minister VIP guest.
Chesney's black eel skin boots, replete with black calf top and black eel in-lays and also sporting twin U.S-Australian flags, were designed and made by Houston boot-maker Rocky Carroll.
Chesney hopes to follow co-writer David Lee Murphy - a four time Australian tourist - and perform here early next year.
Kenny recovered from marriage on the rocks with actress Rene Zelweger to enjoy life in the surf like recent tourists Jimmy Buffett and Zac Brown.
CLICK HERE for a Chesney feature in the Diary on May 20, 2013.
NEAL – THE REAL MCCOY
Texan Neal McCoy emulates the dance steps of his joyous choral cast on his video for Can You Do This is on his 12 TH album in a recording career that began in 1990.

McCoy, now 56, first toured here as a sideman and singer with fellow Texan Charley Pride whose band he joined in 1981 as opening act and guest singer until 1990.

Neal, born Hubert Neal McGaughey Jr, in Jacksonville - same home town as Lee Ann Womack - is of mixed Irish and Filipino descent.

The father of two wed wife Melinda in 1981 and has released ten studio albums and 34 singles.
The former shoe salesman and university graduate debuted on Billboard in 1988 but didn't reach Top 40 until 1992 with Where Forever Begins followed by #1 hits No Doubt About It and Wink from his platinum disc No Doubt About It .
He has since had two more platinum albums and a gold album and six more Top Ten hits.
His seventh Top Ten hit Billy's Got His Beer Goggles On was on his 2005 album That's Life.
In 2012 McCoy released Pride: A Tribute to Charley Pride on Slate Creek Records , under the production of Garth Fundis.
The album features Darius Rucker, Trace Adkins and Raul Malo of The Mavericks .
McCoy and Pride filmed a video for Kawliga , co-written and originally recorded by Hank Williams before Pride covered it in 1969.
Further info - http://www.nealmccoy.com/
DAN WATERS FLOWED FROM LARA
Lara born troubadour Dan Waters exorcised guilt and shame with some feisty females in his latest video clip Guilt & Shame.

The singing teacher, 38, summoned the ghost of John Lennon by candle light.

It's one of the highlights of Waters album La Vita Bella.

Waters was one of the Victorian support acts on the first Australian tour by former Mississippi boxing champ Paul Thorn.
Waters did his time in the beer and wine mines of the Carolinas, Nashville , Texas and beyond after leaving suburbia.
That journey included a long sojourn at Pawlyes Island in South Carolina.
"I still live there some times," says Waters who has hung his hat here in Geelong , Bendigo , Melbourne and U.K. seaside town Brighton, "it's as much home for me as Australia and the people are just as quirky."
CLICK HERE for a Waters CD review in The Diary.
HOW TO KEEP NU COUNTRY ON AIR
We need your support as we celebrate our 23rd series of Nu Country TV.
Australian record companies and artists have joined forces to ensure our survival.
We have new CDS by major artists you can win by becoming a Nu Country TV member or renewing your membership.
They include singing actors Willie Nelson and Tim McGraw, Voice judge Blake Shelton, Ashley Monroe, Brad Paisley, Gary Allan, Toby Keith, Dierks Bentley, Eric Church, Carrie Underwood, Chris Young, Charley Pride, Slim Dusty, Rosanne Cash and more.
We also have the latest John Denver all-star tribute album and DVDS by Lady Antebellum.