DAVE'S DIARY - 11 AUGUST 2014 - DAN WATERS CD REVIEW
2014 CD REVIEW
DAN WATERS
LA VITA E'BELLA (CRYSTAL RADIO-FUSE).
WATERS RUNS FREE OVER COUNTRY ROOTS
"Well blatantly she stared at him as he maintained the perfect grin/ she found the tonic for her gin/ well tears were never good for mixing in." - Guilt and Shame - Dan Waters.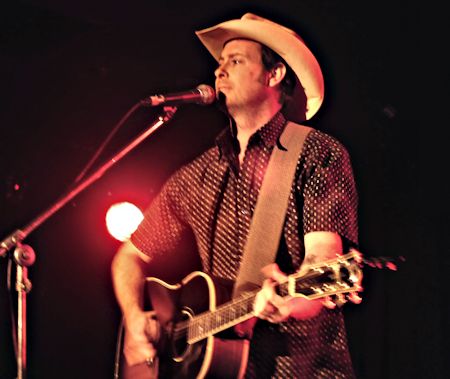 Dan Waters at Northcote Social Club
It's no surprise Dan Waters was one of the Victorian support acts on the Aussie tour by former Mississippi boxing champ Paul Thorn.
The Lara born musician pulls no punches on this roots country disc that owes more to Texans Hayes Carll and Billy Joe Shaver than Thorn.
Waters, now 38, did his time in the beer and wine mines of the Carolinas, Nashville, Texas and beyond after leaving concrete corrals in Melbourne suburbia.
That journey included a long sojourn at Pawlyes Island in South Carolina
"I still live there some times," says Waters who has hung his hat here in Geelong, Bendigo, Melbourne and U.K. seaside town Brighton, "it's as much home for me as Australia and the people are just as quirky."
The singer's entrée Till The Evening Is Through , with not so discreet dope references, is a salient signpost to a trip through the twilight zone of temptation, redemption and resurrection.
Waters dispenses with sins of smoking and womanizing in paternal paean Chloe - and unbridled lust in a topless Chevrolet coastal cruise in the loping jog of Marla.
But hedonism hits hurdles in the bluesy jail lament Didn't Mean To Hurt No-One where the smack fuelled character inflicts domestic violence in view of the victim's children.
Don't get the impression Waters anti-hero character is in retreat - especially the son of a "war vet with grey and ginger hair who slides down the banisters like a cowboy Fred Astaire" and boomerangs to voyeuristic imitations with an exhibitionist Eve in the steamy Heat Of December.
OK you get the picture.
Waters also finds a pistol whipped victim aka Todd Snider in The Optimist and a woman who doesn't mix tears and gin in an Irish bar in the shadows of the Dakota apartments in Guilt And Shame.
This writer won't spoil the military punch-line but it's a sibling of rocking cheating song Sally (Jo).
THE PAWN SHOP
"Hey dude that's my heart you have for sale/ well I gave it to a chick years ago, she was sick/ she must have pawned it to you I suppose/ but I don't know what she did with the dough/ she must have needed it more than her God given soul." - The Pawn Shop - Dan Waters.
Waters is a melancholic maestro of sardonic splendor as he dissects the junkie jezebel in his wasted wench refrain The Pawn Shop .

But the highlight here may be the sax laced Drunken Angel where the lachrymose lava flows, like, ah Waters, into the bitter regretful finale The Things You Do .

The production by another Dawson - Mark - and subdued guitar and harmonica playing of Waters with banjo, viola, dobro and pedal steel cameos ensures it's a rich and trusty tributary far from the mainstream.

Waters hooked up with Dawson of Wagons and cut the disc with fellow Wagons wheels Chad Mason and Si Francis, Goodall, The Nymphs and pedal steel guitarist Seamus O'Sullivan.
So what happens when Waters is not on the road again?
"I've had a lot of different jobs, some professional, others confessional," the singer quipped.
"At the moment, music is bringing home the bacon, albeit in thin rations. If I had to choose another profession I'd do one of those jobs where no-one really knows what you do but you make a lot of money and don't talk much about it. I'm half way there already, just need the making lots of money part."
So who are his major influences?
"I heard Todd Snider say once that if you can pack up all your stuff and leave town within 15 minutes - and if you live the kind of life were that you have to leave town every now and then, you'll always be writing good songs." Waters joked in an interview with Beat .
"It takes a lot of discipline to keep your life screwed up to the point of inspiration."
And those are the words of a world weary traveller.
"I'm a late bloomer, I didn't start performing seriously until I was thirty," says Waters.
"I use to write songs to try to pick up chicks when I was younger. They never seemed to work. Then I started writing songs about how my songs didn't get girls. They did seem to work. Since then, it's been country folk music for me."