DAVE'S DIARY - 20 MAY 2013 - KENNY CHESNEY FEATURE
CHESNEY - BOOTS OFF ON THE ROCK
"Some say we're the land of misfit toys/ an insane mix of girls and boys/ nothing really changes, like a stretch of sand time forgot/ that's just living, that's just living." - Life On A Rock - Kenny Chesney.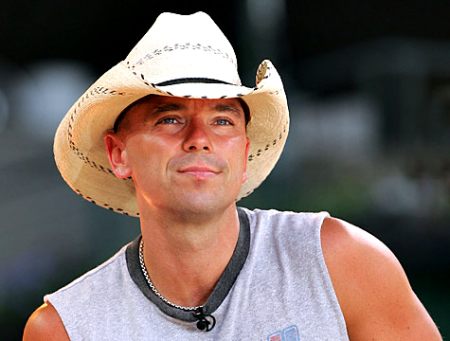 When Tennessee superstar Kenny Chesney kicks back and writes songs on beaches he's unlikely to be wearing the boots given to him by former President George Dubya Bush when Kenny serenaded John Howard at the White House.

That was May 16, 2006 - the same night the Texan served barramundi to his Australian Prime Minister VIP guest.

Chesney's black eel skin boots, replete with black calf top and black eel in-lays and also sporting twin U.S-Australian flags, were designed and made by Houston boot-maker Rocky Carroll.

Although expat Australasian superstar Keith Urban and thespian spouse Nicole Kidman also dined with the President that night they did not perform.

Maybe Chesney, 46, and repeatedly borrowing writing themes from four time Australian tourist and singing sailor Jimmy Buffett, could wear them when he belatedly tours Australia next year.

Chesney has perfected his Gulf & Western sound on his 15th album Life On A Rock as he joins Buffett's Coral Reefer band guitarist-recent touring partner Mac McAnally for one new tune Must Be Something I Missed.

It's a wry examination of need with the couplet: "I wake up in the morning just making a fist / I don't call it living, I just exist."

It's a flavour Chesney injected more than a decade ago on No Shoes, No Shirt, No Problems in 2002 with similar success later shared by recent Georgian tourist and fellow Grammy winner Zac Brown.

Album titles reflecting his seaworthy sound include When the Sun Goes Down, Be as You Are (Songs from an Old Blue Chair), The Road and the Radio, Just Who I Am: Poets & Pirates, Lucky Old Sun, Hemingway's Whiskey and Welcome to the Fishbowl.

Chesney owns a 60 Sea Ray yacht and has a home in the U.S. Virgin Islands.

He spends time in the Caribbean where he wed actress Renée Zellweger in a ceremony on the island of St. John on May 9, 2005.

They met in January at a tsunami relief event but on September 15 the same year, after only four months of marriage it sank in an annulment.

Despite that personal trauma Chesney boomeranged to success and shares a pro-active passion for sport with Australians.

He produced and narrated biographical film, The Color Orange, on favorite football player - University of Tennessee quarterback and Canadian Football League hall-of-fame Condredge Holloway.

The film was produced for ESPN's Year of the Quarterback series and premiered on February 20, 2011.

His charity work includes working with the V Foundation, founded by North Carolina State Wolfpack basketball coach Jim Valvano, to help to find a cure for cancer.

Chesney is a regular performer at Farm Aid - founded by duet partner Willie Nelson, Neil Young and John Mellencamp - to keep family farms from foreclosure.

Chesney performed at Farm Aid in 2005, 2008, 2010 and 2012 and donates his talent, time and travel expenses.
PIRATE FLAG
"Well, I come from a little bitty, homegrown small town/ Smoky Mountains, nice play to hang around / moonshine, that's where they make it/ pit it in a jug, makes you wanna get naked." - Pirate Flag - Ross Copperman-David Lee Murphy.
But let's examine the sweet solace Chesney found in his musical paradise since that ruptured romance was exorcised long ago on other albums.
Chesney wrote or co-wrote eight of the 10 songs here including reflective It's That Time of Day - direct descendant of Buffett-Alan Jackson hit It's 5 0'clock Somewhere.

This time he kicks off with latest hit Pirate Flag, penned by Russ Copperman and David Lee Murphy whose fourth Australian tour included CMC Rocks The Hunter festival in March.

The tune, whose embryo was in the moonshining mountains of Chesney's native east Tennessee, is a joyous journey to a beach where the recipient of the note in a bottle is, of course, a "long legged model" that the character woos on a sail boat with a pirate flag.
A far more idyllic locale and tale than perhaps where bloodthirsty ransom seeking 21st century pirates operate off the African coast.

"It's one of the two songs on the record that I didn't write, but I could've," Chesney revealed recently.

"It was almost like Ross Copperman and David Lee Murphy wrote that song specifically for me because it does tell my journey in a lot of ways. I think we all have this idea that we're overwhelmed. Life has its way of throwing some worry and stress and anxiety and it can be a mundane existence. You got your teachers, you got your boss, you got your lovers, you got this, that. And I think people raise their pirate flag in a lot of different ways. Me, mine is just basically on a boat. Other people may go to the golf course, or they may go to NASCAR or whatever, but they still have that one thing that they lean on to get them away from all that. And that's the whole idea behind Pirate Flag."

Chesney delves deeply into the lives and loves of the characters he meets in his travels.

"It's even more personal, I think, than the Be As You Are record," Chesney explained of the 2005 album also known as Songs From A Blue Chair.

"The stories are more colourful, the characters are a little more colourful. The first song I wrote on Life on a Rock, I wrote in 2006, and I wrote the last one at the end of last year.

So this record was made over time and, in a way, that's unlike how we're conditioned to make records. Like, a lot of times we go, "OK, it's 18 months after the last one, so now we're gonna put out a new record." This record wasn't made like that. For a lot of the songs, I literally pulled a legal pad out of my backpack and wrote down just stories, trying to paint a picture. I wrote a lot of these songs without music, without a timeline, without a deadline, without expectations, with just the idea of trying to be a storyteller. Just simple songs and simple reflections about my life, my friends' lives, their stories and all these great characters. For that reason, Life on a Rock is very personal."

Writing for a deadline is something Chesney has juggled since his 1994 debut disc In My Wildest Dreams was released on Capricorn Records but stalled after the label closed its country division.

It was déjà vu all over again in June, 2012, when his long time label BNA Records closed - Chesney was transferred to Columbia Nashville.

"I didn't ever know that this was gonna be a record at all," Chesney explained.

"I thought the only people that were gonna hear these songs were the people I wrote them about. We'd all sit around going, "Ha, isn't that funny." But, the more I thought about it, the more I realized that even though they are really personal songs, they're still universal emotionally. And I feel like I've gotten better at being truthful with the people that have invested a lot of their life into my life and into my music and letting them see inside this a little bit."
LINDY - A BLOKE NOT A BELLE
"He plays piano at the church when nobody's watching/ takes cigarettes from strangers and sometimes/ you see him talking to himself, laughing to himself/ Lindy strolls around and around." - Lindy - Kenny Chesney.
Like a good journalist, Chesney studies his subjects from a safe distance, before he tackles them.

Lindy is an acoustic shuffle that embroiders a thumbnail portrait of its homeless character who strolls around town "picking up pennies."

"Yeah, Lindy was a unique individual," Chesney recalled.
"He was a person that I never had a conversation with, and I don't know that many people that did. He was just a person on the island. Just one of the brushstrokes that could give a place heart and charm.

And he was an example of really look into his eyes and look past a dirty shirt, and you can find a really good person. One night I was walking past this church on my way home, and I heard somebody in there playing piano.

I walked up the steps, and there was Lindy.

I was there for a couple of minutes and realized, as different as our life is, here was a person alone with his thoughts and his music. And I realized that Lindy and I had a lot more in common that I could've ever imagined. And I went home that night and pulled out my notepad and sat on the porch and started writing the song Lindy. That was in 2006, and that's where this album, Life on a Rock, was born."
And that character is depicted graphically in song - "Lindy's seen it all, storms and hurricanes/ Some say he's insane/ No one knows his last name/ But I believe he's the salt of the earth/ Just look past his dirty shirt and you will see just what he's worth."

The title track was equally realistic.

"We all live life on a big rock, right?," Chesney says.

"But for me, this song describes a lot of things I've gotten used to, the way I've gotten used to living since 1998, 1997, something like that. It was interesting for me to learn that people live that kind of lifestyle. I think it takes a unique individual to live there all the time. That's why I was drawn to those people so much because they live the kind of life I craved so much, because I was a 180 away from that. I think if you can do that it adds years to your life, there's no doubt about it."
SHOTGUN WILLIE
"Way up high in a coconut tree/ laying low, just my baby and me/ sunny skies as a far as I can see/ high up in a coconut tree." - Coconut Tree - Casey Beathard-Michael White-Monty Criswell.
Chesney didn't write Coconut Tree - the song he performs as a duet with octogenarian Farm Aid altruist, Shotgun Willie Nelson.

Willie was born at Abbott in the shadows of the recent fertilizer plant explosion at West but he spends enough time in his movie town Luck and Hawaii holiday home to soak beachside bliss of the theme.

"You know, my life on the road - and sometimes my life off the road - can be insanely complicated," says Chesney.
"I'm just busy. I've got a lot going. Coconut Tree is a very simple song and a very simple lyric, but it kind of exemplifies how I'd like to look through a certain window of the world.

And Willie inspires all of us in a lot of ways. The simplicity of Willie is what really inspires me. I had the opportunity to spend some time with him out in Hawaii this past December, and we sat around a poker table for a couple of hours and just listened to music and laughed, told jokes. I heard this song, and it almost defines that day. The idea of the world being as simple as just climbing up a coconut tree and having fun."

Equally accessible is Marley - not about late Rastafarian reggae king Bob.

But Chesney utilizes talents of Marley's surviving Wailers including Jewish singer Elan Atias on gospel-reggae hybrid Spread The Love.

Responsibility is the key message of Marley.

"I mean, anytime you're responsible for a lot of people, there's a certain knife of responsibility that comes along with that, and you feel that. I try not to think about that too much," Chesney revealed.

"But along with that knife of responsibility, I do feel like this song is more about the contrast of my life and how hard that I do work but also in how much I appreciate the fact that I have music in my life and that I can share it with so many people. The fact that how hard we work makes so many people smile and happy. But this song basically describes where I go in my heart and in my head and how I try to get away from all that where I'm away from all the sounds from being on the road and the knife of responsibility, or I can literally sit and listen to music and be still. I'm telling you, when you're planning constantly and you're working and everything that you do associated with your work is ahead, you're constantly planning in our business. It's really hard to live in the moment when you're constantly looking forward. It's hard to sleep at night. So, that's where the idea of Marley came from."
SONG FOR VIRGIN ISLANDS GIRL
"I hope time can be our healer/ maybe time can be a friend/ still I'm a strong believer/ someday we'll see you again/ where the sun is on our faces and the wind is at our back/ sailing south to favourite places where the water's calm and flat." - Happy On the Hey Now (Song For Kristi.) - Kenny Chesney.
Generic bars, dance halls and honkytonks often fertilize chart chaff but some are more specific like the source of When I See This Bar.

"There is, and I think we all have that place," Chesney says of his song source.

"You had your group of friends, you fell in love at that place, you fell out of love at that place, you met a lot of really interesting people and, over time, you don't realize that it's becoming a really important spot in your life. And then life has a way of taking each one of you and moving you along, and you don't really notice at the time, but all of a sudden, you're just not there anymore. And that's the root of this song. I think when we see that bar or we see that place, we don't see four walls. We see the laughter, we see the faces, we hear the music. I had this bar that I had my first beer in college at and I had my last beer in college at with the same group of friends. And every time I go to that town and every time I drive past it, I think about those people."

Chesney finishes his album with another powerful paean.

"Well, Kristi was a part of a really special, wonderful circle of friends that I had met in the Virgin Islands years ago," Chesney revealed.

"In a lot of ways, she defined that circle of friends. She defined living in the moment. She wanted everybody to be happy. When someone like that passes, when they die young, I don't care who you are or what you do, it stops you in your tracks. It did me. I mean, it changed me. It changed the way I write songs. And things I used to get mad at, I don't get mad at that much anymore. I think it changed the way I look at my relationships. If you've got somebody in your life that you love, you better tell 'em, you know? So this song is a simple reflection of her friendship and how much she meant to people and how big of an impact she made on my life. She never knew, but this song was a simple thank you to her."

Chesney confessed writing is a trusty tool for chronicling eras in his life with therapeutic bonuses.

"I think that it's really easy to let those life moments that inspire you evaporate into thin air, and you never revisit them again," says Chesney.

"I was able, over time, to actually catch some of those moments and write about them."