DAVE'S DIARY - 23 FEBRUARY 2013 - THE MAVERICKS CD FEATURE
2013 CD FEATURE
THE MAVERICKS
IN TIME (VALORY-UNIVERSAL)

"If someone were to read my history/ they would know why it's no mystery/ she's not ordinary, it's her life I carry/ I was born, born to be blue." - Born To Be Blue - Raul Malo-James House.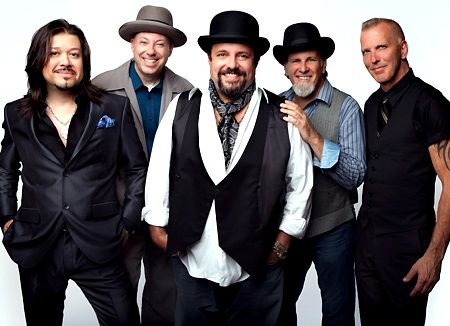 The Mavericks broke the mainstream mould playing South Florida rock clubs in the late '80s.

"I remember us doing shows with Marilyn Manson," says singer Raul Malo. "That's no lie. We looked out into the audience, and it's all these Goth kids in black hair and makeup and lunchboxes. And we're going, 'What the fuck is this? Where are we playing?'

Malo, a Miami born singer with Cuban ancestry, has many vivid memories.

"In those days whenever we'd see a crowd like that, we'd really do the hard-core country stuff, the real twangy stuff. It was a set full of Hank Williams ballads. We had sort of a country-punk reputation going around. People didn't know quite what to make of us. Really not unlike - we discovered later - Jason and the Scorchers, although Jason was always a bit more rockin' than we were."

The Scorchers committed to taking the twang-punk outsider path.

Malo and his crew - including bassist Robert Reynolds and drummer Paul Deakin - shot for a mainstream country deal and headline this year's Gympie Muster in August on their debut Australian tour.

Other dates may be announced.

How Tony Brown signed them to MCA at their first Nashville performance has grown to mythic proportions over the years.

Malo, now 47, recalled that night at the Exit/In.

"We had gotten to sound-check and Tony Brown was there, along with a couple of other executives. But also lurking outside was the great white shark fellow producer and former Brown mentor Jimmy Bowen.

Tony Brown was not about to be outdone by Jimmy Bowen again. I think he signed us just to make sure that Bowen wouldn't sign us. I think that's probably a more honest account of how that happened. But that's OK. I'll let people run with it however they want."

The Mavericks were a hip country band playing emotional, classically entertaining music with a singer who earned Roy Orbison comparisons.

They scored gold and platinum albums during a decade dominated by rock and pop divas.

"I was probably one of the un-hippest kids in school," Malo says of his formative years.

"My friends were listening to whatever the hell they were listening to, and I was holding on strong to Frank Sinatra and Elvis Presley and Hank Williams, all the stuff my parents and grandparents were listening to. My friends always used to tease me: 'Oh, you just listen to what your parents listen to.' 'Yeah. It's better shit than what you're listening to. You're listening to Flock of Seagulls.' "

Like Sinatra with his supper club crooning, The Mavericks found that their evolving blend of pining pop balladry, Latin heat and throwback country-rock appealed especially to women.

"Certainly we have a strong female following, there's no doubt," Malo says. "We love it. There's nothing wrong with that. We always sang to girls. My idea early on was not to sing to a bunch of guys. If I wanted to do that, I'd have joined Rush."

The Mavericks spent most of the past decade apart during which time Malo teamed up with other bands and made six solo albums.

The core trio of the group - Malo, Reynolds, and Paul Deakin - has been around since the group's formation in Miami in the late '80s.

Keyboard player Jerry Dale McFadden long an unofficial Maverick has been officially drafted into the group. The relative newcomer is lead guitarist Eddie Perez, who came aboard during a brief group reunion in 2003 after parting ways at the end of the '90s.

He toured Australia as Dwight Yoakam's guitarist in a post-Pete Anderson era.

The Mavericks broke up after release of the 2003 album went unnoticed.

Their musical gumbo of country, Tex Mex and pop on such albums as What a Crying Shame and Music for All Occasions scored Top 40 country hits and a 1996 Grammy as Best Country Duo or Group.

"Everybody was so burnt out toward the end, and I think it just started to feel like we were phoning it in," Malo says.

But old memories are potent. "Toward the end of my last solo record I felt myself going, 'I wish the Mavericks were doing this song' because, man, this sounds like a Mavericks cut."

They're still not playing it cool but expanded their romantic ardour and rhythmic muscle.

Says Malo, "We throw a little saying around 'Pretend you're a bullfighter and you've got a flower in your mouth.' That's how you've gotta play your solo, that's how you've gotta do your show, that's how you've gotta sing your songs. That's the emotion you want to convey. It's old, it's corny, but it's how we feel."

The new Mavericks album was released on Big Machine imprint Valory by Scott Borchetta, whose time at MCA overlapped with theirs.

"Scott Borchetta was instrumental in the Mavericks' career early on when he was head of promotion for Universal so we'd always had a great relationship," says Malo.

"He was the one who quite frankly put us on the map, because when the Mavericks got on radio that changed everything. And so now, at this point in time, with him running his own label and having undoubtedly some of the greatest success stories in recent times, it was very fortuitous of us to be still friends with him. I went to see him to see if he'd be interested in a Mavericks record, and he was so passionate about it that he just wasn't going to let us go anywhere else. So when he agreed to do it, at that point, I actually did get nervous, because I only had one or two songs written!"

Borchetta is enthusiastic about getting to work with the band again.

"When Raul came to see me last fall," Borchetta recalls, "he said 'Do you realise that next year is the 20-year anniversary of our first MCA album?' And I was like oh my God I couldn't believe it. He said they were thinking about maybe recording, and if they did, was I interested? We went in and recorded in February, and it was brilliant. The music came together so fast. It was putting the train right back on the track. It may be their best record."

Is it for good this time?

"You know, I never expected them to get back together," Borchetta said. "So it's a really special moment, and whether they are together for this record or they decide to try to tag on another 10 years, it's really up to them. But the four of them, with the additional band members, there's nothing like it. I think all of us fans are just thrilled that they made another record and are going to tour. There's not a better band anywhere."

CALL ME WHEN YOU GET BACK TO HEAVEN
"I never thought that, that it was possible/ to find another woman, one like you/ I must surrender to what's probable/ and realise for now we're through/ at night guitars will softly play for us/ while angels beckon us to pray/ in heaven this is undeniable/ we'll be together one fine day." - Call Me When You Get Back To Heaven - Raul Malo.
Call Me When You Get to Heaven surges and builds and repeats its catch-phrase so effectively it's reminiscent of Stevie Wonder's Another Star - an eight-minute song he used to close his 1976 classic Songs in the Key of Life.

The hypnotic album closer is an epic featuring backup vocals of The McCrary Sisters. Raul's haunted voice ignites an ever-increasing musical frenzy and powerful finale to an album bursting with passion and celebrating life with each note and establishes The Mavericks original sound.
Malo sprung the composition on his band mates during sessions for In Time in Nashville last year.

"It's one of those I had it in my head how I wanted it to come out. I wanted the tension," he said in a telephone interview. "I didn't tell the band we'd build to this Ravel Bolero sort of thing. We recorded it all live. The only overdub was the backing singers, and the whole track is performance. That's when I felt the band I knew was going to be really tight and play as a band."
Malo put out six solo albums and collaborated on a song with Neil Diamond for the Brooklyn icon's Tennessee Moon album in 1996.

"I've met and gotten to work with a lot of great people, but when you meet Neil Diamond, you know you're meeting Neil Diamond," Malo added.

"A few years after that I was making my Today record, and we were in L.A., and I was with my Cuban band, and these guys are some of the top musicians. They played with everybody, and they are less than impressed with anything.

Raul co-produced the 13 new songs with Niko Bolas (Neil Young, Melissa Etheridge).

They cover a broad musical spectrum including rockabilly As Long As There's Tonight, nostalgic '60s pop That's Not My Name and Afro-Caribbean shake Dance In The Moonlight. Neil walked into the studio to say hello those guys were so impressed," Malo said.

In Time embraces influences diverse as pop crooner Dean Martin, country traditionalist Ray Price, tangos and polkas to the Ravel Bolero nod with renewed energy.

Growing up in multicultural Miami accounts greatly for the Mavericks old-fashioned style, which In Time embodies and amplifies.

"I have this forever-etched vision in my head of the Fontainebleau in the '60s and what that would have been like. I didn't quite get to experience it, a born too late sort of thing, but I was this close to it, and I think that sort of vibe and sense of it resonated with me as a young man and that was the music I gravitated to - the cars, the suits, the look," Malo says.

Raul's richly expressive voice echoes Roy Orbison's potent loneliness that tugs at country heartstrings.

While the band buzzes with immediacy and electric urgency, Raul's presence steadies overall performance. Over an aggressive and odd time signature on Lies that runs like an audio assault, Raul drops words and melodies with eerie calm before a low-end guitar solo rattles the track.

On Fall Apart a quick number with a Latin flourish he displays uncanny ability to move within established melodies to stretch meaning into feeling.

Raul haunts the slow, sad waltz, Forgive Me, as he draws regret with delicate precision, singing, "I should've listened, but I turned away instead."

In forlorn barroom ballad In Another's Arms loneliness is a key element but often The Mavericks emit life and energy.

Album entree Back In Your Arms Again uses shakers and mariachi horns with infectious back beat to draw listeners out on the dance floor.

All Over Again follows a similar up-tempo, dance formula while Raul sings "it seems you never get tired of breaking my heart," before a twang-heavy guitar solo dives in. The album first single Born To Be Blue released last year, features retro pop percussion and loose, open sound while lyrics detail helpless desire.

AMSTERDAM MOON

"Ever since the world began/ she's been there to lend a hand/ from Galileo to Van Gogh/ she'd shine her light to let us know/ to stand before her once again/ for she's a wise and kind old friend/ she's always there to see us through." - Amsterdam Moon - Raul Malo.
The contrasts are often effective, like on Amsterdam Moon that hides scars and jealousy underneath a moonlight serenade fully equipped with accordion.

In Time features spaghetti western track Come Unto Me in English and Spanish versions.

That's the best thing," admits Malo,

"We have all felt this at some point throughout the years, with the people coming up to us and really wanting to know when we were gonna get back together - or, really, the complaints of 'Why aren't you guys back together?' I honestly felt that that would die down after a while.
And to all our surprises, it never really died down. After a while, you kind of have to step back and go, 'Well, man, maybe we do need to put this together.' So all those years of people nagging us about getting the Mavericks back together, I guess it worked." Democracy in action!

"But should I be worried?" asks bassist Robert Reynolds. "Someone came up last night asking when Raul was gonna do a solo record again." At this, the entire band cracks up.

"I don't think any one of us thought a year ago that we would be here," says Malo. That's the short version of how quickly this all came about.

Last year key members of the band met up to discuss a tour, and then talk of an album quickly ensued, with recording plans coming to fruition in early 2012.

"I really think that when we first talked and it was just going to be a tour, that might have been purely nostalgic. And I feared that, actually," admits Reynolds. "I was so glad that we were talking, though, and I was glad we were even thinking about a tour, because a tour could at least put us in a room together again, so we could restore some old friendships and see what was meant to be. But by the first dinner, Raul played me a song that he just had on his phone that he had written, and I listened through some beat up old headphones as Raul said 'This is kinda where this first song is' The minute we did a record - or even the intention of a record - to me, that erased this being purely nostalgic. And the band signs to one of the most progressive labels - if not the most progressive label in any genre of music in any city in the world - in our backyard in Nashville, the Big Machine label group. So it's up to us to have relevance in this new era. And if we have any luck at all, if we're doing our job, we will be relevant."

As a country-rock hybrid with eclectic roots in everything from Roy Orbison to Tex-Mex, the Mavericks might seem an odd fit for commercially motivated and straight-ahead country label Big Machine.

Asked about what's different about making and releasing records now than their '90s heyday, Malo says label hands-off approach when they went in the studio.

"You have all sorts of alternative marketing and Internet marketing and all that stuff, but at the end of the day, it still comes down to a song," he says. "And luckily we're at a label that recognizes that. Back then, you had a lot more people kind of chiming in as to what would work here, what would not work there - a little bit more 'by committee' kind of style. We were left to our own devices, and I think that in itself is different."

Big Machine didn't put pressure on to come up with a big country single if they were going to sign a group as left-of-musical-centre as this one. But the label hadn't heard the material when they approved an album. Neither had most of the band members, for that matter.

"We didn't have demos, we didn't have work tapes," recalls Malo. "Nobody had heard the songs. And I kind of wanted it that way. I thought that'd be a more organic approach to making a record. Instead of trying to emulate demos and work tapes, we just kind of went in, and we'd sit around like this, and I'd play a song on the guitar, and we'd go in and record it. Ironically, it's the most band-oriented record that we've ever made, I think. We really had an amazing time making this record. And the fact that Scott and the label signed off on this without really hearing any music is a testament to I don't know what-either that he's crazy or we're crazy.

But I think we all knew deep down in our hearts that this was going to be fun and special for all involved."

Will it fit in with the country radio of the 2010s?

"I think if we have luck at radio, and it's showing good signs of that now, it'll be because there was a Mavericks sound in the '90s and there could be a fond feeling for that," says Reynolds. "We've progressed and are not stuck in the past. But there is a little Maverick jangle in the single that sort of is harkening to Crying Shame and Here Comes the Rain type of stuff. The label guys have let us know, 'Look, it's not going to be just a climb to the summit. We're gonna work for this thing.' But we're glad to be there mixed in with all that stuff at radio): there's pop country and neo-traditionalists, while the Eric Churches and the Aldeans have that rowdy thing, and here's the Mavericks jangling along with a sound that is all their own. So we're ready to mix it up."
Malo also owes a debt to Glen Campbell.

"I think part of it at least for me is just that - that it's not something that people would normally hear us play," Malo says. "That to me makes it a perfect candidate for us to play! And at the end of the day, it's a beautiful song. It's one of my favourite songs that really turned me on as a kid to country music. And of course Glen Campbell is one of our heroes."

"Somebody told me the other day that when they listen to the new record, it takes them somewhere that they may not necessarily have ever been, but it feels so familiar in so many ways. And to me that's a beautiful compliment. Because my favourite music I think does that. It transports us somewhere and it makes us feel like we've been there even though perhaps we never have. And if you can make people feel that with your music, I think that's a mission accomplished. I can't sit here and say 'Well, I think it'll tear your heart out.' I just hope it resonates with people."

Malo spent most of his non-Mavericks years focusing on balladry showcasing his operatic-level chops in a major way. Now he is back with a bunch of guys who are all playing as loud as he sings.

"I realised a long time ago that I love singing all kinds of music," Malo says. "To me it doesn't matter if it's a ballad or whatever. I go with what I feel like doing at the time. And after doing a bunch of solo stuff that showcased the vocals or perhaps a softer, mellower side, this is what I feel like doing now. I'm enjoying every minute of this. I'm proud of the record we just made, and I'm proud of playing music with my musical brothers again. It feels natural and easy and fun."

The Mavericks haven't gone out on a proper reunion tour but made high-profile appearances at the CMA Festival and California's Stagecoach.

2010 CD REVIEW
RAUL MALO
SINNERS & SAINTS (Fantasy).
When Mavericks singer Raul Malo cut his sixth solo album he teamed with a fellow refugee from the country mainstream.

Malo and Rick Trevino co-wrote Matter Much To You and Better Off in Texas on these loping Latin-Tex Mex nuptials.

The latter song also features Texas Tornados organist Augie Meyers and western swing maestro Ray Benson as guest vocalist.

Raul and Rick's return to musical roots is a salient signpost to soulful splendour of this sleeper mixed at Benson's Bismeaux studio in Austin.

Malo and major co-writer Alan Miller's tunes San Antonio Baby and Superstar are also fuelled by the Meyers magic first exposed on Doug Sahm's infectious country-pop discs and featuring Sahm's guitarist son Shawn.
The singer revels in multi-instrumental dexterity - drums, organ, guitar, requinto, ukulele, mellotron and omnichord - on Los Lobos tune Saint Behind The Glass and Mrs Brown, penned with Miller and bassist Jay Weaver.

Malo builds an inter-generational bridge by using the Trishas - a quartet featuring Kevin Welch's daughter Savannah - on Living For Today and Staying Here.

The singer injects social comment into the former, already on fire with its memorable hook.

And then there is Steve Fishell's pedal steel guitar on the Rodney Crowell hit Til I Gain Control Again.

This is rooted in the Miami raised musician's Cuban ancestry mixed with a hefty dose of Tejas rhythms propelled by accordionist Michael Guerra, known for work with Tex-Mex Experience.

OK that's the history and personnel - what about the finished product?

Well, Malo has few equals as a vocalist in roots music and delivers these songs with such passion and panache he deserves the mainstream airplay denied here and overseas.

Best Tracks: Living For Today and San Antonio Baby.
If You Dig These You'll Dig This: The Mavericks entire back catalogue.
In A Word: Malo is truly one of the great vocalists of our times.