DAVE'S DIARY - 30/3/14 - PREVIEW OF EPISODE 5 - SERIES 22
REALITY SHOW JUDGES HEADLINE NU COUNTRY TV
Expatriate Australasian superstar Keith Urban and fellow TV talent show judge-mentor Blake Shelton headline Nu Country TV Thursday April 3 at 10.30 pm on Channel 31.

Alabama outlaw Jamey Johnson also performs a homage to late Texan country king George Jones at a special 80th birthday celebration in Behind Bars.

Singing actor Dean Miller returns to the show, filmed and edited by Laith Graham, and repeated Monday at 5.30 am and 2.30 pm.

And former Sydney school teacher Luke O'Shea returns with a special tribute to unsung daughters of the soil with a little help from Henry Lawson.

Nu Country TV has been added to the C 31 streaming list.
Just follow this link on your computer or mobile phone - http://www.c31.org.au/program/view/program/nu-country-tv
KEITH URBAN DRIVES COP CAR METAPHOR
Keith Urban returns with a video about stalled wheels on Cop Car - third single from his ninth album Fuse.

Urban enlisted director John Urbano, who worked with Justin Timberlake, One Direction and Simon Cowell.

"How visual is that song?" Urban 46 and father of two daughters, said of the video replete with police car sirens stimulating young love?

"You don't need a video. It will be heartbreaking to have to do one because it is so visual."

Urban revealed details about the song source.

"I was amazed that there's always a new way to say something," Urban said.
"I so know that guy and that psycho-crazy chick, and I can see that image so clearly. I laughed my ass off, and I loved that song.

It's such a great melody and such a damn cool song. I'm so happy we got that song."
Urban also performed Cop Car at the Grammy Awards with Gary Clark, Jr.
But the song's co-writer Sam Hunt made a startling allegation on social media.

The story is based on facts from Hunt's own life, but he refuses to go into too many details.

"I sort of tweaked a few parts," Hunt admitted, "but the basis is the same. I won't go into it too much, short of inspired by some events that happened to me a few years ago in Alabama."

Hunt released his version of Cop Car on his Between the Pines album.

His songwriting credits include Kenny Chesney song Come Over and Billy Currington's We Are Tonight.

Keith plays Rod Laver Arena on June 25.

CLICK HERE for an Urban interview in The Diary on December 13, 2010.
BLAKE SHELTON TRIGGERS PISTOL ANNIES
Oklahoma star Blake Shelton enlisted singing spouse Miranda Lambert and her Pistol Annies to fire up his video for Boys Round Here.

The Annies, also featuring Ashley Monroe & Angaleena Presley, added vocals and glamour to the song from Shelton's eighth album Based On a True Story.

Shelton's videogenic treatment features some brothers in high wheels and gals in high heels.

Blake, now 37, has also made a Valentine's Day video for Doing What She Likes featuring him talking on the phone to second wife Miranda, 30, offering to make her dinner.

CLICK HERE for a Shelton CD Review in The Diary on May 5, 2013.
CLICK HERE for a Shelton interview in The Diary on February 21, 2011.
CLICK HERE to win Shelton's new CD on our Membership Page.
JAMEY JOHNSON TRAPS POSSUM BEHIND BARS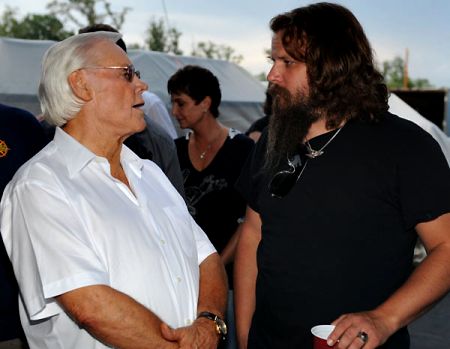 Jamey Johnson is a prolific singer-songwriter but also holds the torch for late heroes.

First Jamey, 39, joined Hank Williams Jr and Shooter Jennings for a tribute to Shooter's late dad Waylon.

Then he released tribute disc Living For A Song to the late Mississippi born songwriter Hank Cochran who died at 74 on July 15, 2010.

Now, he features in a video homage to the late Texan legend George Jones at his 80th birthday show at the Grand Ole Opry.

George and fourth wife Nancy were in the audience when Johnson sang Tennessee Whiskey and Who's Gonna Fill Their Shoes?

Jones died on April 26 last year at 81.

He outlived former singing spouse Tammy Wynette who died at 55 in 1998.

They divorced in 1975 and The Possum spent his final 21 years with Nancy.

But Georgette Jones - singing daughter of George and Tammy - recently won a belated battle to have her mum's name Virginia Wynette Pugh added to her tombstone, replacing widower's name Richardson.

CLICK HERE for a Jamey Johnson feature in the Diary on December 13, 2011.
CLICK HERE for Jamey's Hank Cochran CD review in the Diary on November 4, 2012.

DEAN MILLER'S TALE
Dean Miller - son of the late legend Roger - recruited Texan icon Kris Kristofferson to join him in his comeback video.
Miller was inspired by former Golden Gloves boxer and Rhodes Scholar Kris to write Till You Stop Getting Up - title track of Dean's fourth album.

They used an historic poster of another 70s boxing champ Jack Kelly.

Miller was born in Los Angeles and raised in Santa Fe, New Mexico, by mum Leah - second of Roger's three wives.

Dean, now 48, is one of seven children of Roger who died at 58 in 1992.
He pursued acting before writing hits for others.

Dean appeared with Robert Redford and the late James Gandolfino in The Last Castle.

Miller visited Australia on songwriting sojourns and was once engaged to Altona Meadows singer and writing partner Renee Stewart.

Kristofferson, suffering amnesia, plays St Kilda Palais on April 8 during a tour that also covers Geelong, Shepparton and Albury.

CLICK HERE for a Miller interview in the Diary on November 4, 2005.
CLICK HERE for a Kristofferson interview in The Diary on May 19, 2006.

LUKE O'SHEA HONOURS DROVER'S WIFE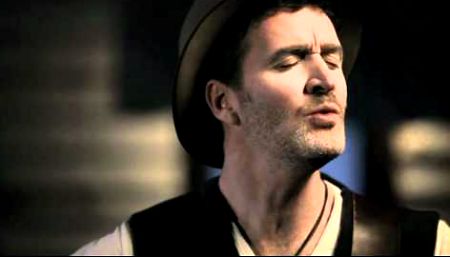 Sydney singer-songwriter Luke O'Shea performs in a tribute song and video to unsung heroes in our sunburnt country.

Drover's Wife - adapted from a Henry Lawson poem - is on Luke's fifth album Sing You Up that he launched at the seventh CMC Rocks The Hunter festival.

The video was shot by Duncan Toombs and features Lauren Fleming and Brayden Emms.

It's dedicated to many rural women left behind with the tough job - raising kids while their husbands work away for long periods.

Another O'Shea song Lady of the Land won him two 2014 Golden Guitars for APRA and Heritage songs.

Luke, raised in Sutherland Shire, debuted on Nu Country in 2003 at long defunct Buck N Bull in Tottenham and Armadale Hotel in our first series.

O'Shea, discovered on ABC TV show Live At The Basement, appeared during a Victorian tour to build on national TV and community radio exposure.

We later captured him live at Gympie Muster.

CLICK HERE for an O'Shea CD review in the Diary on March 3, 2010.
HOW TO KEEP NU COUNTRY ON AIR
We need your support as we celebrate our 22nd series of Nu Country TV.

Australian record companies and artists have joined forces to ensure our survival.
We have new CDS by major artists you can win by becoming a Nu Country TV member or renewing your membership.

They include singing actors Willie Nelson and Tim McGraw, Voice judge Blake Shelton, Ashley Monroe, Brad Paisley, Gary Allan, Toby Keith, Dierks Bentley, Eric Church, Carrie Underwood, Chris Young, Charley Pride, Slim Dusty, Eli Young Band, Rosanne Cash and more.

We also have the latest John Denver all-star tribute album and DVDS by Lady Antebellum.

CLICK HERE for our Membership Page for full details.