DAVE'S DIARY - 4 NOVEMBER 2005 - DEAN MILLER INTERVIEW
MILLER - DEAN OF PLATINUM
"I can't carry a tune in a roomful of buckets but I've learned to judge like a pro/I'm the Siskel and Ebert of Haggard and Jones and I make up the things I don't know." - Music Executive - Dean Miller.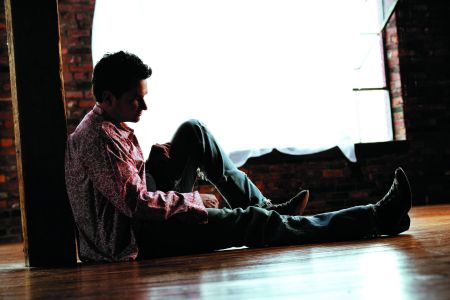 When singing actor Dean Miller named his third album Platinum and chose vitriolic parody Music Executive as its finale he had no idea life would imitate his art.

Miller's tune parodies the puffed up princes of hype and hedonism who live on the edge.
The edge of their credit cards as they parade on the parapets of broken promises and dreams.

Corporate bosses closed the Nashville division of Miller's record company on the eve of interviews to promote the disc in Australia.

"It's pretty ironic," Miller, 40, told Nu Country TV in an interview from Nashville.

"I hope I didn't jinx it. People say that song has got be an exaggeration. I say no, every bit of that song is true. It happens every day."

The Nashville division of Koch bit the corporate dust and Miller joined Robert Earl Keen, Dale Watson, Hacienda Brothers, Daryle Singletary, Jerry Douglas, Tractors and the late Johnny Paycheck's recent compilation in purgatory.

Canadian label Row Entertainment bought Koch and, like many corporate bullfrogs, slaughtered the not so golden goose.

The country division began life as Audium and released discs by Dwight Yoakam, Charlie Daniels, Cletus D Judd and Kentucky Headhunters.

But the only hit unleashed was Illinois born country star David Lee Murphy #5 tune Loco from fourth album Trying To Get There.

Murphy, returning here for Tamworth in 2006, survived between labels like Miller by writing hits for peers and hitting the international road.

Koch Nashville boss Nick Hunter started Audium with Dixie Chicks manager Jerry Renshaw and gave Miller creative freedom for Platinum.

Miller says he met no resistance when he proposed his title to Koch and wrote nine of 11 songs on a disc that he produced solo.

"I just basically said to them, 'For once in my life, I'm determined to have a platinum album.'"

HARD LOVE AND LUCK

"I drank up all my whiskey and I run off all my friends/ I make every bad decision I'm a man that I can't stand." - Hard Love - Dean Miller.
Although Koch didn't release a single to radio he still scored airplay from above.

"Satellite radio picked it up a lot," Miller revealed of an album promoted without the marketing tool of mainstream radio.

"We didn't go to radio with a single. I know it sounds strange but we did a video for the lead off track Hard Love for CMT. We filmed the clip in New York City. It was shot all over place - Times Square and Radio City Music Hall. We had a ball. There is a female lead in the video. She does a lot of standing around looking beautiful which I know is a challenge. She would like to be known as an actress and a model but not so far."
Miller's Australian record company Shock is servicing the video to Pay-TV channel CMC and Nu Country TV.

And, unlike Miller's last movie role with Robert Redford and Sopranos star and CMA awards presenter James Gandolfino in The Last Castle, he is the focus.

"I played a prison guard but most of my performance was edited out," Miller quipped.

"If you get the DVD of it you can look at me in the deleted scenes."

Miller, born in Santa Fe, New Mexico, chose acting as his profession when he left for Hollywood at 17.

"I did a lot of movies and stage plays including Shakespeare with some different roles but acting was never satisfying to me," Miller says of an eight-year thespian tryst.
"Music was much more satisfying and fulfilling. I had been writing since I was a kid. But I didn't think I was very good compared with my father who was well known. It was very hard to step up behind him."

So Miller and a couple of friends formed The Sarcastic Hillbillies, and began playing shortly after Steve Earle hit Guitar Town.
GEORGE JONES

Ironically, Miller didn't just follow in his famous dad's slipstream - he joined him as a writer with songs recorded by the legendary George Jones.

Jones scored a Top 20 hit with Roger Miller tune Big Harlan Taylor in 1962 and cut Dean Miller-Mark Collie song Ain't Love A Lot Like That for his comeback disc Cold Hard Truth
37 years later in 1999.

"That was a pretty cool thing," says Miller who played down his genetics on arrival in Nashville in 1990.

"I got a publishing deal four months after I got there. I was very fortunate but I didn't get first song cut for a couple of years. It was Shawn Camp. I wrote with him."

Camp, some time fiddle player for Georgian superstar Alan Jackson, recorded two of his collaborations with Miller on his self titled debut disc.They were Man, What A Woman and Turn Loose Off My Pride.

Miller's music has a tougher edge than Camp and some recipients of his songs.

Although his songs hit for acts diverse as Trace Adkins, James House, Chris Knight and Terri Clark he's equally proud of a posthumous pairing with dad on the latest disc by Mark Chesnutt, 42, who hails from near Jones East Texas hometown Beaumont.
MARK CHESNUTT
"Last year we both had a cut on a Mark Chesnutt album," Miller revealed.

"Mark recorded my song What Are We Doing In Love and dad's song You Can't Do Me This Way."

The songs are on Chesnutt's 10th album Savin' The Honky Tonk in 2004 for indie label Vivaton.

Also included are Billy Joe Shaver classic Honky Tonk Heroes and Kevin Fowler tune Beer, Bait & Ammo.

Although Miller wrote 10 of 11 songs on his self titled 1997 debut disc and nine on Platinum he drew deep from his father's well for his little known 1966 hit I've Been A Long Time Leavin (But I'll Be A Long Time Gone.)


Mark Chesnutt
Dean, one of seven children from his dad's three marriages, was just four months old when it was first a hit.


"My dad used to do it very rarely in his shows," Miller recalled of his sire who died at 56 from cancer in 1992.

"And I just loved it so much. I would beg him and beg him to do it. He would say, 'Oh, it's too much work.' It's hard to sing, obviously. So finally when I had the chance, I said, 'I'm gonna cut it.'"

NOWHERE U.S.A.

"They call me hayseed country boy/ but what I am I can't avoid/ my hometown streets are part of me/ the city limit signs are back to back/ we ain't even a dot on rhe map." - Nowhere U.S.A. - Dean Miller.
Miller clocked up more than 245 songs during five years at Sony Tree and Blue Water Publishing.

His development deal at Jimmy Bowen era Liberty in 1995 morphed into a Capitol album in 1997.

Miller's disc, produced by Travis Tritt champion Gregg Brown, ignited three singles
Nowhere, U.S.A., My Heart's Broke Down But My Mind's Made Up and Wake Up And Smell The Whiskey.

Miller wrote four songs with fellow New Mexico raised singer-songwriter Stacy Dean Campbell who toured Australia in 1993 with Texan troubadour Hugh Moffatt - elder brother of fellow tourist Katy.
Mavericks singer Raoul Malo guested on Nowhere U.S.A and Trisha Yearwood sang on Dreams.

But Miller, unlike Keith Urban, didn't survive Capitol's pre-occupation with Trisha's latter day fiancee - Garth Brooks mania.

So Dean walked the plank to Universal South where he released two singles Love Is A Game and The Gun Ain't Loaded But I Am.

Tony Brown, Brent Maher and Richard Bennett produced the stillborn album Just Me but lack of major airplay and sales found the disc, like some of Dean's acting roles, on the cutting room floor.

"I hit the big time but I bounced right off," Miller says of his flirtation with fame and hiatus before releasing Platinum for Audium-Koch.
WHISKEY WINGS
Hard Love, reminiscent of the tough country of late Waylon Jennings, was a natural to use video as its vehicle.

And, of course, the whiskey theme permeated from it to Whiskey Wings and Coming Back To You.

"I wrote Whiskey Wings with Eric Church - a new artist on Capitol," Miller said.

He's a brilliant songwriter. I'm very proud of him. With Coming Back To You I wanted to write a song with whiskey being a woman. As we know a lot of people have a relationship with alcohol - a not too healthy kind of interaction."

So what about Whiskey Valentine - penned with prolific fellow Australian tourist Jim Lauderdale?

"Where are you finding all these songs?," Miller joked.

"That song has been recorded several times in other countries. It's a very traditional country song."

Miller says his penchant for drinking songs is no reflection of him being whiskey bent and hell bound.

"Some of these songs I've lived, and some of them I haven't," Dean admitted.

"I've not ever been an alcoholic - that I know of - but I've sure known some. So I can tell you that I've at least been around everything that's in the songs."

Miller's catalogue also includes songs in movies Black Dog and The Cowboy Way.

"Yes, I have a healthy income stream from writing to see me through the lean times," says Miller. There are a lot of songs out of there."

Quite a few were written with artists diverse as Rick Price, Melinda Schneider, Adam Brand, Felicity and Brooke McClymont on his Australian tours.

Miller wrote This Is Life with Felicity for her fourth CD New Shadow, re-released for her Victorian tour in November.

WALK AWAY RENEE - INTO ALTONA MEADOWS
So how many of Miller's songs were inspired by jogs along the jagged edges of his oft broken heart.

"I was at one time engaged to someone from Melbourne," Miller confessed.

"I spent a lot of time in Melbourne."

Was she a singer, I pondered aloud?

"Yes."

Perhaps Renee Stewart from Altona Meadows?

"It's amazing you can remember that," Miller queried.

"We were engaged for about a year so I was over there a lot. I wrote with Rick Price both in Sydney and Melbourne."
What about Renee - one time partner of Brownlow medallist Shane Woewodin, now looking for new digs after stints with Melbourne and Sydney?
"We wrote a little," he confessed about the singer who scored national airplay with her single Kiss And Tell.
CATHERINE BRITT
Miller has frequently suffered the flip side of fame and understands the blood, sweat and tears necessary for young artists - especially Australians - to break in the U.S. Latter day expatriate Australasian superstar Keith Urban endured pregnant pauses as he cut his debut U.S. disc with The Ranch three times with diverse producers before it hit the radio and stores.

Fellow expatriates Sherrie Austin and Jamie O'Neal hit hurdles despite topping charts on their first albums.

Quorn born Jedd Hughes released debut U.S. disc Transcontinental to wide acclaim and works in the band of another Kentucky Coalminers Daughter Patty Loveless to keep wolves from his door between gigs with his own band.

Catherine Britt
And Newcastle novitiate Catherine Britt cracked the U.S. Top 40 with The Upside Of Being Down and her duet with Sir Elton John on Where We Both Say Goodbye.

But sales have not been high enough for her record label BMG to release her second album Too Far Gone in the U.S.

Instead it will be launched first here in Australia for her Australian tour in January - the single for her collaboration with revered Texan troubadour Guy Clark and Jerry Salley on Poor Man's Pride has already been released here.

So Britt, not yet 21, is still performing showcases and working the radio circuit with cameos like Miller has done with varying degrees of success.
PRINCE OF LOST HIGHWAY
"I learn slow, but now I know/ we only get what we're given." Dean Miller - Right Now.
Miller has empathy for Aussie peers who quit the unforgiving unlucky radio country to shoot for success in the U.S.

"I've done three different radio tours, for three different projects in three different contexts," Miller revealed.

"It's hell out there, believe me. It's tough sometimes. You literally end up playing in kitchenettes and conference rooms. I would suggest that you drive down to a radio station, go into their kitchenette, get about four or five people and sit there with a guitar and play. See how that feels. Does it feel natural? And - then - wait to see if they say they're going to add or not add your record. It's weird, believe me."

But the singer is not bitter about his desire to succeed despite the hurdles hit by most peers on that Lost Highway.

"If you don't laugh, you end up bitter," he added.

"And who wants to be around somebody bitter? I try to find the humour in everything. I can find humour in the darkest of subjects. I honestly think if I'd made it years ago I'd have been more of a jerk - because I was a less talented person then. So I'm glad I've been through the hardships. They make you have character."

A LITTLE GASOLINE IN HARLEY HOUSE
Dean & Roger Miller

Miller's biggest earner so far is A Little Gasoline that topped charts for recently wed Canadian chanteuse Terri Clark - a frequent Australian tourist.

It could have been an even bigger earner in Australia if it was logged by the midnight DJ on Nu Country FM late one night during the station's sojourn at Harley House at the Paris, Texas, end of Collins St in the Melbourne CBD.

Miller's benefactor - late heart transplantee Peter Cresp-Gerrard - prepared to decamp the studio in a former dental surgery in the early hours of an autumn morning.
With the overnight music computer suffering ailments of a bizarre nature the bearded DJ reached for a 60 minute compilation disc to entertain the nocturnal denizens and shift workers of Melbourne - population 3.7 million.

In the soft lighting of the ornate studio the popular DJ and bon vivant programmed the CD on repeat until the arrival of breakfast DJ Bayside Bob Crain - also the building's landlord - to kick the dew of the glass after dawn.

But the hapless DJ programmed Track 1, not the entire compilation, and A Little Gasoline burned up the airwaves for hours and hours and hours - four of them.

When Cresp-Gerrard mounted his steel steed for the drive home to Brunswick he was shocked to hear A Little Gasoline on high rotation.

But alas, without a key to the studio, he was unable to do anything but end the drive word perfect on Miller's song.

A frantic call to programmer Dawson from the suburb where his family's ancestral cattle roamed the plains in the 1850s was fruitless.

The elderly programmer was sleeping the sleep of the just across the Yarra in a leafy domicile where an automated singing Texan crime novelist Kinky Friedman took all calls in the witching hour.

"That's a really great story," Dean laughed, "no, that's never happened before, to my knowledge."

Maybe we could shoot for a resurrection on Miller's next Australian tour.

So when will that be?

"If I'm invited I'll be on the next plane," Miller said.

"If I found a way to make a living there I would move there. I've done Tamworth a couple of times and enjoyed writing with Australian artists."