DAVE'S DIARY - 21 FEBRUARY 2011 - BLAKE SHELTON INTERVIEW
OKIE FROM ADA LOADED
"Yeah, I got a friend in New York City/he's never heard of Conway Twitty/don't know nothing about grits and greens/ never been south of Queens/but he flew down here on a business trip/I took him honky tonkin' and that was it/ he took to it like a pig to mud, like a cow to cud." - Hillbilly Bone - Luke Laird-Craig Wiseman.
Blake Shelton could afford to take a week off from his thriving career to join his Texas born fiancé Miranda Lambert on her debut Australian tour in March with Georgian superstar Alan Jackson.

That's only if he surrenders two appearances on the Grand Ole Opry on March 5 and 6.

The Oklahoma singer's 15-track Loaded: The Best of Blake Shelton has been released here after the success of latest single Who Are You When I'm Not Looking.

Shelton's hit video has also been released to CMC, Nu Country TV and other outlets.

He scored his prestigious male vocal honours on 44th CMA Awards show in November - the same show Lambert celebrated her 27th birthday with four major awards.
Lambert won female vocalist and album for her fourth album Revolution and one of her hits, The House That Built Me, won song and video of the year.

Shelton, 34, also won the CMA Musical Event award with Trace Adkins on Hillbilly Bone - from one of his two six pack CDS released in 2010.

Hillbilly Bone and All About Tonight both topped charts after he became a member of the Grand Ole Opry.

Lambert followed her CMA success with a Grammy in February for best female vocal for The House That Built Me.

The couple met in 2005, began dating in 2006 and have ranches located within a few miles of each other near Tishomingo in the county seat of Johnston County in southern Oklahoma.

Tishomingo was named after Chief Tishomingo of the Chickasaw Nation who lived on the Trail Of Tears after Chickasaws had been removed from their original homelands, located in and around Tishomingo, Mississippi.

The woods near Tishomingo were also locale of Shelton's engagement proposal to Lambert.

Shelton took no prisoners when he asked Lambert's father Rick - former Dallas undercover narcotics cop and private eye - for permission to wed.

"He called my dad and got his blessing first," Lambert said.

"That was so Southern and old-school and perfect."

Lambert says she was totally surprised, not only by the proposal, but also by the diamond and platinum engagement ring he picked out.

Miranda, an animal rights benefactor, stocked her ranch with chickens, cows, dogs, mini-horses, donkeys, goats and more.

Shelton, who divorced first wife Kaynette in 2006 after less than a three year marriage, and Lambert may been in clover for almost five years but the rise of Shelton was slower than his belle of the ball.
NOT BAD BLAKE - BLAKE SHELTON
"Long around our eighteenth year/ we found two plane tickets the hell out of here/ got scholarships to some small town school in Texas/ learned to drink Sangria til the dawn's early light, eat eggs Ranchero and throw up all night/ and tell those daddy's girls/ we were majoring in rodeo." - Playboys Of The South Western World - Neal Coty-Randy Vanwarmer.
Shelton emulated Hank Williams Jr when he began performing at the age of eight at the urging of his mother.

But Blake, unlike Bocephus, didn't go out on the lost highway to earn his matriarch's keep.

By 15 he already had played the local version of the Opry - the McSwain Theatre with capacity 600.

But his mother returned him to the classroom in the tiny town of Ada in south Central Oklahoma until he graduated.
Mae Boren Axton with Elvis Presley

It was there that another famous mama - Mae Boren Axton - discovered Shelton at her tribute concert in Oklahoma.

Axton, co-writer of the Elvis Presley classic Heartbreak Hotel, was a famed Nashville publisher.

She was also mother of late great singing actor Hoyt Axton who wrote hits for artists as diverse as The Kingston Trio, Three Dog Night and Steppenwolf.

Mae suggested Shelton head to Nashville in 1994 at 17 and follow his dreams.

Shelton took up her offer but upon arrival had his first brush with fame, painting his mentor's home.

Yes, similar to Texan Robert Earl Keen digging ditches for a manager on arrival in Music City.
OL RED - NOT STEAGALL

"Well, I caught my wife with another man/ and it cost me 99 on a prison farm down in Georgia close to the Florida line/ well I've been here for two long years/ I finally made the warden my friend/ and so he sentenced me to a life of ease taking care of Ol' Red." - Ol' Red - Mark Sherrill-Don Goodman-James Bohan.
"I called Mae when I got to Nashville, talking about a job. I asked her what she wanted me to do now," Shelton revealed.

"Well," said Axton, who was preparing a family reunion at her home, "you can come and paint my house for me."
It was there Shelton met Hoyt, living in his tour bus in her driveway.
Hoyt, like his mother, encouraged new unknown talents.

During lunch breaks, he would invite the paint-splattered Shelton onto his bus.

"He'd tell you stories like he'd known you forever," Blake revealed in a recent interview.

"He'd sing and talk to me about the industry."

On Blake's 18th birthday, Hoyt learned Shelton collected pocket-knives and rummaged around in a rear closet.

He returned with a long Bowie knife that a fan had made for him - he then gave to the young singer.

"It was a huge deal for me," says Blake who began playing writers' night gigs at Nashville clubs such as the famed Douglas Corner Café.
Shortly after, he landed a job, working at a music publishing company, making tape copies of writers' songs.

A slight on-the-job problem arose.

"When the songwriters came in, I wanted to hang out with them, talk to them, be around them," Shelton recalled.

Blake ignored his assigned duties to do just that, which led to his dismissal.

He persevered and his singing talents led to demo sessions.
BOBBY BRADDOCK
"Well I made my run in the evening sun/ and I smiled when I heard them turn ol' Red out/ cause I was headed north to Tennessee/ and ol' Red was headed south.' - Ol Red - Mark Sherrill-Don Goodman-James Bohan.
In 1997 he was writing with a mate who tipped off Florida born producer Bobby Braddock about the singer-songwriter whose influences included Earl Thomas Conley, Travis Tritt, Hank Williams, Jr. and Dan Seals.

After Braddock, now 70, heard a tape of Shelton, they met.

"It took a while to get things going, but we eventually decided he was going to be my producer, and we would cut some things," Blake said.

Braddock, an acclaimed songwriter who co-wrote He Stopped Loving Her Today, D-I-V-O-R-C-E and Time Marches On scored Blake a production deal with Sony Music.

With Braddock as producer, Blake signed with Tree Productions.
The first song they recorded, Ol' Red, was on his 2001 self titled Warner Brothers debut disc and reprised on Loaded.

Ironically, that was a song Hoyt sang for Blake during one of the lunch breaks spent on the tour bus parked in his mother's driveway.

Ol' Red is the tale of a prisoner who escapes by using a unique form of canine capers between a blue tick hound and the prison hunt dog in the crime of passion convict's custody.

"Ol' Red" is so unique, and it's definitely stood the test of time," Shelton added.

"It's not anywhere close to being one of my biggest radio hits. Ol' Red peaked at No. 12 or No. 13, but for whatever reason, over time, it has become my signature song. In the concerts, from the time I walk onstage until the time I do it, people are shouting, "Sing 'Ol' Red,' damn it! That's why we came!'" It's shocking to me, but it's a good thing to have one of those songs - a signature thing that doesn't get old. You can have a big hit like The Baby, and for a year after it was a hit, people are excited when you play it. Now, as big as that was at radio, "Ol' Red" is four times as big live, because it never gets old. It's such a unique song. It's fun. I don't know what it is about it but it has that magic."
LOST IN AUSTIN
"She left without leavin' a number/said she needed to clear her mind/ he figured she'd gone back to Austin/cause she talked about it all the time/ it was almost a year before she called him up/ Three rings and an answering machine is what she got." - Austin - David Kent-Kirsti Manna.
Shelton had a deal with Giant Records and a big hit with his first single.

But a funny thing happened on the way to the top - Giant Records folded.

Warner Brothers, under the same musical umbrella, picked up Shelton's debut disc.

"I was very concerned about it," Shelton recalled.

"The only reason they picked up the album was because Austin had been shipped to radio. They had nothing to lose at that point and put a little promotion behind it. I don't think anybody saw that coming including myself. It was just a matter of a song created enough buzz out there that it became it's own animal and just kind of took over."
So how did Shelton find Austin?

"Every day somebody has a song they want you to hear and you're stupid if you don't listen to it because you never know what you may find. Austin was one of those songs that nobody would give a chance because it didn't come from well-known writers or well-known publishers. Luckily for me, I wasn't a well-known artist at the time. So you just never know.

Debbie Zavitson at Giant Records somehow ended up with a copy of it. She had never heard of the writers David Kent and Kirsti Manna either at the time. They're well known now but Debbie was one of those more open-minded A&R people that would listen to anything that came in the mail. She'd give something a chance, at least for a few seconds."
SAME OLD SONG
"I wanna hear a song about passion/ I wanna hear a song about sin/ I wanna hear a song about redemption/ yeah sing me one of them/ tell me about a cowboy in Australia/ tell me about a prisoner in China." - Same Old Song - Bobby Braddock.
The singer originally feared being typecast as a balladeer.

"With that first hit being so big and a ballad, it was something I've been trying to recover from ever since then," he joked.

"It didn't help that my next big hit besides Ol' Red was The Baby, another sad ballad. I wanted to do all kinds of music. As you know, sometimes people want to hear one thing from you. I get away with more than just that."

Shelton, who began writing songs at 15, co-wrote four tunes on his debut disc but not the satirical Braddock tune Same Old Song.

Blake parodied lack of passion in the Nash Trash hit factory - "same old guitar and the same old strum/ I may be country but I'm not dumb."

Braddock had released three albums including the satiric 1983 Hard Pore Cornography disc that featured I Lobster But Never Flounder.

Every Time I Look At You - one of the Shelton's originals on his debut disc - featured boasted the banjo playing of Alison Brown and the fiddle of Andrea Zonn who both played Port Fairy folk festival on their Australian tour in 2004.

The also played on Shelton's cut of Don Henry-Lauren Braddock song If I Was Your Man.

Shelton's second album The Dreamer in 2003 contained #1 hit The Baby but was not released here.

Braddock also produced the 2004 Blake Shelton's Bar & Grill album that featured Shelton originals Love Gets In The Way and On A Good Day.

Equally importantly it enabled Blake to soar charts with a Jimmy Buffett style delivery of Rory Lee Feek-Paul Overstreet penned #1 hit Some Beach.
BLAKE SHELTON'S BAR & GRILL
"If you're callin' 'bout the car I sold it/ If this is Tuesday night I'm bowling/ if you've got somethin' to sell, you're wastin' your time, I'm not buyin'/if it's anybody else, wait for the tone/you know what to do/and P.S. if this is Austin, I still love you." - Austin - David Kent-Kirsti Manna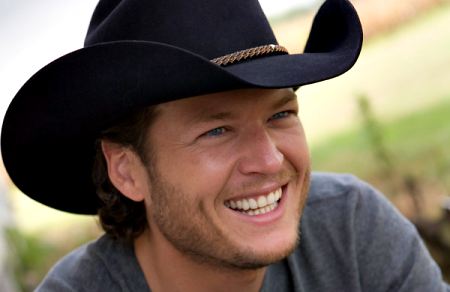 The singer mined the melancholia of stone country with his #10 hit with Roger Murrah-James Dean Hicks penned Goodbye Time - originally cut by the late Conway Twitty.

Twitty, born Harold Jenkins, died at 59 on June 5, 1993, after tours of Australia dating back to his fifties pop era with It's Only Make Believe.

Shelton also climbed the charts with #4 hit Nobody But Me.

Harley Allen's The Bartender and I Drink, penned by recent Australian tourist Mary Gauthier and Crit Harman, added drinking to the loving and leaving format.

His not so cryptically titled 2007 album Pure B S produced #12 hit Don't Make Me and The More I Drink that only reached #19.

Shelton's divorce songs I Don't Care and She Don't Love Me were not singles.

But a re-release of the CD produced a #1 hit with Shelton's cover of the Canadian crooner Michael Buble tune Home.

Shelton also scored a #1 hit with She Wouldn't Be Gone and #8 hit I'll Just Be Gone from fifth album Starting Fires.
BLAKE HUMOUR
"We had a little change in plans/like when Paul McCartney/ got busted in Japan and I said we got waylaid/ when we laid foot on Mexican soil/ see the boarder guard With the Fu Manchu moustache/ kind of stumbled on John's pocket full of American cash/ he said doin a little funny business in Mexico Amigo/but all I could think about was savin my own tail/when he mentioned ten years In a Mexican jail." - Playboys Of The South Western World - Neal Coty-Randy Vanwarmer
Shelton believes humour is a strong catalyst for success on live shows.

"I think it's refreshing to country audiences," Shelton revealed.

"They've been so trained all these years that country music acts they're listening to are going to go on about how life is so great - that they live this role model lifestyle. I don't know how that happened over the years. Man, I'm not that guy. I'm not going to suggest that anybody look up to me as their hero and inspiration. I've made some bad mistakes along the way. I'm not trying to be a politician and preach to people. I'm not that guy. I'm a guy that loves listening to Hank Williams, Jr. albums and get drunk out by the campfire and feel like crap the next day. I'm one of those guys - probably like the guys that are buying my records. I'm just like them. I think me being open about that is probably why there's a deeper connection with my audience. And hopefully I'm getting a deeper connection with those that weren't or aren't my fans because the respect that I'm not full of bullshit. I'm not being political or winning awards. I'm just having a ball doing what I do.

I'm not going to lie to you. I get to be a country singer. How many people get to do that? Almost none."
DUET WITH TRACE
"Nah, you ain't gotta be born out in the sticks/with a F-150 and a 30 aught six/or have a Bubba in the family tree/to get on down with me/yeah Bubba all you need is an open mind/ if it fires you up, you gotta let it shine/when it feels so right that it cant be wrong/come on, come on, come on, you ain't alone/ you ain't alone" - Hillbilly Bone - Luke Laird-Craig Wiseman.

The pairing of Shelton with Louisiana born singin actor Trace Adkins on Hillbilly Bone was a stroke of magic.

"I first moved to Nashville in 1994, and once you work your way into the community, you find out what's going on with the record industry," Blake recalled.

"I remember Trace Adkins was the first name that I ever heard that was like, "Hey, this guy just got a record deal." I followed him very closely through the years before I ever got my opportunity to make a record. I felt like I had a lot invested in his career emotionally, just watching him. Obviously, I was a fan of his music. I mean he's a true country artist. Once I got my opportunity to start having songs out on the radio and things like that in 2001, Trace was one of the guys I was excited to finally meet. I sound like a freak fan or something, but he was everything that I had imagined him to be - his personality, his sense of humour, everything about him. He's just that guy. He's always been one of my favourite artists and someone I've looked up to as a person. There's nothing about him that I don't think is cool. I would never say this stuff to his face, but I just think he's a bad-ass guy."
MIRANDA DUET
"Hey baby I just asked your daddy if I could take your hand/ he said over my dead body/ guess I ain't his kinda man." - Draggin' The River - Chris Stapleton-Jim Beavers.
Shelton resisted the temptation to tour with Lambert and even record a duet until recently.

The song Draggin' the River - written by former Steeldrivers singer Chris Stapleton and Jim Beavers - was on Blake's All About Tonight album.

It chronicles a couple's plan to elope after the bride's father refuses his blessing for their marriage.

"This here is our love story," Blake sings on the track that has no chance of being a single.

"It won't be released to radio," Blake confessed.

"What sucks is she and I would love it to be released to radio. We've even talked about doing a video for it."

Blake is on Warner and Miranda is on Columbia - that causes conflict in working together.
"The way it ends up working out with the record companies trying to time singles for her and for me," Blake explained, "it just ends up not working timing wise. It's not the first or the last time something like that's gonna happen. We don't let it stop us from writing or recording together."

So what prompted the duet?

"We found it by accident," Shelton added.

"Neither Miranda nor I have ever said, "Man, we need to find a duet to sing." It was initially a Chris Stapleton song and she happened to hear it when I was listening to it one day and said, "Man, I really like that song. I want to cut that song." And I said, "Well, you can shit in one hand and wish in the other because I'm cutting it." She said that it would work as a duet and she pointed out the lines and sang it to me. She was right; it actually worked a little better as a duet. Once we did it that way, I couldn't think of it any other way than that. The song really found us. It wasn't really even written as a duet. It was just one of Miranda's great ideas that make you go, "Duh, why didn't I think of that?"
OUTLAW SPIRIT

"'Cause I'm a front-porch sittin'/ guitar pickin', moonshine sippin'/ bacca juice spittin' country boy from the woods/and I love fried chicken and blue gill fishin'/and outlaw women, and I wouldn't change if I could/ I ain't tryin' to start no fight/ but I'll finish one every time/so you just mind your own damn business/ and stay the hell outta mine/ if you got a problem with that/ you can kiss my country ass." - Kiss My Country Ass - Rhett Akins-Dallas Davidson
Shelton may be on the verge of marriage but doesn't resile from his down home outlaw persona when he records songs like Kiss My Country Ass.

Georgian singer-songwriter Rhett Akins wrote the ass tune but it wasn't as big a hit for him as his radio friendly That Ain't My Truck.

The Valdosta born six-album veteran now has success as a hit writer in the Peach Pickers with Ben Hayslip and Dallas Davidson.

Shelton recorded their album title track tune All About Tonight but it's this 2004 vintage song that hits Shelton's hillbilly bone.

"No, that's serious, I don't think it's a starting point for me as an artist, but I think it is the centrepiece," Shelton says.

"I've always been the guy in Kiss My Country Ass. I've just never come out and said it and laid it all out there like that. I think over the last year, especially with Twitter, people have really caught onto my personality and what I stand for. I'm pretty open to anybody's lifestyle and what they're into. I think I'm more open than what most people would ever imagine. I just take offence to when somebody attacks my lifestyle. To me, that's what that song is about. If you don't like what I do, then leave me alone - or kiss my ass. That's basically what it's saying."

Now, if Shelton flies south with Lambert he may do a cameo of that song as teaser for a full-blown tour.