DAVE'S DIARY - 28/12/13 - PREVIEW OF EPISODE 5 - SERIES 21

BANJO PLAYING COMEDIAN ACTOR-AUTHOR HEADLINES NU COUNTRY TV
Banjo ace-actor-comedian Steve Martin and his bluegrass band The Steep Canyon Rangers debut on the New Year's Day episode of Nu Country TV at 10 pm on Channel 31.

They appear in Behind Bars on a show repeated Monday 5.30 am and 2.30 pm and Tuesday at 1 am.

Frequent Australian tourist Joe Nichols also returns to the show, filmed and edited by Laith Graham.

Singing actor Shooter Jennings fares better in his joyous journey with his guitar and expat Queenslander 8 Ball Aitken showcases his latest video he is promoting on a national tour.

Adam Harvey and Troy Cassar-Daley, riding a surge of popularity after their bucolic battle with Quambatook raised John Williamson, return with a tribute to late bush balladeer Slim Dusty and his widow Joy McKean.

They perform McKean penned Slim hit Lights On The Hill from their latest album Great Country Songbook that you can win by becoming a Nu Country member or renewing your membership.

Nu Country TV has been added to the C 31 streaming list.
Just follow this link on your computer or mobile phone - http://www.c31.org.au/program/view/program/nu-country-tv
STEVE MARTIN GETS ANIMATED BEHIND BARS
Famed comedian-actor-author Steve Martin adds a few more strings to his banjo when he entertains the birds and escapes a devil woman in the animated video for Jubilation Day with the Steep Canyon Rangers on their 2011 album Rare Bird Alert.

Steve, 68 and born in Waco, Texas, performs 50 dates a year with the band between movies and comedy gigs.

After meeting at a party twice wed Martin invited the band to tour and record with him - they joined forces on Prairie Home Companion radio and TV shows in 2009.

His 8th album Rare Bird Alert - also featuring the Dixie Chicks and Paul McCartney - was nominated for a Grammy and won IBMA's Entertainer of the Year Award.

In 1978 and 1979, he won Grammys for best comedy recordings with his albums Let's Get Small and A Wild and Crazy Guy.

In 2001 Martin, who has also written movie screenplays and books, won another when an all-star rendition of Foggy Mountain Breakdown scored best country instrumental performance.
Martin, an exceptional banjo player, shared that win with musical icon, Earl Scruggs, along with Scruggs' sons and musicians Jerry Douglas, Vince Gill and more A-list collaborators.
While Martin's comedy career thrives his most recent Grammy was his album The Crow: New Songs for the Five-String Banjo won the 2009 award for best bluegrass recording.

This year he has two Grammy nominations - for Love Has Come for You - his collaboration with Edie Brickell.

In addition to a nod for best Americana album, the title track landed a nomination for best American roots song.

Further info - www.stevemartin.com
STEEP CANYON RANGERS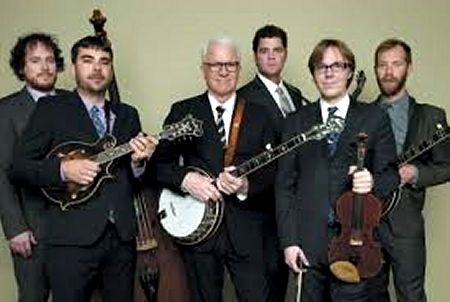 Steep Canyon Rangers formed in Brevard, North Carolina, have been recording since 2001, toured recently with special guest Edie Brickell and appeared on Austin City Limits, David Letterman and the Today Show.

They also played Carnegie Hall, Grand Ole Opry, Merlefest, Neil Young's Bridge School Benefit, their own Mountain Song festival and Mountain Song at Sea cruise.

The Steep Canyon Rangers debut on Nu Country with their video for Long Shot - a saga where the hero loses at gambling and wins on a long shot at love.

The character flees a casino with the belle of the ball in the cabin and the band in the back of his getaway truck.

Long Shot is on the band's 2012 album Nobody Knows You.

They recorded ninth album Tell The Ones I Love in Woodstock, New York, at the late Levon Helm's famed studio with Grammy-winning producer Larry Campbell and engineer Justin Guip.

They recorded 12 original songs after winning Best Bluegrass Album Grammy Award for Nobody Knows You.

Last year the band played Levon's Midnight Ramble, and impressed Helm enough that he invited them to come back and record at the barn.

Unfortunately that didn't happen before his untimely passing but they still felt his joyful, creative spark and subtle influence while working in his studio.

The band wanted Tell The Ones I Love to reflect the spirit of their concerts - an original, freewheeling, high-energy approach to bluegrass that rests mainly on the songwriting of Graham Sharp and Charles Humphrey.

"We wanted it to be different from our last album," banjo player Graham Sharp revealed, "and create something more raw and immediate."

Guitarist Woody Platt added that they headed into recording with "more confidence and momentum" from both their Grammy win and their unrelenting touring schedule.

Campbell, a highly sought after musician and producer (Bob Dylan, Levon Helm), was often down on the floor with the band so he could feel what was being performed.

His strategy to have the music sound organic - "where you can hear the environment of the barn" - fit well with the band's performances.

The band stretched bluegrass boundaries with their use of drums and percussion on Tell The Ones I Love.

"We didn't want something that was just a bluegrass track with drums laid on it like an afterthought," said Sharp. "We wanted something that was really integrated."

They enlisted Jeff Sipe (Leftover Salmon, Susan Tedeschi, Aquarium Rescue Unit), whom Sharp described as "one of the best drummers around."

Further info - www.steepcanyon.com
JOE NICHOLS SUNNY AND 75
Joe Nichols returns with his video for fifth #1 hit Sunny & 75 from eighth album Crickets, released on Red Bow on October 8, 2013.

Arkansas born Nichols, now 37, won an enthusiastic following on his Australian tours and a duet with Fawkner singer Jasmine Rae.

At 19 he was signed to his first deal with independent label Intersound for debut album Joe Nichols in 1996.

After short-lived record deals his jobs in Nashville including moving furniture, installing cable TV systems, and selling steaks door to door.

In 1999 Nichols landed a contract with Universal South Records and in July 2002 second album, Man with a Memory spawned The Impossible - a #3 hit.

The same year his debut album was re-issued as Six of One, Half a Dozen of the Other.
Man with a Memory earned Nichols Top New Male Vocalist from the Academy of Country Music, three Grammy Award nominations and platinum certification.

Its second single Brokenheartsville was his first No. 1 hit while She Only Smokes When She Drinks and Cool to Be a Fool both reached Top 20.

Nichols's third Universal South album 111 was released in October 2005.

Lead single Tequila Makes Her Clothes Fall Off became his second #1 hit with Top Ten hits Size Matters (Someday) and I'll Wait for You, at #9 and #7.

In 2005 Anna Nicole Smith met Nichols at the Grand Ole Opry and she became a fan.

After Smith's death he performed two songs Wings of a Dove and I'll Wait for You at her funeral service.

His fourth Universal South album, Real Things in August 2007, pushed Another Side of You and It Ain't No Crime to Top 20 and included Let's Get Drink And Fight.

Nichols single Believers from sixth album Old Things New reached Top 30 and Gimmie That Girl reached #1 in May 2010.

His seventh album It's All Good was released on November 8, 2011 - the only single Take It Off peaked at #25.

CLICK HERE for an exclusive Nichols interview in The Diary on November 18, 2009.
SHOOTER JENNINGS - THE OTHER LIFE
Shooter Jennings fares better on new video The Other Life - title track of his sixth album.

Shooter, 34, was buried with his guitar in previous video Wild And Lonesome - this time it has its own seat on a plane flight to Austin, Texas.

Jennings premiered Wild & Lonesome on the fourth season of the FX original series Sons of Anarchy.

He followed with The White Trash Song premiered on RollingStone.com - he announced the album was accompanied by a film, also titled The Other Life.
Jennings and musician Lukas Nelson - son of Willie - also recorded an album in 2012.

Jennings has produced albums for bands Hellbound Glory, Fifth on the Floor, Jason Boland & the Stragglers and Last False Hope.

Wild & Lonesome is also in TV show Sons Of Anarchy featuring former partner Drea De Matteo who also appeared in The Sopranos and Joey.

Jennings began dating Drea in 2001 - they became engaged on June 11, 2009, when Jennings proposed onstage at the Stanley Center during a show in Utica, New York.

They have two children together - daughter Alabama Gypsy Rose Jennings (born November 2007) and son Waylon Albert "Blackjack" Jennings (born April 2011).

Jennings and de Matteo eventually ended their relationship without marrying.

Shooter married Misty Brooke Swain on June 4, 2013 in Joshua Tree, California.

CLICK HERE for an exclusive Shooter interview in the Diary on April 28, 2012.
8-BALL AITKEN RETURNS FROM THE OTHER SIDE
Expat Queenslander 8 Ball Aitken returns from Texas and Tennessee in his video for The Other Side.

He became animated to drive his message from his latest album Rebel With A Cause.

Aitken appeared on diverse Texas TV shows during his American sojourn and performs in Tamworth this month in his return tour to promote his eclectic music.

8 Ball, second eldest of 12 children raised near Mareeba, creates a distinct local flavour to his highly videogenic songs set in his home state and way beyond.

CLICK HERE for an exclusive 8 Ball Aitken interview in The Diary on April 15, 2012.
ADAM AND TROY FOLLOW LIGHTS ON THE HILL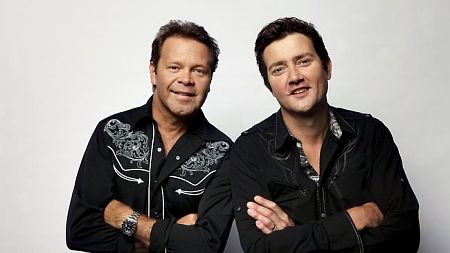 Geelong refugee Adam Harvey is well qualified to sing Joy McKean song Lights On The Hill - Adam was a truck driver in a previous life.

Adam and Troy Cassar-Daley paid tribute to Joy's late husband Slim Dusty who turned the trucking song into a hit.

Adam and Troy quit the 42nd Golden Guitar Awards in Tamworth in January after being sledged by John Williamson for being too American.

They released Lights On The Hill as their first single and made the finals of six awards with Great Country Songbook - one of the biggest selling country albums of 2013.

Williamson criticised their eligibility for best Album because it included covers of American songs.

Williamson quit as president of Country Music Association of Australia and also slammed Keith Urban's inclusion in Golden Guitars finalists.

"It's as though the Golden Guitar Awards are American Country Music Awards of Australia.

It seems the industry is hell-bent on producing more Keith Urbans," he wrote in his resignation letter.

"If we are not respected as a legitimate organisation to promote original Australian country music I cannot be associated with it any longer."

The bucolic bun-fight highlights a festering growing divide within the Australian country music community about its identity.

Those in the Williamson camp want to return to "what Henry Lawson and Banjo Paterson started."

But the phenomenal success of Urban in America after years of hard slog inspired many young artists including The McClymonts, O'Shea, Greencards, Kasey Chambers and Catherine Britt to shoot for the world's biggest country music market.

Harvey and Cassar-Daley withdrew to try to restore harmony within a fractured Australian country music community.

They also declined to perform but will attend the ceremony in Tamworth to support fellow nominees.

Their Great Country Songbook album paid tribute to the songs the pair grew up on.

"It would have been awkward. I don't want the Golden Guitars to be about who didn't deserve to win or who shouldn't be there," Harvey said.

"Troy and I are rapt with how well the album has gone and getting out there to celebrate these songs on tour. I don't want it to look like I've grabbed my bat and ball and gone home so we will go and wish good luck to Sara Storer and Lee Kernaghan and all the other nominees."

But Harvey admitted he had been hurt by Williamson's comments particularly as they were nominated for a Golden Guitar three years ago for their duet of Roger Miller classic King Of The Road.

"To be honest, I have been hurt by some of the comments, not only from Willo, but from others I thought were really good friends as more people weighed in on this debate," Harvey said.

"Our intentions in making this record were good and still are.

"John Williamson did ring me himself, so I'll give him that, and said he hoped he hadn't lost a friend over this but I had to tell him I was pretty disappointed.

"It was his idea for us to do King Of The Road and he was happy for that to be nominated.

"He told me he now regrets that.

"But I think there is so much more he could do as president and if he wants to change things, he would be better off staying."

Harvey said success of Urban, Kasey Chambers and other Australian country artists in America inspired young artists as much as our bush poets.

"Keith Urban is proudly Australian and should be celebrated. Australia has a fantastic country music industry and I think there's plenty of room for all of us, the bush balladeers, the John Williamsons, Keith Urbans, Troy and Kasey," he said.

"I know what I won't be getting off Santa. No Golden Guitars this year," he joked.

You can win The Great Country Songbook by renewing your Nu Country membership or becoming a member.

CLICK HERE for our membership page for full details.
CLICK HERE for an exclusive Adam Harvey interview in The Diary on November 5, 2009.
CLICK HERE for an exclusive Troy Cassar-Daley interview in The Diary on February 12, 2012.
HOW TO KEEP NU COUNTRY ON AIR
We need your support as we celebrate our 21st series of Nu Country TV.

Australian record companies and artists have joined forces to ensure our survival.
We have new CDS by major artists you can win by becoming a Nu Country TV member or renewing your membership.

They include singing actors Willie Nelson and Tim McGraw, Voice judge Blake Shelton, Ashley Monroe, Brad Paisley, Gary Allan, Keith Urban, Toby Keith, Dierks Bentley, Eric Church, Carrie Underwood, Chris Young, Charley Pride, Slim Dusty, Adam Harvey, Troy Cassar-Daley and more.

We also have the latest John Denver all-star tribute album and DVDS by Miranda and fellow chart topper Lady Antebellum.

CLICK HERE for our Membership Page for full details.