DAVE'S DIARY - 8/2/14 - PREVIEW OF EPISODE 11 - SERIES 21
DOLLY PARTON HEADLINES NU COUNTRY TV
Superstar singer actor Dolly Parton headlines Nu Country TV this Wednesday March 12 at 10 pm on Channel 31 during her Australian tour.

Dolly, 68 and celebrating 47 years of marriage to Carl Dean, performs a classic on the episode hosted by Mid Pacific Bob Olson and filmed and edited by Laith Graham.

Two time Australian tourist Ronnie Dunn of Brooks & Dunn fame also returns to the show repeated Monday at 5.30 am and 2.30 pm and Tuesday at 1 am.

Former Australian of The Year and prolific Golden Guitar winner Lee Kernaghan showcases his latest single and Tennessean singer-songwriter Will Hoge also returns.

Bluegrass queen Rhonda Vincent and brother Darrin's award winning duo Dailey & Vincent perform in Behind Bars.

Nu Country TV has been added to the C 31 streaming list.
Just follow this link on your computer or mobile phone - http://www.c31.org.au/program/view/program/nu-country-tv
DOLLY BLOWS BLUE SMOKE

Tennessee superstar Dolly Parton, enjoying her Blue Smoke tour of Australia, returns to the show with her hot band on the video for her song Sacrifice from her 41st album Better Day.

Dolly is promoting her 42nd album Blue Smoke that features new duets with Texans Shotgun Willie Nelson and Kenny Rogers.

At 68 the singer showcases many music styles on her tour that is also the 50th anniversary of meeting asphalter husband Carl Dean at the Wishy Washy Laundromat in Nashville.

Dolly has since cleaned up in movies and music that crosses all boundaries.

CLICK HERE for a feature on Dolly and Blue Smoke in The Diary.
CLICK HERE for a Dolly CD review in the Diary on August 27, 2008.
CLICK HERE for an older Dolly CD review in the Diary on November 11, 2003.

RONNIE DUNN HEADS TO WACO
Texan born Ronnie Dunn performs with a colourful cast in the Tex-Mex video for How Far To Waco from his self-titled debut solo disc.

Dunn travels down Route 66 in a radio friendly song about the central Texas city where actor, author, comedian and Grammy winning bluegrass banjo player Steve Martin was born and Billy Joe Shaver has long hung his hat.

Dunn, now 60, toured here twice with Kix Brooks as Brooks & Dunn before they walked the plank at Arista.

"Deal with Sony is over, next chapter, moving on," Dunn tweeted.

His first solo single Bleed Red reached the Top 10 but the superior Cost of Livin and Let the Cowboy Rock failed to sell.

On May 15, 2012, Dunn wrote: "Got call from Sony today, said my FB post killed Let The Cowboy Rock. Holy Shit. I didn't know people in music business read this stuff. We just haven't picked the right song. Keep the faith."
Dunn urged fans to support another single Once.

On May 18 he tweeted "Hey, radio will you start playing Once. If FB post can kill a single then maybe it can get one to the top? Maybe we can make CNN! Just sneak it in on your lunch break. My name is Ronnie Dunn and I approve this message."

Cracker Barrel re-released Dunn's album with Once reaching #14.

In 2013, after leaving Arista, Dunn founded Little Will-E Records and recorded second solo album Peace, Love And Country Music that featured new singles Kiss You There and I Wish I Still Smoked Cigarettes.

It's déjà vu for Ronnie who began his career as a solo artist.

He charted two minor singles with Churchill/MCA Records - It's Written All Over Your Face in 1983 and She Put the Sad in All His Songs in 1984.

CLICK HERE for a Brooks & Dunn interview in the Diary on March 22, 2009.
WILL HOGE GETS HIS WINGS
Tennessean troubadour Will Hoge celebrates a widower laying to rest 57 years of memories in his video for When I Get My Wings.

The character reaches for the Bible and the bottle as he yearns for his recently deceased wife in the pathos primed parable from Will's 2011 album Seven.

Hoge, 41, has released eighth album Never Give In that includes his lucrative song Strong that was used in a commercial to promote its latest Chevrolet Silverado truck.

The song, with its power and loyalty metaphor, is a big earner for Hoge.

Will earns more royalties when another songwriting client, - the Texan Eli Young Band, tours here in March with Toby Keith and performs another of his songs - Even If It Breaks Your Heart.

Will emerged from the shadows of being a cult songwriter to blaze his own trail as an artist - with more than a little horse power.
The former history teacher and basketball coach from Civil War town Franklin sold 100,000 singles of Strong that he wrote with Zach Crowell and Ashley Gorley.

Strong is played to millions of people during televised sporting events.

"I've built a career in 15 years of trying to be an artist that has integrity," Hoge revealed.

But Hoge went to Songwriters Hall of Famer Don Schlitz for advice about having his song used as a truck commercial.

"He's a dear friend and mentor to me, like an uncle", Hoge said.

"I'm an independent artist starting my own label, and I had this opportunity to get a song heard at a mass level, and to have that song be one I'm really proud of," he said.

"Worst-case scenario, the ad campaign flops and I get a free truck out of the deal. As it turns out, the only thing it's done is bring a new audience that's never heard me before.

We've sold more than 100,000 copies of that single and I would never have imagined that would be the case."

Hoge's commercial ascendance is cause for celebration among many who feared for his life in August 2008, when he lost six pints of blood in East Nashville after his scooter collided with a van.

He was on his way to buy milk for his family at Kroger, after a recording session for the aptly titled album The Wreckage.

Hoge suffered a crushed lung, broken sternum, ribs, shoulder blades and collarbone and a swollen, bloody face.

He also lost enough ivories to send the tooth fairy to the bank for a loan.

"It was the first time in my life when music got real unimportant, real fast," Hoge said.

"Almost lost my family. Learning to walk. It was interesting to put the music down for a while and to learn it has its own place. And then, when I was able to do it again, it became more of a gift."

More info - http://willhoge.com/wired
RHONDA TAKES VINCENT CLAN BEHIND BARS
Missouri born bluegrass queen Rhonda Vincent and brother Darrin's award winning duo Dailey & Vincent return to Nu Country in Behind Bars.

Rhonda, now 51, mixes glamour with her superb voice in the video for the title track of her 14th album Taken.

Her award winning band The Rage also joined her on the high seas.

Rhonda won two SPBGMA (Society for the Preservation of Bluegrass Music of America) awards on February 2 including the night's highest honour - Entertainer of the Year.

The evening was especially memorable for Vincent, who was also inducted into the prestigious SPBGMA Hall of Greats.
It was also a big night for Vincent's band, the Rage.

Together they took home Instrumental Group of the Year, with band members, Josh Williams and Mickey Harris, also winning Guitar Player and Bass Player of the Year, respectively.

"This was one of the greatest evenings of my career, from the induction to the Hall of Greats, Entertainer of the Year, and I'm so proud of all the men of the Rage for being honoured for their incredible talents," Vincent says.

"We travel 250 days out of the year, living our dream, playing the music we love, and this night was a great reward for all our hard work. We are very thankful for all the honours!"

2014 is shaping up to be a big year for the songstress.

She just released her highly-anticipated two-disc set Only Me which combines her love of bluegrass and country music, and will spend much of the year on the road performing songs from the collection.

The singer-songwriter admits that, even after almost 25 years in the music business, she finds her new set of tunes particularly challenging to sing every night.

"All of these songs, I found myself singing in a different way, and probably the songs on this album were more difficult than anything I've ever sang before," she said.

"And as I got on stage and started singing them, there's not just one song - I mean, it's almost exhausting when you start singing these songs with all of the turns and the twists and holding the notes out."

Shotgun Willie Nelson, 80, and Georgian singer Daryle Singletary, 41 and a seven album veteran, also appear on Only Me.

Rhonda enlisted the vocal and video support of Dolly Parton in her video for Heartbreaker's Alibi - one of many highlights of Vincent's 12th album All American Bluegrass Girl.

CLICK HERE for a Rhonda review in the Diary on September 25, 2006.
DAILEY & VINCENT STEEL DRIVING MEN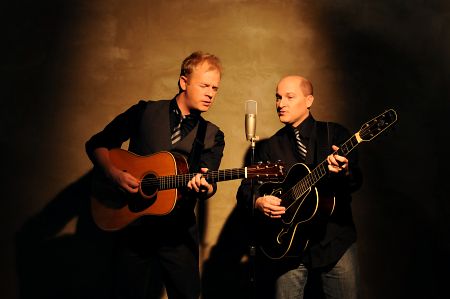 Rhonda's younger brother Darrin and his bluegrass band headed by Jamie Dailey debut in Behind Bars on Nu Country with their video for their railroad ode Steel Driving Man from their sixth album Brothers of The Highway.

Darrin began with Rhonda in the Vincent family band - the Sally Mountain Show.

Vincent and Dailey formed the Dailey & Vincent sextet in 2007.

They are Jamie (guitar, bass, vocals), Darrin (mandolin, guitar, bass, vocals), Christian Davis (guitar, vocals), Jeff Parker (mandolin, guitar, vocals), B.J. Cherryholmes (fiddle) and Jessie Baker (banjo, guitar).

Banjo players Joe Dean left the group in March 2012, to pursue other musical interests and joined Doyle Lawson & Quicksilver.

Former fiddler Jesse Stockman left in early August 2011 with a wrist injury.

Cherryholmes, who had been filling in for Stockman, joined in August 2011.

Dailey was formerly lead vocalist and guitarist for Doyle Lawson & Quicksilver from 1999-2008.

Vincent also played with Ricky Skaggs' legendary band Kentucky Thunder.

The group has released six albums for Rounder Records - five of the six albums charted on Billboard.

They have also won 13 awards from the International Bluegrass Music Association and 23 awards from The Society for the Preservation of Bluegrass Music of America.

In 2011 they received a Grammy nomination for Best Country Performance by Duo or Group with Vocal, and won the 2011 Dove Award for Best Bluegrass Album with Singing From The Heart.

In 2013 Dailey & Vincent received their second Grammy nomination for Best Bluegrass Album for their album - The Gospel Side Of Dailey & Vincent.

Further info - http://daileyandvincent.bombplates.com/

LEE KERNAGHAN - IT'S ONLY COUNTRY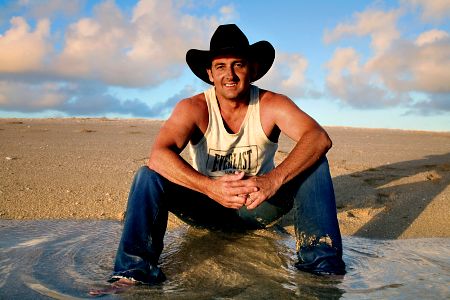 Lee Kernaghan, 2008 Australian Of The Year, mixes it with a banjo playing blonde, shearers and bull riding mates in the video for It's Only Country.

There were also dirt bikes, boots, trucks, tractors, Utes, sheep, dogs and other bush icons in the hit from the 49 year old star's 11TH album Beautiful Noise.

Kernaghan has won 32 Golden Guitars and sold two more than million albums in his career despite being ignored by mainstream radio.

Lee increased his Golden Guitars tally at the 42nd CMAA Country Music Awards in January.

His Slim Dusty tribute Flying with the King won both Single and Video Clip of the Year.

Beautiful Noise scored Top Selling Australian Album and Lee was also voted Male Artist of the Year.

Lee is touring nationally and is Australian headliner of the seventh CMC Rocks The Hunter Festival in March.

The Corryong born OAM and singing spouse and pianist Robby are parents of two sons - eldest Jet Kernaghan born 18 May 2001 and Rock Kernaghan born 27 November 2002.

CLICK HERE for a Lee interview in the Diary on January 16, 2013.
CLICK HERE for another Lee interview in the Diary on February20, 2013.
CLICK HERE for a previous interview in the Diary on November 10, 2009.
HOW TO KEEP NU COUNTRY ON AIR
We need your support as we celebrate our 21st series of Nu Country TV.

Australian record companies and artists have joined forces to ensure our survival.

We have new CDS by major artists you can win by becoming a Nu Country TV member or renewing your membership.

They include singing actors Willie Nelson and Tim McGraw, Voice judge Blake Shelton, Ashley Monroe, Brad Paisley, Gary Allan, Toby Keith, Dierks Bentley, Eric Church, Carrie Underwood, Chris Young, Charley Pride, Slim Dusty, Eli Young Band, Rosanne Cash and more.

We also have the latest John Denver all-star tribute album and DVDS by Lady Antebellum.

CLICK HERE for our Membership Page for full details.