DAVE'S DIARY - 16 JANUARY 2013 - LEE KERNAGHAN INTERVIEW
UTE GIRL LEFT IN DUST
"Scatter the roos, hit the washout sideways/ knock other guidepost flyin'/ fish tail, hold tight/ full lock, power slide/ drop her down put the boot in yeah." - Ute Me - Lee Kernaghan-Colin Buchanan-Garth Porter.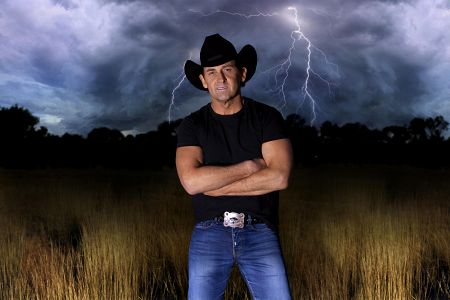 When Australian country music king Lee Kernaghan shot the video for a new song at the famed 2012 Deni Ute Muster he turned bad tidings into good.

A city model booked to play the female lead cancelled at the 11th hour because she feared for her safety.

Not from Lee - 48 and father of two sons - but muster fans.

"So we made a few enquiries on the site and it just so happened that the people that ran the backstage catering at Deni, their daughter is a model based in the United States and she just happened to be back in town," Kernaghan revealed while promoting his ninth album Beautiful Noise.

"So we got this absolute glamour girl who is country through and through - born and raised in Deniliquin, and making a name for herself in America and she is in the clip and features beautifully too. We had a model booked from Sydney to play the Ute Me girl and at the last minute she bailed out - she told the director she didn't want to go down there because it was too feral and she feared for her safety. So she was obviously the wrong girl for the clip."

Kernaghan shot the clip at the 2012 muster - it's the second single from the album he's promoting on a national tour in March.

"I'd say that Ute Me will be the second single and we did shoot the clip while we were there in Deni," Lee recalled.

"We took a huge crew down there and a massive crane and we captured live on stage but also out in the car park in the camping ground. It was an awesome experience! Ute Me is probably one of the wildest party songs I've had out ever! And it's made to sound big in a vehicle - in a Ute or a four wheel drive"
BEAUTIFUL NOISE
"I got a red dirt dream, out in the sticks/ a shed with a Chevy in a million bits/ it's the big day, she's in the driveway/ we got fuel in the tank, hand on the wheel/ I can see your reflection in the Chromium steel/ slip the key in, I got ignition/ it's a beautiful noise."- Beautiful Noise - Lee Kernaghan-Garth Porter-Colin Buchanan-Matt Scullion
Although the singer exploited a vehicular theme on the disc when he wrote the title track for the V8 Super Cars he says the real beautiful noise is more personal.

"It's the sound of our unborn baby's heartbeat - hearing Jet's heart beating and knowing a new life had begun, is something I'll never forget," Lee explained of the music made by his youngest son when singing spouse Robby was pregnant.

The couple also have another son Rock who also arrived after more beautiful noise.

Kernaghan has long promoted the culture of vehicles - from Utes, trucks, 4 wheel drives and faster cars in his music.
It dates back to when the Corryong high country born bush boy moved to Albury in the Riverina and spent time in his red TE Ford Cortina near a town called Mungabareena.

Those were the days examined in the summer time romantic and automotive memories of Splash.

"There is also a bit of a theme there," the singer added.

"When you're making a country record there's usually a number of rules you follow. We broke all those rules - nearly all of them anyway. There's elements of dance, hip-hop, you name it. Things you would normally hear on one of those kinds of records, we've stuck into a country record. I think they'll probably notice a new sound. Stylistically it's a little different to anything I've done before. Thematically, it's still about "us" - "our" country and "our" way of life and life experiences. I just try and write about and try to make music for this generation."

The singer collaborated with long time writing partners - producer Garth Porter, Colin Buchanan, James Blundell and Matt Scullion - in a creative two-year stint.

They wrote songs in Lee's shack in the McPherson Ranges, Blundell's family farm near Stanthorpe and Porter's Sydney studio.

Watching flight details at Coolangatta Airport ignited Ute Me.

The singer enjoys an extensive pre-release aural journey with his music.

"Well, every record I make I road test," Kernaghan explained.

"I often do that for continuity to see how the songs flow from one to the other and whether I've got the themes right and the tempos right. But yeah, no doubt people who are on a long trip are going to find they'll get a lot of miles under their belt before they realise the album's played through. There is also a bit of a theme there."
SLIM AND ROBBY
"It was Ansett 603, he sits down next to me/ we were flying out across the Great Divide bound for WA/ he shook my hand and said g'day/ there I was, Slim Dusty by my side/ I was flying with the king, riding on the wind/ a small town boy from nowhere/ my head up in the clouds." - Flying With The King - Lee Kernaghan-Colin Buchanan-Garth Porter.
Kernaghan is indebted to late bush balladeer and country king Slim Dusty for support, songs and inspiration.

Lee honoured the Kempsey raised legend in previous posthumous praise - Missing Slim - and also scored exposure with Leave Him In The Longyard.

This time he weaves the late aviation pioneer Reg Ansett into Flying With The King - a sibling song of John Hiatt's Riding With The King.

But the singer has another closer and younger inspiration for new songs.

Kernaghan says falling in love with duet partner Robby inspired Bang, Bang and Shooting From The Heart.
It's no surprise Robby joins him on New Kind Of High - a song she inspired and co-wrote with him.

Maybe Party Town - a kaleidoscopic celebration of farmers after the crops are harvested - is also his fond link with a pre-marital life on the wild side.

"I don't know how I kept it up," he jokes.

Kernaghan also sings praises of outback workers triumphing over fire, floods and drought with the tuneful therapy of Dirt Music.

The same characters are again eulogised in the geographical gamut of this vast sunburnt country in Keeping On.

The fitting finale is Peace, Love And Country - another song in which he credits her with guidance, loyalty, solace and much more.
DWIGHT YOAKAM PARTY TOWN
"Out there in the boondocks/ bullet holes n truck stops/ see em rolling in through the heat/ filling up the north star/ packing in the front bar/ spilling out into the street/ it's been a long haul/ but the wheat cheque's in/ the tractors are back in the shed/ things are getting louder/ it's a keg of powder." - Party Town - Lee Kernaghan-Garth Porter-Colin Buchanan.
Kernaghan grew up in Albury on the music of the outlaws - Hank Williams Jr, Waylon Jennings, David Allan Coe and Willie Nelson.

But he also had a penchant for the music of Kentucky born, latter day Californian singing actor Dwight Yoakam with whom he toured in November.

"I remember being 22 years old in Nashville, learning to write songs, and this new guy had just hit town called Dwight Yoakam," Lee recalled.

"And he made a huge dent in country and pretty well paved the way for Garth Brooks and Tim McGraw and all the others that followed."

Although Lee admires international heroes he is steadfast in retaining his Australian roots in his music.

"Country music is constantly evolving in terms of production and musicality," Lee says.

"There are a lot of different musical influences going on, both within and outside of country music. On Beautiful Noise my main mission is to tell the story of my generation. One of the things that really turns me on about this great music of ours is that it's not just country music, it's the music of our country. I'm trying to write songs that will resonate regardless of where someone happens to live."

Kernaghan is never rushed making his albums.

"Don't let timetables get in the road of making the record you really want to make," Lee says.

"I've been lucky over the years to have a record company that's backed me all the way. There's been lots of starts and stops and delays, but at the end of the day it's allowed me to make the music I believe in. It's also meant that I haven't been as prolific as output of CDs - often it's two or three years between albums. But I want the songs to stand the test of time."

But are there any regrets - even with time to reflect?

"No there's always stuff I'd change," Kernaghan confessed.

"One of the pitfalls is that sometimes the harder you strive for perfection the further it recedes. You've got to kind of balance it with giving it a red hot go with not wanting to over bake it.

"But there's always stuff that you want to change. Probably the most embarrassing experiences I've had in terms of wanting to change something was on the Electric Rodeo album where we had a song called Texas, QLD 4385. When we were writing the song I was researching it and I wanted Amy to live out on a particular road just outside of Texas and the local publican gave me the name Bebo Road but I thought he said Nebo Road. So come album time I thought we'd go out and we'll sing it at the Royal Hotel in Texas where I can sing Amy lives out on the Nebo. Well there is no bloody Nebo Road, it's the Bebo Road! But you know, these things happen. Often when it's on record it's too late to change."

CLICK HERE for Lee's interview on his ninth album Planet Country in the Diary on November 10, 2009.