DAVE'S DIARY - 20 FEBRUARY 2013 - LEE KERNAGHAN - PART 2
BEAUTIFUL NOISE FEATURE - PART 2
NEW KIND OF HIGH
"Came on fast, came on strong/ one hit and I was gone/ like a shot out of the blue/ first kiss and I was hooked/ now I'm flying with you/ I'm on a new kind of high." - New Kind Of High - Lee Kernaghan-Matt Scullion-Robby Kernaghan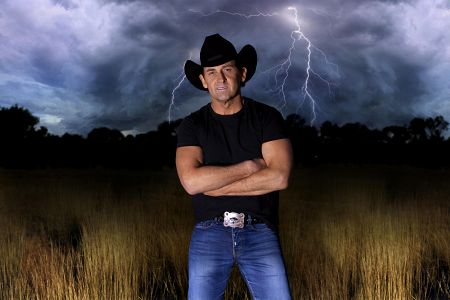 Footy loving country king Lee Kernaghan was adamant his song New Kind Of High had not been chosen as the 2013 theme song of the Carlton football club.

And it was not an anthem for the marking feats of mercurial Blues full forward Andrew Walker - a regular attendee at Kernaghan concerts.

Kernaghan, 48 and father of two sons - Rock 11 and Jet, 10 - is confident his team was not caught short when peptides washed ashore at the Australian Crime Commission.

"It sounds like it's a lot of hot air, like smoke and mirrors," Lee joked about revelations of dubious dietary supplements being fed to AFL footballers.

"It seems like there is a bit of a witch-hunt on. I don't think they'll find too much."

Kernaghan, who attracted Carlton players Walker, David Ellard and Eddie Betts to his concerts, believes country music is the favoured stimulant of his fans.

"You know how much I love that team and how the boys get along to my shows," Lee added.

"I know Eddie Betts listens to country music to get him pumped before he goes out and plays each week."

It's a similar stimulant to when former Geelong captain and champion Michael Turner played Hank Williams Jr music to teammates before games in the eighties.

For the record Lee wrote New Kind Of High on his ninth album Beautiful Noise about his love for his co-writer and singing spouse Robby.
BEAUTIFUL NOISE
"I got a red dirt dream, out in the sticks/ a shed with a Chevy in a million bits/ it's the big day, she's in the drive way/ we got fuel in the tank, hand on the wheel/ I can see your reflection in the chromium steel." - Beautiful Noise - Lee Kernaghan-Garth Porter-Colin Buchanan-Matt Scullion-Lindsay Rimes.
Kernaghan's connections don't stop at footy - he wrote the title track of Beautiful Noise about V 8 Super Cars.

"That was the original concept," Kernaghan revealed of the first single and video from his new album.

"I'll be releasing that particular version later this year. That's what got my creative juices going. I loved it so much I wanted to broaden the theme. That's how the album followed that direction."

The Coolongatta Airport flight departure and arrival board also inspired his second single Ute Me.

"It was as instantaneous as that," Lee added.
Just walking into the airport on the last songwriting day before making the album. I said that's it - we've written it, now we have to go into the studio to record it. I was carrying a truckload of pressure on my shoulders. I knew this was it - there are no more chances. Today is it. I looked up at the flights departures and arrivals information but didn't see the flight details. I looked up and saw Ute Me flashing. The music hit me straight away. It was as instantaneous and real as that."
FLYING WITH THE KING
"It was Ansett 603, he sits down next to me/ we were flying out across the Great Divide bound for WA/ he shook my hand and said g'day/ there I was, Slim Dusty by my side/ I was flying with the king, riding on the wind." - Flying With The King - Lee Kernaghan-Colin Buchanan-Garth Porter
Kernaghan continued the aeronautic theme in Flying With The King - a tune inspired by both the late Slim Dusty and Reg Ansett.

"I wasn't thinking of Reg but I see the parallel," Kernaghan said of the song links.

"That experience (flying with Slim) stayed with me. I tried to write it for Spirit Of The Bush album back in 2007. We tried again to rewrite if for Planet Country in 2009. But it wasn't until last year that the music and the words meshed together. I felt this really encapsulated what happed on the flight. I'm in my music studio at the moment and I look over my shoulder at the piano where Flying With The King was written. It's in a little vortex. It's in the corner of the room where the piano sits."

Kernaghan concedes that the song embryo may have been further back in the mists of time when he heard John Hiatt's Elvis eulogy Riding With The King.

"I reckon in the depths of my musical memory that may have circulated," Lee recalled.

"I remember driving around Albury in my red Cortina in the days before Outback Club listening to that John Hiatt album Riding With The King and loving it."

Lee also rhymed Cortina and Riverina in new song Splash.

"I refrained mentioning the place where the Murray River ran through and that was Mungabareena," Lee joked.

"It might have been rhyme overload if I had done that. In the TV show Happy Days there was a parking spot - in Albury we had Mungabareena. It's a tributary off the Murray just outside Albury."
DIRT MUSIC

"Way out west and further out/ in the land of floods and drought/ rising up out of the ground you can hear it/ play that guitar, make it ring/crank the volume, bend them strings /make it talk, make it sing, Dirt music." - Dirt Music - Lee Kernaghan-Lindsay Rimes-Garth Porter-Col Buchanan.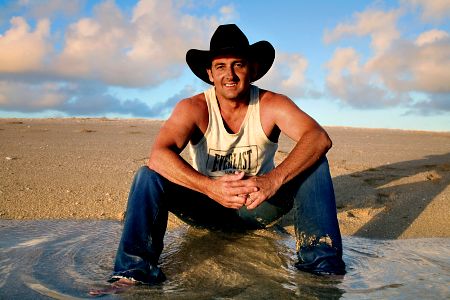 Kernaghan's music often ignites its soul from our harsh outback - floods, bushfire and droughts.

But it was a gift from singing actor Russell Crowe that inspired new song Dirt Music.

"I hope to one day meet Tim Winton and shake his hand," Kernaghan explained.

"I'm thankful for his fantastic book Dirt Music. It's one of those books that you read it and you don't forget it - it stays with you. I probably read the book a little over ten years ago.

It was Russell Crowe who sent me the book. I think at that stage he was making a movie of it. I wish he had."

Other songs owe their embryo to another author and poet.

"It's part of being an Australian - the bushfires, floods and drought," Lee added.

"Like the Dorothy McKellar poem it really is a sunburned country and land of sweeping plains. It's the Australian spirit that provides inspiration for me and the sense of mateship that prevails through the good times and the challenges that come."

Dirt Music has diverse video possibilities but it won't be the next single.

"I want to release Flying With The King as a stand alone single," Lee confessed.

"I want to donate all the royalties to the Slim Dusty Foundation. I've got to talk to Joy (Slim's widow) and get her blessing on that. That's what I'd like to do."
CABLE BEACH, PARIS AND NEW YORK
Kernaghan was born at Corryong in the Victorian high country, raised in Albury and now
lives in the McPherson Ranges in Queensland.
But the 2008 Australian Of The Year has some other favourite locales - he and Robby honeymooned at Cable Beach in Broome.

It was also where they first heard the completed Planet Country album.

"It's a special place, looking out over the Indian Ocean," Lee said.

"It's a breakaway zone to me. I remember when Planet Country was done. We drove our four-wheel drive onto the beach and put the Esky and a couple of deck chairs out and played the album for the first time."

It was a far cry from being lost in Paris.
"That was when we first met, before we had kids," Lee recalled.

"The Internet was not working at that stage and we got to Paris after 30 hours of travelling to this little boutique hotel on the left bank and their fax was not working so we had no accommodation. We had our bags and nowhere to go in a foreign country."

The singer believes he and Robby are true soul mates with inbuilt radar.

"We went shopping in Paris and split up and then I found her in a back street off the Champs-Elysees," Lee explained.

"The same thing happened in New York. When I first met her and was trying to impress her I said where would you like to go. She said New York. Two weeks later we were there. We went shopping on 5th Avenue and split up. I later found her. I think we have an inbuilt radar."

Kernaghan and Tasmanian band The Wolfe Brothers are on a national tour that will cover autumn and winter.

But the singer confessed he would like to return to the U.S. - not for a tour but a concert.

"I would love to do a Nashville showcase during the CMA festival," Kernaghan recalled.

"I did one with Dad (Ray) back in 1983. I would love to do that again. I don't plan a tour there. My roots go down deep into the Australian ground."

Although he mainly writes with his regular Australian team he makes one exception.

"I'd love to get together with David Lee Murphy on the next record," Lee said of a former touring partner who plays CMC Rocks The Hunter at Hope Estate in March.

"He's a good mate and I love what he's doing. That's on my wish list but I'm culturally ingrained into this country. The lyrics are very Australian."

Ironically the day of our interview was the 11th anniversary of the death of one of Lee's heroes - Waylon Jennings who died at 64 on February 13, 2002.

I informed Lee that Waylon's son Shooter had a new album and was making a movie about his dad.

"I hope the album's not called Beautiful Music," Lee quipped.

Lee released an album called Electric Rodeo in 2002 and Shooter followed with another of the same title in 2006.

CLICK HERE for Tonkgirl's Gig Guide for all tour dates.
CLICK HERE for Beautiful Noise - Part 1