DAVE'S DIARY - 22 MARCH 2009 - BROOKS & DUNN INTERVIEW
BROOKS & DUNN
FROM PIPELINERS TO COWBOY TOWN

"Dirt mud and dust, bibles and beer/ outlaws, barbed wire, saddles and steers/ it's a simple life but it's sacred ground/ hard times, high winds can't bring us down/ in cowboy town, yeah cowboy town." - Cowboy Town - Ronnie Dunn-Larry Boone-Paul Nelson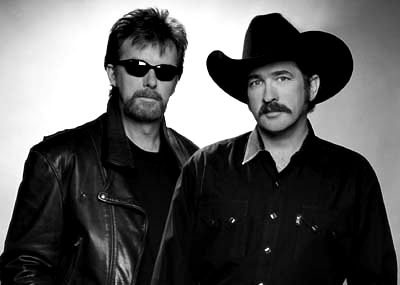 Forget boot scooting boogies and line dancing - there's oil and wine in the Brooks & Dunn treasure trove.

There's more under the big black hat of Kix Brooks and multi-millionaire sidekick Ronnie Dunn than their hits and misses.

Kix, 53, and Ronnie, 55, are sons of well travelled blue-collar oilfield workers and had modest solo careers before punching the success button.

Louisiana born Brooks and Texan refugee Dunn did their time in badlands beer and wine mines long before soaring charts with 1991 debut album Brand New Man - first of 10 radio friendly discs.

They have sold more than 30 million albums, won every major country duo award and published a book about their alter egos.

The Adventures of Slim & Howdy depicts alter egos of Ronnie and Kix who first appeared in liner notes of their debut album.

Ironically, Brooks now grows grapes and wine at his Arrington vineyard and wins vigneron awards across the South.

And, for good measure, he and Barbara - his wife of 28 years - also breed quarter horses on their 75-acre farm due south of Nashville near Brentwood in Williamson County.

They even employ three Australians on their stud and indulge their vigneron pursuits on visits to the Hunter Valley on their Australian tours.

But more of that after a brief summary of their career that has spawned a second Australian tour with Arizona born chart-topper Dierks Bentley in May.
NORTH TO ALASKA

"I dropped to my knees in that field on your daddy's farm/ asked you to marry me, all I had to give was my heart/ while other kids were diving in the swimming hole/ you and me dove into the great unknown." - Proud Of The House We Built - Ronnie Dunn-Marv Green-Terry McBride

Kix was born Leon Eric Brooks 111, down the street from the late Johnny Horton in the city of Shreveport - also birthplace of Hank Williams Jr.

Horton was the second husband of Hank Williams' second wife Betty Jean.

Both Hank (1953) and Horton (1960) died in Cadillacs after gigs at the famed Skyline Club in Austin, Texas.

Horton's biggest hits included Honky Tonk Man, Battle Of New Orleans and North To Alaska.

So there may be synchronicity in Brooks, whose mother died when he was four, following his engineer dad onto Alaska oil fields at 15 for a year.

But there were several career changes - he studied at Sewanee Military Academy, an Episcopalian institution in Tennessee, and Louisiana Tech University, Ruston, as theatre arts major.

But, after a honky-tonk internship in local bars, he moved north to Nashville and cut solo single, Baby When Your Heart Breaks Down for Avion in 1983.

He returned to writing after its failure and released a self-titled solo disc for Capitol in 1989 before Oklahoma namesake Garth fired up on that label.

His album featured Sacred Ground - later a 1992 No 2 country hit for McBride & the Ride, featuring latter day writing partner Terry McBride.
THE BALLAD OF JERRY JEFF WALKER
"Buckaroos and jaded lovers/ LA Freeway and redneck mothers/ mothers who had raised a son so well/ talking outlawed long-haired stoners and loners/ singing about to come back home and most likely too far gone to get there." - The Ballad Of Jerry Jeff Walker - Bob DiPiero-Kix Brooks.
"When I first started playing clubs I was opening for Jerry Jeff Walker in Louisiana," Brooks recalled.

"Down there I was much more in tune with chasing the Texas thing - Waylon & Willie & even the rock guys like the Allman Brothers. Eric Clapton was hooked up in Tulsa where Ronnie was with Leon Russell. I loved Willis Allan Ramsey, Guy Clark and all those singer-songwriters. I wanted to be one of those guys so bad. We had the good fortune to open a few shows for Jerry Jeff. He was a real mad man back then. I was completely in awe of him. It was fun getting around to writing that story and hooking up with him. I was scared of him. I was terrified when I called him and said I don't know if you remember me but I wrote this song about you. I didn't think he's have any interest in singing on that. He couldn't have been nicer - he just jumped in there and sang on it."
GARY P NUNN
"Jerry Jeff Walker stumbled up the stairs on his way to the stage/ with a Martin guitar and a six pack/yeah and he was the poet of the Lone Star state/and I was young enough to think I could be his opening act/and in a cloud of smoke he took another toke." - The Ballad Of Jerry Jeff Walker
So did Kix ever share a bill with Jerry Jeff & The Lost Gonzo Band featuring pianist Gary P Nunn at the World Armadillo HQ in Austin in the seventies?

"No, I never did - all those gigs were in Louisiana. Gary P is a great writer."

Nunn's nocturnal tasks included helping his master onto stage.

But Nunn had long left Jerry Jeff's band by the time he toured Australia in the eighties.
Old Jerry Jeff checked out of the Sydney Swans motel because the bed wasn't long enough for him or wide enough for pregnant wife Susan.

That was the same tour when Mr Bojangles mistook a floor ash tray in the Cricketer's Bar at the stately Windsor hotel in Spring St, Melbourne, for a urinal.

So was the line about stoners and loners in the song about Jerry Jeff or Kix?
"I think that was a description of both of us," he laughed.
DUNN - ABILENE TO TULSA
"I grew up on Waylon, Willie and the Stones/ soundtrack to my life is a hillbilly song/ old boys like Merle, that man in black/ said what they wanted, never looked back." - Johnny Cash Junkie (Buck Owens Freak.) - Ronnie Dunn-Paul Nelson-Larry Boone.
And Dunn, son of an oilfield rigger and a conservative Baptist mother, was born in Coleman, Texas.

He began his education in Blanca, New Mexico, and attended 13 schools in his first 12 years of learning.

Dunn finished formal education at Abilene Christian University in 1974 as a psychology major.

The bassist played Abilene bars - not with George Hamilton - but local bands.

University counsellors suggested he choose between study and music so he moved to Tulsa, Oklahoma, where Leon Russell, J. J. Cale and The Tractors ploughed their musical roots.

He charted two minor singles on Churchill/MCA Records in 1983: It's Written All Over Your Face and She Put the Sad in All His Songs.

Dunn also wrote tributes to his heroes on Johnny Cash Junkie (Buck Owens Freak).

"Maybe we eulogised our heroes on this album, accidentally on purpose," Brooks confessed.

"That's a Ronnie Dunn song. Ronnie's wife Janine - her first husband died of cancer before she was married to Ronnie was Cash's best friend. He built the car for the song One Piece At A Time that Cash did. When they first got to town he had a cabin up in the hills - he gave that to them a place to live. Buck Owens was a friend of both of us and that was a tip of the hat to both of them. I wouldn't be surprised if you see Cash turning up in a lot of his songs. He was really special to them - to me too. I had 100 songs by Johnny Cash when I was 16 years old. I could play every one of them. I still know most of them - I was a huge fan and still am."
LEAPING THE RADIO MOAT
"Sun coming up over New York City/ school bus driver in a traffic jam/ starin' at the faces in her rear-view mirror/ looking at the promise of the Promised Land/ one kid dreams of fame and fortune/ one kid helps pay the rent/ one could end up going to prison/ one just might be president." - Only In America - Kix Brooks-Don Cook-Ronnie Rogers.
The duo's Australian success - prompting two arena tours in less than a year - has surprised them.

"We were really excited to get that sort of reception," Brooks confessed.

"We didn't expect to get it at all with no commercial airplay. That's what kept us so long getting down there. You have country music television but it's not like the states where you have 2,000 radio stations playing country music all the time. We didn't know what to expect. We trusted our good friend Rob Potts who convinced us to come down there. We haven't written any Australia specific songs but we took a lot of good attitude out of there. It definitely put some wind back in our sails. We had so much fun down there it revitalised us."

The duo and their families wandered the leafy streets of East Melbourne and also visited the Hunter Valley wineries.

The narrative nature of their music makes it an ideal platform for politicians of all creeds.
Former U.S. President George Dubya Bush and current leader Barack Obama both used their smash hit Only In America as a soundtrack in their 2001 and 2008 campaigns.
"There is a patriotic flare in what we do," Brooks says.

"We're on the road in Arizona right now with good friend Bob DiPiero. We wrote a song the other night called Counting On The Working Man. It basically comes down to real people who are rolling up their sleeves and getting it done. We're obviously having an economic crisis right now. Those are the people who generally pull us out of messes like this. It's gonna take some of that."
MERLE AN AMERICAN DREAMER
"Back in the sixties, well Haggard's in prison/ he's thinking about writing a tune/ and a guy named Armstrong was crazy enough to think he could walk on the moon/ and a preacher named King, he had a dream." - American Dreamers - Kix Brooks-Don Cook-Jim Beavers
So is there another song on Cowboy Town that lends itself to adoption by political leaders?

Perhaps American Dreamer in which Merle Haggard, Martin Luther King and Neil Armstrong are name checked.

"You are right, that was an inspirational song I had forgotten about," Brooks said.

"Yes, a nice paradox, thank you for noticing. Bob DiPiero and I wrote that a while back. I certainly got an eyeful or reality when Bob and I went to Iraq together. We jumped on this Blackhawk and for about 10 days hit as many bases as we could. We were just playing for the troops - it really just makes you appreciate what they're going through. They want to be home and see their families just like we do. Everybody's a little threadbare, I think. We just took a couple of guitars and played acoustic. Bob's written a bunch of hits."

The duo also has empathy for the victims and survivors of the recent Australian bushfires and floods.

"We're used to disasters - especially in Louisiana where I'm from," Brooks said.

"During the Katrina floods we were on the road. The thing we did when we got home was we unloaded one of our semis and drove it over to Walmart and filled it up with all the stuff the Red Cross told us they needed and we sent that truck down to where it needed to go.

We thought that was the best thing we could do, taking their advice on the things they needed the most - we didn't waste anything."
REBA DON'T CRY
"Her daddy gave her, her first pony/ then taught her to ride/ she climbed high in that saddle/ fell, I don't know how many times." - Cowgirls Don't Cry - Ronnie Dunn-Terry McBride.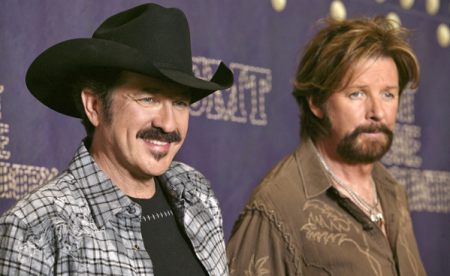 Brooks & Dunn complimented hefty U.S airplay and countered paucity in Australia with regular release of high quality video clips.

They filmed the clip for their revamped version of Cowgirls Don't Cry with singing actress and TV host Reba McIntire as duet partner.

"We filmed Cowgirls Don't Cry near our homes 30 miles south of Nashville in Franklin," Brooks added.

"The littlest red-haired girl in it is Terry McBride's daughter. He wrote that song with Ronnie. And the 12 year old is Ronnie's daughter. We said 'who is going to be the adult?'
and we called Reba and she agreed. Next thing we re-did the song and it found a whole new life. And it's real fun to have her there."

The duo performed their duet with Reba live on the 42nd annual CMA Awards.

It was a decade after they topped charts with Reba on If You See Him/If You See Her.

Dunn collaborated with McBride on Cowgirls Don't Cry after writing Does The Wind Still Blow In Oklahoma for her recent duets disc.

"I was thinking of Reba when I wrote it and how she grew up" around cowboys and the rodeo lifestyle," Dunn said.
HUNTER VALLEY
"I pledge allegiance to Hank/ I'll take a little less pop, a lot more twang." - Johnny Cash Junkie.
Brooks and Dunn plan to visit the lush Hunter Valley wine belt during this tour.

And it's not because their fiddler Jimmy Stewart courted Aussie starlet Catherine Britt from nearby Newcastle during her Music City lunge at fame.

"Jimmy has a new girlfriend but they did have quite a fling," Brooks joked.

The reason for the visit is a cultural exchange mission relating to the guitarist's $2 million Arrington winery near his Brentwood home in Franklin County.

"I'm looking forward to going back to Hunter Valley to sample some of your wines," Brooks said.

"I've got a winery outside of Nashville. I really love fine wine, especially your Australian Shiraz. We have 75 acres - this year we made about 11,000 cases. Last year in the southern wine competition, that is 11 states from Texas to Virginia, we won best show out of 700 bottles of no labels with our Shiraz. We're big into Shiraz."

But the artist is no two-trick pony.

"My wife Barbara is into horses," Brooks revealed about their family's quarter horse stud on their farm.

"Apart from me on occasions that's all she cares about. We have enjoyed 28 years marriage, that's 128 years in hillbilly singer years. We also have an Australian connection through our horse people at our farm. We have three Australians who work for us. Our head trainer Brad Mitchell and his wife Anna are from between Brisbane and Melbourne and have been with us for 10 years. We've learned quite a bit from them over the years. We feel half Australian. They work with our quarter horses - cutting horses."
NOT PIPE DREAMS
"I ain't just a long legged hell raising son of a pipelining, honky tonk singer/ I'm an American dreamer." - American Dreamer - Kix Brooks-Don Cook-Jim Beavers.
It's a far cry from Brooks teenage pipeliner days in the oilfields of Alaska.

"I worked in the oilfields for a year when I was 15," he recalled.

"Dad was on team that designed the Alaska pipeline. My father designed a lot of the hydrostatic testing equipment. He was a pretty brilliant engineer in his day. "

So was it dangerous work?

"I had a few pipeline injuries, just cuts and bruises," Brooks said.
"I have some dramatic stories of crazy things that happened. I was working on the hydrostatic testing. Once the pipeline was built you had to cut it in sections from three to five miles long, depending on the elevation, and fill it up with water. You pump five or six thousand pounds of pressure on it to see if the pipe would hold the pressure before you put oil in it. I had quite a lot of experience. That was one of the reasons I was called up there.

We had never filled the pipe up with water that was in the air. It was always in the ground covered up with dirt - that volume of water in pipes on stilts. A lot of crazy things happened there, we tore up a lot of stuff. It was definitely the wild, wild, west from Fairbanks all the way up into the ice sheet. When I left I was 60 degrees below and in total darkness for three months."

So there was no collateral damage in Alaska to equal Brooks fall from a donkey in Indiana that resulted in a double knee cartilage operation?

"Have you seen the video of that, it was pretty horrendous," he joked.

"You see me flipping over with that frigging donkey under a big old mule. It was a bad wreck, crazy."

So did the donkey drama produce a song?

"I try to write for inspiration not perspiration on that one," joked Brooks who has a son at Vanderbilt University studying to be a screenwriter.

"My daughter's a very talented artist. In high school she started freelancing for Disney, now she's a senior at Washington U in St Louis. She's a very talented graphic artist."

It's a family tradition.

CLICK HERE for Tonkgirl's Gig Guide for national tour dates.