DAVE'S DIARY - 30/1/13 - PREVIEW OF EPISODE 8 - SERIES 19
OUTLAWS HEADLINE NU COUNTRY TV
Pioneer outlaw Shotgun Willie Nelson and late partner Waylon Jennings' son Shooter headline Nu Country TV this Saturday - February 2 - at 10.30 pm on Channel 31.

Justin Moore, reportedly one of the subjects of Shooter's parody Outlaw You, debuts on the show repeated Monday at 2.30 p m and midnight.

And another of Willie's discoveries - Texas band Whiskey Myers - adorns the program edited by Blaize Warden.

Fellow Texan singer-songwriter Slaid Cleaves joins Shooter in our Behind Bars segment with a strident social comment video.

Former Qantas accountant and long time singer-songwriter Amber Lawrence returns to the show on the eve of her performance at the CMC Rocks The Hunter festival.
WHISKEY MYERS -ANNA MARIE
Texan band Whiskey Myers has been a regular guest on Willie Nelson's July 4 picnics since The Red Headed Stranger discovered them.

The band performs its video this week for Anna Marie - the flagon-toting damsel disarms her captors with a smile and a pistol after being hijacked.

Anna Marie is not to be confused with Willie's Maria, also on the show.

Also not to be confused are band guitarists and singers Cody Cannon and Cody Tait.

They began writing music together in Elkhart and added rhythm guitarist John Jeffers under the working name Lucky Southern.

The trio moved to Tyler where drummer Jeff Hogg - slaving away painting railroad cars - saw them play an acoustic set that cried out for someone to sit in on percussion.

Needing only a bass player to fill out band Cannon enlisted cousin Gary Brown - a real-estate appraiser and ex-jock who'd never played bass before.

Whiskey Myers roots extend back to two previous generations.

Cannon and Jeffers played baseball together in Elkhart where Cannon dropped hints as a youngster that he wanted to play guitar.

His grandfather - "one of those wild-ass biker dudes," Cannon says - spent much of his life on the road but he casually left an acoustic guitar at the house for a then-16 Cody to learn on.

Jeffers' father taught John and pal Cody their first guitar chords and the boys quickly became obsessed with making music.

Cannon worked in a sporting-goods store, where he met Cody Tate, destined to take one of the lead-guitar roles in Whiskey Myers.

The band released 2008 debut album Road Of Life on Smith Entertainment before second disc Firewater came out on Wiggy Thump in 2011.

It posted nine songs on its MySpace page in April 2007 that has all the grit and sweaty honesty of a typical Red Dirt Texas band.

Three years later, the boys had built a show that took a more adventurous approach to that sound, steeped in swagger, technical proficiency and untethered creative juice.

The quintet changed its band name and shared a big house that became party central for college students and 20-somethings looking for a place to hang.

Further info - www.whiskeymyers.com
SLAID CLEAVES - RUST BELT FIELDS
Latter day Texan troubadour Slaid Cleaves debuts on Nu Country in the video for his satirical song Rust Belt Fields.
Cleaves, 48, details his gospel - the reasons for the death of the U.S. car industry.

It's a song equally relevant to our industry with jobs going offshore.

Slaid, born in Washington, DC, and raised in South Berwick and Round Pound in Maine, performed it at Cherokee Creek festival in 2011.

He majored in English and philosophy at Tufts University, New England, and released five cassette albums before he scored airplay on Nu Country FM with 1997 debut disc No Angel Knows and 2000 album Broke Down.

Slaid cut seven discs featuring his evocative originals after moving to Austin in 1991 with wife Karen.

Gurf Morlix produced 2009 ninth album Everything You Love Will Be Taken Away that was followed by Sorrow & Smoke (Live At The Horseshoe Lounge) in 2011.
Cleaves planned to tour here with Bill Chambers for promoter Rob Hall late last decade after he released Unsung (Rounder-Shock) - a bunch of covers by favourite peers.

"I wanted to do songs that I really love, songs that have a certain storytelling aspect, a certain use of language and also a certain mystery that requires repeated listening to figure out what they're all about," Cleaves said back then.

"That's what I need to stay interested enough to do a song 150 times a year."

Highlights include Adam Carroll's Racecar Joe, Michael O'Connor Devil's Lullaby and Getaway Car, Karen Poston Flowered Dresses, Steve Brooks Everette and Dave Olney Millionaire.

His 2004 album Wishbone was featured on ESPN2 TV show Cold Pizza.

CLICK HERE for a Slaid CD review in the Diary.
SHOOTER JENNINGS
Shooter Jennings recruited a high profile cast for the video for his hot gospel song It Ain't Easy.

They include steamy bed scenes with his partner - actress Drea De Mattea - maternal love from singing mother Jessi Colter.

He also features a small gospel choir, his old band and young dog.

Drea has starred in TV shows - The Sopranos, Joey and Sons Of Anarchy.

Shooter, now 34, wrote the song after his day Waylon died at 63 on February 13, 2002.
The song details the advice Waylon gave him - how to rise above paucity of airplay and make it as a singer despite ostracism by the establishment.

Shooter previously shot a video for vitriolic song Outlaw You about urban cowpokes milking the genre that bucked the system in the seventies.

Shooter's dad Waylon, Willie Nelson, Ray Wylie Hubbard, Billy Joe Shaver, David Allan Coe, Jerry Jeff Walker, Johnny Paycheck and many more were in the posse who rode into Nashville and toughened up the music.

But that was then and now Shooter reckons some high profile peers are living high on his sire's hog without having the grits.

Jennings has not named those hedonistic heretics but bloggers have opted for young guns diverse as Eric Church, Justin Moore and Hank Williams 111.

The singing actor strolls through heavy foot traffic on Music Row in the video, playing an acoustic guitar like the Pied Piper.

But, unlike the Hamlin hombre, he doesn't lure the nests of row rats into his slipstream.

CLICK HERE for a Shooter interview in the Diary on April 28, 2012.
JUSTIN MOORE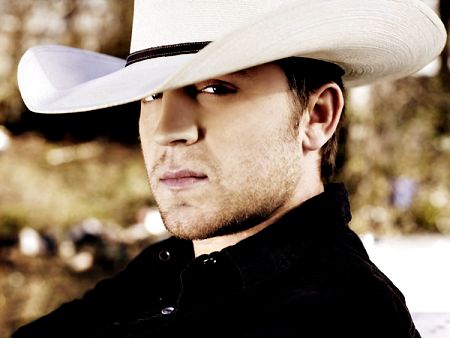 Justin Moore wins a battle of love in the video for his dynamic song Til My Last Day.

The singer's character proves that love triumphs over initial rejection and his partner boomerangs to him in the finale.

It's on Moore's second album Outlaws Like Me - a disc whose title gave Shooter fodder for Outlaw You.

Justin, 28 and father of two daughters, toured the U.S. last year with Rascal Flatts who play St Kilda Palais March 15 with The Band Perry.

Arkansas born Moore, who scored #1 hits with Small Town USA and If Heaven Wasn't So Far Away, has also scored flack for his #6 hit Backwoods.

In February 2012, songwriter Bobby Carmichael turned on the radio and was stunned to hear a song he claims to have co-written eight years ago.

Backwoods, performed by Justin Moore, has been downloaded more than 300,000 times.

Outlaws Like Me - the Big Machine album on which it appeared, has sold almost half a million copies.

Carmichael has not earned a cent on the song, despite its having nearly identical lyrics, pitch and rhythm to the track he co-wrote with Louisiana fiddle player Britton Curry, according to a federal lawsuit filed in U.S. District Court for Middle District of Tennessee.
Carmichael and Curry are asking for $150,000 for each act of copyright infringement.

They claim Jamie Paulin, who was working for publisher Island Bound, "heard and/or secured" a copy of the song.

Three years later, Paulin, songwriter-producer Jeremy Stover and Moore wrote the song that appeared on Moore's debut album, and, as the lawsuit submits, earned an untold amount of money from a stolen idea.

CLICK HERE for a Moore feature in the Diary.
WILLIE AND MARIA
Photo by Carol Taylor
The late Waylon Jennings' little mate Willie Nelson charms a dancer from a honky tonk into his sports car in the video for his song Maria.

Texan actor Luke Wilson - brother of Owen - plays the loser in love and the barman was Rob Thomas of Matchbox 20.

Maria (Shut Up & Kiss Me) is on Willie's 2002 album Great Divide.

Willie, 80 on April 26, has just been named as the headliner of famed 2013 New Orleans Jazz & Heritage festival.

He is also releasing a new album Let's Face the Music & Dance April 15 on Legacy - produced by Buddy Cannon.

The recording is the first in a series of releases celebrating his 80th birthday.

Nelson recorded the project at his Pedernales Recording Studio in Austin, Texas, with his long time Family band.

He also recently released a new autobiography Roll Me Up And Smoke Me When I Die with fellow singing Texan crime novelist Kinky Friedman's foreword.

CLICK HERE for a Willie Nelson feature in the Diary on May 24, 2012.
AMBER - STILL TRIES
Amber Lawrence performs in the video for her new single Try from her new album 3.

Amber, 34, plays in March at CMC Rocks The Hunter festival.

Also on the bill are Rascal Flatts, The Band Perry, Big & Rich, Jack Ingram, David Lee Murphy, Billy Ray Cyrus, The Farm, Love & Theft, Corb Lund, Catherine Britt and many more.

The singer has released several evocative songs in her short but colourful career.

She wrote Man Across The Street - her eulogy to a war ravaged Vietnam veteran, who saved her life as toddler, and has a sting in the tail of her tale.
Lawrence still has vivid memories of that day she was rescued from meeting her maker.

She also recalls how her hero, a Vietnam veteran, was shunned on return from a horrific war.

And, like many other victims of those sixties jungle battles, the troubled trooper found solace in the booze.

It's not the first time Lawrence turned tragedy into song - she wrote The Mile about 16-year-old jockey Sam McRae died in a racing accident.

The video for Amber's 2007 debut album title track was filmed at the famed Randwick Racecourse.

She also wrote Always Kiss Me Good Night about her father who died of leukemia in September 2008.

It was on her 2009 album When It All Comes Down - she wrote the title track during her grieving period.

Further info - www.amberlawrence.com
LADY ANTEBELLUM DVD PRIZES
We have copies of the hot new DVD by recent Grammy Award winners and Australian tourists Lady Antebellum for new members and renewing members of Nu Country.

The 18-track Own The Night World Tour DVD has five bonus songs with exclusive version of Black Water featuring Darius Rucker and Thompson Square.

There's also intimate backstage footage of the band, road crew and fans on a tour that included two concerts at the famed St Kilda Palais.

The 124-minute DVD features the band performing its many hits live in Little Rock, Arkansas, and documentary footage of band members and song sources.

Click Here for our membership page for details of all prizes.